Explay Nano-Projector Engine Demoed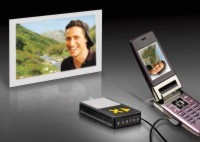 HERZLIYA, Israel - June 28, 2006 - Explay, a developer of nano-projector engines for consumer electronic products, announced today that its nano-projector engine successfully produced eye-safe, always focused images in tests with several leading mobile devices such as mobile phones, portable media players and digital camcorders. Explay's engine is the first match-box size, fully integrated full color nano-projector engine for mobile devices. Explay's highly efficient projection engine is targeted for portable, hand-held devices and offers a 100 times improvement over currently available projectors in terms of combined size and efficiency.
Consumer demand for large, high-resolution images, delivered by a compact portable unit, is increasing due to the exploding mobile video market and the vast amount of multimedia content and applications now available wirelessly. Market predictions show that nano-projector engine sales will skyrocket over the next several years. There are also forecasts that more than 60 million portable devices with projector capabilities will be sold by 2010.
"An ultra-small, ultra-efficient, eye-safe projection engine is the key enabling technology for embedding the projector into mobile devices. We have focused our efforts on miniaturization and efficiency improvement to meet this challenge," said Explay CEO Daniel Oleiski.
"Explay is already partnering with several manufacturers, with the goal of customizing their products in order to make them compatible with Explay's innovative nano-projector engine. We are also working with several of the leading consumer electronic brands to develop complete solution products incorporating our technology," added Mr. Oleiski.
Explay's nano-projector engines are built with a unique laser-based diffractive optical technology, a proprietary technology for enhancing micro-display efficiency, and a proprietary ASIC which tightly ties the components together. The combination provides a complete optic and electronic projector engine solution for simple and glueless integration into third party products. The projector engine delivers an eye-safe, always focused image, elements essential for frequent usage by mobile product consumers. An even smaller version of the nano-projector engine is scheduled for introduction in the beginning of 2007.
Nano-projectors serve to overcome the hurdle of mobile multimedia content delivered on small and unsatisfactory displays of mobile devices. They do so by enabling consumers to comfortably view mobile multimedia content on a 7 to 35 inch diagonal display that is always focused and is eye-safe. The screen is also large enough for information sharing in small groups.