Sony Launches Mobile Movies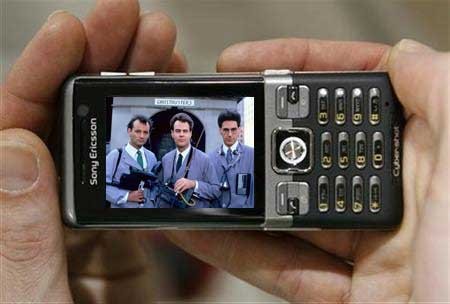 Sony Tries Mobile Movies
It looks like movies may be coming to mobile phones as Sony Pictures Television is teaming up with AT&T to bring an actual linear TV channel to the mobile phone market. Dubbed "PIX", the mobile phone channel will host such classic films as Ghostbusters, Philadelphia, and Stand By Me. For a while now, mobile phones have had access to on-demand content and live programming via MediaFLO, or FloTV, however this is one of the first attempts at placing this type of lengthy linear programming into a mobile television channel.
Just for the record, we think it's an idea that is DOA.

QUALCOMM developed the MediaFLO system to enable the delivery of rich, high-quality multimedia content to mobile handsets. FLO technology, a key component of the MediaFLO system, is an air-interface technology designed to increase capacity and coverage and reduce costs for multimedia content delivery to mobile handsets. MediaFLO USA, a wholly owned subsidiary of QUALCOMM, implements the technology in the United States as part of a nationwide mobile multicasting network. Globally, FLO technology is supported by the FLO Forum (www.floforum.org), an organization responsible for driving global standardization of the technology.
Traditionally, films have been made available via mobile phones on an on-demand basis - a move thought to make a lot more sense than the linear format, and for good reason. The use of mobile phones to view movie content is thought to mostly exist during periods of business or leisure travel as well as other targeted opportunities. An on-demand method of content distribution fits the current model much better than a linear method, with the exception of news broadcasts and just-in-time sports, weather and financial market updates.
Sony seems to have a passion for getting film to mobile phones, however the FLO network may not be the best venue for this. While Sony claims that the object "isn't to get people to sit in front of their phones for two hours", they never really state what the real objective is - simply stating that it;s OK to miss the beginning.

We have a feeling people are going to miss a lot more than that.
Mobile TV is an excellent idea, however we feel that it is more appropriate in an on-demand fashion. In addition, due to the constrained network and compression of the material, we'd like to see more ad-supported models, rather than a PPV style of delivery. On top of this, the prohibitive service fees charged by most mobile carriers make mobile content delivery a tough nut to crack for most consumers. Until mobile users figure out how to deliver top content inexpensively (or via ad-supported, free methods) consumers are likely to be very very slow to adopt mobile video in general.
The good news is that Sony may eventually movie the system to an on-demand model, and also port the movies to the Internet as well. This would make a lot more sense, and if this experiment movies Sony in this direction then we're all for it.

Films will run on PIX for a month, with additions coming weekly. Other films coming to PIX include Memento, The Karate Kid, Layer Cake, Resident Evil and Roxanne.