Sling Media Releases SlingPlayer Mobile for Palm OS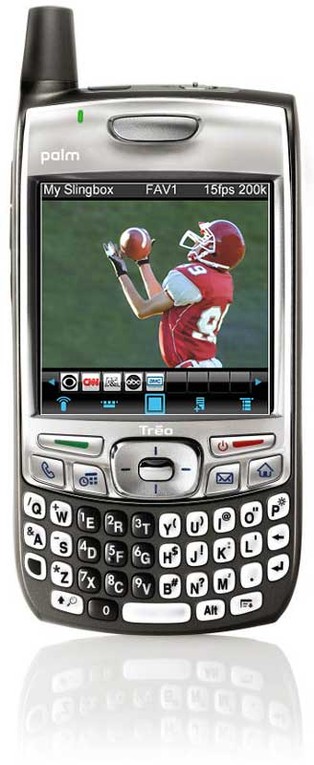 Sling Player Mobile for Palm OS
Foster City, CA - Sling Media, Inc., a digital lifestyle products company, today announced the public availability of SlingPlayer Mobile for Palm OS®, making it possible to watch television on the Palm OS-based Treo™ 700p smartphone. Support for other Palm OS-based devices will be included in future software releases. The software is available as a public beta for customers in the U.S. and Canada.
The trial version of SlingPlayer Mobile for Palm OS is available today as a free download from Sling Media's software download page, http://downloads.slingmedia.com
, as part of the public beta program. Once the final version is announced (expected in Q2) SlingPlayer Mobile will be available for $29.99 and $34.99 CAD respectively and includes a free 30-day trial. There are no monthly or recurring charges for the use of the software.
SlingPlayer Mobile is a software client that gives Slingbox customers the ability to watch and control their home TV from a variety of smartphones and handheld computers using either a 3G cellular or WiFi network connection. Unlike other services currently available for other mobile devices, SlingPlayer Mobile gives consumers their entire home TV experience. Anything that they can watch on their sofas back home, they can now watch via a compatible smartphone or handheld computer. In addition, SlingPlayer Mobile customers can control a home digital video recorder (DVR), such as a TiVo, to record shows, watch shows that have been previously recorded, and even pause and rewind live TV.
The mobile TV experience for Palm OS is powered by a Slingbox, the Emmy award-winning consumer electronics product that enables consumers to watch their living room TV programming from wherever they are by turning virtually any Internet-connected laptop or desktop computer (PC and Mac) and a wide variety of Windows Mobile and now Palm OS-based handhelds and smartphones into personal TVs. The Slingbox redirects, or "placeshifts," a single live TV stream from a cable box, satellite receiver or DVR to the viewer's alternate "display"—located anywhere in the home or anywhere in the world, via the Internet.
About Sling Media
Sling Media, Inc. is the world's leading digital lifestyle company offering consumer services and products that are a natural extension of today's digital way of life. Sling Media's product family includes the internationally acclaimed Slingbox™ that allows consumers to watch and control their living room television shows at any time, from any location, using PCs, Macs, PDAs and smartphones. For more information on Sling Media or the Slingbox, visit www.slingmedia.com.