Perlisten R210s Subwoofer Giveaway & Special Promo for All Registrants!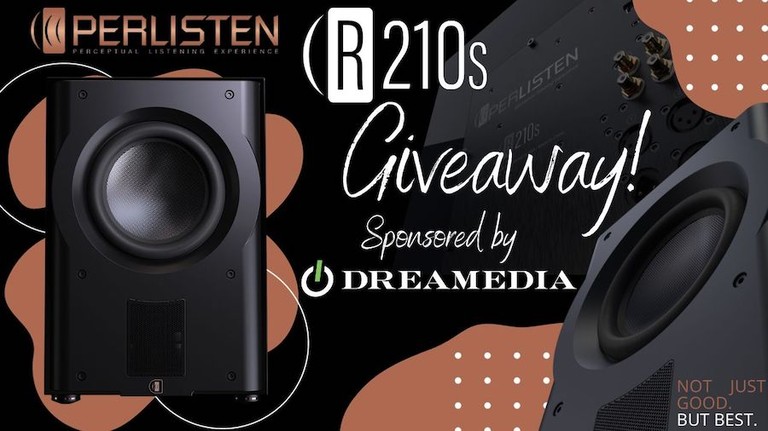 Win a Perlisten R210s Subwoofer!
Audioholics and our channel partner Dreamedia are proud to announce a truly unique Perlisten R210s Subwoofer Giveaway with Dreamedia-Perlisten Special Promo! One lucky winner will receive the incredible Perlisten R210s subwoofer ($4,995.00 value), while EVERYONE who registered for the contest will receive a special promotion from Perlisten & Dreamedia of potentially incalculable value. Just enter this contest for your special promo and chance(s) to WIN one serious THX Ultra Certified Perlisten R210s subwoofer that weights in at 97-lbs!

The Audioholics Contest is a sweepstakes-style draw where a single prize winner is randomly selected at the end of the registration period: Thursday, November 30th, 2023 at 11:59pm EDT. Initial registration requires only your name and email for your chance to win while receiving the free Perlisten-Dreamedia special promo, just for registering! Audioholics Contests are always free to enter and NO shipping charges apply! Improve your chances to win using the entry form (below) to engage with Audioholics across the Internet, then earn even more chances to win by sharing this contest with friends. Send this Audioholics Contest to any fan of high-end audio you know, they can thank you later!   
Audioholics Contests are limited to residents of the continental USA.
Perlisten Giveaway by Dreamedia!
See the Audioholics Contest Rules Terms and Regulations sticky on the Contest Forum for details. By Entering this draw you agree to receive awesome newsletters from Audioholics and Dreamedia. Every registrant will receive their special promo from Perlisten and Dreamedia in an email from @Dreamedia after the winner has been drawn. 
IMPORTANT NOTE: Beware of email scams! Audioholics Contests are always FREE, from registration to shipping the prize. Nobody from Audioholics will attempt to contact any registrant until after registration has closed on Nov. 30th. At no time will you be required to pay any fee regarding this contest. So, watch your spam filters and keep an eye on your inbox during the first week of December because someone will contact YOU!
Perlisten: Luxury Audio Engineered to the Highest Industry Standards 
Perlisten is more than just another high-end audio manufacturer. The company was started by audiophile industry professionals, each bringing their respective skills from acoustic engineering and design to supply chain management with the goal of building a new audio company that builds its equipment from the "ground up" for ultimate performance. The "ground-up" ethos gives Perlisten total control over every step in design and manufacturing, from material supply to construction and rigorous testing.
Employing strict engineering principles with today's leading-edge materials, every piece by Perlisten is built to measure at the highest industry standards. But you don't have to take Perlisten's word for it, every model the company makes is THX Certified, and it was a Perlisten loudspeaker that was first to achieve the THX Dominus Certification - the highest industry certification standard available! This is why Perlisten's breathtaking modern speaker designs will take your breath away again, every time you turn on your music. That's the Perlisten perceptual listening experience. 
The Main Prize: Brand NEW Perlisten R210s Subwoofer ($4,995 Value) 
Besides the special promo from Perlisten after the draw, one lucky winner will receive a truly awesome subwoofer known for its clean power, low distortion and nimble musicality. Perlisten calls the R210s the Audiophile's choice for good reason.
Inside the R210s features glass fiber composite diaphragms, multiple aluminum shorting rings, massive magnets, multi-layer Nomex spiders and lightweight aluminum voice coil wire. The R210s interior takes performance to another level with Perlisten's unique dual push-pull 10-inch driver system. The R210s 1300-Watt amplifier brings the slam while functions and safeties are controlled by a 48-bit DSP with 32-bit ARM M4 Cortex processor to bring reaction-time down to microseconds. Like all of Perlisten's R-series subwoofers, the R210s gives you advanced controls with a 2.4" LCD touchscreen display.
Prelisten R210s Removable Grille
Expandable THX Home Theater & Musical Experience 
The R210s is a THX Ultra Certified subwoofer, that's your assurance of the best possible musical or cinematic experience inside a home theater room up to 3,000 cubic feet in size, where the audience may sit up to 12-feet from the screen. For much larger rooms up to 6,500 cubic feet and up to a 20-foot viewing distance from the screen, four R210s will expand your bass reproduction to meet THX Dominus Certification. The expandability of this sub's performance is a true testament that Perlisten's designs will meet top industry standards at any room size. 
Perlisten R210s Specs
Alignment: Push-Pull, acoustic suspension 
Amplifer: 1.3kW-rms short term 
Display Interface: 2.4" LCD color touchscreen 
App: iOS and Android 
Processor: 32-bit ARM Cortex M4, double precision floating point math 
DSP Engine: Ti DSP 48-bit data paths 
Driver Compliment: (2)250mm, Glass fiber diaprhragm, +/-20mm linear excursion 
THX EQ: 20-290Hz (-6dB) / 16-302Hz (-10dB) 
Boost (Large Room) EQ: 16-290Hz (-6dB) / 14-302Hz (-10dB) 
Cut (Small Room) EQ: 25-290Hz (-6dB) / 19-302Hz (-10dB) 
Inputs: (2) Balanced XLR (2) Unbalanced RCA 
Outputs: (2) Balanced XLR unbuffered (2) Unbalanced RCA unbuffered 
Parametric EQ: 10-Band PEQ with 3 user-presets 
Low Pass filter: Bypass, 30-160Hz, slope 6,12,18,24dB/oct 
Phase: Variable 0-270° 
Polarity: Normal / Inverted 
Dimensions (HxWxD): 545 x 380 x 450mm / 21.5 x 15.0 x 17.7-inches 
Weight: 44.0 kg (96.8 lbs.) 
Certification: THX Dominus (4), THX Ultra (1) 
Finish: Piano black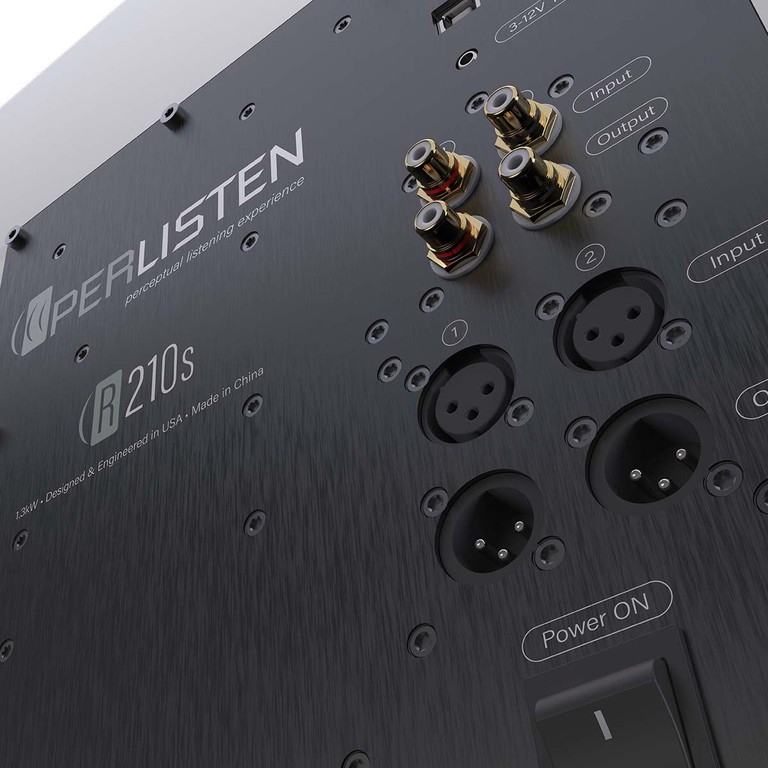 Perlisten R210s Rear Panel input/output
See Dual Perlisten R210s in Action! Featuring Tuning Tips From Perlisten Co-Founder/CEO Dan Roemer | Florida Audio Expo 2023!
Perlisten R-Series Sub/Sat System Best of Show Demo Experience!
Further Details on Perlisten, R-Series and the R210s Subwoofer

► Read Audioholics Overview of Perlisten R-Series
► Read Our review of the R210s slightly bigger brother: Perlisten R212s Subwoofer Review
► Get Complete Product Details at Dreamedia Perlisten R210s Product Page
► See the full Perlisten line at Dreamedia
Audioholics Perlisten R210s Contest Final Notes
Please Read Before Entering: Contest Rules, Terms and Regulations  
Entry must be received BEFORE 11/30/23 at 11:59 PM EDT
By registering for the contest, you agree to receive both the Audioholics and Audio Advice email newsletters. Entries Limited to the Continental United States Only. 
To enter the Giveaway, simply:
1. Register with name/email to receive the Audioholics and Audio Advice email newsletters, earn optional points with additional engagement and recommendations. 
2. Respond using that same address if you are contacted as the winner. 
You will ONLY be contacted from an authentic ...@Audioholics email address AFTER the contest ends, you may be contacted for verification of having entered an Audioholics Contest. 
Prize sent through December 2023.
CONTEST RULES OVERVIEW: Please go our Contest Rules sticky-post in the Audioholics Forum for the complete rules. To enter, simply provide email address and follow confirmation to sign up for the Audioholics and Dreamedia newsletters. Read the complete Contest Rules, Terms and Regulations before entering. One contest registrant who joins between now to 11/30/23 will be chosen at random as winner. Only one registration, but multiple entries are accepted through this contest widget (above) by Gleam.Io. The system will know if you already entered to prevent multiple registrations. 
* Don't wait, the entry period ends Nov 30, 2023 at 11:59 PM EDT! Entries Limited to the Contiguous 48 States Only. 
Thank You for Entering Another Audioholics Contest!
Special Thanks to Dreamedia for Sponsoring.
Good luck in the draw and enjoy the special promo from Dreamedia and Perlisten, use it well! 
And always remember…
KEEP LISTENING!