Hitachi Eases Back on Plasma Displays - Enlists Panasonic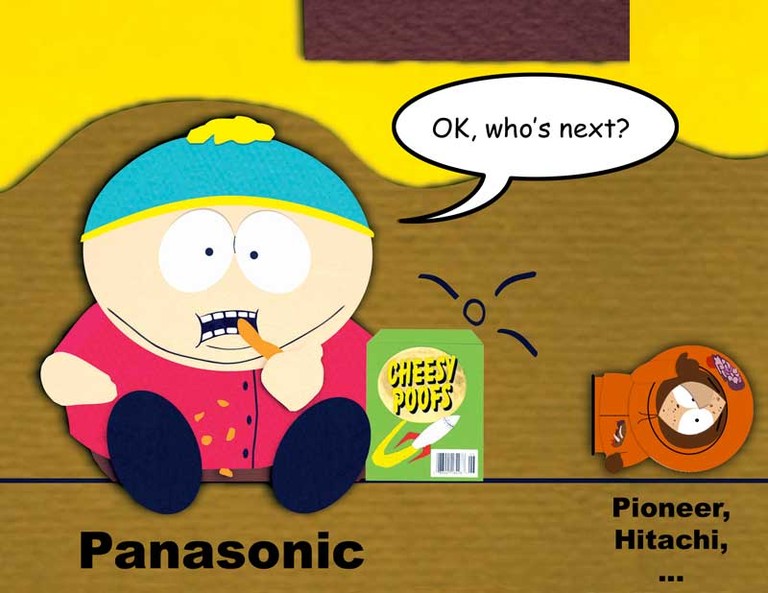 OMG - Who killed Hitachi!
According to a news report issued today, Japan's Hitachi said it will shrink production of plasma panels and begin buying them from Panasonic (or "Matsushita" for another 12 days until they officially change their name) to reduce costs and get back in the black in the war for flat panel dominance and market share.
Hitachi is currently the world's No. 4 plasma TV maker behind Panasonic, LG and Samsung. They will begin buying the fabricated glass panels (the most complicated and costly part of a plasma display) from Panasonic. It looks to us like this is a definitive, if gradual, step away from plasma panel manufacturing for the company.

According to the report, Hitachi has been through three straight years worth of flat panel losses and is getting squeezed by the likes of Sony, Samsung, LG and Sharp. Last year Hitachi announced its new Ultra-Thin LCD panels (and also a prototype thin plasma technology which now seems destined to not hit the market - unless it is taken up by Panasonic). Judging from recent moves by such companies as Philips to cut losses in the competitive flat panel market, Hitachi will likely do better as a company by foregoing  the plasma manufacturing process. The decision will cause a $383 million hit for Hitachi on its existing panel facilities in the current July-September quarter.
Panasonic seems to be making out, having already picked up plasma panel manufacturing for Pioneer - then the fifth largest plasma panel manufacturer. It's 1 down, three to go in a race to see who can maintain plasma technology - profitably - for the longest period of time.
Editor's Note: We constantly get accused of being "anti-plasma". To set the record straight, the issue is not with how good plasma looks (we really love it). It's a factor of realizing that while LCD panel manufacturing costs have plummeted, plasma is unlikely to match pace with price drops in LCD technology. Additionally, LCDs are getting thinner and LED backlighting, which is making LCD black levels comparable to plasma in every way, is ensuring that plasma is slowly but surely heading for the door. Those who disagree with this aren't looking clearly at what's happening in the manufacturing world in terms of consolidation.

Pioneer will need to potentially readjust as it had planned on using both Panasonic and Hitachi back when it announced its intention to stop manufacturing plasma panels. LCD is continuing to eat away at plasma TV sales numbers and the technology seems to be improving and making inroads.

Hitachi said that it would continue to make the control circuitry and plasma panel modules at its own unit, Hitachi Plasma Display Ltd. This is also not the first time Hitachi and Panasonic have worked together. They currently work together on LCD technology, with Panasonic having taken control of Hitachi group member IPS Alpha Technology Ltd earlier this year.
Biggiesized posts on September 21, 2008 01:58
LCDs still have poor viewing angles.
Post Reply