Sharp LCDs - Plotting World Domination?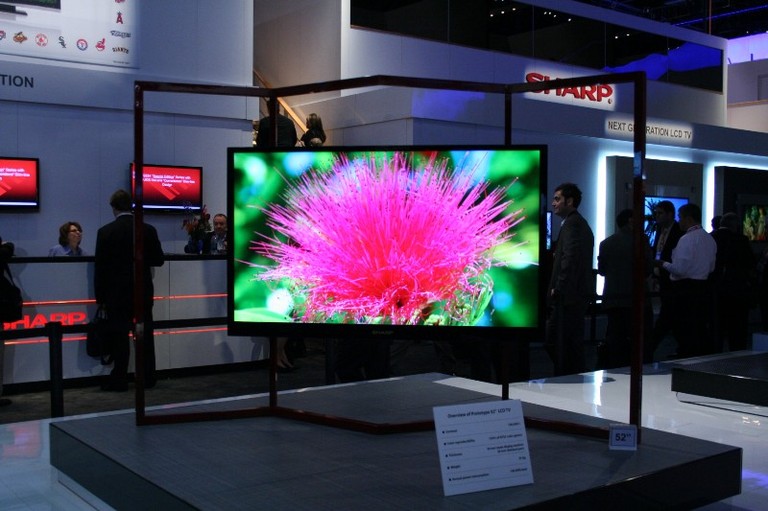 Sharp Bent on World Domination?
When we spot trends we like to point them out - especially when it's something that gradually occurs over time and might be missed as part of "the bigger picture" by consumers. Well, this week Japan-based Sanyo said that it would start buying LCD panels from Sharp Corp, making it the third company in the last year to agree to do so. To understand that "something is afoot" in the industry, let's review the past year of Sharp-led defections:
September, 2007: Sharp takes a 14 percent stake in Pioneer (who bought 0.9 percent of Sharp Corp) and agrees to jointly develop several electronics categories, including LCD displays.
December, 2007: Sharp sues South Korean-based Samsung over one or more LCD patent infringements, alleging that the company is using a version of its "LCD molecule alignment" technology in its displays. Samsung returns the favor and files countersuits

December, 2007: Toshiba announces they will be purchasing their LCD panels from Sharp

February, 2008: Sony, arguably the #1 television retailer in the world decides to begin purchasing LCD panels from Sharp for displays 42-inches and larger beginning in April (estimating 4 million Sharp panels by 2009.) Sony currently ships around 20 million panels worldwide. They not only agreed to purchase panels from Sharp, they bought a one-third ownership in their new 10th-generation $3.5 billion LCD plant set for completion in March of 2010. You can bet that plant won't be making thick LCD panels.

May, 2008: Sanyo announced it had started buying LCD panels from Sharp Corp for use in North American LCD products
The three biggest players in the world of LCD technology are clearly understood to be Samsung, Sony and Sharp. With Sony turning to Sharp to pick up additional products, and Samsung being embroiled in a lawsuit over technology, it's pretty clear that Sharp has some compelling technology everyone wants a piece of. You can add to the intrigue by noticing that Samsung is already working with both Sony and Hitachi - making the web of companies even tighter. Hitachi has also been considering effectively sell out of its LCD panel production by this year, forming alliances and considering offers with both Canon and Matsushita (Panasonic).

It's almost certain that Sharp is leading the industry right now in the practical manufacture of ultra-thin LCD displays. The 0.75-inch thin working prototypes we witnessed at the 2008 CES this year were incredible, and are supposedly going to become a consumer reality sometime in 2009, or at worst 2010. What's great is that these panels will be made using existing technology, which is subject to increasingly lower manufacturing costs - so the new ultra-thin panels shouldn't hit the market at exorbitant prices.
It looks like Sharp is gunning for the #1 position. As of the latest numbers they are #3, behind Samsung and Sony, but it's just possible that with the advent of truly compelling technology those numbers could shift dramatically in the next year or two.
Thin is in, so keep your eyes peeled for a potential onslaught of sub-1" displays from Sony, Sharp, Toshiba and Pioneer in the very near future.
bandphan posts on June 03, 2008 12:28
waiting to see the new pioneer elite LCDs with the sharp ultra thin panel and "kuro" video processing
Seth=L posts on June 03, 2008 01:35
Looks like Sharp has been tooling up to continue competing with OLED into the future when OLED sets are more attainable.
ThA tRiXtA posts on June 02, 2008 21:23
IMO anyone who has the $$$$ to buy a 0.75 inch thick TV (you know when they hit the market they are going to cost a grillion dollars) hopefully would have the brains to have it hooked to an equivalent audio system and has disabled the onboard speakers… hopefully.

Money and logic do not always go hand in hand.
BBF posts on June 02, 2008 20:08
Seems really strange that Sony's signed on… Sharp probably has a lot of patents that will prevent the other manufacturers from building ultra-thin LCD's.

Also the success of the low end LCD brands that has the established players circling the wagons and joining together to fight the chinese tide.

What puzzles me is the desire for a 0.75" thick TV… 4" is TOO THICK?
Aack. Unless they're wall mounted, the stand's base is at least 8" deep… oh well, there's what consumer's "want" and what makes the most sense for their requirements… that's what drives our economy.

I shudder to think of what sort of crappy 0.75" thick wall-mount speakers companies will produce to match these super thin TV's.
AVTguy posts on May 30, 2008 19:52
Very Interesting…

Very Interesting considering the vast difference in PQ with Sharp TVs in comparison to a high end Sony or Samsung. The sharps color banding hasn't really been solved, and overall their pictures just do not pop like the Sony and Samsung models.

Granted, most of that probably has to do with the internal circuitry and processors, but Sharp still has a ways to go in the PQ area of their sets. But like the article says, they must have some technology or manufacturing process that Sony and Toshiba both are going wild for. Or they are just selling their panels on the cheap. Who knows, but it will be interesting to see what comes out of all this.

Personally I really can't wait to see some Pioneer Kuro LCDs. Long live the Kuro!
Post Reply