Philips to Stop Manufacturing TVs for US Market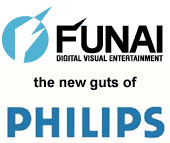 Funai - A Newer, Cheaper Philips
Royal Philips Electronics, apparently sick of the hyper-competitive nature of TV sales which results in ultra-low profit margins, will no longer manufacture televisions for sale in the United States or Canada as of September 1, 2008 (current inventories notwithstanding). TVs will still be sold under the "Philips" brand, but for at least the next 5 years they will be made under license by Funai Electric. Funai is a Tokyo-based company that already sells Emerson, Sylvania, Symphonic and other lower-priced brands in the North American market.
This tells us that the quality of Philips is likely to head due South in the next half-decade unless Funai does a better job at competing at the lower-end market (think Vizio and Westinghouse) than other brands it puts forth. Since their deal is essentially one that merely licenses the Philips brand name, this is unlikely. While Philips thinks this is a good plan to cut costs and save on the thin margin-issue it has been plagued with, it's just as likely that the Philips name will permanently be relegated to the likes of GE, Emerson and Polaroid in the CE market. Their Magnavox division has already suffered a similar fate in terms of its reputation for average or even sub-par quality AV products.
The big question everyone is asking is "Why?" According to iSuppli, Philips was a top-selling brand in the fourth quarter of 2006, capturing 17 percent of the market share. One year later Philips dropped to sixth place at just 6.6 percent. Last year, Philips sold "just" $1.7 billion in televisions in North America - a meager slice of the entire CE pie in that category.
The changeover to the Funai licensing deal will cost the company around $196.3 million. Funai will then be in charge of manufacturing, distribution, marketing, sales and customer service for both the Philips and Magnavox brands. Philips will continue to design, manufacture and market televisions in the rest of the world and will also be able to oversee Funai's US marketing (since they still control the name and Philips brand license).
Philips has also done some pulling back from consumer electronics manufacturing in the worldwide markets. Recently, the company has significantly reduced its position to just 13.2 percent in LG Philips LCD, a display panel manufacturer, prompting the company's name has change to LG Display.