Onkyo and Pioneer Announce Support For DTS Play-Fi
by
Brandon Dimmel
—
September 02, 2017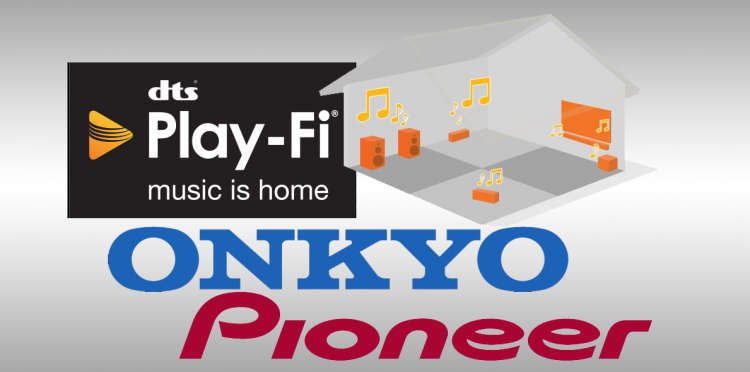 Here's a problem that routinely frustrates hi-fi audio listeners: How do you move from room to room listening to music if you have a bunch of wireless speakers from a variety of manufacturers? One answer is DTS Play-Fi wireless multi-room audio technology, which is designed to give your mobile devices the power to stream music to an array of wireless speakers. What it means is that you can mix and match your speakers and avoid having to use a bridging device or solutions like Chromcast built-in Audio. Often, bridging devices can cost as much or more than the speakers themselves, while Chromecast is one of the simplest and cost effective ways to get into multi-room sound, the thought of a speaker dongle may not satisfy the truly discerning audio lover. But established competitors with dedicated Wi-Fi speakers that communicate dongle-free within their own Wi-Fi ecosystems include Sonos and Denon's own HEOS. But these systems involve a dedicated investment to a single manufacturer with a limited number of speakers.

One of the major advantages of DTS Play-Fi is that it provides a fast-track to the multi-room audio market for manufacturers that don't want to build their own, like Denon that jumped into direct competition with Sonos by creating its own HEOS brand. On the other hand, the hodge-podge of manufacturers building to Play-Fi compatibility makes it the most difficult multi-room audio system to use. Setup is the most complicated and the results are too often frustratingly inconsistent connections to the Play-Fi app. A closed ecosystem like Sonos or HEOS may offer a limited number of speakers, but since the same manufacturer builds every component, compatibility and setup is a breeze.

But, once you get DTS Play-Fi setup, it allows you to play music from a single source over a wide variety of speakers throughout the home. In other words, you can use a streaming music app like Pandora or Amazon Music to listen to the same Red Hot Chili Peppers song on speakers in the bedroom, living room, and kitchen. In essence, the music you love follows you rather than the other way around.

Now, Onkyo and Pioneer, two of the biggest names in audio technology, have announced that they've activated DTS Play-Fi tech on their MRX-3 Wireless Speaker and FS-EB70 Elite Network Soundbar System through a firmware update. That update was released on August 1. Pioneer is jumping on the DTS Play-Fi bandwagon through the use of its Pioneer Music Control application, which features a user-friendly interface to allow for easy streaming from most Android and Apple devices, including the iPad, iPhone, and iPod Touch. Pioneer says it will be adding DTS Play-Fi support to more of its devices — such as the SC-LX901 and SC-LX801 — over the coming months.

Onkyo's announcement is very similar. As of today, the company is offering DTS Play-Fi support for its SBT-A500 Network Surround Bar System and NCP-302 Wireless Network Speaker. More devices, like the PF-RZ5100 Network A/V Controller and TX-RZ3100 Network A/V Receiver, will receive support by late September. Although Onkyo and Pioneer are the newest manufacturers to announce support for DTS Play-Fi, they're hardly the only audio names backing the technology. Other backers of note include Definitive Technology, Polk, MartinLogan and Paradigm and can be further read about in the related links below. 

Are you ready to embrace DTS Play-Fi?  Please share with us which products you're looking to get and how you will use them in the forum thread to this preview.

Recent Forum Posts:
Jazale posts on September 02, 2017 23:50
"the hodge-podge of manufacturers building to Play-Fi compatibility makes it the most difficult multi-room audio system to use"

Wow - a "hodge-podge" of manufacturers - Definitive Technology, Paradigm, Polk Audio, Onkyo, Pioneer, McIntosh, Martin Logan, Klipsch, Sonus Faber, HP, Dish, etc…. I would not call this a hodge-podge group at all but rather a group of companies that try to appeal to readers of this rag, at least more so than Sonos, Bose, and the like.

Having used many of these products, the only thing difficult is that the setup button is in different locations, once you figure that out it is very similar to Heos, Chromecast, Sonos, or any other network connected item. After setup, the User interface is the same for all manufactures, identical!
gene posts on September 02, 2017 00:54
Onkyo and Pioneer, two of the biggest names in audio technology have announced that they're jumping into DTS Play-Fi technology with a selection of wireless speakers. Firmware updates should be launched throughout September to make several of both company's wireless speakers compatible with DTS Play-Fi multi-room Wi-Fi speaker system. Read on to find out why this is a cool feature to have in your favorite Onkyo and Pioneer products. Let us know if you're ready to embrace DTS Play-Fi after checking this out.



Onkyo and Pioneer Announce Support For DTS Play-Fi
Post Reply