Get Streaming with WiiM, NAD, and Cambridge Audio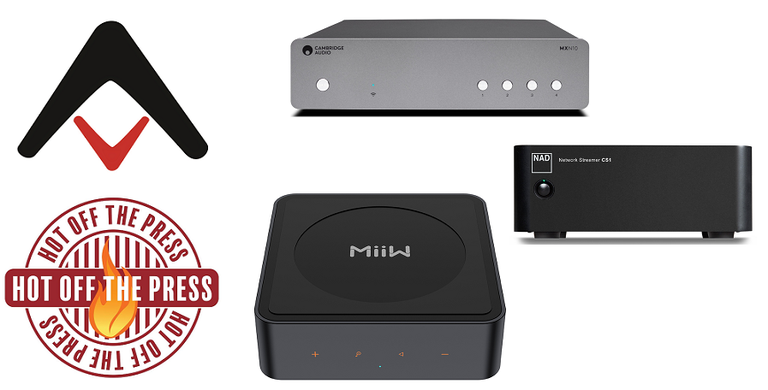 New Network Streamers
Many audiophiles, myself included, still love physical media. Chief Audioholic Gene DellaSala spins vinyl in his 2-channel system, which recently got a huge upgrade thanks to the RBH SFTR/AX active speakers. And I still buy CDs, waiting for a day when the inevitable compact disc revival makes CDs as cool as LPs once again. But there's no doubt that music streaming is the way of the future for most folks. Even most audiophiles have embraced streaming. Gene loves streaming Dolby Atmos music via an Apple TV in his kickass home theater, and I recently discovered a new band while listening to Spotify at my girlfriend's place. Hailing from New Zealand, The Beths have a sound that reminds me of 1990s Weezer, but with a Kiwi woman singing lead. I'm obsessed with their newest album, Expert in a Dying Field, which came out in 2022. Another new favorite band is Trousdale, a pop-folk trio from Los Angeles, composed of women in their twenties. To my knowledge, they've never released music on physical media; even at their concerts, they only sell T-Shirts!
Why You Need a Network Streamer

If you have any kind of musically-satisfying audio system — even a simple pair of powered speakers — adding a network streamer can be transformative to the way you enjoy music. There are plenty of high-end options out there, like the $5,500 NAD M66 streaming DAC/preamp, which features high-end DACs and no fewer than four subwoofer outputs optimized by Dirac Live Bass Control. Denafrips, makers of the  popular Aries and Terminator R2R DACs, has just released its first network streamer, the ARCE. (If you're British, or just an anglophile like me, feel free to insert a dad-joke here.) The ARCE sells for about $1,000 in the US and is all about maximizing audio performance. There's no WiFi on board, so ethernet connectivity is your only option. And there's no internal DAC — it's a digital transport only. Both the M66 and the ARCE will surely make certain audiophiles very happy, but neither is likely to attract first-time streamers, budding audiophiles, or those with strict budgets. So let's take a look at a few simple and affordable streamers that have been released in 2023, all sharing the goal of making music streaming easy and accessible while delivering good sound quality in the process. All of the streamers below offer both Wi-Fi and ethernet connectivity (plus Bluetooth), and all offer line-level analog RCA outputs as well as digital outputs via both optical and coaxial S/PIDF connections.
WiiM Pro Plus ($219)
I recently wrote about the $149 WiiM Pro streamer, which is a larger version of the $99 WiiM Mini streamer that my girlfriend uses. These inexpensive gadgets work incredibly well, thanks in large part to the WiiM app, which offers a surprisingly smooth user-friendly experience for such an affordable family of products. Linkplay Technology Inc., the global technology company behind WiiM, delivers regular firmware updates to expand the capabilities of these streamers and to ensure bug-free performance. Really, the only downside to the WiiM streamers is that the sound quality from their analog outputs leaves much to be desired. At my girlfriend's place, I put together a simple fix. A $14 optical cable from Blue Jeans Cable connects the WiiM Mini to a $129 Schiit Audio Modi+ DAC. The sound quality is much improved, and the user experience remains easy as pie. The extra box and extra cables are mostly hidden behind the TV, but those looking for a simpler and cleaner setup could instead choose the new WiiM Pro Plus ($219), which offers the same functionality as the regular WiiM Pro, but with better sound quality thanks to an improved built-in DAC built around a premium AKM chip.
Like the regular WiiM Pro, the WiiM Pro Plus offers AirPlay 2, Chromecast Audio, Spotify Connect, Tidal Connect, Qobuz, Amazon Music, and more. Roon Ready certification is in process (the regular WiiM Pro is already certified Roon Ready). But now the sound quality is turned up a few notches by a premium AKM DAC and Texas Instruments op amp. Specifically, there's a new-generation AKM 4493SEQ DAC chip under the hood, which reportedly offers "a leading level of low distortion and wide dynamic range thanks to AKM's Velvet Sound Technology." The WiiM Pro Plus supports PCM up to 768 kHz, along with DSD512 and PCM/DSD automatic switching. In addition to this new DAC chip, which offers huge improvements (on paper, at least) compared to the DAC used in the other WiiM steamers, the WiiM Pro Plus uses "an ultra-low-noise clock, power supply, and careful PCB layout to achieve less than -110dB THD+N performance for analog audio output, reducing any unwanted noise or distortion in the sound," according to WiiM. The analog line-in performance also gets a boost thanks to the use of a TI Burr-Brown Audio PCM1861 ADC chip.
My vision for the WiiM Pro Plus was clear: to create a product that reflects our users' desires and elevates their music streaming experience. With their invaluable feedback, we've achieved just that, delivering superior audio quality, simplified setup and an affordable solution that exceeds expectations. The WiiM Pro Plus stands as a statement of our dedication to providing music enthusiasts with a seamless and enriching audio experience."
— Dr. Lifeng Zhao, CEO of Linkplay Technology
More information: WiiM Pro Plus
NAD CS1 Endpoint Network Streamer ($349)
While NAD now makes high-end products like the aforementioned Masters Series M66 streaming DAC/preamp, the company has not lost sight of its value-oriented roots, as evidenced by the CS1 Endpoint Network Streamer ($349). The CS1 reportedly employs "audiophile-grade components," and can play high-resolution audio up to 24-bit/192kHz. This tiny gadget handles Apple AirPlay 2, Chromecast, Spotify Connect, Tidal Connect, and DLNA apps. It is also certified Roon Ready, so you can control playback with the music apps you already use every day. Unlike the other streamers discussed in this article, the CS1 does not have its own app. Instead, it works as an endpoint for existing apps. For many, this won't matter. If you mainly use Roon or Spotify Connect, the absence of a dedicated app for the CS1 is unlikely to be a concern. But I think it's disappointing that the CS1 doesn't use BluOS, considering both NAD and Bluesound are owned by Lenbrook, and many NAD products do use the excellent and fully-featured BluOS control system. (Currently, the least expensive way to add BluOS to an existing stereo is via the $600 Bluesound Node.) Nevertheless, NAD says that the CS1 does offer "an advanced differential digital section based on Texas Instruments' PCM5142 DAC, a design known for its wide dynamic range, low noise floor, and immunity to clock jitter." It's limited to 24-bit/192kHz PCM, but it's unlikely that buyers of the CS1 will be in the small minority of audiophiles who need higher resolution than that. Tidal users who enjoy MQA will be pleased to learn that MQA pass-through is supported for both digital outputs, enabling full decoding and rendering by a compatible external DAC (though it remains to be seen how long this feature will remain relevant, as MQA appears to be losing its grip on Tidal, which recently began streaming high-res FLAC). 
Streaming has profoundly altered the way people discover and experience music. The CS1 makes it easy to add streaming to a legacy stereo or home-theatre setup. Or someone could configure a low-footprint system for a den or home office by combining the CS1 with a pair of powered speakers. Streaming doesn't get simpler than this.
— Cas Oostvogel, Product Manager of NAD Electronics
More information: NAD CS1 Endpoint Network Streamer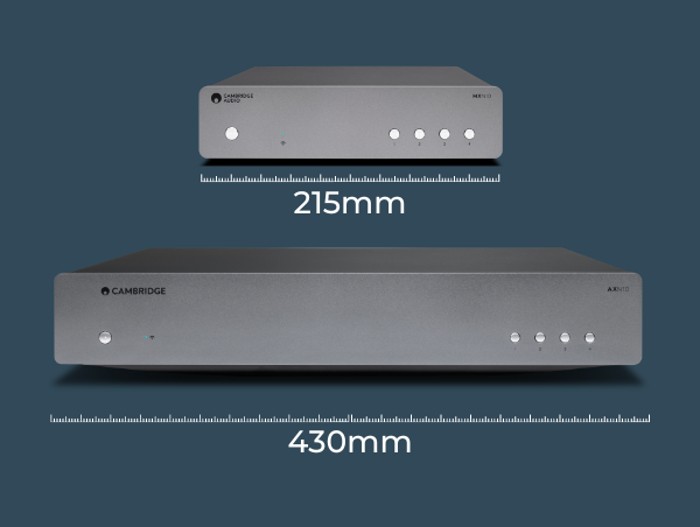 Another company known for superb high-value audio electronics is Cambridge Audio. This year, Cambridge launched two affordable network streamers, the AXN10 ($599) and MXN10 ($499), both built around the company's developed-in-house StreamMagic platform. Interestingly, the two streamers are functionally and sonically identical. The only difference is their form-factor. The full-width AXN10 is designed to be an aesthetic match for Cambridge Audio's entry-level AX Series of components, which includes two integrated amps, two stereo receivers, and a CD player. 
The half-width MXN10 is for those who need something smaller and aren't concerned with building a matching stack of gear. That said, the MXN10 would be a fine match for Cambridge's half-width DacMagic 200M ($549) and Alva Duo phono preamp ($349). The AXN10 and MXN10 both offer Spotify Connect, Tidal, and Qobuz support, along with Airplay 2, Chromecast, and the ability to play files from USB or NAS drives. Both are Roon Ready as well. Inside, the streamers use Cambridge's latest StreamMagic Gen 4 module and software to deliver audio data to the ESS Sabre ES9033Q DAC chip, capable of handling 32bit/768KHz PCM and DSD512. Cambridge says the streamers deliver "no-compromise hi-fi sound and rock-solid streaming performance."
At Cambridge Audio we believe in offering our listeners choice; it's essential to offer diverse routes to the music you love. We're delighted to expand the StreamMagic family to even more listeners worldwide.
— Stuart George, Cambridge Audio CEO
More information: Cambridge Audio AXN10; Cambridge Audio MXN10