Marantz, Snell Demo Room at the Audioholics SOTU Event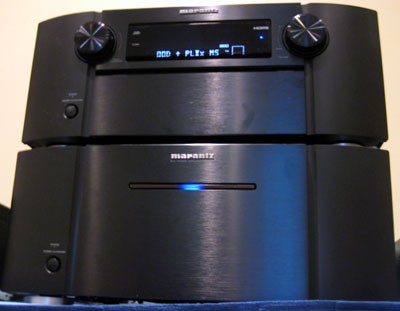 Summary
Marantz AV8003 Preamp/Processor
Digital Media Player for Ethernet
Audio, Video and Photo (supporting DLNA)
Video scaling and processing by Anchor Bay Technology
Precision Video ScalerTM allows up to 1080p scaling
Full 10bit Video Processing
HDMI V1.3a: 4-in/2-out
Dolby TrueHD, DTS HD, Deep Color
DSD (SA-CD), Auto Lip Sync
THX ULTRA2 Certified

Marantz MM8003 Power Amplifier
140W x 8ch (8 ohms) Power Amplifiers
Low Impedance Continuous Drive Capability
Current Feedback Amplifier Circuit
Massive Toroidal Power Transformer
Slow Start to Power On
8ch XLR Input Terminals
DC Trigger Control Inputs, DC Power Status
Executive Overview
The first demo-room I knew I had to spend serious time enjoying at Audioholics' State of the Union tradeshow was easily the Marantz/Snell demo-room. These two D&M Holdings companies put together on one of the most memorable demonstration I've seen. As someone who literally grew up with Marantz equipment through the decades I was interested to see Marantz name in full comeback mode with an all new line of powerful separates. Put them together with handcrafted speakers by Snell, featuring the critically acclaimed D7 front speakers and you get an Audio afternoon to remember.
It's difficult to recall the last time Marantz produced separate components. Separates have the mystique known only to audiophile blue-bloods who can afford the cash and space for two separate components to provide amplification and preamp/processing duties. But to that privileged few there is simply no going back to conventional all-in-one-receiver systems.
When the AV8003 Networked preamp/processor and its complimentary counterpart the MM8003, 8 channel power amp were released it seemed Marantz was competing with its more feature rich D&M cousin, Denon. D&M Holdings properties have largely been autonomous camps freely pushing forward in their respective markets. The new high-end gear by Marantz proves beyond any doubt it's not afraid to offer products that come frightening close to Denon's flagship separates in features for a fraction of the cost.
When I stepped into the room and saw the AV8003 perched upon the MM8003 I was immediately seduced. Its smooth curves and clean, black brushed metallic surfaces with indigo LED display bespoke an elegance and power that seemed to make the very earth tremble around them.
Marantz AV8003 Preamp/Processor and MM8003 8 Channel Power Amp
Marantz's flagship components have found that sweet-spot between performance and budget by not loading it up with features that detract them from their primary purpose. Wisely, Marantz keeps its construction focused on pure musical sound quality. The current generation of Marantz products surely brings pride to Mr. Saul B. Marantz himself.
When it comes to the AV8003 processor/pre-amp there's nothing striped down about it. The THX Ultra-2 certified pre-amp has 4 HDMI 1.3a inputs and two HDMI outputs. On the analog side it has 4 component, S-Video and composite inputs and two outputs each. It also features 1080P upscaling for all of its video inputs.
The big attraction for the AV8003 is networkability. Armed with a DLNA media player you can use your AV8003 for streaming media including image slideshows, music and movies. Sure, we might have suggested Wi-Fi, but the unit's RJ-45 connection will offer a stable connection to home your network.
Marantz Demos

AV8003 Pre Amp

MM8003 Power Amp

BD8002 Blu-ray Player

VP-11S1 Projector

LN9101M Motorized Lens
The MM8003 power amplifier offers an ample 140 watts of high-current from every one of its 8-channels. True, this is only a subject report of what I saw and heard but I'd bet you a dozen of your favorite donuts that 140 WPC is on the conservative side of its power output rating. Like the AV8003, the MM8003 power amp is built with Marantz's custom components that guarantee high current and clean power.
BD8002, Blu-ray Player
Another brand-new product was on tap from Marantz, the BD8002 Blu-ray player. We learned at the show that this unit was built in collaboration with fellow D&M Holdings company, Denon to create a Blu-ray player that goes to the head of its class.
Loaded up and ready to go on the player was a copy of Transformers on Blu-ray.
Transformers – meet Snell
You can practically date an audio/video tradeshow by the media blasted from its demonstrations. If passing by a monitor meant any of the Lord of the Rings Trilogy on DVD - it must have been 2004. But this year belonged to Iron Man on Blu-ray! Slightly older titles trickled onto Blu-ray that also made an impression at this year's SOTU, among the most popular was last summer's blockbuster, Transformers.
After I started coming down off my Marantz rush and started actually listening to the room it quickly became all about the speakers. Snell Acoustics is another of the audio royalty owned by D&M Holdings. The company was started back in the '70s when Peter Snell created his own Type A loudspeaker.
To recreate boomin' home theater you don't really need a refined speaker system hand-crafted in Haverhill, MA. But it certainly doesn't hurt!
I was enthralled by the scene where a US Army chopper turns into the Transformer called Blackout. Tension was masterfully re-created from the soundtrack into the room and it felt like I was watching a brand new movie. The chopper transformed into the giant robot and all hell broke loose as an entire US Army division went on the attack! The next scene had a single squad's showdown with Skorponic in the brightly lit desert as Captain Lennox (Josh Duhamel) calls in air support.
It was a true testament to the Snell system's Basis 150 powered subs placed discreetly throughout the room. Nowhere did the bass seem to sink into oblivion as is common in other hastily arranged home theater demo-room displays. One of the most common sonic disappointments occurs when the cannons begin to roar in one side of the room and what should be a center screen climax where LFE pushes you in the chest, the full frequency just doesn't follow the action. You end up being left with a hollow feeling where the sound just drops off and you're tempted to prescribe that audio system some acoustic Viagra.
The Basis 150s had a large demo room to fill with sound and I was amazed that for a 10-inch sub it didn't disappoint.
Snell D7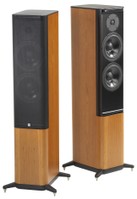 The real test of an audio system is its musical performance. Our next demonstration would truly test Snell's D7 front speakers designed by noted chief engineer Dr. Joseph D'Appolito.
To fulfill our high resolution musical needs we had a copy of Legends of Jazz Showcase on Blu-ray. Based on a discriminating PBS production, Legends of Jazz aired back in '06 and Showcase is a highlight reel of memorable performances lovingly transferred to Blu-ray in 5.1 Dolby TrueHD at 640kbps by LRS Media. Copies of the disc circulated throughout Audioholics Halloween tradeshow like blood starved Vampires hunting its next victim. I won't rest until LRS releases the complete Legends of Jazz collection.
Smooth woodwinds can really show-off a speaker system's transparency, especially in the hands of masters like Sanborn and Woods. The saxophone duet Senor Blues could have been an acoustic disaster. Imagine two bleating saxes competing for attention on a lesser system during a less legendary performance.
I am pleased to report the performance was sonically smooth and made the sax sound just as I prefer it, from about the second or third row of a live performance. The Snell D7s succeeded in demonstrating smile-inducing middle-highs that might have had me looking as if I was on some potent sedatives. It's possible I snapped out of my trance with some drool running down my chin so it was a good thing the room was fairly dark.
Not that there was any need for it in the sizeable demo-rooms of SOTU but the Snell D7s were engineered by Dr. D'Appolito with a flexible soundstage in mind. They even have a unique feature called a boundary switch to provide increased depth in situations where you're forced to place the front speakers too close to a wall.
Snell 5.1 Speaker System
Fronts: Snell D7

Center: LCR7

Surrounds: SR7

Sub: Basis 150s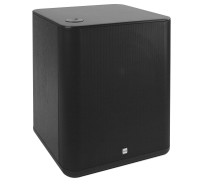 The performance was memorable and I could only wish to revisit a setup like this on a regular basis. As if to simply add to the opulence of this high-end system let's not forget the projector and screen.
The projector we were viewing was the Marantz VP-11S1 housed inside an LN9101M motorized anamorphic wide screen lens option. The lens assembly alone carries an MSRP of $10K and the projector inside it creating our flawless images would set you back much more. These are particularly high-grade components producing images that effortlessly put your local Cineplex to shame.
An extra special thanks goes out to Carada for providing the projection screens that were used in the Marantz/Snell demo as well as throughout the tradeshow, including the Emotiva room.
For more information, visit Marantz.com. 


Like This? Check out our other
AV News
!
Confused about what AV Gear to buy or how to set it up? Join our Exclusive Audioholics E-Book Membership Program!
Recent Forum Posts:
Wayde Robson posts on November 05, 2008 06:15
Geno, post: 478060
What price?
I didn't want to get into pricing in the post itself but..
each of the separates are MSRPing from Marantz for under $3K. Far cry from Denon's flagship seps for $6-7K apiece.
The Snell D7 is a $2K pr speaker (the rest will fall in line with smaller versions of that price) it's quite reasonable for speakers that are
made in the western hemisphere
, generally I equate that to quality although it certainly doesn't have to be. I can assure you the Snell D7 and the rest of the surround kit was spectacular and would sound amazing in any normal sized room.
I find it interesting thought that Dr. Dr. D'Appolito was acredited with solving lobing in midrange speakers with the placement of tweeter and midrange in the box itself (I am just paraphrasing my, possibly underinformed, understanding of this effect)….. yet the center LCR7 is an MTM style midrange speaker… which is exactly what (as far as I understand) suffers lobing.
That said, I didn't notice any center channel drop off in soundstage and it was a huge room for the speakers. So perhaps the breakthrough attributed with Dr. D'Appolito is that he solved lobing in the MTM speaker design? Please correct me if I'm wrong.
I am pretty sure there were two subs in the room but there could have been more hidden throughout.
Geno posts on November 04, 2008 20:59
What price?
Gimpy Ric posts on November 04, 2008 18:18
How many of those 10" subs did they have in the room?
engtaz posts on November 04, 2008 17:41
That was a awesome Demo room. Very nice setup.

engtaz
Post Reply