Apple Working Towards iTunes Smorgasbord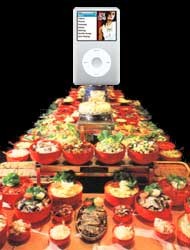 Line up for your vittles!
Apple is currently working (holding discussions) with music companies to offer a veritable smorgasbord of music to buyers of its iPod devices. While the plan is very preliminary in its level of development and subject to any number of changes or adaptations due to industry negotiations, the basic plan is simple. Consumers who purchase an iPod under this plan will be able to download and listen to unlimited songs from Apple's iTunes store. The songs will only be playable on Apple iPod or iPhone products and the songs will, as a result, retain their DRM restrictions.

Now this raises some questions, since the talks are speculative at this point and no one has the real info on what may be the final result of any agreed-upon deal:
Will Apple get all studios aboard equally? For this type of business arrangement to take off, they'll need all four majors to sign on and, in all likelihood, refrain from insisting upon special deals and exceptions.
Will there be a one-time fee or a subscription-based model. Apple has yet to clarify whether these talks center around a subscription fee-based model (that would presumably work better with the iPhone than the iPod) or a single-fee model.
The fee could be levied at any time (post-purchase, or in conjunction with new purchases) or it could simply be rolled into the cost of the new line of iPods at the next update. Imagine the industry sweep that would take place if Apple took it's manufacturing savings and tossed it into free music for its customers. That giant sucking sound would be all the other MP3 players dying a quick death.

This isn't the first time a company has applied the "all you can eat" method to music consumption, but it is a very unique opportunity in its potential. Nokia struck a "comes with music" deal with Universal Music around the end of 2007. To pull this off, Nokia gave up around $80 to the music companies - not exactly a small amount. In contrast, Apple is offering up about a quarter of that according to some reports.

Research has been done on the question of how consumers would react to rolled-in music plans and one company's research had shown that consumers would pay as much as $100 for unlimited music access - provided it was good for the lifetime of the device. Subscription models came in around $7-8 per month, but given the mediocre adoption of XM radio, this may not be the way to go. Perception is half of reality and getting a true "all-you-can-eat" deal up front is much more compelling than a subscription.

As we like to say - the future of consumer electronics is looking bright. Our economy... not so bright, but we definitely like where technology is headed.

Biggiesized posts on March 20, 2008 10:09
I pay as much as $50 for unlimited music on the lifetime of the device.
Post Reply