Universal Joins imeem Free Music Site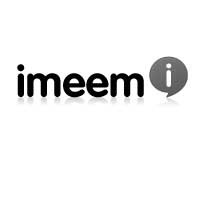 Universal Music Group was the hold out, but finally joined imeem. The record label has finally signed on to join imeem's plan to revolutionize online music listening.
This is just the kind of forward thinking the ailing music industry needs. imeem is an online social media website that offers free media streaming to users. Its revolutionary offer to content providers is a share of its ad revenue in exchange for licensing.
imeem announced Monday that it has finally struck a deal with Universal, and now all four labels are on board. This means you can get an imeem account and start streaming free music through the ultimate on-demand media player experience. The service also lets you do interesting things like provide code so you can embed a player in your blog featuring a playlist of your favorite music.
You can even upload and share your own MP3s and playlists through imeem. However, the site does not allow you to download MP3s to load them on mobile players.
According to HitWise online marketing statistics, imeem ranks fourth among media/entertainment sites behind YouTube, Google Video and MySpace Video.  But, this is a significant victory for imeem which can probably expect rapid growth as a result. The site already claims about 19 million members and hordes of new users sign up each day.
NBC-Universal, like most major record labels has railed against Apple - iTunes dominance in the online music market and has been looking for alternatives. Last summer, Universal Music Group even threatened not to sign its annual contract with Apple to make its library available through iTunes.
Microsoft's DRM, PlaysForSure and its music-subscription model was used by services like Napster and Yahoo Music, could never adequately compete with Apple.
PlaysForSure even had the support of nearly every portable music player manufacturer - except Apple. It was even compatible with any Windows Mobile device compatbible with Windows Media Playe 10.  It added up to barely a dent in iTunes market share. It looked so grim for Microsoft's plan to topple iTunes the software company didn't even use it for its own MP3 player, Zune.
Now it looks like the labels have unanimously agreed that ad-revenue sharing and free content is the way to compete with iTunes as an online-music business model.
Recent Forum Posts: