Can Active Streaming Speakers Really Replace a High-End Stereo System?
Can Active Streaming Speakers Really Replace a High-End Stereo System?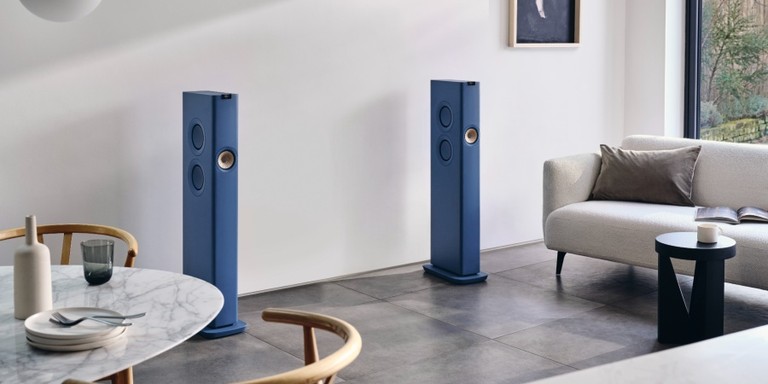 Can Active Speakers Replace a High-End Stereo System?
All-in-one audio products have been popular forever, from my grandfather's Zenith table radio, to my dad's Sony boombox, to the Sonos speaker that my brother just bought for his kitchen. You make one purchase, plug it in, and you have music. If you're an average non-audiophile customer, what's not to like? But what about those high-end all-in-one solutions promising end-game audio performance without the complications of a traditional component-based system? Convincing serious audiophiles to give it all up and purchase an all-in-one product is never going to be easy, and attempts to do so have been met with much resistance over the years. There are several possible explanations for this. I'm speaking in generalities of course, but one big hurdle is the simple fact that audiophiles like choice. We want to be able to decide which amp sounds best with which speakers, and which source components give us the most pleasure to use. Another issue is that most audiophiles aren't just in it for the music; many of us also love audio gear (whether we choose to admit that or not). We like the shiny metal boxes, the towering speaker cabinets, the glowing tubes. And we like to play with these toys. We tweak and tinker, swap out cables and accessories, and fantasize about upgrades. The raison d'etre of all-in-one audio products is to avoid all of that. But sometimes, reality sets in for even the most committed audiophile. Maybe you don't have the space or the budget for your dream system (I sure don't). Maybe you have to find a musically-satisfying system that your spouse can live with, and your kids won't destroy. Or maybe you really are just in it for the music, and you don't care about tweaks, upgrades, and audio jewelry. There must be plenty of folks out there who find themselves in similar circumstances because the active streaming loudspeaker is a hot category in the world of high-performance audio these days. (There are also potential performance gains to be enjoyed when the loudspeaker designer can hand-pick amplification components for each drive unit.)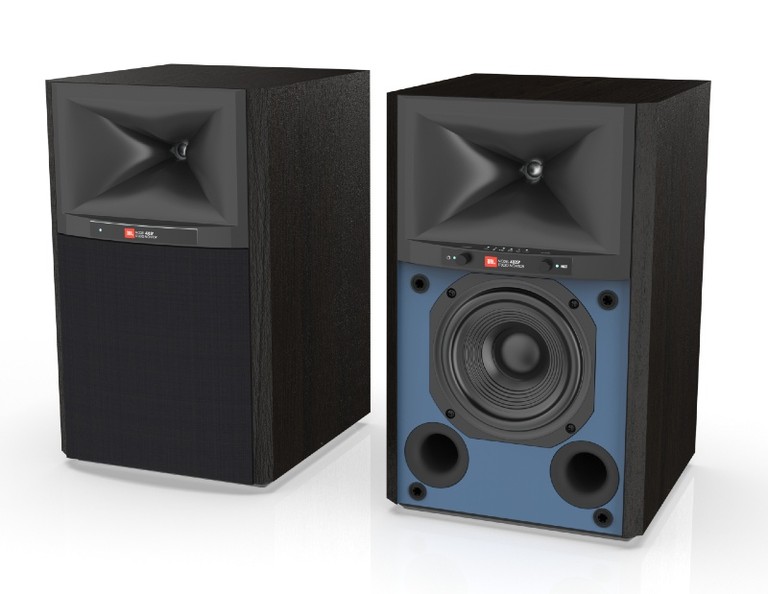 JBL 4305P Studio Monitor
The success of active streaming speakers — such as the KEF LS50 Wireless II, the Devialet Phantom, and the Buchardt Audio A500 — has shown that there is an intersection between people who want good sound (and are willing to pay at least a few thousand bucks for it), and people who want a simple, compact, all-in-one audio solution. The latest entry into this arena is the 4305P Studio Monitor ($2,200/pair) from JBL, which the company describes as "everything you need for a completely self-contained, high-performance audio system." It's a Roon Ready wireless streaming speaker with Google Chromecast built-in, Apple AirPlay 2, and bluetooth. Like the aforementioned KEFs, a pair of 4305P monitors can link together via a wireless connection, but those craving even higher resolution (192 kHz instead of 96 kHz) can tether the speakers to each other with an included Digital Link cable. Continuing JBL's popular retro aesthetic, the 4305P pairs a horn-loaded 1-inch compression driver with a 5.25-inch cast-frame, fiber-composite cone woofer, with each driver receiving its own amplification (total system power is 300 watts RMS). JBL claims that the combination of active crossovers, custom tuning, and hand-picked amplification results in "a level of refinement and accuracy from the 4305P that is simply not possible with a passive loudspeaker.
But here's the thing. A small two-way speaker, no matter how impressive, isn't going to be enough for some audiophiles. Sure, you can add a sub, but even with added bass it's hard to make small speakers sound truly big. (If you do need a small speaker with the potential for huge sound when paired with subs, check out James Larson's recent review of another active speaker — albeit without the streaming smarts built in — the Sigberg Audio SBS.1.) Some folks just crave the grand scale and raw SPLs that can only come from a larger speaker. Are there active streaming speakers that still deliver on the promise of all-in-one simplicity, while at the same time satisfying the demand for big, full-range sound? Yes, there certainly are. Below, I have curated a list of some of the newest and most interesting examples that might just have what it takes to replace your big two-channel rig. But be warned: prices range from expensive to very expensive.
KEF LS60 Wireless: $7,000/pair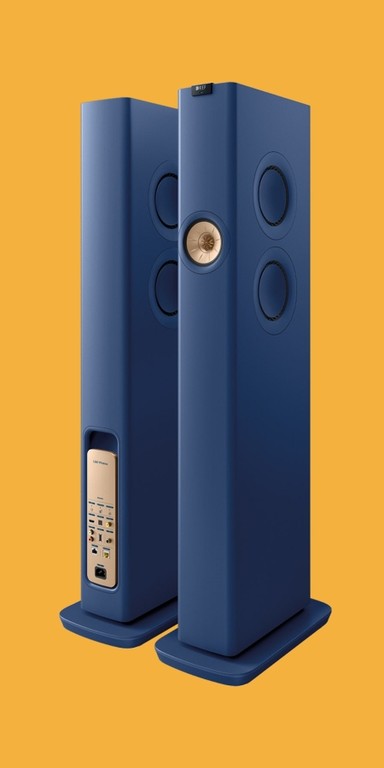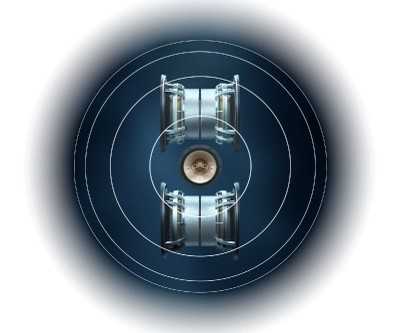 The most buzz-worthy speaker on this list is also the least expensive. The new KEF LS60 Wireless marks the company's 60th anniversary, and represents KEF's vision of high-fidelity for the future. While I've seen some audio publications refer to the LS60 as a floor-standing version of the LS50 Wireless II, that description doesn't do this new speaker justice. At about 43 inches tall and just 5.1 inches wide, this startlingly slim tower is packed with tech, but I'll stick to the main talking points. The LS60 inherits KEF's Single Apparent Source technology from the flagship Blade speakers. Single Apparent Source delivers the acoustic ideal of a point source — all frequencies radiating from one point, for essentially perfect performance in the time domain and an unusually stable soundstage with a huge sweet-spot.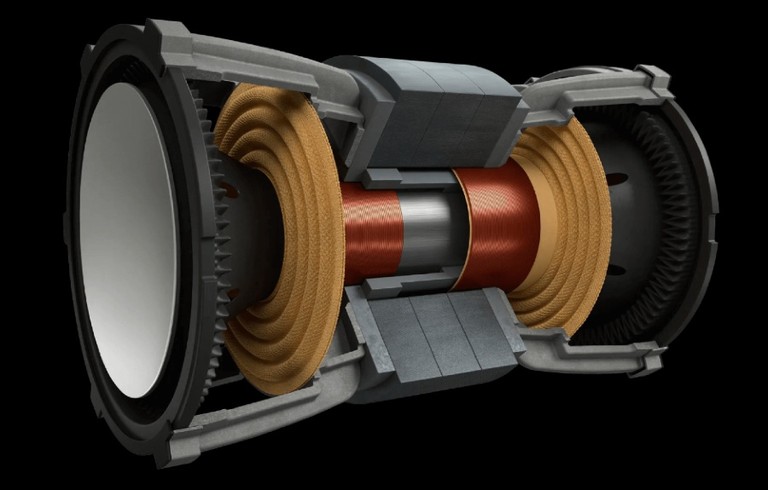 Making this possible is a 12th-generation Uni-Q concentric driver array with Metamaterial Absorption Technology, aided by four side-firing woofers and custom DSP algorithms for low-frequency phase correction. This is essentially a scaled-down version of the driver array on the Blade speakers, but executed in the digital domain. Even KEF's expensive Reference speakers don't incorporate Single Apparent Source technology. If you're used to seeing the 5.25-inch Uni-Q on the LS50, you'll notice right away that the Uni-Q on the LS60 is noticeably smaller, with a 3/4-inch tweeter and a 4-inch midrange driver. Then again, the Uni-Q on the LS50 has to handle bass in addition to midrange. On the LS60, bass is handled by four 5.25-inch force-cancelling woofers, driven by 500 watts of Class D power per speaker. (The midrange driver gets its own 100-watt Class D amp, while a 100-watt Class AB amp powers the tweeter.) In order to fit these force-cancelling woofers into such a slim cabinet, KEF developed a technology called Uni-Core, in which each pair of back-to-back drivers shares a single motor system with overlapping, concentrically-arranged voice coils. Although originally developed for the LS60, Uni-Core technology was first seen by the public in KEF's tiny-yet-powerful KC62 subwoofer. Despite its small footprint, the LS60 offers bass response down to 31Hz (-3dB). Each speaker also has a subwoofer output, allowing the user to add a pair of KC62 subs for a $10K system that can fit in almost any room while reportedly delivering immense, full-range sound. The LS60 Wireless handles all the expected streaming platforms via the KEF Connect app, Spotify Connect, Tidal Connect, and (after a firmware update expected in Fall 2022) Roon. Physical inputs on the main speaker allow for other sources as well, such as a turntable, a CD transport, or a TV via HDMI eARC. The LS60 Wireless is shipping now and available at our channel partner Audio Advice.
Dynaudio Focus 50: $11,000/pair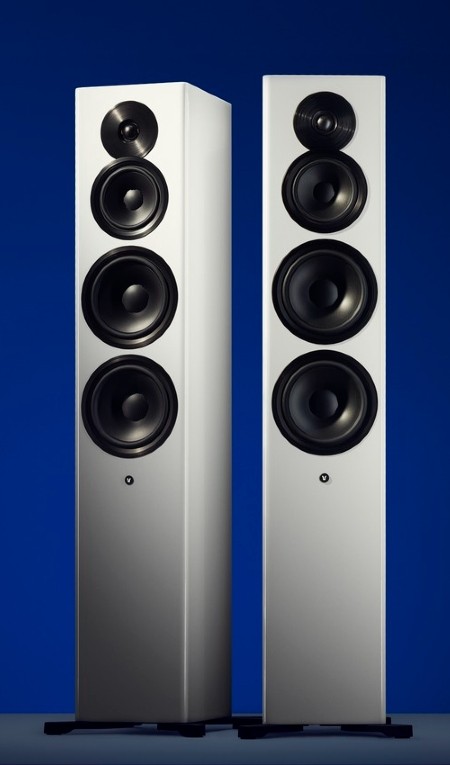 Thanks to the company's decades-long expertise in building active studio monitors, Dynaudio has been building active loudspeakers for home use longer than most other companies. But the brand's previous top offering, the Focus XD series, was getting long in the tooth when I started researching for this article, having been launched in 2014. At the 2022 Munich High End show, however, Dynaudio bounced back to the head of the class with an all-new series of active streaming speakers simply called Focus. The three-strong Focus range includes a bookshelf speaker, a smaller floorstander, and the flagship Focus 50 three-way floorstander, which combines two 7-inch woofers, a 5.5-inch midrange driver, and Dynaudio's well-regarded 1.1-inch Cerotar soft-dome tweeter, all in a traditionally attractive sealed cabinet. At almost 47 inches tall and 8.5 inches wide, the Focus 50 looks more substantial than the slim LS60 Wireless, and claims bass response down to 20Hz (-3dB). But there is a subwoofer output should you feel the need for supplemental bass. Naturally, the drivers are all made in-house, with Class D amps sourced from Pascal Audio — the same amplifiers used in Dynaudio's professional studio reference monitors. The woofers are fed a diet of 280 watts per speaker, and the midrange drivers get 280 watts apiece as well. A 110-watt amp powers the tweeter. Spotify Connect, TIDAL Connect, Apple AirPlay 2, Google Chromecast, and Roon Ready certification are all present and correct. One killer feature that you won't find on the LS60 — or any other speaker on this list — is compatibility with Dirac Live. If you're willing to pay for the software (and a measurement microphone), you can take advantage of Dirac's powerful room-correction and EQ tools to fine-tune the sound of your Focus 50 speakers and their interaction with your listening space. If you don't want to go the Dirac route, you can compensate independently for each speaker's position in the room from within Dynaudio's app. The Focus 50 uses WiSA technology for a wireless inter-speaker connection (up to 24-bit/96kHz), though a wired inter-speaker link can be used instead for even greater performance. In an interesting twist, the Focus 50 can also accept a wireless audio signal from a WiSA-equipped TV — no HDMI required. One unique feature that stands out to me is the magnetic Smart Grilles. What makes them "Smart?" The speaker can sense whether the grilles are on or off, and adjust the EQ to compensate, so the speaker reportedly sounds exactly the same either way. Dynaudio always offers beautiful finishes, and the Focus 50 will be available later this year in your choice of White High Gloss, Black High Gloss, Walnut Wood, or Blonde Wood.
DALI Rubicon 8 C: $11,000/pair + $1,398 for Dali Sound Hub with BluOS NPM-1 Module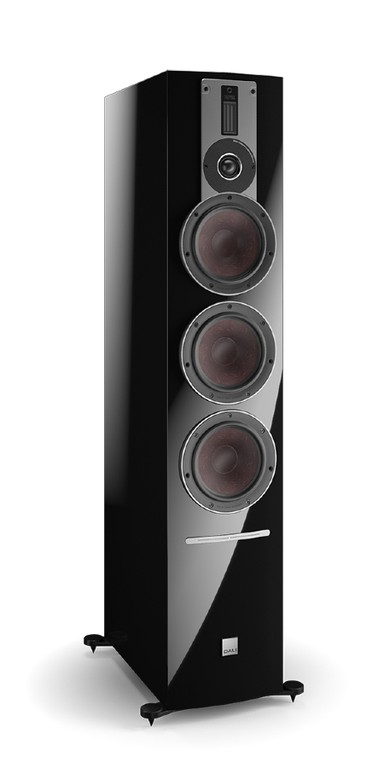 The Rubicon 8 C is the premier active streaming speaker from DALI (Danish Audiophile Loudspeaker Industries). Like DALI's other top offerings, the Rubicon 8 C uses the company's signature hybrid tweeter, which combines a 17 x 45 mm ribbon with a 29 mm soft textile dome, both made in Denmark. The hybrid tweeter module starts working as low as 2.6 kHz (with the ribbon kicking in at 14 kHz) providing extreme bandwidth combined with continuous, ultra-wide dispersion, according to DALI. The company says that this is "an important part of the DALI sound philosophy." Three 6.5-inch Wood Fiber Cone drivers handle the low frequencies. DALI says that wood fiber delivers a "light, rigid, and uneven surface for even, piston-like motion and greatly reduced surface resonance." The drivers are powered by 250 watts of amplification and situated in a bass reflex enclosure measuring 43.3 inches tall, 8.7 inches wide, and 17.5 inches deep. Despite the triple woofers and fairly large cabinet volume, bass extension begins to die out at 36 Hz (-3dB). Luckily, the required DALI Sound Hub features a subwoofer output and a pair of preamp outputs, in addition to a variety of digital and analog inputs. When equipped with the optional BluOS module (an absolute must, if you ask me) the Rubicon 8 C can be controlled by the powerful and user-friendly BluOS app. The DALI Sound Hub sends audio to the speakers wirelessly, via a proprietary 30 bit protocol that transfers an uncompressed I2S audio signal at 24 bits/96 kHz (no wired option is available for higher resolution). The extra 6 bits are used for volume control, speaker ID, and other control data. According to DALI, the connection is highly stable, introducing virtually zero packet loss, and it uses forward error correction to prevent audible distortion from any packet loss that does occur.
See our Dali  Oberon 7C Tower Speaker Review
Cabasse Pearl Pelegrina: $29,990/pair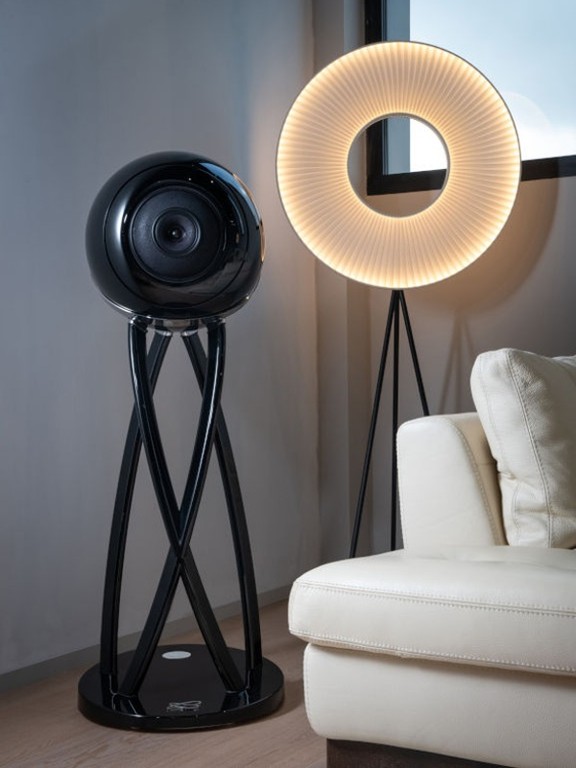 The French speaker company Cabasse doesn't get much love here in the United States, though I suspect that has more to do with distributor networks and marketing budgets than it does with performance. In any case, the company's Pearl collection of spherical speakers has a new flagship, the Pearl Pelegrina, which was launched to celebrate Cabasse's 70th anniversary in 2021. The speaker takes its name from a rare 55-carat pearl that was discovered in 1913 and dubbed "the incomparable." Like the other speakers on this list, the limited-edition Pearl Pelegrina is an active streaming speaker with support for Tidal, Qobuz, Spotify, and so on. Unlike the others, however, the Pearl Pelegrina looks absolutely nothing like a typical tower speaker. I guess you could say it's more like a huge stand-mount speaker with an integrated stand, but it doesn't look anything like a stand-mount speaker either. This spherical work of audio art is about 16.5 inches in diameter, weighs 99 pounds each, and stands just over 50 inches tall with the integrated stand. The Pearl Pelegrina's sci-fi, other-worldly design wouldn't look out of place in a modern art museum, but I think it would be most at home aboard an intergalactic starship. I think it makes the sculptural, quasi-alien form of the Devialet Phantom look downright terrestrial. Inside this fascinating form, there is some equally fascinating engineering, including a "quadricoaxial" driver array the likes of which I can only remember seeing once before — on the Cabasse Sphère speaker launched in 2006. But the company's engineering team didn't just twiddle its collective thumbs for the intervening 15 years, and so the quadricoaxial driver system in the Pearl Pelegrina takes advantage of the company's latest developments in DSP technology and cone materials. At the core of the quadricoaxial driver array is an updated version of Cabasse's signature TCA (tri-coaxial aramid) driver, which combines the high-frequency, midrange, and low-mid drivers in a single assembly. The tweeter and midrange drivers both have a dedicated 300-watt RMS amplifier, while the low-mid driver gets a formidable 1,250 watts RMS. The TCA array is supported in the bass by a newly-designed 12-inch woofer powered by its own 1,850-watt amplifier. (For those keeping score at home, each speaker has a total of 3,700 watts of power onboard.) According to Cabasse, the combination of the quadricoaxial driver system with such a copious amount of power results in "huge dynamic performance with pinpoint imaging." Bass response is rated down to a subterranean 10 Hz, while dynamic capacity is listed at an impressive 134 dB. The 32-bit/768 kHz DAC and powerful DSP work in conjunction with Cabasse's CRCS automatic room correction system, which uses speaker-integrated microphones to optimize the sound to suit the unique acoustics of your spaceship's listening quarters.
YG Acoustics Vantage Live: $49,800/pair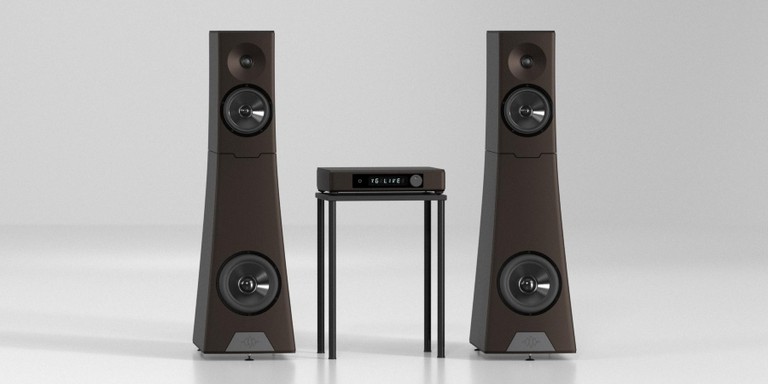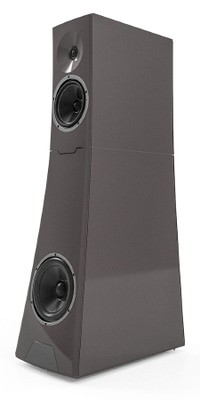 Here's a shocker for you: the most expensive speaker on this list is also the one I really want. The original passive version of the YG Acoustics Vantage is the smallest three-way tower in the company's Reference line. The new active streaming version, called the Vantage Live, looks nearly identical, at 44 inches tall, 13 inches wide, and 21 inches deep. But inside each 176-pound speaker, the Vantage Live is hiding technological advancements that represent a years-long effort from three different companies. The cutting-edge acoustics and loudspeaker engineering were done in-house, as is the norm for a company that builds everything from drive units to crossover inductors to circuit boards in its Colorado factory. But for the Vantage Live, YG turned to Minneapolis-based electronics company Bel Canto, which specializes in high-end Class D amplification, and to England's Cambridge Acoustic Sciences, for its expertise in sophisticated supercomputer modeling. Amplification and digital-to-analog converters are housed inside the speakers, which link to a central controller unit via thin fiberoptic cables (no fully wireless option is available, but I'd be willing to live with that slight inconvenience). YG claims that the Vantage Live "delivers accuracy and musicality at the highest level, competing with the very best in multi-component systems." The speaker uses YG's ultra-low-distortion ForgeCore dome tweeter, along with a 7.25-inch CNC-machined BilletCore midrange driver and an 8.75-inch BilletCore woofer, all housed in a low-resonance all-aluminum cabinet. The speaker's advanced DSP crossovers have been "tuned on the basis of complex, multi-domain physics and acoustic models, (and) optimized using supercomputer and cloud computing resources," according to YG. The research team at Cambridge Acoustic Sciences reportedly measured and modeled every aspect of the original Vantage speaker's drivers, crossover, and cabinet, and built a DSP crossover to mimic the performance of YG's highly-regarded DualCoherent crossover, which is coherent in both the time and frequency domains. The resulting DSP crossover is said to deliver both a superbly flat frequency response and exceptional phase, amplitude, and impulse accuracy response, at all volume levels. YG says that the excellent phase behavior "ensures holographic imaging over a wide sweet spot, with unusual flexibility in speaker placement." Bel Canto helped to develop the Vantage Live's DSP, DAC, and amplifier circuits. Each driver is powered by its own 700-watt amp. The controller unit is a Roon endpoint, and can stream both Qobuz and Tidal directly (complete with MQA support). The controller also features a phono stage with adjustable gain and loading, along with a full suite of analog and digital inputs. According to YG, the Vantage Live offers "a level of sound quality that has never been achieved before in an integrated system."
Active vs Passive Loudspeakers  - YouTube Discussion

Conclusion
It's probably fair to assume that some audiophiles would never give up the freedom and the fun that can come with assembling a component-based system from scratch. And the loudspeaker manufacturers featured here aren't about to stop producing regular passive speakers any time soon. But even ignoring the convenience and space savings provided by an active streaming speaker, there may be truth to the notion that these designs can simply deliver more pure performance per dollar than a comparably-priced component system. For every separate component you buy, you're paying for a chassis, power supply, maybe a display, cables, and more. These active streaming systems condense your money into one purchase, letting it go farther than it otherwise could. And while an active streaming speaker doesn't let you decide which components to pair together, there's something to be said for removing the guesswork both for you and for the speaker designer. When building a passive loudspeaker, the designers have no clue what electronics the customer will use. But when you buy an active streaming speaker, you are relinquishing control to the designers, effectively letting the same people you trust to engineer a great-sounding speaker have the autonomy they need to make that speaker sound its best. Is that a compromise that you're willing to make? Share your thoughts in the related forum thread below.
Confused about what AV Gear to buy or how to set it up? Join our Exclusive Audioholics E-Book Membership Program!
Recent Forum Posts:
gene posts on July 19, 2022 04:57
Active streaming loudspeakers, such as the $2,800 KEF LS50 Wireless II, promise all the performance of a traditional component-based stereo system combined with the simplicity of a "lifestyle" audio product. These products have become very popular, so there's clearly a market for compact, all-in-one audio systems. But will hardcore audiophiles ever replace their big two-channel rigs with all-inclusive active streaming speakers? Read on to learn more.
Post Reply