Sony's MDR-MV1: An Open Back Headphone Reference for Audio Professionals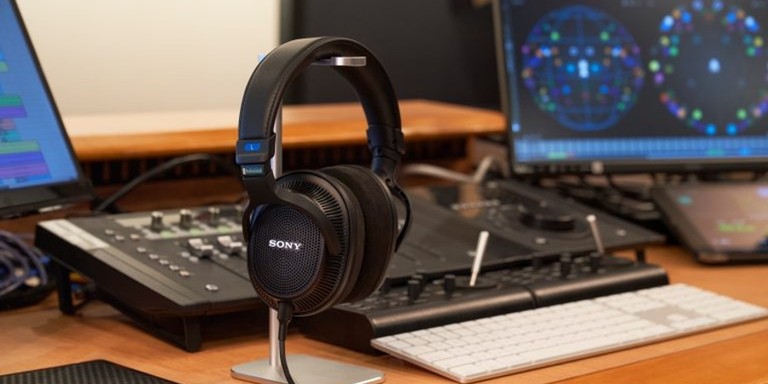 Sony MDR-MV1
Summary
Frequency Response: 5 Hz - 80,000 Hz
Sensitivity: 100 dB/mW
Weight: 7.87 oz (not including cable)
If you've spent much time in a recording studio, there's a good chance that you're familiar with Sony's MDR-V6 and MDR-7506 Studio Monitor headphones, which have been perennial favorites among professional audio engineers for many years. But you might instead come across similar "pro" headphones from Sennheiser, Audio-Technica, Fostex, Beyerdynamic, Shure, and others. One thing that virtually all of these will have in common is that they're closed-back designs, meaning the ear cups create a sealed environment around the user's ears. For audio professionals, closed-back headphones have many practical advantages. First of all, they contain the sound coming from the headphone drivers, preventing it from leaking out for the rest of the world to hear. This allows singers recording vocal tracks to sing along to existing audio without having those backing tracks picked up by the microphone. Closed-back designs also isolate the user from external noise. If you're a boom-mic operator on a film set, you need to be able to hear exactly what's being picked up by the mic. If you're mixing live sound, like my friend Ryan who works at New York's Blue Note jazz club, closed-back headphones allow you to hear your mix over the competing sounds in your environment. Over the years, Sony has made a variety of popular closed-back headphones. But while professionals tend to use closed-back headphones, many audiophiles have long preferred open-back headphones, which neither isolate the listener from external noise nor prevent the playback audio from leaking out. From expensive options like the Focal Utopia and Audeze LCD-5, to more affordable options like the classic Sennheiser HD 600, open-back headphones offer what some consider a more natural sound. The ear cups on these headphones all feature open grilles, allowing the sound coming off the back of the driver to escape into the open air. As a result, echoes, resonances, and bass build-up can escape the open ear cups without affecting sound quality. In closed-back headphones, sound can excite resonances in the acoustic chamber created by the ear cups, causing unwanted noise. Meanwhile, the "springiness" of the air sealed inside the ear cup can restrict the movement of the diaphragm, limiting dynamic expression. Open-back headphones also tend to provide more detail and a more open, layered soundstage with more specific imaging. Perhaps these are some of the reasons why Sony decided to make the new MDR-MV1 Reference Monitor Headphones ($400), designed for professional sound engineers and music creators.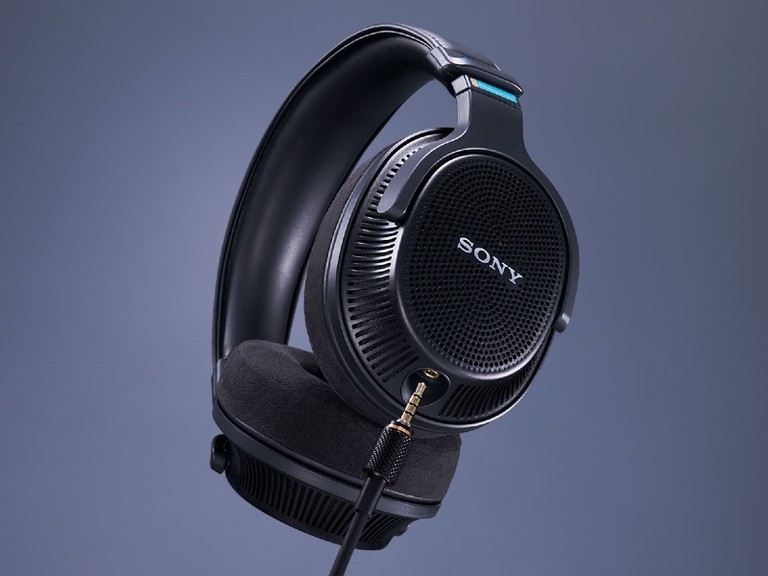 The MDR-MV1 is an open-back monitor headphone that promises to provide the long-lasting wear and reliability that audio professionals require, while also delivering the sound quality of an open-back design. Sony says that the open-back nature of the MDR-MV1 "enables accurate reproduction of a wide sound field, making them a suitable option for mixing and mastering immersive spatial sound, such as 360 Reality Audio, as well as stereo sound with hi-resolution capability." Spatial sound formats like Dolby Atmos and Sony's own 360 Reality Audio are becoming more common thanks to streaming services like Apple Music and Tidal. According to Sony, the MDR-MV1 offers "extended spatial sound reproducibility and accurate sound object positioning within a 360-degree space, as well as clear, hi-resolution, nuanced sound with a super-wide frequency range and accurate soundstage." The specially-developed 40mm driver promises ultra-wideband playback (5Hz – 80 kHz) and natural-sounding high frequencies, reportedly making it easier for professionals to "capture localization, spaciousness, and detailed changes in sound processing." The driver features a low-distortion, high-compliance diaphragm shape and an unusual corrugation design.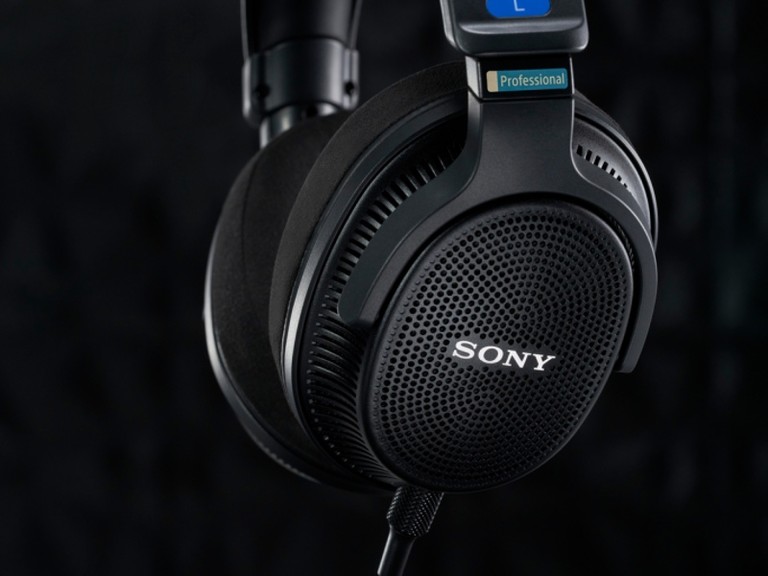 This unique driver is better able to deliver the sonic goods because the open-back structure of the MDR-MV1 reduces internally reflected sounds and eliminates acoustic resonances, according to Sony. For optimal control of the airflow in front and back of the driver unit, Sony uses "acoustic resistors" to eliminate spatial resonance. This reportedly allows for "natural and rich bass reproduction without coloring." While the open-back design won't be ideal for the use-cases described earlier, it should have considerable benefits in many professional mixing and mastering environments. Sony says that the MDR-MV1 will also work seamlessly alongside the company's 360 Virtual Mixing Environment (360VME) service, which was announced earlier this year. 360VME is designed to "free creators from space constraints and heighten reproduction abilities from virtually anywhere."
With the rise in spatial sound and high quality streaming music services, we are seeing a professional demand for headphones that can adaptably address and enrich all of these immersive production needs. Sony's deep heritage in audio is on display with the introduction of the MDR-MV1, a flexible and stylish new option for studio or home use. The headphones prioritize comfort, showcase Sony's craftsmanship and provide long-term durability while offering sound engineers the ability to accurately reproduce sounds, as the artist intended them to be heard.
— Andy Munitz, Sr. Product Manager, Sony Electronics
To create great listening experiences for streaming and immersive audio, it's important for artists and studio professionals to have sound equipment tuned for these technologies. The MDR-MV1, developed by Sony's Headphone Engineering team in collaboration with Sony's Music engineers, provides creators mixing both in studios and at home with a new reliable reference point for modern sound design needs.
— Mike Piacentini, Mastering Engineer, Battery Studio, Sony Music Entertainment
Peter Moshay's Take On The Sony MDR-MV1 Headphones

Comfort is always an important consideration when choosing a pair of headphones, but professional headphones like the MDR-MV1 need to feel light and agreeable enough on the head to be worn for many hours at a time without discomfort or fatigue. With that in mind, the MDR-MV1 is fairly light at 223 grams, thanks to the judicious application of lightweight plastic and sturdy machined aluminum in the appropriate places. It features soft, lightweight, breathable ear-pads, with a carefully considered clamping force. A detachable cable is a must-have feature for professionals like Peter Moshay, a Grammy-winning producer, mixer, and engineer, who has been spending time with the MDR-MV1 since its release in the spring of 2023. Moshay is known for his work with famous artists like Hall & Oates, Journey, The Cars, Barry Manilow, Kenny Loggins, and Quiet Riot. "I can tell a lot of attention went into the headphones and comfort is of the utmost importance when you're wearing something for extended periods of time," he said. "The headphones are so light, and the pads are soft – they're like whipped cream."
Moshay is a longtime Sony fan, and is said to be an avid user of the company's legacy DMX-R100 digital audio mixer console, and a fan of the original MDR-V6 studio monitor headphones. Sony's $500 MDR-7520 closed-back headphones are his primary mixing headphones for Live from Daryl's House, which began as a monthly web series before becoming a weekly TV show in 2011. (In the series, Daryl Hall performs with a rotating cast of musical collaborators.)
I can tell the intention of every detail that went into making (the MDR-MV1), the second I put them on. Every nuance of it, I know was painstakingly made and nobody appreciates that more than me. This model is designed for the fanatics of sound. I've been using the MV1 headphones for hours and hours listening to Hall & Oates' work. It's material I'm really familiar with but when listening with these new headphones, I heard so much more detail in one particular recording. That detail is very easy to hear and pick out. The balance is perfect. The impedance is low so the amount of detail that's up front is undeniable — even when plugged into a mobile device. It's amazing to listen to something you're so familiar with and hear more detail. When you're listening on something really great, you hear so much more. I must have listened to this one recording at least 100 times and I heard an edit that was so obvious now with the MV1s. And what's interesting is that I hear this level of detail while listening fairly low, about 85 dBs, which is a game-changer. With other headphones, you have to crank it up to hear that kind of detail. Having a nice low impedance that still has all of the detail, without the distortion, hasn't been done before. I put these on, and the sound stage is right there. It's revealing, in a flattering way.
— Peter Moshay, Grammy-winning Producer
Moshay went on to comment on the open-back acoustic structure of the MDR-MV1, which he says affords an unusual combination of benefits. "They are unlike any other open back headphones I've tried in the past," he said. "I can still understand and judge what is going on in the low and ultra-low end, something I haven't been able to get just right on other open-back models. I feel like I'm still part of my environment even though I've got everything so detailed and close to me when I'm hearing it." Of course, Moshay is just one of many audio professionals who might benefit from the unique presentation of the MDR-MV1. Sony says that the headphone's uncolored frequency response was "obtained through collaboration with leading industry professionals," making it suitable to a variety of production workflows. Its open-back design "virtualizes a speaker-based production environment" better than other headphones, according to the company.
More information: Sony MDR-MV1

Unless otherwise indicated, this is a preview article for the featured product. A formal review may or may not follow in the future.