Sennheiser Momentum Fit and Comfort
Sennheiser Momentum Fit and Comfort
The Sennheiser Momentums weigh 190 grams or about 6.7 ounces or 0.42 pounds. At this weight, the top band doesn't really become much of an issue for comfort. Sennheiser has used premium materials with the Momentum series headphones and that includes leather over the band and the cups. The band has a slight amount of padding which is really too firm to be called comfortable. I wouldn't call it uncomfortable since the headphones don't really weigh on you all that much but they certainly could have put some softer padding up there.

Hand stitched by...okay, I made that up. Could use some more padding though

The leather on the band is held down by for screws on each side. There is small plate on the outward-facing side of the band that displays Sennheiser on one side and Momentum on the other. The post that holds the earcup onto the slide arm has the Sennheiser logo etched into is. The slid mechanism works well though it is a bit hard to adjust. This can be seen as a good thing as the Momentums become a "set and forget" headphone. There is no ability to collapse the headphones into a smaller size. The fit is snug but not uncomfortable and my smallest head (I wear small to medium motorcycle helmets if that helps you at all) had the Momentum fit adjustment about midway through its range. If you have an extremely large noggin, you'll want to try these on before you buy. For the rest, you'll probably be okay.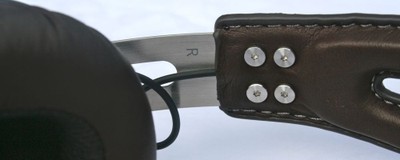 For some reason these four screws were my favorite design element

When I first received the Momentum headphones, I thought they were their on-ear models (they make two different sizes). I have smallish ears (luckily given the size of my head) and I still doubted I could get my ears inside the Momentums. I could, but just barely. If you have large ears, these are going to be on-ears for you. I'm actually surprised that Sennheiser made the earcups so small - they certainly had space in the case for larger earcups. This is probably my biggest complaint with they Momentums though it really didn't affect me. Again, if you have larger ears, you'll want to put these on first.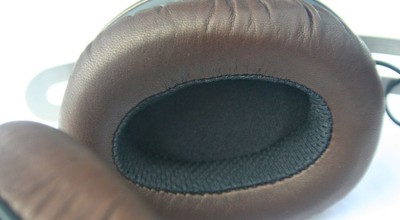 More of an earshotglass than an earcup really

Momentums in Motion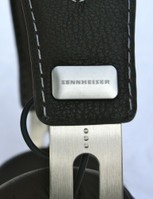 The Momentums were so light that there was really nothing I couldn't do with them on. While I'm not one for exercising with on or over ear headphone on, I know there are people that do such things. With the weight and snug fit of the Momentums, I could easily see them going wherever you want. For long listening sessions, the Momentums provided enough comfort though I wouldn't call them the most comfortable I've ever felt. The top band is a bit hard but the earcups more than make up for this with their lush feel and supple leather covering.
The cord comes out with a twist and is easy to switch out. I'm always surprised that companies make the decision to go with non-standard cables for their headphones when they make their cables removable. I can see why - if you make the connection proprietary, you make sure they have to buy from you. But with 3.5mm being a fairly universal connection in headphones, going with something else seems elitist to me. In particular, the V-MODA BoomPro mic is a cable I would have loved to use with the Momentums. It has a standard 3.5mm connection that won't work which Sennheiser's offering.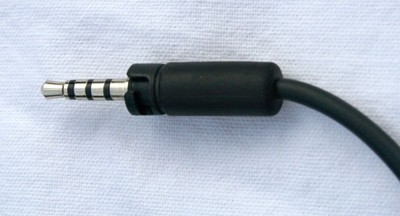 Proprietary connection - the bane of aftermarket dealers worldwide

Adjusting the Momentums was slightly different than any other headphone I've used. Because of the design of the post connection for the earcups to the slide bar, I could place the cups perfectly on my ears and then rotate the band forward and back a bit to get the perfect fit. It wasn't a huge amount of movement, you couldn't rotate it behind your neck or anything, but it did give you a few degrees of freedom. It was enlightening to me to find how much of a difference this could make in the long-term comfort of the Momentums. A slight adjustment made enough of a difference so that I could find the perfect place on my head so that the band didn't press down on an uncomfortable spot or on that little ball they put on the top of baseball caps.
Confused about what AV Gear to buy or how to set it up? Join our Exclusive Audioholics E-Book Membership Program!
See also:
Recent Forum Posts:
AVisualGeek posts on December 13, 2014 20:53
I was in a deep search for some good headphones First I thought, maybe the beats, but then I didn't want to look like one of the poser kids walking around with headphones on that are more about design than they are function. I started to read some reviews, and the Bose sounded like a good option but I know they are known for being over-priced and not always worth it. Then I saw these and the on-ear model and read some reviews. Not only did they claim they sound really nice, but they look exquisite (fancy and not in the trendy kind of way). Reviews (like:
http://pocinc.net/blog/product-reviews/review-sennheiser-momentum-on-ear-headphones/
- on-ears model) painted them as being better than your normal pair of headphones and I needed to see for myself. What does "better than normal" sound like? I have to admit, my ears are liking these! They sound super expensive hah. I am pretty happy with the choice.
WDesmet posts on August 15, 2014 14:18
Purchasing Sennheiser Momentum

When I bought the Momentum I was already surprised by it's looks.
What a nice design. I bought the ivory version with alcantara on top of the headset.
It was the first time I bought an on-ear headset so I was curious.
The first time I used it I was flabbergasted by it's sound. After all, it was 20 years ago that I bought
a new headset.

+ Clear sound
Good bass
Nice design

- The Price
robertotey posts on July 22, 2014 07:25
Sennheiser Momentum v Final Audio Design Pandora IV

It's quite a big step up price wise, but after auditioning I went for the Final Audio Design Pandora IV.

I use headphones mostly on the road (hotel rooms, trains, etc), so the extra size of the Final Audio Pandora is no problem.

I can highly recommend auditioning the Pandora IV before taking the plunge.
lillyblack82888 posts on July 15, 2014 18:44
Sweet! Sometimes comfort isn't the most important thing.
Steve81 posts on April 24, 2014 20:07
I'm not a big headphones guy, but I picked up a set of these to try out to replace my Grado SR225s and some Klipsch in-ears. Mostly just listening at home, but I wanted a closed back so I don't disturb my wife at night and I didn't really want another set of in-ears. Enjoying them so far breaking them in with Hell Freezes Over.
Post Reply