Toshiba 46WX800U 46" 3D TV Review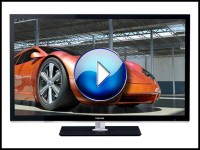 Toshiba's 45WX800U is its first 3D TV and has a flush glass front, with a chrome trim. It's not just pretty outside, though. The GUI interface, where you control the the system menu, Yahoo! Widgets and Internet apps, is equally gorgeous - though a bit laggy. When you enter the 46" LCD TV's NetTV mode it gives you access to Netflix, VUDU, Pandora and YouTube, and lines them up in a semicircle underneath your current video source. Blockbuster is listed but not ready (even as of March 2011) and YouTube XL wasn't working when we tested this set, but it's clear that more apps are possible via firmware updates. Overall it's a beautiful layout that makes it easy to see all of your options.
Toshiba's 46" 46WX800U HDTV is technically an LCD TV - but it uses edge-lit LED backlighting, which makes it very thin, and the entire panel can vary in brightness by analyzing what is on the screen.