Epson's D7 Panels with C2 Fine Technology
Epson's D7 Panels with C2 Fine Technology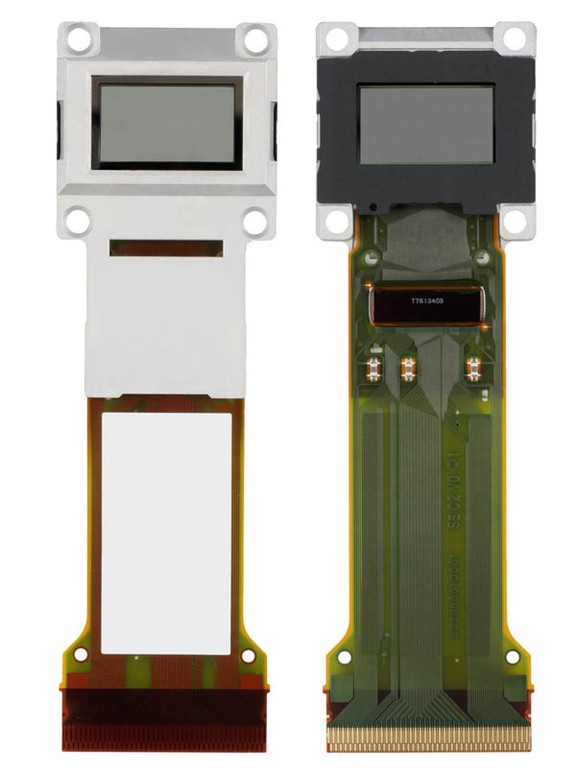 Epson C2 Fine D7 Panels
Epson (technically "Seiko Epson Corporation") is putting a new type of high-temperature polysilicon TFT liquid crystal (HTPS) panel into its latest projectors that will further enhance the performance of 3LCD-type front projection products. The company has already begun volume production of these 0.7-inch (1.9 cm diagonal) HTPS panels which utilize Epson's C2 Fine technology. The Epson Pro Cinema 1080 UB is the first projector we experienced with this new technology and it looked fantastic.

As the resolution and image quality of image sources continue to improve due to the proliferation of high definition broadcasting, technology seems determined to keep pace. This is largely the result of a lot of market competition - particularly in the DLP vs 3LCD arena. Epson began producing full high definition C2 Fine panels for home projectors last year and things seem to be getting better and better. The new D7 model is an improved version of these HTPS panels.
The new panels, which conform to newly developed design rules, use a technology which boosts aperture ratios by 20% compared with the D6. By enhancing aperture ratios, this technology improves luminance while using the same lamp as previous models. That means the same lamp will result in brighter images. Conversely, manufacturers can insert lower-watt lamps to achieve the same levels of luminance experienced with a D6 panel. Thus the technology makes it possible to manufacture brighter, more environmentally friendly projectors that offer better value for the money.
The new panels also use 12-bit LCD drivers which boost accuracy in reproducing subtle differences in color and gradation. The previous model's 10-bit driver was capable of controlling 1.1 billion colors, but the new 12-bit driver is capable of controlling 64 times that amount at 68.7 billion colors. The new panels also quadruples the theoretical 1,024 gradation levels to 4,096 gradation levels.
In addition, various improvements have been made to make installation easier for product manufacturers, such as boosting noise immunity by utilizing mini-LVDS interface (the LCD panel's differential signal interface is called mini-LVDS) and strengthening panel tape (FPC).

Features of the new panels
The new panels combine high contrast, smooth images, and black color reproduction of C2 Fine panels with the advantages of the hybrid driving technology (both internal and external drivers can be utilized) used in previous panels. The new panel features can be summarized as follows:
A 20% improvement in aperture ratio compared to the previous model of the same size.
Improved color reproduction by using a 12-bit LCD driver.
Improved noise immunity by using a Mini-LVDS interface.

Benefits for manufacturers of projection products
Offers enhanced luminance with the same lamp.
Enables use of a lower-watt lamp to achieve the same luminance (reduced power consumption).
New panel specifications
| | | |
| --- | --- | --- |
| | Existing L3C07U-75G00 | Newly-developed L3C07U-85G10 |
| LCD type | C2FINE (VA inorganic alignment layer) | C2FINE (VA inorganic alignment layer) |
| Effective pixels | 1920 x 1080 (1080p) | 1920 x 1080 (1080p) |
| Panel size (diagonal) | 0.7 inch (1.9 cm) | 0.7 inch (1.9 cm) |
| Pixel pitch | 8.5 µm | 8.5 µm |
| Aperture ratio | 43% | 52% |
| LCD driver | 10 bit | 12 bit |
| Video signal transmission | CMOS | Mini-LVDS |
| LCD driver type | Hybrid | Hybrid |
| Process Technology | Existing Type (D6) | D7 |


D6 HTPS panels (left); D7 HTPC panels (right)
Improvements in Image Representation Achieved Using 12-bit Driver
| | | |
| --- | --- | --- |
| | 10-bit driver | 12-bit driver |
| Color | 1.1 billion colors | 68.7 billion colors |
| Gradation | 1,024 gradations | 4,096 gradation |
IC Configuration Diagram Comparison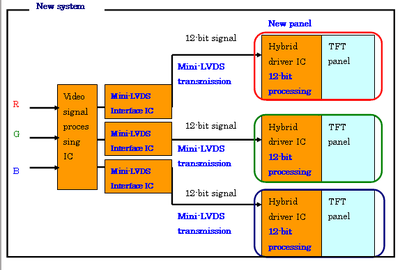 The D7 panels are a definite improvement, but an incremental one. The main thing you'll see with these panels are an increased contrast ratio and a clear support for Deep Color options within the moving-target HDMI 13 specification. We haven't sen a practical demonstration of the benefits of the Mini-LVDS interface, but anything that serves to reduce noise is a welcome advancement. And of course LCD is a 3-chip solution - and for those of you susceptible to color wheel rainbow artifacts - 3LCD is looking better and better with every update.

Confused about what AV Gear to buy or how to set it up? Join our Exclusive Audioholics E-Book Membership Program!
Recent Forum Posts:
Jim Robbins posts on October 28, 2007 12:11
AndrewLyles posts on October 27, 2007 13:29
Epson 1080UB
Sanyo Z2000
Panasonic PT-AE200U

I think that's it for the new line up. I know that the new Mits. 6000 does NOT use the new D7 panels. If I forgot anything or misquoted a model feel free to kick in here.
sharkman posts on October 27, 2007 13:03
They recently released a couple of 1080p LCD projectors that by all accounts are the new standard at that price point, although I can't tell if they have the new technology.
Jim Robbins posts on October 24, 2007 12:34
Does anyone know of a good list of projectors that are using the new D7 panel? Maybe something with current and upcoming units?
Post Reply