Kimber Kable 4PR & 8PR Recommendations
Kimber Kable 4PR & 8PR Recommendations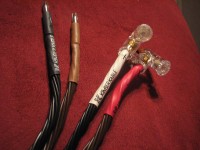 People shopping exotic cables aren't typically factoring value into the equation. They want peace of mind that their cables will do no harm to their system and some even take it to the extreme thinking they will improve the transmission of the signal from their amplifiers to their loudspeakers. Of course there is a psychological term for this type of thinking, but since I am not a physician of medicine, I will leave that prognosis to a qualified MD. The Kimber 4PR and 8PR although pricey, probably offers some of the highest quality to value ratio I've seen in exotic cables. Not only does Kimber not refute the importance of quantifying the performance of their products, but they provide you with very conservative measurements to boot. They don't wrap their products in warm or fuzzy technobabble. For those in seek of such dribble, I encourage you to check out the new Star Trek movie as you will likely also find more realism while also enjoying some quality entertainment.
As much as I like the WBT compression banana connectors, they come at a hefty premium of $72/pair. There is no sonic advantage to these connectors over their standard banana plug which runs $10/pair. I did find their standard banana plug to make excellent contact with my amplifier and speaker terminals so unless you need a connector that can withstand some serious pulling force, or you just dig the look and feel of the WBT's, save your coin and opt for their standard banana plug which is one of the best banana's in terms of form and function that I've tested to date. Although there is a slight cost savings buying these cables unterminated (cost per foot), I'd highly recommend specifying your desired length and having Kimber terminate them for you regardless of which termination option you ultimately settle on. I loath the idea of individually stripping and twisting 64 conductors for the 8PR / 32 for the 4PR and then trying to properly terminate them. You're already paying a premium for these quality cables so why not have them finished off the right way?
Given the choice between the 4PR and 8PR, I would chose the latter to wire my front three channels and use more economical cabling for the surrounds (ie. Bulk 12AWG zip cord) as neither of these solutions make practical sense for very long speaker runs. The fit and finish of these cables is excellent with my only major grip being with brown color of the + conductors. I would have preferred standard red and black but that is just a personal preference. For a nominal fee, Kimber can shrink wrap your cables to improve their aesthetics. If you spend a lot of time staring at your speaker cables or showing them off to your audiophile friends, this may be an upgrade option worth considering.
Conclusion
Overall I am a big fan of the Kimber 8PR speaker cables and I plan on utilizing my review samples in my reference system quite heavily not just because they perform well but because the package as a whole is of excellent quality and design. I fell in love with their banana terminations and wish that their competition would go back to the drawing board and make more cost effective cloned solutions. If you are on the market for high end exotic cables and your goal is transparency over glorified tone controls, then I highly recommend the Kimber 8PR speaker cables. It's refreshing to find an exotic cable vendor that discloses all performance metrics of their products, doesn't wrap them in snake oil and delivers a reference level performing product that scores high in pride of ownership. Highly recommended!
Kimber Kable 4PR & 8PR Cable Review
MSRP: 8PR: $5.6 per foot + terminations / 4PR: $2.9/ft + terminations

2752 South 1900 West
Ogden, Utah 84401
(801) 621-5530
The Score Card
The scoring below is based on each piece of equipment doing the duty it is designed for. The numbers are weighed heavily with respect to the individual cost of each unit, thus giving a rating roughly equal to:
Performance × Price Factor/Value = Rating
Audioholics.com note: The ratings indicated below are based on subjective listening and objective testing of the product in question. The rating scale is based on performance/value ratio. If you notice better performing products in future reviews that have lower numbers in certain areas, be aware that the value factor is most likely the culprit. Other Audioholics reviewers may rate products solely based on performance, and each reviewer has his/her own system for ratings.
Audioholics Rating Scale
— Excellent
— Very Good
— Good
— Fair
— Poor
| Metric | Rating |
| --- | --- |
| Ease of Setup | |
| Audio Performance | |
| Build Quality | |
| Appearance | |
| Performance | |
| Value | |
Confused about what AV Gear to buy or how to set it up? Join our Exclusive Audioholics E-Book Membership Program!