Super Bowl XLI Party Wrap-up at Audioholics
Super Bowl XLI Party Wrap-up at Audioholics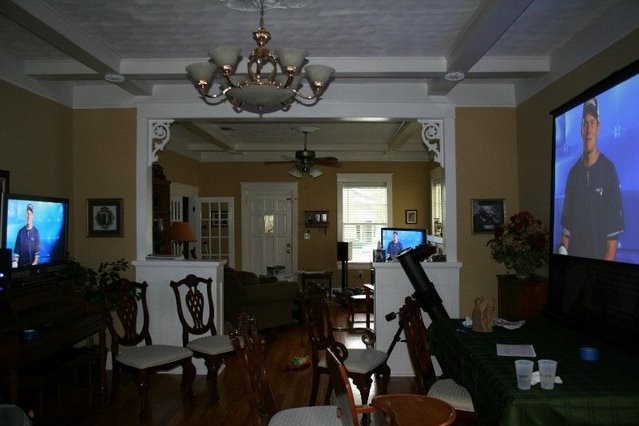 Superbowl XLI party
It's never too early to plan for next year's event. It will be especially "hot" (pun intended) since the 2008 game will be hosted at the new Cardinals Stadium in Glendale Arizona. As for this year's game - well, it's become an annual tradition here at Audioholics: Line up obscene amounts of AV equipment, grab as many friends and family as you can find, add LOTS of food, and stir into an unmatched Super Bowl extravaganza. Well this year was no different, save for a new location. And some new gear. And some new friends. OK, it was completely different - but still loads of fun!
Editor's Note on Super Bowl Parties and the NFL: It was brought to our attention that NFL spokesman Greg Aiello said the NFL is going after groups that charge admission to watch games and those that use a TV screen larger than 55 inches to show the game. Obviously this "rule" was made during a time when that was actually cost prohibitive. In today's economy of scale this is absurd. Our position on this is that until they shut down all the sports bars and show clear legal precedence, the NFL will have to realign itself with common sense and stop harrassing people who want to throw Super Bowl parties in their homes in a non-fee-based event. To our knowledge there have been no lawsuits on this issue or rulings to support their opinion. US Copyright law seems to support private showings, though the wording is specific and complex enough to tas even a professional contract writer.
The Friends
This year we invited our local family over for the fun (first time since in prior years we lived in different states) as well as some new friends from our local church. Old friends were also invited, however only one of them was "adventurous" enough to make the incredibly difficult and taxing journey from Orlando to our town (we've found that even though it takes about the same time to get here from Orlando as it does to get from some parts of Orlando to Orlando, most people consider us to be very far away). Oh well, we still had a great time!
The Food
As always you have GOT to have good food for any successful Super Bowl party. Without the proper amount of wings, chips, pizza (thanks, Mom) and soda you're bound to disappoint. This year we had some fancier dishes mixed into the standard fare.
Here is what's on the menu at our house. Treat it as a "suggested list" for those of you looking to bring together some great culinary pleasures for your guests:
Shrimp Cocktail – back again, and a "must" for a real Super Bowl party. Lemon wedges are a required condiment.
Hot wings – this year we had some sweet and hot wings from a local joint here in Central Florida. They were excellent and I highly recommend the kind that aren't fatty or terribly drenched in a wet hot sauce (eases clean up).
Pizza – Grabbing a large sheet of pizza or at least a couple large pizzas is a nice thing to add. Some people suggest having a veggie-only pizza for those who don't like meat… we tell those people to bring their own sissy food!
Chili-cheese dip – I'm still using my friend Mike's recipe of Velveeta cheese and a can of Chili. Right now the best hands-down chili on the market is called Stag Chili. Don't ask, just buy it and thank me later.
Drinks - Sodas, sweet tea, lemonade and whatever else is available make our normal assortment. If anyone wants to bring adult beverages we let them - I'd rather put our money in more food.
Chips & Salsa - A staple, but good to include... One of my friends brought along home-made-style chips and a delicious mango salsa. And I though the Geico caveman just made that dish up!
Wontons - With a little ponzu dipping sauce these tasty morsels went faster than lemonade on a hot summer's day. We were fortunate enough to have one of the guests bring some homemade ones.
Have your guests each bring an appetizer as well - you don't have to supply all these items yourself.
Don't use real plates. Grab some themed paper plates and napkins for the big game. You can find these at your local supermarket or super-duper-market. We snatched up some Super Bowl XLI plates and are still using them up after the game… Hey, it's not like we can use them next year!
The Source: CBS' High Definition Adventure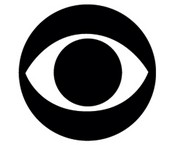 Every year seems to get better and better. What was on deck for this year's pinnacle game? CBS leaked early that it was using 47 HD cameras, had hired over 500 technicians and professionals, and even replaced lights at Miami's Dolphin Stadium to ensure it was properly equipped to handle HD in the best possible way.
We would have been very pleased, were it not for the incredibly bad compression exhibited by our local Brighthouse Networks HD Cable provider. Any time a complex image passed across the screen you were sure to get an eye-full of macroblocking. It was quite bad due to the nature of the displayed video - fast pans are natural and frequent part of the game.
In addition to two NAC Image Technology 300fps slow-mo cameras and six Sony slow-mo cameras, CBS also brought on board a new "super" slow-mo camera - the Vision Research Phantom V10 which captures an amazing 2000 frames per second. Gone was the 360-degree CBS Eye Vision System which was used in 2001 and 2004. Apparently it wasn't cost effective for use this year and funds were reallocated (the system was never HD and cost over 2 million dollars to build and even more to utilize).
Off field there were multiple production trucks from NEP, Coreplex, and New Century Productions - supplying the much needed replay systems and audio video units. 21 wired cameras cameras, 3 cabled hand-held cameras, two wireless handheld cameras, 1 wireless steadycam, one cable-cam, two robotic goalpost cameras, two robotic coaches cameras, two talent booth cameras, one unmanned camera for inside beauty shots, one outdoor tower camera and two shot clock cameras made up the accoutrements for the evening's game.
The Zones: Audio & Video Viewing Areas
Our own Tom Andry came down early to help us set up the zones for use on the big day. We were able to quickly set up the rooms and zones without too much in the way of problems - of course we ARE professionals. DO try this at home, kids - it's fun and makes for a very entertaining series of troubleshooting and problem solving sessions for all involved.

Zone 1: Grand Central Station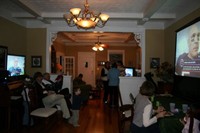 Last year we had a split room that crammed two large displays into a single area, either along a single side wall or at 90-degree angles. This year we had an elongated series of two open rooms in which we were able to place three displays into two separate zones. The first Zone included a projection system and a 42-inch flat panel LCD display. Audio was provided by Zone 2, so we'll include those items in that system's description.
Gear List for Zone 1
Epson 810HQV LCD Front Projector (1280x720p) info
Da-Lite Deluxe Insta-Theater 90" Screen info
Westinghouse LVM-42w2 42" LCD Display info
Scientific Atlanta Explorer 3250HD
Impact Acoustics interconnects and speaker cables info
As indicated here we used a dedicated HD cable box from the local cable company to supply us with another source for the 1080i game content. The Da-Lite Deluxe Insta-Theater 90-inch Screen was a life-saver yet again as we whipped it out and had it set up on a table in less than 2 minutes. Since we were projecting using an Epson 810HQV the Scientific Atlanta source could easily feed both the LCD display and the projector without the need for a long cable run across the room. Both sides of the room sported images of the game. The projector gave us a very large, impressive 90-inch picture (we used the torch mode near the full 1600 lumen output capability of the system so we could keep the lights on) and the opposite end of the room sported a crystal clear 42-inch image. Yeah, we wanted to make sure no one had to turn their heads more than 45 degrees to catch the game.

This room allowed everyone to congregate between the kitchen (food) and the entrance and theater room. It was a nice space and had the highest amount of seating areas. All in all we wanted a nice open area with lots of video… mission accomplished.
Zone 2: The Entrance and Corner Zone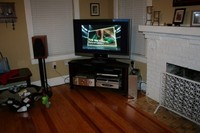 Making up the third display in the open area was a Westinghouse LVM-47w1 display positioned in the corner. This allowed a nice couch seating area and immediately presented people entering into the home with a display for the big game. The video for this system came from a duplicate feed from the Scientific Atlanta HD DVR box in the theater room (Zone 4) which was fed over a long run of component video cables from Blue Jeans Cable. This was also the location for the audio system that drove the entire 3-display area.
Gear List for Zone 2
Westinghouse LVM-47w1 47" LCD Display info
Marantz PM-11S1 Reference Series Integrated Amplifier info
RBH Sound Signature Series 61-SE/R Speakers info
Was it overkill to have a 2-channel integrated amplifier from Marantz driving this system along with a pair of Signature Series speakers from RBH Sound… sure, but this is a Super Bowl party so all bets are off! We took the approach of "room-filling sound" over quality and relocated one fo the 61-SE/R speakers to the far end of the room, allowing the single pair of speakers to fill the room completely with audio. Anyone who doesn't believe in room acoustics should note that we had a +5dB difference in perceived audio level coming off the left speaker as opposed to the right (there were more "flesh baffles" - people - in the far part of the room where the right speaker was positioned)!
Zone 3: The Kitchen "Hang Out"
People always hang out in the kitchen. It's going to happen. Now these people may not be fully into the game, but you want something around in case somebody makes an incredible play… or something exciting happens - like a good commercial. Our 20" Niko LCD television fit the bill once again. This is a decent standard definition LCD TV for a kitchen area. It's 4:3 and fits perfectly under the clearance from the countertop to the top cabinets. We tucked our in a corner and fed it a cable feed from the living area HD cable box.
Gear List for Zone 3
Niko OTP-2011R 20" LCD Television info
Zone 4: Hardcore Fans Only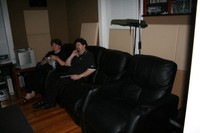 This Reference System was the featured room for our Super Bowl XLI party. Hard-core fans enjoyed the leather seats and surround sound that was presented as well as the oversized 100-inch screen. We again used our reference Yamaha LPX-510 3LCD projector to bring the game to life on the Stewart Studiotek screen and fired up the Reference audio system to give every tackle the punch it deserved.
Gear List for Zone 4
Yamaha LPX-510 3LCD Projector review
Stewart Filmscreen Luxus Deluxe Screenwall with Studiotek 130 screen review
RBH Sound CinemaSITE Loudspeaker System review

Velodyne DD10 subwoofers (2)
Denon AVR-4306 Receiver review
RPG Diffusers Absorption Panels info
Impact Acoustics Interconnects and Speaker Cables info
DVIGear SHR-series HDMI cables info
Scientific Atlanta Explorer 8300HD DVR
Some key components of this room include the Denon AVR-4306 receiver which delivers pretty clean power to the main system. RBH Sound's CinemaSITE contains their SI-6100 in-wall speakers mounted in a fixed cabinet for front and center channels. Surrounds are the 66-SE hybrid dipole/bipole speakers and their SI-1010/P powered subwoofers (each with dual 10-inch woofers) make sure the low end is incredible. Because of the nature of this new room, we added a pair of Velodyne DD10 subwoofers to help minimize room mode effects on the sound. With 4 subs firing out of the four corners of the room there is a nice, even presence of low end when it is called for... and yeah, we can turn it up when we want to flex the walls a bit.
So what did we accomplish?
We created a fun "wow" factor
We got to demonstrate some cool new toys for people to experience and play with (for a lot of people this is their first "up close and personal" experience with anything over 32" in size or over $1000 for any particular audio/video component) We even had gear that wasn't used - like a new Planar PD7150 720p DLP projector that we simply didn't have the space to utilize this year.
We enjoyed eating large quantities of good food, and
Had a really nice time fellowshipping with friends
This year's Super Bowl went swimmingly - and better yet - the team we were rooting for won. We didn't have a vested interest in either team this year, but it was nice to see Tony Dungy and Peyton Manning get their win.
Confused about what AV Gear to buy or how to set it up? Join our Exclusive Audioholics E-Book Membership Program!