A Fortunate Disaster?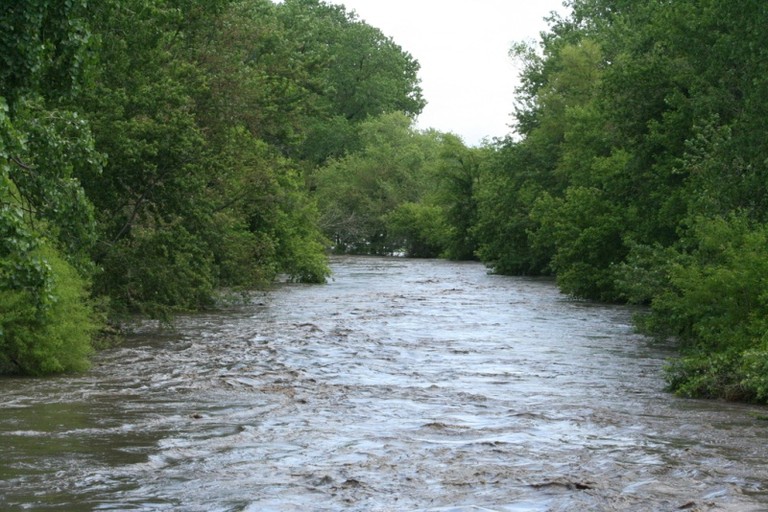 The Local Creek - Flooding Badly
Several weeks ago, the sump pump in my basement failed me here in Iowa. As I am sure you have read, the flooding was quite extensive in my state. As the water moves southward many towns in Illinois and Missouri are experiencing the mild to major flooding as well. My situation wasn't as bad as many are experiencing, but it was enough water to require some quick equipment and furniture extraction and some rather unpleasant room reconstruction. But, is it really all bad?
On that fateful Sunday, I entered my man cave after arriving home from a morning church service only to step down into water a half inch deep. After the initial shock wore off, I checked the sump pump and it wasn't running. The breaker hadn't tripped and the power hadn't gone off at all. The float was floating and not tangled; it just wasn't running. I unplugged it then plugged it back in and it started pumping the water out, but it was too late for the basement. I called Service Master, a company that deals with flooding, drying, and restoration, and they were completely out of equipment and personnel to help. I was on my own it seemed, but some family and friends were there in what seemed to be mere moments to help.
Most of us began to remove everything from the basement to get it out of the water while a couple of my family members used home carpet cleaning machines to suck up the water a gallon at a time. It seemed like a hundred gallons of water or more came out of the carpet over the next several hours while all of the computers, home theater gear, chairs, desks, etc... came up the stairs and got crammed into the garage and the main floor of my home. In my case, most of my things were saved, and only damp on the bottom.
We bought some extra fans and dehumidifiers to try and dry the carpet out, and so the wet basement sat until the morning. A quick call to Service Master the next day revealed that the carpet wouldn't dry in time to save it and it was only transferring water to the walls. We should have pealed the carpet away from the walls as soon as possible but didn't. In our case, the carpet was now garbage and needed to be disposed of. After the carpet removal, Service Master recommended that we remove the baseboard and poke holes all along the bottom of the walls and aim the fans there to try and dry them out. So, another day went by with air blowing and dehumidifiers running to attempt to save the walls.
The next day Service Master was able to come out with their professional blowers and dehumidifier to speed the process, but the water meter said the walls were very wet. At the suggestion of a friend, I removed the bottom 3 inches of the drywall all along all the walls so the fans could blow up under and behind them. I figured I could just install taller baseboard to hide the new gap. The same day the sump pump was replaced with a brand new unit that drains water twice as fast. Again, a day passed and at the return of Service Master, they removed their equipment, said the walls were still wet inside 2 feet up, and that some regulation stated that the walls needed to be removed at 4 feet and below to prevent mold and to allow the studs to dry and not be damage. In the next few days after that, a construction company came and cut out the bottom of the walls all the way around and this is the current state of my basement 2 weeks later.
Again, in my situation, I had a rider on my homeowner's insurance that covered against sump and sewage backup. If you have a basement and there's even a remote possibility that water can enter it, then you should add this kind of rider to your insurance if it's not already there! My rider covered damage to appliances, carpet, walls, structure, etc… It didn't cover furniture, electronics, or other such items. I have been blessed to only have my room damaged and not my stuff. As such, my insurance company is covering the repairs to the room in full. So, with a basement that has been stripped bare from 4 feet and down, some insurance money, and a garage full of unused A/V components, what's an Audioholic to do?
| | | |
| --- | --- | --- |
|   |   |   |
| Before the water | Trying to dry the walls | The currently empty basement |
Option 1: Scale Down the Theater
What? An Audioholic scale down? Well, my wife and I had been considering selling our house before this turn of events. A realtor friend of mine suggested that the dedicated theater room with the dark ceiling, large subwoofer, and multiple other speakers and components makes the basement feel smaller and it could be a deterrent for the larger possible group of house buyers. The room needs to be repainted after the drywall is replaced and retextured, so painting the ceiling white again would be quick and easy in the process. It's possible to arrange our furniture the in the short dimension so we would be closer to a flat panel screen instead of the previous 106" Carada screen we were using. Something like the Samsung LN52A750 LCD that Tom Andry just reviewed would be a nice choice. Also, the in-wall speakers we have can be easily relocated to any position in the room to accommodate more space savings to the room feels bigger. Scaling down requires some sacrifice that would be difficult, but certainly it would still be an excellent audio and visual experience as I'd be using most of my previous gear.
Option 2: Put it back the way it was
This is a very appealing choice as it involves very little extra cost. Of course, since part of the walls are gone, it's simple to run wires in the walls now. Previously, I ran most of the cables along the baseboard and covered them with tan TechFlex to help blend them into the tan carpet. This wasn't a bad option, but it can certainly be improved upon. I have been very temped to install the Rapid Run system from Impact Acoustics as it will provide some flexibility with my video runs. Of course, I can still use the cables from Blue Jeans and DVI Gear that I have right now, but I may relocate my gear to the closet instead of the front of the room. Yes, I know, that's not putting it back the same way, but it's pretty close. I'd still be using the same hardware, speakers, projector, receiver, but the room would feel more open and more appealing if we do try to sell the home.
Option 3: Upgrade
This is a very enticing option for me as the very nature of an Audioholic is to seek the betterment of their A/V system. Of course, during an upgrade, I would certainly do all new in-wall wiring. As part of the wiring I'd add a dedicated circuit to my new gear closet and use one of the APC J-Type power conditioners with a battery backup. I'll also be seriously considering one of the Epson 1080UB projectors. I can't help but wonder if there will be new projectors out this fall around the time of the Audioholics SOTU party. I know that I was drooling at the 1080UB at last year's party with the anamorphic lens system. Even if I have to wait a few months for the projector upgrade, I can still install a 2.35 to 1 screen right now. I can build an acoustically transparent fixed screen with fabric from SeymourAV and find some extra in-wall speakers to go behind it. Again, this would mean I can remove all the speakers from the room except for the subwoofer while enlarging the living space. The more space in my room, the better for selling the home. Of course, it would be nice to have more space just for us, if we decide to stay put. Alternately, I could buy the extra wide screen directly from Carada to save myself a little work, but the speakers would still have to be under it, and not directly behind. After some of those decisions are made, then I'll want to reevaluate my acoustic treatments to fit the new speaker locations and room layout. I have been very happy with my Auralex SonoSuede system and can reposition them and probably add some extra panels to fit the new room configuration. So, new wiring, new projector, new screen, and new acoustics? Sounds like I may be building this room nearly from scratch!
So, with three viable options to choose from, I'll have to balance the room repairs and upscaling or downscaling with the available budget. The time frame for completing such a project isn't small, but it seems like it will be worth it in the end. Perhaps you are recovering from your own disaster or just happen to have an extra room that you are remodeling or converting to a home theater. I'd encourage you to attend the Audioholics SOTU party this fall so you can talk directly with the manufacturers of the products you'll be using. I know that last year's party was an excellent help for me as I worked on the last iteration of my theater. Hopefully I'll be mostly done with my new theater in some form or another by the upcoming event, but I'll be there checking out the demos, seminars, and enjoying the diner party. I might still be hunting for a new projector by then, too.
With a partial disaster and a potential for selling my home or building a new theater, things aren't too bad. Even if I had lost more stuff or if insurance hadn't come through, I'd still be alive with a healthy family. I have received a lot of help so far and I know who my real friends are, too. If the recent flooding is affecting you, then keep your heads down working on the clean up and keep your spirits up! There's more to life then some water, some theater stuff, or even our homes. I hope to see you all on the forums and at the party!
Confused about what AV Gear to buy or how to set it up? Join our Exclusive Audioholics E-Book Membership Program!
Recent Forum Posts:
Mort Corey posts on July 08, 2008 17:37
Just wondering about getting one of these "basement" things….sounds like they're really good at getting water and we could sure use some out here on the left coast.

Mort
avaserfi posts on July 07, 2008 17:16
Making the move to the custom 12" VQ dual subs located within a few feet from the mains with a crossover via the DCX2496 as I spec will result in a more seamless integration as well as more dynamic and lower distortion. Also, at higher SPL compared to the SVS (a quality commercial subwoofer) you will have less port compression allowing for a more linear response during transient peaks.
Jim Robbins posts on July 07, 2008 16:46
Well, after evaluating the options, my wife and I decided to go for the "Stay the Same" option…

Of course, I'll be putting the wires in the walls, and I am still pushing for a Cinemascope screen, but I'll be using the same gear and cables, etc…

We still might change the room color to make it more appealing for selling the house. Oh, and I did pick up a low cost pair of infinity speakers to do inwall for the rear surrounds instead of having my kappa speakers stick out 18" into the room. They are the ERS 210II speakers. They match what I already have in the walls for my side speakers.

I'll be keeping a build log of my progress and probably post another editorial with specifics and images when I am done.

Avaserfi keeps pushing me on a sub upgrade, too. He's a mega sub builder these days and thinks that two subs in the front would work better than my SVS PB12-Plus/2 in the back.

Any thoughts?
Adam posts on July 03, 2008 18:07
Electone, post: 429784
I was recommended the "Sump Buddy" back up pump. It actually works on your municipal water supply by creating suction.
Excellent suggestion. I saw something like that on "Ask This Old House" (I think it was that show), but theirs was a more professional-grade product. A great back-up for when there's a power outage. It's not recommended for regular service because it can use a lot of water, so you'd set it to come on at a level above the electric pump's water line.
Rowdy S13 posts on July 03, 2008 17:55
There are also water powerd backups, runs off the city water pressure. I can relate to water issues. I went to work a couple weeks ago and the entire 600,000 suare foot building had anywhere from 4-8" of water in it. Our 8" water main broke under the floor of an office durring the night and just dumped water non stop. It actually lifted the concrete floor up about 3 feet and riped wall's apart, it was like out of a movie. About 20 employess stayed and pushed the water out with brooms and squegees, and then service master came. Let me just say, be glad service master couldnt come out to you, we just got the bill and its rediculous.

Sean
Post Reply