Seymour AV Center Stage Projection Screen
Seymour AV Center Stage Projection Screen
Filed under: Miscellaneous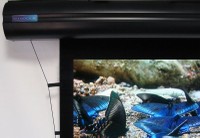 Seymour Center Stage
Many of you might remember Chris Seymour's article published earlier this year on Audioholics.com discussing Vertical vs Horizontal Center Speaker Designs.  What might not have known is that Chris is the owner of Seymour AV, a manufacturer of "audiophile-first" audio and video equipment.  His first product is the Center Stage projection screen, and I was able to finally meet Chris and see his product first hand today at CEDIA 2007.

Seymour AV is now shipping the Center Stage acoustically transparent projection screen.  This electrically retractable projection screen offers audiophiles the benefits of placing at least the center speaker behind the image without experiencing the acoustical distortions from the large pieces of glass, plastic, or vinyl that traditional displays use.  Now, a full size center channel identical to the main speakers can be used without compromises.  In addition, an existing center can be mounted vertically behind the screen for improved horizontal frequency response. Indeed, all three speakers can be located behind the screen for a true theater experience. 

The woven Center Stage screen fabric has the highest gain (1.16) on the market, offering a sharp, bright image from edge to edge. It does not require any EQ, will not audibly comb filter, and attenuates the sound on average two decibels above 8 kHz. The holes in the woven Center Stage material are only about 0.007" square and are over 2.4 times as dense as the common 0.020" diameter micro-perforated vinyl screens. 

The Center Stage screen uses all premium components including extruded aluminum cases, quiet motors, deep black velvet trim, standard tab tensioning, one-piece plug and use installation and two included wall-mountable RF remotes.

Seymour AV is not only offering Center Stage screens at factory-direct prices with guaranteed satisfaction, but is also selling Center Stage fabric for other DIY projects.

For more information: www.seymourav.com