Solar Panels Power Home Theater
Solar Panels Power Home Theater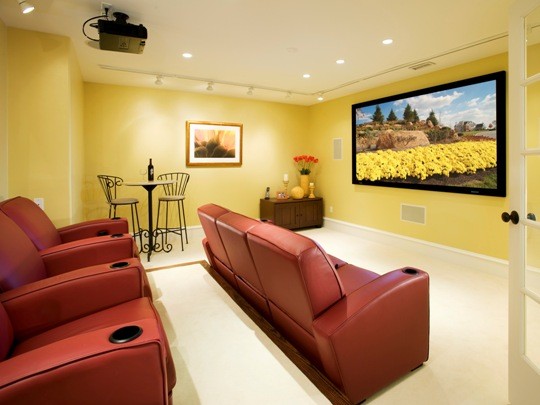 Photo Credit: Jay Greene Photography
Can a home theater really be green? The Home Theater Specialists of America (HTSA) says it can—and has built what it claims is the first "off-the-grid home theater" powered by solar panels.
The "Guiltless Green Home Theater," which has a 100-inch screen and 5.1 channels of surround sound, uses energy collected from four roof-mounted solar panels. The 175-watt Sharp solar panels collect up to 700 watts per hour during the day, which the HTSA says provides about 22,000 watts per week, enough for 19 hours of off-the-grid home entertainment per week. (The figures are based on an average of 4.5 hours of sunlight per day in the Northeast and the theater's 1,150-watt-per-hour draw, at full capacity. The house has other electrical draws as well, so we'll consider the figures theoretical.)
The solar PV system is also tied to the grid, so when it's making more power than the house is using, it sends power back to the community's electrical system and turns the meter back at the house."
"It's time we address the energy use of the systems we install, because their environmental impact and expense are not trivial," says Richard Glikes, Executive Director of HTSA. "When people see this project, they'll learn that a solar home theater isn't something out of science fiction. It's a practical solution we can install today, and one that ultimately pays for itself."
According to Glikes, the theater cost about $29,575 with modest modifications to a room, and the solar system $5,800 to install. Though the solar system will earn a 30 percent federal tax credit and another 35 percent state tax credit, bringing its cost down to a little over $2,000. It will also earn credits from the local utility for producing power, and Glikes said the system will pay for itself in three years.
The theater is installed in a model home at the White Horse development of builder Nolen Companies in Pennsylvania, and the solar system was installed by LG Energy Solutions.
HTSA member HiFi House did the electronics installation, which includes a Sharp XV-Z15000 1080p DLP front projector, 100-inch Stewart Filmscreen, five Speakercraft in-wall and in-ceiling speakers and a subwoofer, Integra A/V receiver, Sharp Blu-ray player, Monster power conditioner, lighting by Lutron, control by Universal Remote Control, wiring by Monster Cable and Salamander furniture.
Other green features are provided by the Monster power conditioner that can cut power completely to some components, which eliminates vampire or standby power loads, and the Salamander theater recliners that use no harmful chromium in the leather tanning process.
We'll no doubt see other home theaters powered by the sun and wind and other renewable energies. And maybe we'll see some powered directly by alternative energies, much like many solar thermal systems heat hot tubs and pools.
Read the Full Article at ElectronicHouse.com
View the Slideshow
audiofox posts on February 22, 2011 22:52
JAR3289, post: 794708
I'm kind of curious, how many nights of free energy does it take to pay those babies off. I'm all for the solar and wind technologies out there, I just can't afford them yet.
My 6 kW grid-tie solar PV system is a year old this month and will be fully amortized in a bit less than 7 years (with a useful lifespan of at least 20 years and probably more), which does includes the federal and state tax credits and incentives, which cut the effective cost by 50%. At the same time, we upgraded our central A/C to SEER 19, which helped as well. We ended up our first year in the black, which means SC Edison will be paying us a nominal rate for the excess electricity we generated. FWIW, I had an average usage of a bit over 910 kWH-electricity for two HTs, 7 computers, 2 fridges, 2 hair dryers and all the other electronic doodads adds up fast. Now I watch my plasma and listen to my 1.4 kW Class A/B amped system (and dry my hair artificially!) with a bit less feeling of guilt.
JAR3289 posts on February 22, 2011 15:10
I'm kind of curious, how many nights of free energy does it take to pay those babies off. I'm all for the solar and wind technologies out there, I just can't afford them yet.
darien87 posts on February 22, 2011 15:09
There seems to be a lot of pork in this thread.
paulwood posts on February 22, 2011 13:49
PV Panels or modules are undoubtedly among the best suited sustainable energy devices for your home power needs.
There are many different types of PV Panels who differ chemically as well as physically.
Further the mode of operation too differs in several others.
Inspite of all these developments, the most popular and still the best compromise for economy and performance for your home seems to be the Mono crystalline silicon modules, closely followed by Poly (or Multi) crystalline and Ribbon Silicon modules.
Duff man posts on November 18, 2009 17:31
10010011, post: 556633
Also consider that unless you live in a state with good government incentives and tax rebates, it could take several decades to pay for it's self.
Or, you could put the thousands a solar system will cost against your mortgage instead and save many times more in annual mortgage interest than you will ever save in electricity.
And your house will be paid off faster freeing up more money to upgrade your home theatre…
Post Reply
Confused about what AV Gear to buy or how to set it up? Join our Exclusive Audioholics E-Book Membership Program!