Purple Haze DIY Home Theater
Purple Haze DIY Home Theater
by
Rachel Cericola
—
February 24, 2009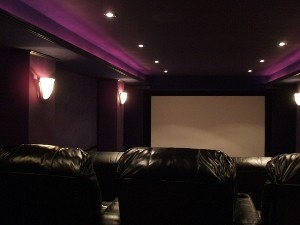 Credit: Don Kellogg
'Scuse us while we kiss this DIY guy. After all, Don Kellogg deserves the accolades. Even though he spent most of his days working around the globe, Don still managed to sneak in the time to create this purple haze - the perfect mix of color and cool home theater.
"My high school colors were purple and white (black as well), and it's my wife favorite color," Don says. His second choice was red. However, Don says many theaters follow that color palette, and he wanted to try something new. "Anyone that knows me knows I'm a little different, so I felt it was a good fit."
It wasn't just the color scheme that needed work, though. Don previously had a media room in his basement. Over one weekend, he gutted the whole thing and put his new project into effect. About a year later, his purple project had been completed. "It was a simplistic design, meant to be well balanced, a synergy of audio and video - which I somehow managed to pull off," he says.
However, it was more than magic that made this room appear. Don has a background in both architecture and mechanical drafting. He also worked in a Tool and Die program, as well as programming CNC Robotics. For the past 10 years, he has worked in the IT field. Despite a lifetime of tinkering, though, he still gives credit where it's due: "I give most of the credit to my dad," he says. "He was into everything."

Despite a bit of trial and error and a few engineering changes, the project went off with few problems. The only real challenge was putting aside time to work on the room. Don's job takes him all over the world. "I've spent the last few years in all corners of the globe, from California to Kuwait and back again," he says. That left only the weekends to work. "The unfortunate part is I did about 95 percent of the construction in one Thanksgiving holiday weekend, only to work on the finishing treatments, and fabric a year later."
Of course, it also took a bit to apply the Green Glue - all 12 cases (with 12 tubes per case). "I wanted maximum coverage on the walls, ceiling and so on," Don says. "Every piece of furring strip, every drywall layer, every structural item has been glued, decoupled, and screwed. I built the room like a submarine, I didn't want to take any chances with rattling." The stage even has two inches of decking and two tons of sand. Naturally, green glue holds it all together. "That's pretty solid, every thing in the room has been build to that level."
While Don did everything from plumbing to drywall to electrical by himself, he did contact a few pros for some guidance. There could be more contact in the future, too. "I'll always be tweaking," he says. "Home theater is more of an adventure, than a destination." Upcoming plans could include a second equipment rack, a monitor for the equipment room, and a projector upgrade.
For now, Don is very happy with his room, which includes automated lighting by Lutron and JVC's 3-chip D-ILA projector. Most of the equipment lives in the dedicated equipment room just off the actual theater. Don tucked it out the way because he didn't want to distract viewers with lights or sounds—unless they were coming from the action on his big screen.
Sure, purple is the color of royalty. It also reminds us of Barney and/or Grimace. However, the next time the shade comes to mind, we'll conjure up images of Don, who used a dash of the color to create this killer room.
Read the Full Article at ElectronicHouse.com
View the Slideshow
See also:
Confused about what AV Gear to buy or how to set it up? Join our Exclusive Audioholics E-Book Membership Program!
Recent Forum Posts:
scott911 posts on February 24, 2009 11:00
puple rocks.

Reflecting on one of the more minor parts of the room - color: initially, I was thinking, purple? I think my wife's teenage sister had a purple room when she was young and silly…

But for an HT, purple is dark enough to disappear when the show is on… and when room is lite, it convey's a rich classic cinema look to me; thick purple curtian come to mind…

All in all, a very appropriate and stylish color for a home theater, IMO.
Hipnotic4 posts on February 24, 2009 10:57
wow I need to hang out with Mr Haze..Some of these installs are just too good to be anything short of amazing
Post Reply