Eli Manning's Automated Condo
Eli Manning's Automated Condo
by
Tom LeBlanc
—
October 29, 2008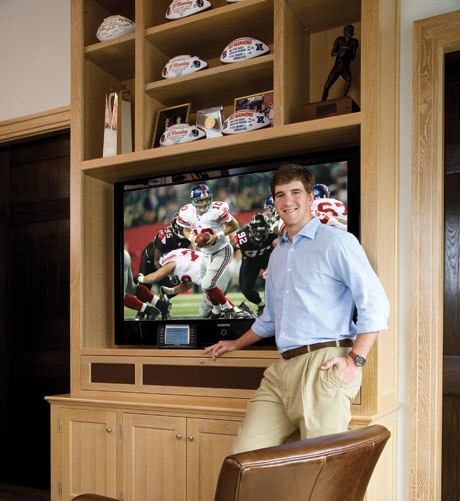 Photo Credit: Steve Hulbert
In Eli Manning's day job as quarterback for the Super Bowl champion New York Giants, control is an elusive thing. He calls the plays, but blocks can be missed, handoffs can be muffed and 300-pound linemen can disrupt his plans.
Being at home is a much more accommodating experience for the Super Bowl MVP. He and wife Abby have complete control over all their home electronics systems—the motorized shades, the lighting schemes, the multiroom audio, even the stealth motorized pillar that unveils the top-shelf bar selections—at the press of a button.
Total home control, or automation, was Eli's overwhelming priority when the Mannings recently gutted and renovated their 3,000-square-foot Hoboken, NJ, condo, with spectacular views of Manhattan.
Truth be told, the 27-year-old quarterback isn't a high-tech guy. He's also not ostentatious; you won't be seeing him on Cribs anytime soon.
There was no grand plan, no goal to create an awe-inspiring home theater, no motivation to have his home electronics setup trump that of his teammates or even older brother Peyton Manning, the Indianapolis Colts' own Super Bowl MVP. "No, none of that. And Peyton's house is pretty simple," Eli says. "I just knew I wanted to be able to play music in every room and easily select the music I wanted to play, but I was kind of naive about how it would work—how simple or complicated it would be."
Other priorities for the Mannings' renovation included one-touch lighting control and automation of motorized shades.
Game Plan
"We were pretty open-minded," Eli says of his electronics plans. He and Abby did some research. They discussed it with their architect. Ultimately, though, Eli says he got most of the electronics ideas from his custom electronics integrators, Paul Austi and Tiziano Iannitelli of Audio Video Crafts in Long Island City, NY.
Eli wanted ease of use for simple entertaining. This is where Southern hospitality factors for the couple that met while attending the University of Mississippi. The Mannings host a lot of out-of-town guests. During the season, "I'm gone all day Saturday," Eli says. "We stay at hotels before the game. Guests will be hanging out here." The couple wanted to make sure their system would be simple enough that friends and family could pick up a controller and start using it.
The solution was an integrated Crestron automation system. "We knew he had to have shade control. We knew he had to have music and lighting control. So we integrated that all into one control panel, instead of having multiple devices on the wall," explains Austi.
No matter where they are in the condo, Eli and Abby are probably within arm's reach of a Crestron controller. The kitchen, living room, master bedroom and master bath feature wall-mounted touchscreen controllers, and there are four wireless touchscreens throughout the home.
Read the Full Article at ElectronicHouse.com
View the Slideshow
See also:
Confused about what AV Gear to buy or how to set it up? Join our Exclusive Audioholics E-Book Membership Program!
Recent Forum Posts:
jamie2112 posts on October 29, 2008 10:59
Thanks, that is a sick condo ……I am sure Mazer will like this..
Post Reply