Apple Computers Provide Whole Home Control
Apple Computers Provide Whole Home Control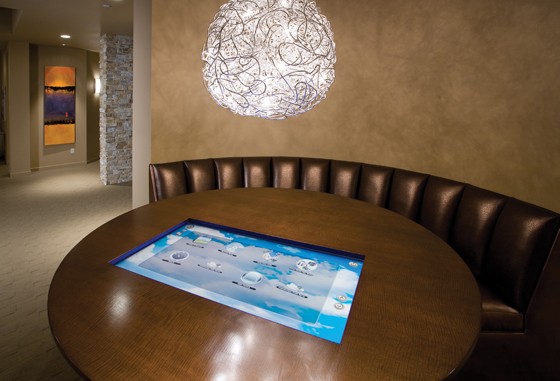 Photo Credit: Leo Arfer
Stunning is about the only way to describe this 6,500-square-foot home overlooking Portland, Ore. Its three stories combine contemporary elements with swirling soffits, magnificent rock walls and plenty of state-of-the-art elements—from a new kind of home control system to high-res media systems to hidden speakers and Euro styling. Did we mention that the views are stunning as well?
The builder, Haggart Luxury Homes of Portland, was constructing the house for a Street of Dreams show, in which residents tour fully furnished homes for several weeks before the owners take residence. The house was already unique in terms of style, and he wanted to put the latest technology in the home.
Enter Genesis Home Technologies in Beaverton, Ore., which had worked with the builder before. Genesis had just the thing for this tech-savvy builder: a home control system called Savant that runs on an Apple Macintosh platform. And yes, that means iPhones can easily operate the system. "We had been beta-testing Savant," says Jason Gotz of Genesis. "The builder was perceptive and just wanted to be sure it worked."
Genesis was confident enough in Savant to install two 13-inch wireless touchpanels, two 5-inch in-wall touchpanels and a 40-inch Savant touchpanel built into a coffee table—all of which operate an eight-zone whole-house audio system, video distribution to TVs, heating and ventilation, lighting, security and more. And with a Bluetooth wireless keyboard and mouse, the tabletop screen can double as a computer monitor.
"Every touchpanel is basically an Apple computer," says Gotz. "They can call up Mac's Safari web browser, and your whole Apple desktop is available [if your computer is on the network]. You can push a button on the touchscreen to switch it over to desktop. And widgets pull up scores, Yahoo, and stock news," if you really want to look at that.
In addition, the Apple platform allows Genesis to program some stunning—there's that word again—graphics for the touchpanels, like some cool animation. And that doesn't take countless hours of programming time, which costs much more money. "It has ease of programming," says Gotz. "We can drag-and-drop to add components and connections, and all the programming behind the scenes has already been done. Then we can customize it from there."
Savant's main Rosie system does all the audio and video switching for the house, in a one-box solution, with video sent via HDMI (high-definition multimedia interface) over Category 5e Ethernet cable. It has all the connections for lighting and security systems, too, like RS-232. It also has a built-in iTunes music server with eight outputs—and that means it can download music directly from the Apples iTunes store. You can even pull events off of iCal, Mac's calendar program, to play Happy Birthday in your house.
Gotz says the Savant system is very stable. It received lots of ooohs and ahhs from the 70,000 or so people who came through the house during the Street of Dreams event. "About half of the homeowners walking through said they were Mac users, and the other half have iPods or have iPhones and are thinking about getting Macs," says Gotz. "Some people don't want a PC controlling their house, but they will have a Mac doing it."
Read the Full Article at ElectronicHouse.com
View the Slideshow
Confused about what AV Gear to buy or how to set it up? Join our Exclusive Audioholics E-Book Membership Program!