SOUNDBOKS Go: Loudest Bluetooth Party in a Box Speaker Ever?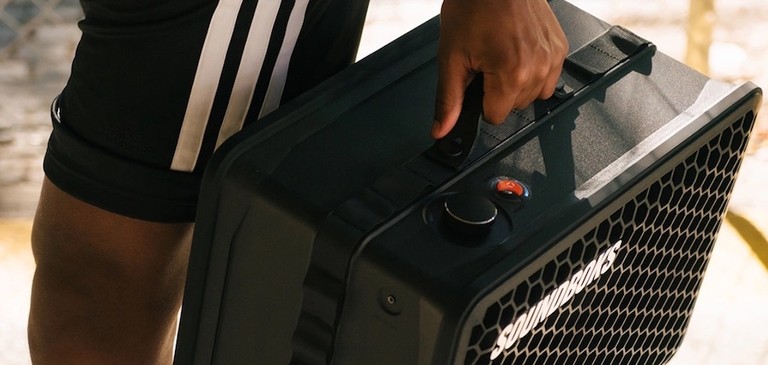 The big Bluetooth speaker that speacializes in LOUD!
Summary
Product Name:

Soundboks Go

Manufacturer:

Soundboks

Review Date:

May 21, 2022 00:45

MSRP: $699
First Impression:

Pretty Cool
AMPLIFIERS
Merus Audio eximo® amp switching

2 × 72 Watt continuous - Class D amplifiers



DRIVER UNITS
1 × 10" woofer

1 × 1" silk dome tweeter



AUDIO
Effective frequency range: 40Hz - 20kHz

Custom sound profiles for different use cases

SOUNDBOKS Bass enhancer to boost bass and loudness (121 dB)



CONNECTIVITY
Bluetooth 5.0 (SBC/AAC)

TeamUP connection (SKAA)

Wirelessly link up to 5 SOUNDBOKS (Gen. 3) and Go speakers

1 × 3.5mm Stereo Input



BUILDWEIGHT
DIMENSIONS
459 × 316 × 266 mm / 18 × 12 × 10 inches



MATERIALS
ABS + Polycarbonate cabinet and grill

Silicone Rubber extruded protecting bumper

TPE handle

Built-in reinforced top hat

Built-in front grill

Polyester strap



FEATURES
IP65 rated electronics coating

Loop strap



UI PANEL
Volume control

Host/Join mode for TeamUp

Power On/Off



BATTERY LIFE

99.84Wh or 7.8Ah capacity at 12,8V

40 hours at mid-volume

10 hours at full volume

3.5 hours full recharge
Executive Overview
If you've ever felt that your portable Bluetooth speaker sounds a little small and could really use a boost, then you may be interested in upgrading your portable convenience speaker to a monster that hits hard, wakes up neighbors and depending on local ordinances, guarantees a citation. I've recently learned of a sub-category in the Bluetooth speaker market that eschews the acuity intended for controlled, indoor environments and instead embraces the broad expanse of the great outdoors. These speakers are large, weighted with heavy-duty drivers, magnets and all the self-powered amplification to drive them hard and LOUD. Taking design cues from PA systems rather than home audio, these speakers should be rugged intended to be moved frequently, even if not exactly what we'd call "portable", they often feature a handle. In keeping with the sheer decadence of these speakers, some are even accessorized with flashing LEDs, perhaps speaking to our human propensity for excess. The Caligula of the Bluetooth speaker market is aptly known as the "Party Speaker". Although I'm not exactly their target market, I have to admit that they're kind-of awesome. I mean, who doesn't love a party? Big, loud and powerful enough to vanquish pleasant conversation anywhere, these speakers don't give a damn what you thought about Gilbert's "Eat, Pray, Love", they got music to pump!

Familiar industry giants make their own Party Speakers from JBL, Sony to LG. But the original, self-styled performance speaker, was "Soundboks" both the company name and the name of the singular product it's sold since 2015. The Danish audio start-up features its own charming origin story of three high-school friends that set out to design the biggest, loudest outdoor speaker ever, with enough power to rival the sonic experience of the Roskilde Festival. For years the audio company has made only one product, a big, loud, utilitarian Bluetooth speaker with a signature volume control that goes all the way up to 11. The Soundboks, now in its 3rd generation, has been a popular choice among DJs and other music professionals for its pro-panel that features a compliment of input/outputs including XLR/TRS for use with instruments, microphones and mixers.
Soundboks GO!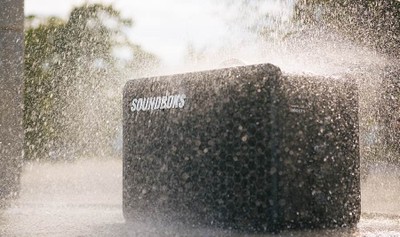 New for 2022 Soundboks released a new version of its speaker system called Go, the little brother to the classic Soundboks Gen3. Smaller, lighter and lacking the original's pro-panel, it's still a giant of a Bluetooth speaker that pushes the absolute limit of what you could call portable. At 18-inches wide, a foot high, with 10-inch depth and weighing in at 20-lbs, it's huge by Bluetooth speaker standards. A comfortable silicone-rubber handle on top makes lugging it around like carrying a nicely balanced 20-lbs suitcase. Soundboks Go is made with a keep-it-simple design ethic, rugged and no-frills with minimal extras and thankfully, no flashing lights. As far as "party speakers" go, Soundboks Go is all business. A bright silver Soundboks tag in the upper left corner of the grille featuring the company's name, spelled with a touch of TikTok-generation cacography, remains the sole ostentation in an otherwise pleasantly restrained design.
Build Quality
Soundboks Go gets high marks for its tough build that should be long-lasting and durable enough to throw off a variety of adverse conditions. The unibody outer shell is made with an ABS/polycarbonate blend, a dense impact resistant plastic, with a honeycomb grille across the front protecting drivers and ports. The system earns an IP65 rating that promises to keep it safe from continuous splashes of water and dust, and it will easily deflect minor impacts or scrapes without lasting damage. Its toughness and simple "box" design would make Go an excellent job site speaker, pulling shifts for the kinds of purpose-built speakers by Makita or DeWalt.
The outer extremities of Soundboks GO is lined with two tough silicone-rubber ridges that wrap the entire circumference of the speaker, both front and back. The rubberized ridges grip nearly any surface and make Go just as stable sitting on its side or base while providing extra impact protection. There's also a top-hat mount hole in the bottom for use with a stand or tripod.
Impact resistant case with durable silicon ridges
An optional carry-strap can be ordered with your speaker for an extra $50 that will make it easier to lug around, hands-free. The strap clips into a segmented nylon band that wraps around the center of the speaker.
Hardware Inside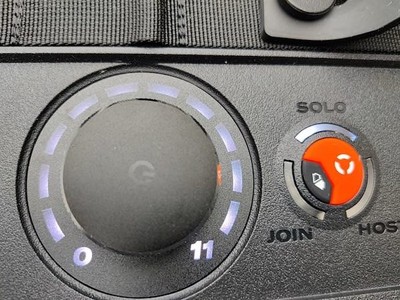 The hex grille made from the same durable plastic as the body covers two heavy-duty drivers and three front-firing ports. The two-way speaker design consists of a 10-inch woofer and 1-inch silk dome tweeter powered by two separate 72-watt Class-D amplifiers. Soundboks says it's capable of delivering up to 121-dB of distortion-free sound but they don't specify the microphone distance to the speaker in how they measured it. For a reality check, the mighty Perlisten S7t speakers are rated to 117 dB (100Hz to 20kHz @1m) and it's THX Dominus rated. That's loud!
Needless to say, this is one of the loudest portable speakers available and it's capable of causing permanent hearing damage if you're not careful.
Features: Haves & Have Nots
Unlike the full-sized Soundboks Gen3, GO doesn't have XLR or ¼" (6.35-mm) TRS inputs or any audio line-outs at all. So, you won't be able to hard-wire a multi-speaker daisy chain or plug in mics, instruments or mixer boards that require XLR or quarter-inch TRS connectors. There is however a 3.5-mm TRS auxiliary input on one side and will be your only way to connect a source outside of Bluetooth.
Soundboks Go has a very user-friendly interface that includes a large volume knob that doubles as a power on/off button, alongside it are Host Mode controls that let you connect up to five Soundboks speakers (Go or Gen3) to the Host system. The Host Mode capability is brought to Soundboks by SKAA, an embedded firmware system that provides the low-latency speaker network. Sounboks is compatible with Android and iPhone's default Bluetooth codec, SBC or AAC. Unfortunately, you won't get any of the advanced codecs like aptX, LDAC or ALAC because the higher bitrates introduce latency that would cause sync issues with SKAA or video if you decided to use Soundboks to host an outdoor movie night for your entire neighbourhood.
Overall, Soundboks GO is light on features. But like the late Colonel Sanders, Soundboks focuses on doing one thing well, and it ain't fried chicken. It's frying square acreage in dBs. Personally, I would have liked to see a basic on-speaker controls like a play/pause button, or skip track forward/back.
Battery Life of the Party!
Included with your Soundboks GO is a removable/replaceable 99.84 watt-hour battery block, aptly named Batteryboks. A battery hatch in the back of the speaker allows for easy removal and replacement. A removable battery is a blessing for a Bluetooth speaker, a feature found in precious few portable audio products. If you happen to keep extra batteries around you can swap them out with minimal interruption to sound. But for casual use, you probably won't run into a drained battery often.
Charge Batteryboks outside Soundboks or charge & play! 
Soundboks GO comes with a battery charger/power cable, so you can operate the speaker as normal while plugged directly into an outlet. In theory you can simultaneously charge the battery while listening by using both sides of the charger's unique barrel connector design. But Soundboks recommends not raising the volume above 50% while doing so. I've read anecdotes from those who have tried it only to receive a terrible feedback screech through the speakers. I'll file this away as a lesson learned from the mistake of another and won't try this myself at any volume. Full disclosure: Okay, I tried charge/play for the picture above (right). 50% volume is still incredibly loud, for me, normal operation is between 25-30% volume.
Soundboks promises GO will run for 40-hours off a full batteryboks charge at 50% volume, using default EQ settings (EQ settings available in the app). Higher volumes and louder custom EQing will naturally drain the battery faster. Soundboks says GO will drain the battery in 10-hours running it at max volume. This isn't something I'd recommend trying at home, ten hours of sound at over 100-dB is sure to bring a visit from local law enforcement officers.
Soundboks App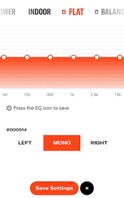 I've always been a bit skeptical of electronics with companion apps. But the Soundboks app is well worthwhile and really enhances your use of the speaker in varied environments. The app opens the ability to customize the sound, initiate Host Mode and set your speakers to L/R or mono. The app also contains some convenient preset DSPs and a customizable 6-band EQ.
EQ Presets
Indoor: Tames the bass and narrows the overall presentation for a smaller area.
Bass+: A standard bass boost, adds a few extra dBs of bass to an already (overly) bassy speaker.
Power: The default sound signature that sounds big, loud and of course - powerful.
Custom EQ: A convenient 6-band EQ to tailor your sound to your personal preferences. These settings are savable so you can collect a variety of DIY EQ presets.

THE SOUND of Soundboks
Soundboks Go uses the old fashioned method of solving the small loudspeaker problem that afflicts a lot of portable Bluetooth speakers, it's BIG. It's size adds to the overall cost, limits portability and placement options. But for the cost of those limitations you get a portable Bluetooth speaker that sounds BIG - and powerful to boot! It may come as a surprise that its frequency range is rated at 40-Hz to 20-kHz, rather than the full frequency range of human hearing (20-Hz to 20-kHz). This means you're hearing very little actual sub-bass. But when Soundboks claims a bottom-end at 40-Hz - it means loudly! You'll feel the lows in your belly and highs in your head. This speaker hits hard, projecting such impact it could double as a leaf-blower. Soundboks Go is an aggressive-sounding speaker that's most in its element playing-back hard rock, EDM and hip-hop with all the vibrance of a live performance amplified through a PA system.
Soundboks Go comes out of the boks, err... box with what the app informs you is the default EQ-preset called "Power", it sounds like a typical V-shaped EQ curve resulting in a spacious sound with the highs of screeching guitars and thump of a bass drum front and center, and vocals not far behind. While experimenting with different kinds of music at a sensible volume, Soundboks Go practically pushes your fingertips to select the tracks that like to play hard and LOUD. It's aggression is seductive, pushing you to turn it up just a little bit more, and more. The speaker seems to effortlessly drive its deepest lows to ridiculous volume-levels with lots of chest thumping bass. It's truly a thrill-ride in a box giving you everything you'd expect from a speaker designed to play big and loud.
Critical Sound Theory
Soundboks Go's sound only really fills out at higher volumes, it's clearly intended to play loud and struggles to project its full range at lower volumes. The system is designed to play outdoors with its default, out-of-the-box sound profile (Power EQ). When indoors, especially a smaller room, the Indoor preset improves lower-volume sound by taming the thump of the bass and bringing up the midrange. But it also makes everything sound a little clustered, probably due to emphasis on less-than-impressive mids. This is a speaker that wants to zap you with highs and shake you with lows which is does with gusto and authority, then this pony's all out of tricks. The custom EQ is a blessing because it lets you contour the sound to your environment and style of music, within reason of course. This is not the speaker you'll use to sit back for a deep, critical listen, there will be no immersion into timbre or finer details in your best resolution recordings.
Default Listening, Power EQ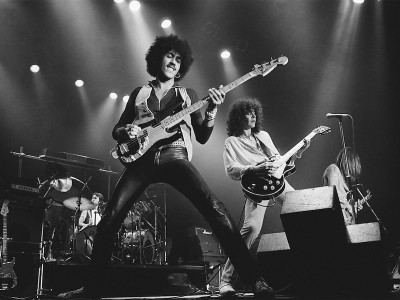 I put on some classic 70s Thin Lizzy, an older recording remastered for the digital age that loves to be loud and Soundboks did not disappoint. Drums, bass and screaming guitar in Jailbreak and when Cowboy Song kicks in at about 1-minute all sound big, even though it was just one speaker playing back in mono. It effortlessly fills the room with what sounds like it could be part of a live performance. Running With the Devil by Van Halen is a song I heard more than enough back in the day, but the brothers VH screaming guitar and booming drums bring out the best in Soundboks Go. I thought it rendered all the power of the opening feedback-laden buildup followed by a rapid-fire boom of Alex VanHalen's amphetamine-fuelled drums.
My journey through classic rock sounded most excellent in a medium/large sized room using the Power EQ setting. Turning up the volume just a little bit with each successive familiar old song became an involuntary response. It was too easy to let the volume get out of hand, there were points where I had to tell myself to "turn it down!", while shaking my fist.
Tracks that rely on subtle harmonies, like Blue Oyster Cult's Don't Fear the Reaper do well with Indoor mode or better yet a custom EQ to avoid sounding too bass-heavy. I'm not really a country music guy, but I wanted to hear how it handled the blend of bass, acoustics and strings using the Power preset that sounds great with (most) classic rock. As expected, it sounded a little obscene without EQing the bass down. It sounded like polka music was filtering into the room from a distant Polish festival, as the bassline overwhelms all. But even country will sound more normal with the use of a custom EQ that brings down the bass.
Then I tested some classic electronic music including Aphex Twin, Basement Jaxx and Boards of Canada, an eclectic mix of different experimental sounds which I assumed would put Soundboks into its element. Again, Soundboks did not disappoint, giving it all a "live performance" feel. The track, Roygbiv by Boards of Canada played the band's archaic drum-machine sound just a little too bright, although that may have been the artist's intention Soundboks leans on the bright side with higher frequencies. But it made me wish Boards of Canada would someday actually perform their music live, and in Canada. Basement Jaxx provided the "boots and cats" electro-drum sounds exactly as it was meant to be heard to garner at least a toe-tap. Aphex Twin's Alberto Balsalm even got me head-banging like hearing the track for the very first time.
Conclusion
As a purpose-built speaker it has an area of specialization. While I'm not exactly this product's target market, I have to admit it was a fun test run. It's clearly doing something right, summoning the little devil on my shoulder to tempt me to turn it up, again and again. Even after turning it up louder than I probably should, it never sounded strained, distorted and only occasionally too loud. It seemed to effortlessly provide volume that puts a leaf blower, or even a jet engine to shame. What it lacks in warm-midrange and finer detail it makes up for in powerful and wide-open boom and crash. Even though it's the little brother to a larger, even more powerful and feature-rich speaker, Soundboks Go is a great solution for outdoor parties, job sites or anywhere you want big sound. The Soundboks experience overall is more roller coaster ride than intimacy. It may not provide the sonic equivalent of a heartfelt discussion about a book like Eat, Pray, Love, but if I had to choose between the two - I'll take the speaker!
Unless otherwise indicated, this is a preview article for the featured product. A formal review may or may not follow in the future.
Confused about what AV Gear to buy or how to set it up? Join our Exclusive Audioholics E-Book Membership Program!