Rocksteady Stadium Wireless Speaker Review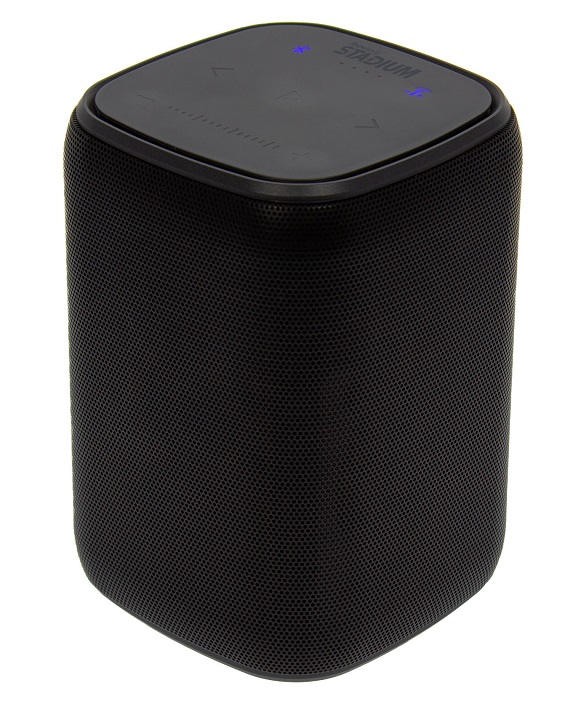 Rocksteady Speaker
Summary
Tweeter - 22mm - 10W
Mid/Bass Frequency Driver - 70mm - 20W
Bass Radiators - 2 x 72mm
Total Output Power - 30W
Maximum Sound Pressure Level - 96dB SPL @ 1m
Frequency Response - 60HZ - 20KHZ
Signal To Noise Ratio - ≥ 80dB
Battery Type - Lithium-Ion (3.7V, 5000MAH)
Mains Input Voltage - 5V/9V/12V DC
Aux - 3.5mm stereo jack
Dimensions - 10.8cm. (4.25in.) x 10.8cm. (4.25in.) x 15.24cm (6in.)
Bluetooth® Version 5.0
Transmitter Frequency Range - 2402-2480MHz
Transmitter Power - ≤10dBm
Transmitter Modulation - GFSK, π/4 DQPSK, 8DPSK
Weight - 1kg. (2.2lbs.)

Executive Overview
The new Rocksteady Stadium wireless Bluetooth speaker system is one of a new generation of portable Bluetooth 5.0 speakers that pushes the boundaries of its category. The idea at the heart of this system is so deceptively simple, once you hear it you'll wonder why all Bluetooth speakers aren't designed this way. They're not the first portable Bluetooth speaker system that can produce stereo sound, but it may be the first to truly elevate the sonic imaging in a compact speaker that you can place almost anywhere. But Rocksteady Stadium goes even further with the ability to connect any number of speakers together to further customize your sound. They're an obsessive audio tweaker's delight!
If you haven't heard recent developments in wireless Bluetooth audio, you may be surprised at the results. Advances in tiny digital amplifiers, codecs, signal processing, and the enhanced capacity of version 5.0 of the Bluetooth standard itself have converged to make wireless Bluetooth audio a surprisingly good listen. Now, add the elevated stereo imaging capabilities from a speaker with a detailed upper mid-range and you get Rocksteady Stadium, the system breaks your "Bluetooth speaker" expectations.
Enter Rocksteady Stadium
What differentiates Rocksteady Stadium is the flexibility it offers when multiple speakers work together. The individual speaker design is familiar, it looks like a small front-radiating bookshelf speaker, so placement for 2-speaker stereo sound is intuitive. A switch on the back sets each speaker to Left, Right or Mono, all you need is a pair to achieve the stereo effect. But since you can wirelessly connect an unlimited number of individual Rocksteady Stadium speakers (within Bluetooth range of the host), more speakers provide more configuration options. It's an easy way to bring sound to multiple rooms or get experimental with speaker placement and transform any space, indoor or out, into a custom soundscape.
Included with Each Individual Speaker
Rocksteady Stadium Bluetooth Speaker
Printed user manual w/ quick setup guide and 1-year warranty information
USB-C quick-charging cable
AC Adapter/USB fast-charger
3.5mm auxiliary cable
Advanced Wave Sound Method
Rocksteady Stadium is the launch product for a new AI-powered sound processing technique called AWSM (Advanced Wave Sound Method) developed by Bambu. The process removes compression artifacts while extending the frequency range after decoding the stream, and produces the speaker's stereo separation. The stereo effect is truly the highlight of the system. The resulting sonic effects will give any Audioholic who gets their hands on a pair a new hobby, re-positioning the speakers to optimize the imaging and soundstage. I honestly never thought I'd ever use words like "imaging" and "soundstage" to describe a Bluetooth speaker, but here I am.
I set them up for the first time in my backyard to bring music to my barbecue and ended up spending more time than I care to admit tinkering with speaker positioning for optimal soundstage while standing at the grill. The basic bookshelf speaker design makes it easy to achieve, just place and play. But tweaking and repositioning to optimize sonic imaging are true moments of zen for those of us who enjoy being obsessive about sound. The speakers may occupy a small physical footprint, but properly positioned, the sound towers well above the speaker's stature.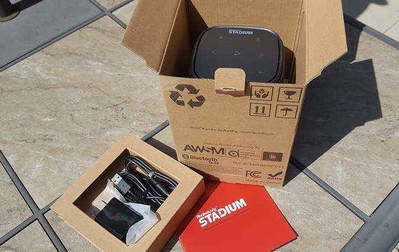 Build Quality - Fit & Finish
Each speaker itself is a low-profile 6-inches (15.24-cm) tall, with a 4x4-inch (10.16-cm) base. The front, sides and back of the speakers are wrapped in a flat-black metallic grille that meets at a rubberized black flip-strip down the back. The protective strip flips up to reveal a Left/Right/Mono switch, USB-C port and a 3.5-mm aux input. Just above the strip is a rubberized power button and a keyhole mount that lets you hang or attach an optional handle to the speaker. Outside the LED display on top, the speakers are anything but flashy, instead they're matte-black and low-key. They blend-in just about anywhere, and you'll have little difficulty finding somewhere to place them as their rubberized base wants to grip nearly any surface. For speakers not much larger than a pint of ale, they carry some heft at 2.2 lbs (1Kg) each.
UX Design - Ease of Use
Usability must have been a priority for the designers at Killer Concepts because they kept it simple, perhaps to a fault for some users. The display on the top of each speaker consists of large, touch-sensitive LED icons that display at-a-glance config information you can change with a light touch. The overall user-experience is one of text-book simplicity and elegance.
Top of Speaker Display/Touch Controls
Bluetooth icon/connection status - Host speaker connects to device
Ping icon - Used by client speakers to connect to host
Volume level w/ vol. up/down control
Play/Pause icon
Skip Forward/Back
Battery Level
Initial setup is easy. Before powering up you can set each speaker to Left, Right or Mono using the aforementioned switch in the back. A tap of the Bluetooth icon gets your "host" speaker ready to pair, then one or more client speakers will connect to the host with a touch of their respective "ping" icons. Connection and pairing was quick and I was ready to rock in no time. After shutdown, the speakers will remember their last config and will be ready to go as soon as you power up. Operation is so simple; this may be the first truly boomer-proof Bluetooth speaker system. The minimal number of touch-icons are large and easy to read. Touch any control on top and the speaker takes the LED panel out of power-saving mode and lights up solid and bright.
One potential drawback of the system's simplicity is that you won't find a lot of extra features. There is no Rocksteady Stadium app for your phone so, you'll do without a list of selectable DSPs or obligatory themed acoustic effects like: "Stadium", "Nightclub" or "Cheap Motel Room". Of course, being app-free in 2020 may be a good thing if you'd prefer to keep your personal data to yourself rather than traded like a commodity to online marketing platforms. Killer Concepts says app-free operation is part of the design, opting for simplicity over a library of additional features. In my humble opinion, that attitude is pure heroism in today's gadget-sphere.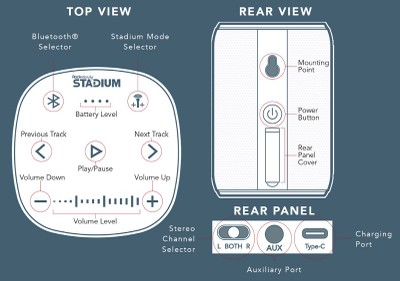 Speaker Configuration

Since the number of Rocksteady Stadium speakers you can connect to the host is unlimited, you can go way beyond a two-speaker stereo configuration. But the system won't decode any of the surround formats like Dolby Digital or DTS, no matter how many speakers you use. So, you'll have to rely on your own creativity to construct personal virtual surround acoustics. But with a four-speaker configuration you have plenty of options. For instance, you can create a front-and-rear duplicate stereo or experiment with a mono rear channel for custom surround effects. Independent volume controls on each speaker lets you play with the intensity each speaker brings to your sound-field.
One of the coolest details occurs when you've concluded your listening session. You have only to switch the host speaker off and the "power-off" command is sent to the rest of the speakers in your ad-hoc sound network. The power-up/power-down tones are brief audio cues, reminiscent of the THX tone. So, whenever multiple speakers power-down simultaneously you'll find yourself inside an impressive 1.5-second demonstration of the speaker's stereo imaging properties.
The Hardware Inside
Speaker Size
Power
Digital Class D Amplifiers 1x30W RMS

Max Sound Pressure Level 96dB SPL @ 1m

Frequency Response 60Hz - 20kHz
Drivers
1 - 1.10" (28-mm) 10W tweeter

1 - 2.7" (70-mm) 20W midrange

2 - 2.8" (72-mm) side-firing passive woofers
Sound Quality

No single Bluetooth speaker can match the spatial effects of Rocksteady Stadium's stereo..
The sound quality from a pair of Rocksteady Stadium speakers is easily the most impressive I've heard from any small portable Bluetooth speaker. Although, comparisons are hardly fair due to the imaging detail from Rocksteady Stadium's stereo effect. A single Rocksteady Stadium speaker operating all alone creates a clean, detailed sound comparable to a boutique brand Bluetooth speaker I've used that costs double Killer Concepts' single-speaker asking price. While one Rocksteady Stadium speaker is suitable for "hearing" your music, the real magic happens when two Rocksteady Stadium speakers operate together in stereo, giving your listening area depth and imaging that may trick your ears into believing you're listening to a full, discreet two-channel system. No single Bluetooth speaker can match the spatial effects of Rocksteady Stadium's stereo when properly positioned at least a few feet apart, with each speaker roughly equal distance from your ears—that's when the soundstage really pops!
The Rocksteady Stadium brings a tonal quality to your music that excels at warm detail in the upper-midrange with crisp clarity that extends into the high frequencies which contributes to the stereo imaging effects, giving your ears a sense of openness and dimension.
Not About That Bass

Just looking at the driver sizes, it's immediately apparent that these speakers weren't designed to go the MEGA-BASS route. There's just no getting around the power demands and size required to move enough air to present bass frequencies at high volumes. So, you won't rattle windows with low frequency effects. I found rolloff really begins as you dip below 70Hz. But they manage to muster plenty of power and authority around the 100Hz range to put the kick into kick drums and bounce into the bass guitar.
Music that plays in sub-bass frequencies like Massive Attack's Mezzanine album as well as bass-centric hip-hop and EDM may sound a little thin. But Rocksteady Stadium presents enough detail in lower-midrange and higher-bass frequencies to bring power to hard rock and metal. Fortunately, the designers resisted the temptation to presented bloated bass to compensate for its lack of sub-bass, instead Rocksteady Stadium goes for more accuracy and detail in the lower frequencies it does present, so it never sounds muddy or compromises higher-frequency's detail, which plays well with the speaker system's sonic imaging. If Killer Concepts can someday design a future add-on Rocksteady Stadium Sub, they'd have a ridiculously complete audio system, even if it pushes the limits of portability.
Subjective Listening Evaluation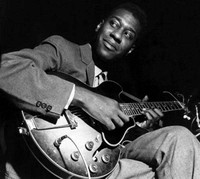 I wanted to test something that really played to Rocksteady Stadium's strengths, so I went for the bouncy lounge sounds of master-jazz guitarist Grant Green's rendition of Sookie Sookie, performed live for his 1970 album, Alive.
The speaker's upper-midrange detail and imaging are an asset to this recording. The limited instrumentation of the intimate live performance breathed with life across Rocksteady Stadium's soundstage, putting you right in the middle of the Cliché Lounge audience. Congas, a tenor sax and an organ create a sparse backdrop to Green's playful guitar, accompanied by occasional audience reaction to being present at this historic recording. The stereo separation gives the listener that "close your eyes" experience, where you can point in the direction of each musician. Rocksteady Stadium surprised me with just the right warmth and detail to make Green's bluesy jazz really shine.
To be honest, I normally wouldn't include subjective listening thoughts in a review of a portable Bluetooth speaker, but I loved how Rocksteady Stadium performed with Grant Green's jazz guitar too much not to share.
Conclusion
Although Rocksteady Stadium sells a single speaker for $150, I highly recommend getting at least the two-pack so you can enjoy the full stereophonic effect these speakers were built for. If you're only in the market for an inexpensive Bluetooth speaker that lets you hear background music streaming from your phone, this system might be overkill. With a pair of Rocksteady Stadium speakers, your phone takes command of a miniature 2-channel audio system that you'll want to sit down and really listen to.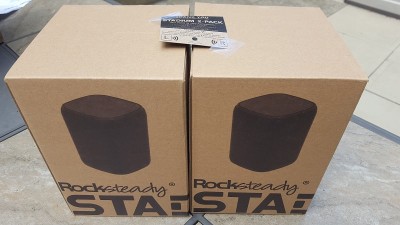 A box of two retails for $275, and provides audio performance that's difficult to categorize. It features the flexibility and upgrade potential of a multi-room system, the portability of a conventional mini-Bluetooth speaker, with fidelity and soundstage that will give the higher-priced, Swiss Army knife wireless solutions like Sonos and Denon's Heos a run for its money. If you have a friend looking for a portable speaker system too, you should seize the opportunity to save money on the Rocksteady Stadium four-pack. This way you'll both always have stereo sound, with the option of testing four-speaker configurations whenever you get together. The four-pack is available for $500, that's a $50 saving on two pairs.
If you already own a Bluetooth speaker and have grown accustomed to a single speaker's mono sound, the upgrade to stereo will add a whole new dimension to music that you just can't get from one speaker. If you're half as obsessive about tweaking your sound as I am, as soon as you open the box, you'll have a new hobby… experimenting with positioning to maximize the soundstage in places you never thought you could enjoy listening to music.

Confused about what AV Gear to buy or how to set it up? Join our Exclusive Audioholics E-Book Membership Program!
Recent Forum Posts:
Wayde Robson posts on December 08, 2020 10:20
I was thoroughly impressed with this new Bluetooth speaker system. They're small, inexpensive, portable Bluetooth speakers that sound about what you'd expect, individually. Which is to say one small small speaker sounds pretty good for what it is, on par with with others of its size. But when you get two together, spaced apart just so, I have to admit the stereo effect really got me. It reminded me what a great format old-fashioned stereophonic sound really is. Probably because I never expected to hear it transmitted into my backyard while barbecuing some burgers from these tiny speakers. But I actually got a sense of soundstage and imaging and ended up spending a bunch of time tweaking their positions to maximize the effect. They're quite easy to use, and just angling them slightly can have significant effect on how they project the stereo image, they get suitably loud without distorting and you can get a pair for well-under $300.
Of course, they're just small speakers, so there's no sub-bass to speak of, but for rock music they actually sound pretty good. Until I can build my own Smart Home and put high-end sound into every room in the house, I'll have to stick with a portable Bluetooth speaker and phone as my roving music source. I've been doing it this way for years, but now I get stereo, which really stands out when I'm not just listening to a podcast while I do work around the house.
Read the Rocksteady Stadium Review
42455
Post Reply