AV Receiver Surround Sound Formats Comparison
AV Receiver Surround Sound Formats Comparison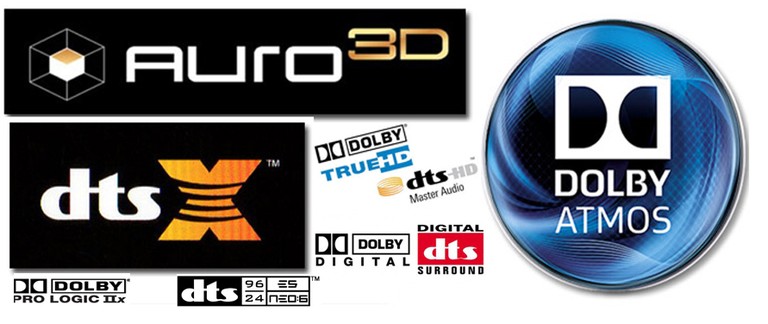 Surround Format Logos
We all enjoy the enveloping effect a good surround system provides both in the cinema and a personal home theater.  Surround formats have evolved over the years and with all of the different ones available, it's often confusing to the neophytes on what the differences are.  Ever look at a new AV receiver and notice the plethora of logos on the front panel?  This YouTube video and supplementary editorial discusses those logos and provides a brief comparison of the major consumer surround formats and how they've changed over the years.
Understanding Surround Formats in AV Receivers

Surround Sound Formats Comparison for Home Theater
Dolby Surround - In the Cinema, Dolby Surround started off as an analog four channel format with a stereo front pair of speakers, and center channel and a pair of mono rear surround speakers (sometimes multiple pairs to cover more area).  When an actual Dolby Surround soundtrack is produced for the home environment, four channels of audio information (left, center, right, and surround) are matrix-encoded into only two channels and then decoded by a Dolby Surround decoder in the AV receiver and played back in two front left/right speakers and usually mono rear surround speakers bandwidth limited to 7kHz. This was most popular with usage of VHS via a stereo analog connection between the VCR and AV receiver. While movies were specially encoded for Dolby surround, music CD's typically were not and playing Dolby Surround on regular CDs and program material was usually not a pleasant experience.  Better options for music included matrixed surround modes or four channel stereo.
Dolby Pro Logic -  Similar to Dolby surround but added a center channel based on matrixed encoded information derived from the front left/right channels.
Dolby Digital (AC-3) - The first true discrete 5.1 digital surround format with five full range independent channels plus a dedicated subwoofer channel (.1).  It is a lossy format (not bit for bit perfect) with max data rate of 448kbps for DVD and 640kbps for Blu-ray.  A digital connection (TOSLINK, coax, or HDMI) between the source device (usually a DVD player) and an AV receiver is required.
Dolby Digital Plus(+) - A significant improvement over Dolby Digital by increasing bitrates to 1.7Mbps on Blu-ray and full 7.1 Channel Audio.  The spec allows it to achieve data rates of up to 6 Mbps and up to 13.1 channels but to date this never materialized in any media formats as far as we know.

DD EX - Same as above for the DD format but with the addition of a rear derived non-discrete center channel.
Dolby True HD - Lossless (bit for bit perfect) 5.1 to 7.1 fully discrete full range surround sound format for Blu-ray and AV receivers with HDMI 1.3 or later.  It is capable of up to 18Mbps data rates and 192kHz/24 bit audio for 6 channels and 96kHz/24 bit audio for 7.1.
Dolby Headphone - Uses powerful digital signal processing (DSP) technology to create the sensation of multiple loudspeakers in a room using just regular headphones. It supports 5.1 audio and can be overlayed with PLIIx decoding for a 7.1 surround representation.
Dolby Atmos - 3D Immersive surround format using Dolby True HD or DD+ and an extension for height channels to offer object based audio for up to 32 channels in the home.  For more information, see Dolby Atmos Explained.
Dolby Atmos Mobile - Similar to Dolby Headphone but enhanced to simulate a 3D immersive Atmos experience on mobile devices and regular headphones.
DTS -  Similar to Dolby Digital but with the potential of better sound quality due to less compression being used and better surround channel separation.  DTS max data rate is 1.5 Mbps for DVD and Blu-ray.
DTS ES - Same as above for DTS but with the addition of a rear discrete center channel (for DTS ES Discrete) or a non-discrete rear center channel for (DTS ES Matrixed).  
DTS 96/24 - Allows the delivery of 5.1 channels of 24-bit, 96 kHz audio on regular DVD's by adding an extension to enable 96/24 sound reproduction.
DTS-HD HR - similar to DD+ as it offers a fixed bit rate and usually less compressed version of DTS for Blu-ray with up to 6Mbps and 7.1CH audio, but like DD+ it is still a lossy format scheme.  DTS-HD HR builds a set of enhanced extensions around a DTS encoding core that can be encoded for improved audio by the AV Receiver if it supports it.
DTS HD Master Audio - Similar to Dolby True HD and the defacto standard for Blu-ray with data rates as his at 24Mbps for Blu-ray.
DTS:X - Similar to Atmos but claims to be speaker agnostic and uses DTS HD as the core. For more information, see DTS:X Overview & First Listen.
DTS Headphone:X - Designed to reproduce 12CH binaural surround sound using a pair of stereo headphones and a specialized head related transfer function to compensate for room reflections and delay by mapping the characteristics of the original studio mix or reference.
Auro 3D - A competing surround format to Dolby Atmos and DTS:X that also offers a 3D immersive surround experience that is channel based but in layers with up to 5 ear level, 5 height and 1 Voice of God (VOG) channel for a 10.1 speaker configuration in the home. For more information, see Auro 3D Interview with Wilfried Van Balen.

Surround Sound Upmixers
Dolby and DTS have all had their share of upmixers to support their digital surround formats.  Upmixing allows the end user to transform an ordinary two-channel source into multi-channel or in some cases a 5.1 discrete source into 7.1 or more speakers.  Depending on program material, this allows close to a true discrete surround experience and can really expand the sound field of music program material.
Dolby Prologic II - Expands 2-CH stereo signals to 5.1 audio with specialized modes for music and movies.
Dolby Prologic IIx - Expands 2-Ch or 5.1 CH audio to 7.1 by adding rear back channels.  PLIIx Music mode is a significant improvement for music over PLII Music.
Dolby Prologic IIz - Like PLIIx but adds front height channels for a full 9.1 speaker configuration.
Dolby Surround Upmixer (DSU) - This replaces all older forms of PLII and used in conjunction with Dolby Atmos to take advantage of the height channels even for non Atmos program material.
DTS Neo:6 - Like PLIIx, can expand 2.1, and 5.1 to 7.1 channels.
DTS Neo:X - Like PLIIz, can expand 5.1 to 11.1 channels by adding front height and width channels (not available in PLIIz).
DTS Neural:X - DTS upmixer for DTS:X similar to the DSU allowing the end user to take advantage of the height channels for sources not encoded in DTS:X.
Auro-Matic - Auro 3D upmixer counterpart to DSU and DTS:Neural:X to take advantage of height channels for non Auro-3D source material.
 Conclusion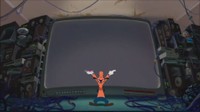 Home theater has evolved pretty drastically over the last few of decades and perhaps most rapidly over the last 10 years.  Making the switch from analog to digital discrete surround sound has been a quantum leap in sound quality and realism.  Thanks to the latest advancements, you can now build a home theater system that could rival most Cineplex's, and you don't have to deal with the sticky floors or overpriced mediocre snacks either.  With the advent of lossless formats like Dolby TrueHD and DTS-HD, you can now have bit for bit perfect studio master multi-channel musical recordings in your home.  That is quite a remarkable achievement.  Now with the latest immersive surround formats like Dolby Atmos, DTS:X and Auro-3D, you can be transported into your favorite movie scene with a full 3 dimensional sonic perspective for the ultimate realism.  It's a marvelous time to own a home theater.  So, if you're still rocking an old 80's Prologic receiver, it's time to upgrade and embrace the latest technology.  Be surrounded!
Confused about what AV Gear to buy or how to set it up? Join our Exclusive Audioholics E-Book Membership Program!
Recent Forum Posts:
herbu posts on September 12, 2016 07:08
conanb, post: 1152726, member: 17544
What is your Denon model?
X4000
lovinthehd posts on September 11, 2016 22:06
conanb, post: 1152726, member: 17544
What is your Denon model?
What's yours? My 4520 also has the press the sound mode button for 5 seconds thing and you get the list of available sound modes to pick from….
conanb posts on September 11, 2016 10:04
herbu, post: 1152722, member: 56644
Pretty easy on my Denon. One button displays all choices. Scroll to the one you want and select. Maybe 5 seconds? Perhaps the Operator's Manual can simplify your process.
What is your Denon model?
herbu posts on September 11, 2016 09:21
conanb, post: 1152707, member: 17544
selecting Dolby IIx Music mode (or any specific mode) has become very complicated or restricted.
Pretty easy on my Denon. One button displays all choices. Scroll to the one you want and select. Maybe 5 seconds? Perhaps the Operator's Manual can simplify your process.
conanb posts on September 11, 2016 05:51
Dolby IIx Music mode is a favorite format for listening to music. As I have upgraded through Yamaha, Onkyo and Denon receivers over the years, selecting Dolby IIx Music mode (or any specific mode) has become very complicated or restricted.
I wish reviews of receivers and preamps would include an evaluation of how much and how easy it is to choose and control the listening modes listed in this article.
Post Reply