Rocksteady Stadium Sub Review: Bluetooth Micro-Sub Excellence!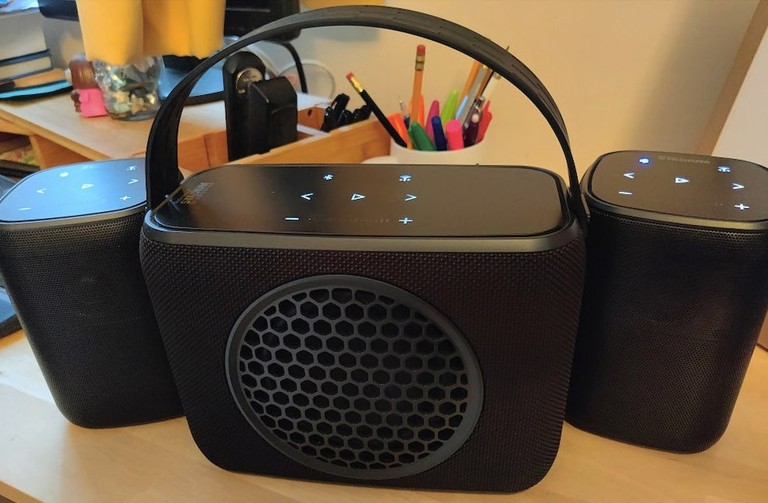 Rocksteady Stadium Sub and Two Bookshelf Speakers
Summary
Product Name:

Rocksteady Stadium Subwoofer

Manufacturer:

Killer Concepts

Review Date:

December 28, 2022 00:00

MSRP: $199.99 ($159 sale price)
First Impression:

Gotta Have It!
Rocksteady Subwoofer Specs

Inputs: Bluetooth 5.0 and 3.5-mm Aux




Battery: 15000 mah = up to 16 hours of play time

Charging: Type-C with fast charge 3.0

Power: 30-watts

Max Sound Pressure Level: 94cB SPL @ 1m

Frequency Response: 30-Hz to 350-HZ (most energy below 100-Hz)

Subwoofer dimensions: 220-mm (wide) x 162-mm (high) x 110-mm

Driver size: 132-mm Bass Driver /w

1701-mm x 115-mm oval shaped rear bass drum

Weight: 2.5-kg

Executive Overview
I first got my hands on a pair of Rocksteady Stadium (RSS) portable Bluetooth speakers by Killer Concepts two years ago. I'm pleased to report that they're still running fine and remain my go-to portable Bluetooth speaker for outdoors, travel and anytime I want sound away from my main audio system. I often use a single speaker for podcasts and audiobooks when doing work around the house, but when only music will do I use two and enjoy stereo sound anywhere around the home. My phone and the Rocksteady Stadium carrying case (more on that below) is my A/V system wherever I go. But now there's a new RSS speaker to add to that carrying case, the Rocksteady Stadium Subwoofer!
Rocksteady World's First Portable Subwoofer Satellite Speaker System
Bluetooth DSP Advances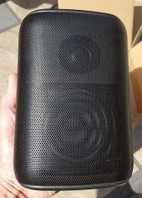 I began experimenting with portable Bluetooth speakers just over a decade ago, but never really took it seriously for music playback until Bluetooth 5.0 began showing us the format's potential. Today, with a little help from advanced Bluetooth codecs and digital audio signal processing (DSP) sound quality has vastly improved. These advances are at the core of the recent trend in high-end or "luxury wireless" headphones by the likes of B&W, Mark Levinson and Focal. The new digital audio algorithms do a remarkable job at filling the gaps in Bluetooth compression. The DSPs of the 2020s let manufacturers create more natural sound profiles from compressed digital sources for a variety of devices including portable speakers, headphones and IEMs.
For Rocksteady Stadium, Killer Concepts licensed an advanced DSP that its developer, Bambu calls Advanced Wave Sound Method or AWSM. And the result is pretty awesome! This digital audio signal processing technology is applied independently to each speaker in your Rocksteady Stadium network without advanced codecs or apps on your playback device and can make you forget you're listening to relatively small portable Bluetooth speakers.
In my original review of Rocksteady Stadium (RSS) back in 2020, I was thoroughly impressed with the system's stereo sound, compliments of its DSP. At the time I had never heard acoustic attributes like spaciousness and separation, let-alone soundstage or depth from a Bluetooth speaker before. Two Rocksteady Stadium speakers working together provide an impressive sonic immersion with the convenience of wireless portability. 
Rocksteady Stadium UX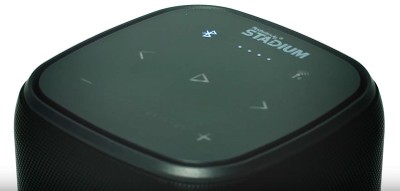 I was also impressed with the system's deceptively simple user-experience that can let anyone build seemingly complex sound networks with any number of Rocksteady Stadium speakers working together. The system's affordability, intuitive setup for infinite additional speakers makes it a great gift idea for anyone that likes sound but may not play well with technology. If someone is capable of connecting a speaker to a Bluetooth device, they can easily create a portable multi-speaker sound system with the RSS system. This is due to its linear simplicity and controls that allow additional Rocksteady Stadium speakers to connect to the host speaker with a touch of clearly marked icons on each speaker's surface. It lets you create your own ad-hoc rendition of surround or multi-room sound.
The Mouse in the Room Solved!

When it comes to highly portable Bluetooth speakers, the elephant… or should I say mouse in the room is speaker size. There's just no way around it, the RSS bookshelf speakers are small. Their diminutive size gives the system its portability and flexibility for setup, but there's just no denying the acoustic limitations of a small speaker. Each RSS bookshelf speaker's dual passive radiators provide its bass response, but at volumes that decline steeply around 100-Hz and lower. They're an enjoyable listen, and you may not even notice the absence of deep bass with certain types of music, but it will be missed with more bass-centric selections.
This brings me to a comment from my original review:
"If Killer Concepts can someday design a future add-on Rocksteady Stadium Sub, they'd have a ridiculously complete Bluetooth audio system, even if it pushes the limits of portability"
Well, Killer Concepts did just that! The company created the world's first powered portable Bluetooth subwoofer for its RSS system. Now it IS a ridiculously complete, portable 2.1 audio system. 
The RSS Sub is Born!
I can't take credit for the idea. It would have already been in development when I wrote my 2020 review. But developing the first prototype couldn't have been easy, even at the best of times. There would naturally be significant trade-offs designing a battery-powered speaker to move a diaphragm that's large enough to create low-frequencies at suitable volume. Such a system would eat power like taco night at the buffet! I can only imagine half the speaker's mass would be taken up by lithium-ion battery. But the team managed a slim mini-sub that fits the design esthetic and usability of its original bookshelf speaker system.
Designing the RSS Subwoofer wasn't the only problem Killer Concepts CEO, Jeff Leitman had to navigate getting this sub into production. When my original review came out in December 2020, we had no idea that the end of an era was drawing near. We were busy living our lives innocent to the phrase, "novel coronavirus". Most of us had to look up the term on Wikipedia just as the virus was conquering the world. Who would have guessed that by 2021 we'd be living in a world filled with social media virology experts?
While the rest of the world was self-isolating and reading about viruses, Mr. Leitman was busy getting a battery powered micro-subwoofer into production when something unprecedented happened. The virtual-effects spilled over to microprocessors and then to global supply chains, exactly the things needed to get this micro-sub off the ground. At times it must have seemed as if my idle speculation about an RSS sub was never going to come true. Through complications and possible delays, thanks to the tenacity of Mr. Leitman and his RSS team, it happened! Rocksteady stadium fulfilled its destiny to be the "ridiculously complete Bluetooth audio system" that "pushes the limits of portability." Now we have the Rocksteady Stadium Trio, consisting of the RSS micro-sub and a pair of RSS bookshelf speakers.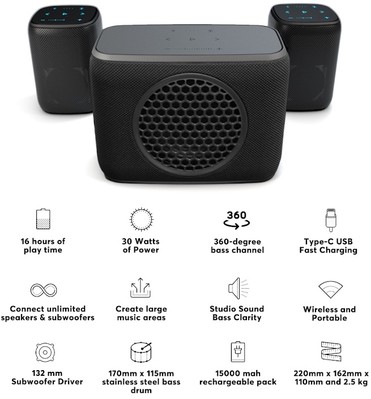 The RSS Trio, Portable 2.1 Sound
Optional Kit Portability
Killer Concepts makes a convenient, smart-looking bag available for the complete RSS trio. With handle or shoulder strap, you can easily transport two speakers and sub together along with peripheral wires and chargers tucked away in its side-pockets. Now you can just sling the bag over your shoulder and make any get-together into a party, fully hands-free! Slinging all the musical entertainment you need for a party over your shoulder is an important feature because you probably have other things to carry to a party. The bag is a nice touch and the bag has a real professional look. Showing up to an informal get-together with friends carrying such a professional-looking black bag will inevitably garner questions like: What's in the bag? Friends may even speculate: Camera equipment? A computer? You can answer, no and no!
Rocksteady Stadium: A Party in a Carrying Case!
In fact you're carrying something far more important, you're carrying freedom. The freedom of a 2.1 stereo system that goes anywhere, hands-free!
The Rockstead Stadium sub is a portable, battery-powered sealed 30-watt micro-subwoofer with a 132-mm (5.2-inch) driver that takes up the majority of the face of this slim rectangular box that stands about 6.5-inches high and only requires a 4-inch by 8-inch footprint wherever it's placed. The sub is tuned to match its companion RSS bookshelf speakers and connects easily to the host speaker in your RSS network. The back of the micro-sub has a power button, USB-C port for fast-charging and a 3.5-mm input jack. The jack will probably see very little service for most users, but it gives the sub potential use outside the RSS ecosystem. In theory, you could use the RSS sub in conjunction with any amp/preamp that includes an auxiliary output. But the RSS micro-sub is purpose-built to pick up the bass where the RSS speaker drops off. Featuring a total frequency range of 30-Hz to 350-Hz, the sub dedicates most of its power below 100-Hz. 
Subwoofer Setup & Play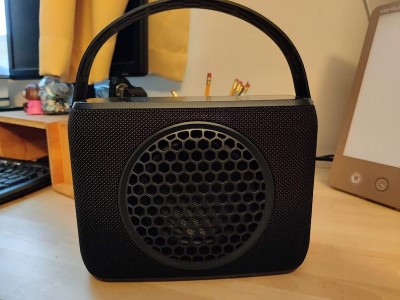 The sub connects to the host speaker with a touch of the ping LED on top, just like the RSS bookshelf speakers and there is no limit to the number of subs you can connect to your RSS network. The top panel is where you'll find the ping/bluetooth connection icons, volume control and battery-level LEDs. I've found the sub only needs to be turned up to about half the volume of the RSS bookshelf speakers to achieve a subtle low-end balance. However, as the mood strikes I'll turn the sub up for more volume that it handles without break-up or distortion.
For country, jazz, alt & classic rock I found it sounds best when the sub's contribution remains subtle with its tightest bass performance. But for electronica, lo-fi hip-hop, and aggressive metal, I turn the sub up to about 3/4 to give the bass some punch. But bass volume can be dramatically enhanced by placement within the room.
Sub-Positioning & Playlist Testing
For any subwoofer, positioning can significantly alter its sound. But, be sure to place the sub on a stable surface as the RSS sub will vibrate with more force than the bookshelf speakers. I found open placement in the middle of a floor or on a coffee table with plenty of breathing space provides the most subtle and tightest bass performance. But I've got a spot on a corner shelf that gives me more BOOM and dramatically increases output. Like any sub, wall or corner-loading will contribute room gain due to the boundary effect of nearby solid surfaces. These surfaces or boundaries can include the floor and walls that will amplify the low frequencies throughout the room. But experimentation with distances from boundaries is necessary to find the sweet-spot. The boundary effect can come at a cost of bass acuity and can muddy some bass frequencies. So, experiment as you would a full-sized subwoofer, but because you're experimenting with a micro-sub, just an inch or two in any direction can change its output. Gene has recently made some informative videos on boundary effects, and sub placement if you want to delve deeper. You'll find the micro-sub form-factor gives you endless placement possibilities in any listening space.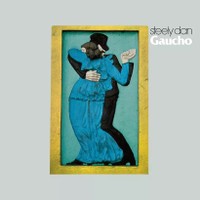 After becoming acquainted with positioning the sub, I wanted to hear its subtlety with the tightly polished sounds of Steely Dan's Hey Nineteen from their 1980 Gaucho album. A Steely Dan playlist is more about the midrange and higher-frequencies so I kept the volume at about halfway and placed the sub in the open, on a coffee table only about 6-feet from my listening position. The song's low-end was presented with precision and tight control but so subtle I wondered if I'd miss it. I turned the sub off several seconds into the track, then attempted to acclimate my ears to not hearing the low-end. Hey Nineteen without a sub is still an enjoyable listen with its steady jazz rhythm, playful guitar riffs and Fagan's lyrical epiphany involving Cuervo Gold. Then I pressed the power button to start-up the sub and in seconds it automatically connected and synced with the RSS speaker system. The result of my impromptu  (sighted) A/B test was stunning! The bookshelf speakers draw you in with its detailed stereo soundstage, then the sub's contribution steps in and really fills it out without overwhelming, it completes Steely Dan's avant garde rhythm section like Rene Zellwiger completed Tom Cruise in that old movie. To be completely honest it nearly brings a tear to my eye.
Next, I switched to something undeniably bass-centric that makes the sub the star of the show with an electronica deep-cut. Inertia Creeps by Massive Attack from their 1998 breakthrough album, Mezzanine. For this demo I turned the sub up to about three-quarter volume and placed it about a half-foot from a corner wall about 8 to 10-feet from my listening position. The song's instrumentation starts on the high-end with the Turkish-strings of a regional instrument that plays like a violin. After several seconds Massive Attack's signature wall of ambient bass creeps in, as the track-title suggests. It slowly builds to a wall of thick ambient bass as the strings keep up that vaguely mideastern-influenced dance rhythm in the upper-midrange. The sub reproduces the 90s wall-of-sound without turning it into a wall of mud. Sonically, the little sub in the corner stood as tall as the wall behind it. Its performance is fantastic even if short of shaking the floorboards. It's a powerful demonstration and an absolute shock that all that sound is coming from hand-sized portable bookshelf speakers and a slim battery-powered sub.
Conclusion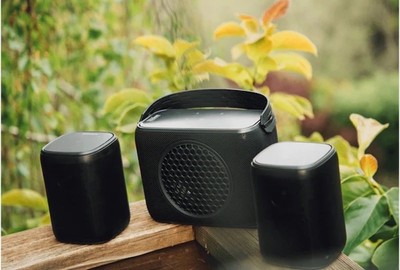 The Rocksteady Stadium sub with a pair of RSS bookshelf speakers punches well above its collective weight in mass, size and price-tag. It's the most listening pleasure I've heard from Bluetooth SBC. Whether I'm hearing the detailed stereo sound of the bookshelf speakers or the boom of the sub, I get a sense of disbelief that what I'm hearing is coming from such a small, relatively affordable package. For about the price of the RSS trio, you'll find large, powerful Bluetooth speakers that specialize in loudness. The "party speakers" segment of the market can be a fun listen as they push volumes to deafening extremes that bring the sound quality of a PA system. Rocksteady Stadium takes a different approach because it sounds more like a home audio system should. Unlike party speakers, the RSS trio provides sonic detail and immersion that you won't get from a single, large Bluetooth speaker. With its multi-speaker network system and affordable price-per speaker, RSS makes an easy upgrade path to expand your custom soundscape well beyond two-speaker stereo.
I believe that the RSS trio fills casual 2.1 stereo needs of anyone who cares about sound, especially inside small to medium-sized rooms. The system's portability is perfect for anyone that's liable to change residences frequently. It's the perfect hi-fi fit for the dorm, renting smaller spaces or even living the efficiency of condo life. Its flexible setup also makes it a great secondary system for anyone that wants sound on-the-go, whether trips to the cottage, hotel rooms, backyard barbecues or a stay-cation to get work done anywhere in your home. What you get is a terrific rendition of portable 2.1 stereo sound with a shockingly favorable price-to-performance. When I'm invited to a barbecue party with friends, I'll bring the RSS carrying case filled with the freedom of 2.1 stereo sound slung over my shoulder, hands free!
Enjoy a significant Holiday Savings: Rocksteady Stadium Subwoofer is on Sale for 159.99 until the end of 2022 or Buy the 2.1 System for $369!
Unless otherwise indicated, this is a preview article for the featured product. A formal review may or may not follow in the future.
Wayde Robson posts on December 28, 2022 11:01
gene, post: 1584325, member: 4348
And now the wireless micro sub is out and reviewed!
https://www.audioholics.com/computer-speaker-reviews/rocksteady-stadium-sub-review-micro-sub-bluetooth-excellence

Was checking to see if this was here and add it if not. Being away from home for Christmas I'm using the system for background music while working. It also made a great 2.1 addition to movies on my laptop when catching up on some viewing.
I think this system would make a great gateway to bigger hi-fi for younger people of more transient residence and on a budget, but that still want a taste of hi-fi sound they can take anywhere without much worry of wrecking anything.
I know in my "old days", I had an old monster of a Sony 2-ch receiver and oversized speakers that were like 70% passive radiator, but looked impressive. After several moves they showed a lot of signs of nicks and bangs lugging them around with me. Due to the speaker bottleneck I was unaware of back then, I don't think they sounded any better than RSS bookshelf speakers w/ sub.
gene posts on December 28, 2022 03:15
Wayde Robson posts on December 08, 2020 10:20
I was thoroughly impressed with this new Bluetooth speaker system. They're small, inexpensive, portable Bluetooth speakers that sound about what you'd expect, individually. Which is to say one small small speaker sounds pretty good for what it is, on par with with others of its size. But when you get two together, spaced apart just so, I have to admit the stereo effect really got me. It reminded me what a great format old-fashioned stereophonic sound really is. Probably because I never expected to hear it transmitted into my backyard while barbecuing some burgers from these tiny speakers. But I actually got a sense of soundstage and imaging and ended up spending a bunch of time tweaking their positions to maximize the effect. They're quite easy to use, and just angling them slightly can have significant effect on how they project the stereo image, they get suitably loud without distorting and you can get a pair for well-under $300.
Of course, they're just small speakers, so there's no sub-bass to speak of, but for rock music they actually sound pretty good. Until I can build my own Smart Home and put high-end sound into every room in the house, I'll have to stick with a portable Bluetooth speaker and phone as my roving music source. I've been doing it this way for years, but now I get stereo, which really stands out when I'm not just listening to a podcast while I do work around the house.
Read the Rocksteady Stadium Review
42455
Post Reply
Confused about what AV Gear to buy or how to set it up? Join our Exclusive Audioholics E-Book Membership Program!