Bowers & Wilkins Px7 S2 ANC Wireless Headphones Review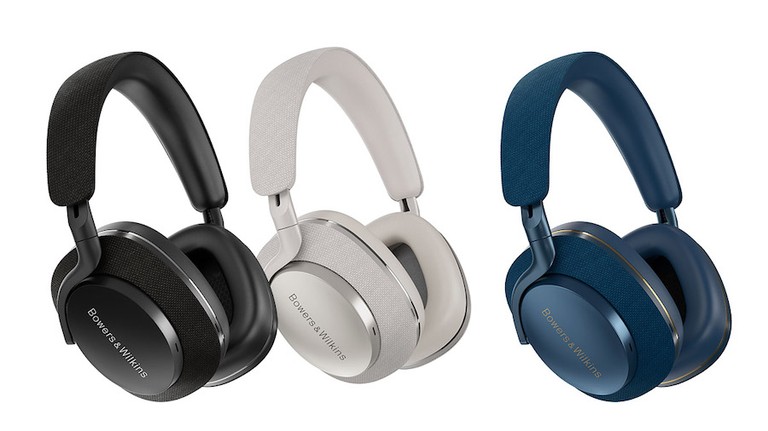 Px7 S2 Available in Three Stylish Colors
Summary
Net weight:
307g (without carry case)
Wearing style:
Bluetooth Wireless Over-Ear Headphones
Technical features: Hybrid Noise Cancellation, Ambient Pass-Through, Wear-Detection Sensor


Bluetooth® Audio: Bluetooth 5.2 with aptX™ Adaptive, USB-C charging & audio interface

Bluetooth codecs: aptX™ Adaptive, aptX™ HD, aptX™, AAC, SBC

Bluetooth profiles: A2DP, AVRCP, HFP, HSP, BLE, GATT (Generic Attribute Profile)
Drive units:
2 x 40mm dynamic full range bio cellulose driver


Microphones:
4x mics for ANC, 2x mics for telephony
Distortion:
(THD)<0.1 % (1 kHz/10mW)
Battery type:
Rechargeable Lithium Ion
Battery life & charging:
30 hours playback, 7 hour with 15min charge
In box accessories:
1.2m USB-C to 3.5mm stereo jack audio cable, 1.2m USB-C to USB-C cable, Carry Case
Available Finishes
: Black, Blue, Gray
Executive Overview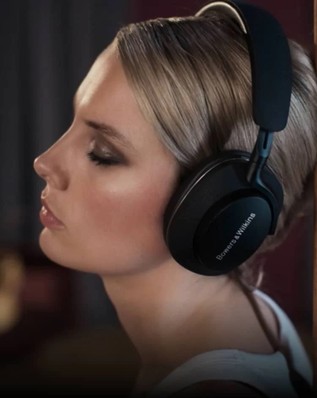 High-end loudspeaker companies like Bowers & Wilkins may not come top-of-mind when you think of noise cancelling wireless headphones. Although that perception may be changing in the wake of improved Bluetooth codecs and digital signal processing, we're likely to see more classic audio brands bringing their rendition of high-end to the growing wireless headphone market. Bowers & Wilkins is no Johnny-Come-Lately to headphones. The venerable speaker company has been plying the headphone design trade in both wired and wireless for just over a decade. The UK speaker company recently released the latest iteration of its own top-shelf wireless headphones, the Px7 Series 2. Although, Series 2 in this case brings more than just a tweak to its already widely well received original Px7 wireless headphone.

Px7 Series 2 is a significant overhaul of the Px7, both inside and out and it was released at the same retail price as the original. Px7 S2 is a wireless over-ear headphone with adaptive noise cancelling and features aptX Adaptive over Bluetooth 5.2. The brand's newest headphone has the unenviable task of bringing the legendary Bowers & Wilkins pedigree to a wireless headphone. Bowers & Wilkins touts improvements in both style and tech. The brand promises better active noise cancellation, improved voice-call quality with tweaked mics and an improved noise cancelling acoustic isolation DSP. While battery life is the same 30-hours of Px7, S2 introduces fast charge speeds that promises 7-hours of playtime for a 15-minutes on the charger. Px7's original 43-mm driver has been slightly downsized in S2 with a 40-mm bio-cellulose diaphragm, but this is backed-up with a newly designed 20-mm voice coil with revamped magnets and a kapton former. A month ago we reported on the pending launch of these headphones with some insight into this market's growth and what it could mean for Bowers & Wilkins. At long last here's a rundown of my first few days trying out B&W's latest headphones to see if it can live up to the hype.
Unboxed

Px7 S2 arrives zipped inside a hard-shell case with paperwork that includes an Ikea-like quick start guide. Unzipping the case reveals the PX7 S2 at its most compact, ear-cups swivelled all the way open so as to lay flat. Although the ear-cups don't fold into the headband, zipped inside its case is still an easily transportable package at only 9" long by 7" wide and only 2.5" deep. The case brings a touch of luxury with its soft crushed-fabric interior while outside its flat black nylon exterior is working-class rugged with a subdued Bowers & Wilkins brand mark pressed into the center top. They call this case "hard-shell", but "stiff-shell" seems more apt. A small magnetic trapdoor in the center opens into a small pocket with a 3.5-mm to USB-C and USB-C charger cable.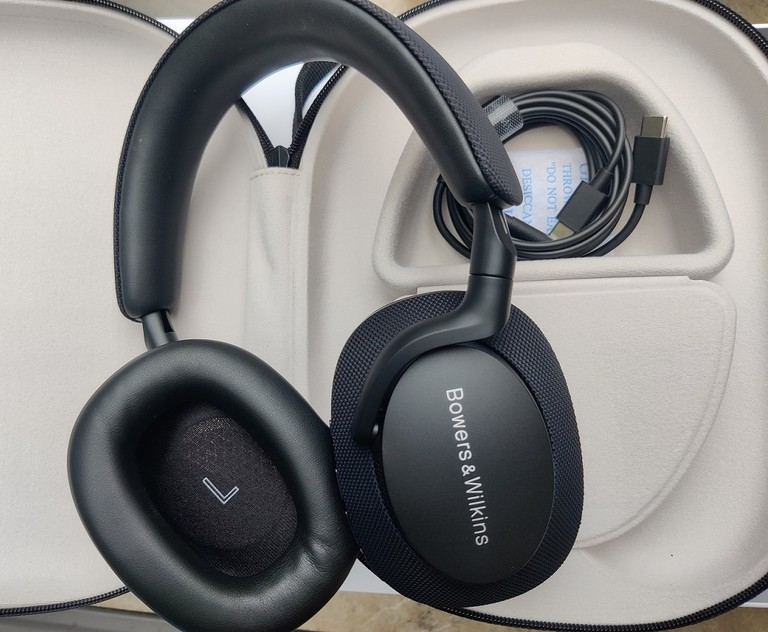 Bowers and Wilkins Px7 S2 Unboxed
Look and Feel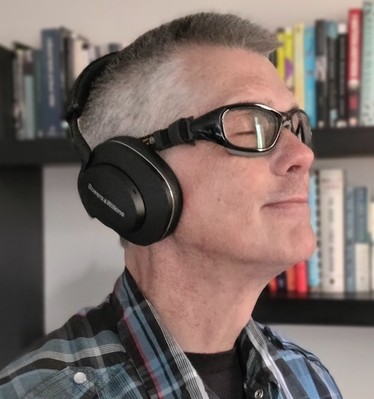 The headphone itself is a thing of beauty. This model comes in three color choices: Black, Blue or Grey. It's a refreshingly spartan naming convention, free of the pretensions of other high-end headphone brands that name product colors with descriptors like mocha-and-cognac. Each primary color is accented with a balance color subtly introduced in each ear-cup's brand mark and ring behind the ear-pad. A small driver-housing protrudes from each outer ear-cup emblazoned with the "Bowers & Wilkins" mark written full-form. The conservative ear-cup font is easy to read and sure to convey discerning taste to onlookers in the know, or cries of; "What the heck is a Bowers & Wilkins?" From the average normie AirPod Max wearer.
Px7 S2 marks a return to the more angular esthetic of past B&W headphones. It's style is more original PX (B&W's first ANC wireless cans) than Px7. Echoes of P5 are present in the ear-cup's soft corners that form gentle rectangles on the sides of the head rather than the oval egg-shaped ear-cups of Px7. Where the driver-housing of Px7 was almost flush with the outer ear-cup, S2 protrudes with an angular edge, naturally drawing attention center ear-cup and its brand mark. Beauty may be in the eye of the beholder but in my opinion the stylistic changes to Px7 S2 are a great improvement.
Px7 S2 features plush memory foam ear-pads wrapped in a soft, sufficiently breathable pleather, they're thicker than those of Px7 and do a fair job dissipating heat. Thicker cushions are a welcome upgrade for comfort and isolation as well as sound quality for anyone wearing glasses. Depending on your frames, the opening they create in the seal may only have negligible effects on sound quality. But when wearing my regular glasses, minute loss to bass response was present. That's why when I really want to hear good sound from headphones and enjoy 20/20 vision, I wear a pair of prescription sport goggles strapped around my head to eliminate sound leakage. Be warned however, wearing goggles in public while not flying a bi-plane shoots-down any cool factor you may have thought wireless headphones provided. But I'll suffer the small indignity for the sake of sound quality.
The new headphones only give a sligh clamp-force that never felt tight even on my own rotund cranium. But one of the best improvements to S2 is the pads are designed to be removable and easily replaceable. They simply snap on/off, easy replacement should bring aftermarket ear-pads by makers like Dekoni and stock replacement on the Bowers & Wilkins website anytime now.
Adaptive Noise Cancelling
Six microphones inside and out serve tasks such as transmitting your voice and feeding its DSP for Adaptive Noise Cancelling that responds to environmental acoustic conditions. While testing from indoors I had no problem speaking over the phone using Px7 S2 and when asked, my caller didn't even realize I was using a Bluetooth headset. Outdoors in breezy conditions are sure to garner less pristine results.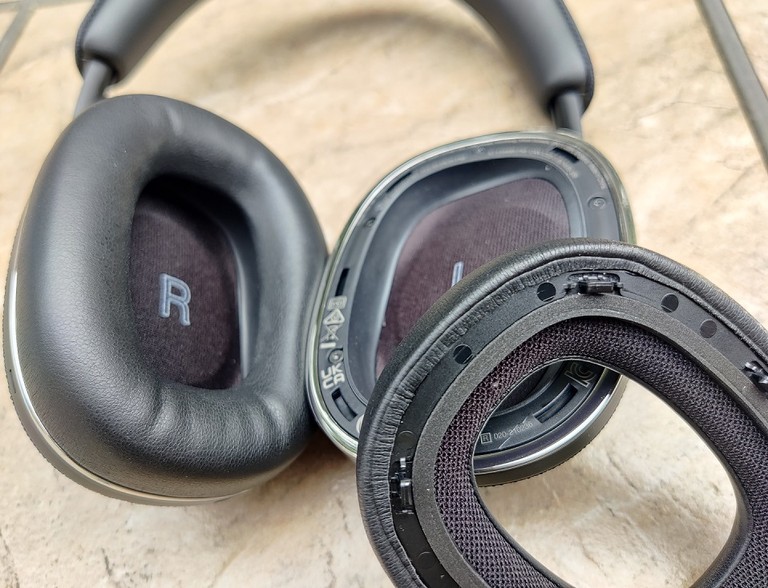 Ear-pad Removal a Snap
Rumor has it that Sony and Bose practically own the roost in noise cancelling technology, but B&W is surely not far off anymore. You'll know when ANC is engaged on Px7 S2 when you feel a slight shift in cabin pressure from the isolation. Testing it with no music playing in a busy coffee shop surprised me with how noisy the environment had actually been before engaging the Bowers & Wilkins version of "Cone of Silence". It's not perfect, but it's a great trick that shouldn't muddy your music too badly, playing music with ANC on is a compromise even in the best implementations. But it's a big improvement over previous B&W headphones, I don't even notice the persistent hiss usually associated with past implementations of active noise cancelling, but there is still a perceptible loss of frequency range and soundstage. The left ear-cup has a single (programmable) button that lets you cycle through three simple noise cancelling modes by default.
Noise Cancelling Modes
 Adaptive Noise Cancelling: Rated at 30dB of ambient sound reduction.
 Ambient: Environmental sound pass-through into your cans. I'm not exactly sure why mimicking the effect of taking your headphones off is a feature, but it's there!

 Off: Normal music listening with ear-cup's passive noise cancelling only.
Controls and Practical Use
The programmable ANC-cycle button the left, but the rest of the controls are located around the back of the right ear-cup, easily identifiable to the touch and highly intuitive to use. A three-button cluster in the rear features a center button for pause/play, skip-forward/back flanked by dedicated volume up/down buttons. Just above the cluster is a smaller retracting slide-switch that turns on your headphones. Once turned on, Bluetooth connection is automatic and if you leave the energy saving feature on (default) the headphones will shut down after 15-minutes of (no audio) idle time.
The left ear-cup's programmable multi-function button by default toggles ANC modes (above). The Music app allows you to switch to its alternate function, phone assistant activation. I suspect few will deviate from the default.
The Bowers & Wilkins Music App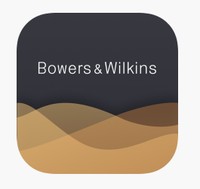 The Bowers & Wilkins Music App is new to the brand's headphones. Beginning with PX7 S2, the company is rolling out headphone compatibility to the Music app and plans to eventually discontinue its Headphone app. The move consolidates control of other wireless and network-aware B&W products into one app.
The Music app is a clean and easy use, but also light on features, at least for now. One of the most requested features for its headphone app has been a software EQ, and the Music app is a step in that direction. Presently, the "EQ" only consists of a bass and a treble slider, but hopefully we'll see further development, more controls and maybe some custom acoustic DSP presets.
After my first few glances at the app in the two days I've been able to play with the headphones I haven't had much cause to open it. That's more a testament to the hardware controls than anything lacking in the app itself. What I find most convenient about the Music app is the battery charge display because there's no indicator LEDs on the headphones. That's not really a problem, powering-up a set of battery-indicator LEDs seems like a waste of charge, no matter how minute. The 30-hour charge isn't uncommon on headphones these days, but it's incredible how far we've come in recent years. A single charge is likely enough to last me for a week, so it's easy to lose track of its level.
Bluetooth "Luxury" Sound Quality?
Over the last decade a lot of development has gone into making Bluetooth sound less of a compromise. Those efforts may be reaching the threshold that pleases the ears of even the most demanding audience. That demanding audience includes those of us who sincerely de-prioritize extra features like noise cancelling and honestly couldn't give a tinker's cuss about folding ear-cups or touch-controls - we just want hi-fi sound! Perhaps a new generation of creative headphone builds can work within the constraints of Bluetooth throughputs and closed-back designs to give us an engaging enough listen while injecting a bit of fun in the wearable aspect of a wireless headphones. That's a bet that higher-end headphone manufacturers like Bowers & Wilkins are making now, as we seem to be in the midst of a wireless headphone boom just as a relatively new class of "luxury wireless" headphones has begun to emerge. It's a new market that we hope cares as much about sound quality as we do.
PX7 S2 comes armed with Bluetooth 5.2 and Android users will enjoy compatibility with one of the best Bluetooth codecs available today, aptX Adaptive. Unfortunately, Qualcomm's aptX suite of codecs aren't widely available on Apple products. This means iPhone-users will have to connect to Px7 S2 using a Bluetooth codec that's almost a decade older than the iPhone itself. Advanced Audio Coding (AAC) and its 264-kbps stream was developed in 1997 and remains the iPhone's most accessible option for wireless audio.
Android's Advanced Codecs
Back in 2016 we began seeing Android (version 8 or higher) phones including a new generation of Bluetooth codecs intended to improve audio quality. These were Sony's LDAC and Qualcomm's aptX HD that raised the bar on bitrates and streamed increased sample-rates and bit-depth from digital audio sources.
"That audience includes those of us who de-prioritize noise cancelling and honestly couldn't give a tinker's cuss about folding ear-cups or touch-controls - we just want hi-fi sound!"
Qualcomm's aptX HD provides a bit-depth/sample-rate at 24-bit/48-kHz in a constant 576-kpbs stream. Meanwhile LDAC brought Bluetooth streams all the way up to a whopping 990-kbps! But despite promising new specs, these are not lossless audio streams. Bluetooth uses lossy compression algorithms, even if the specs cite bit-depths/sample-rates that look more like hi-res audio. While its smaller wireless bitrate and compression are Bluetooth's primary choke-point, it's not necessarily the size of the pipe, but how it's used that can improve sound quality. Qualcomm says it improved on aptX HD in 2018 with its latest codec aptX Adaptive, even at a slightly smaller bitrate.
Qualcomm aptX Adaptive
Qualcomm's new aptX Adaptive maxes out at 420-kbps, but the codec is capable of streaming all the way up to 24-bit/96-kHz. Qualcomm says aptX Adaptive is capable of the same sound quality as aptX HD despite its smaller bitrate. But it has other tricks up its compression algorithm sleeve. As the Adaptive moniker suggests, the codec uses a variable bitrate, anywhere from 279 to 420-kbps. The new codec also happens to be one of the fastest codecs available, capable of completing a send/receive journey in only 80-ms where typical Bluetooth codecs operate closer to 200-ms sometimes taking as much as 500-ms. Reduced latency is an asset for trouble-free sync between audio and video, making Px7 S2 suitable for watching movies and gaming. Qualcomm is so confident in aptX Adaptive's improvements that the company plans to phase out its other advanced codecs including aptX HD and aptX Low Latency.
Subjective Sound Observations, Song-By-Song
In honor of the adaptive motif featured in Px7 S2's adaptive noise cancelling and aptX Adaptive, I decided to run a few songs letting Apple Music run its own adaptive program of songs it thinks I should like with my account's Made For You radio station. This should give me a randomized feel for the headphone's overall character. I'm looking forward to hearing how these new powered drivers and that fancy Bluetooth codec perform!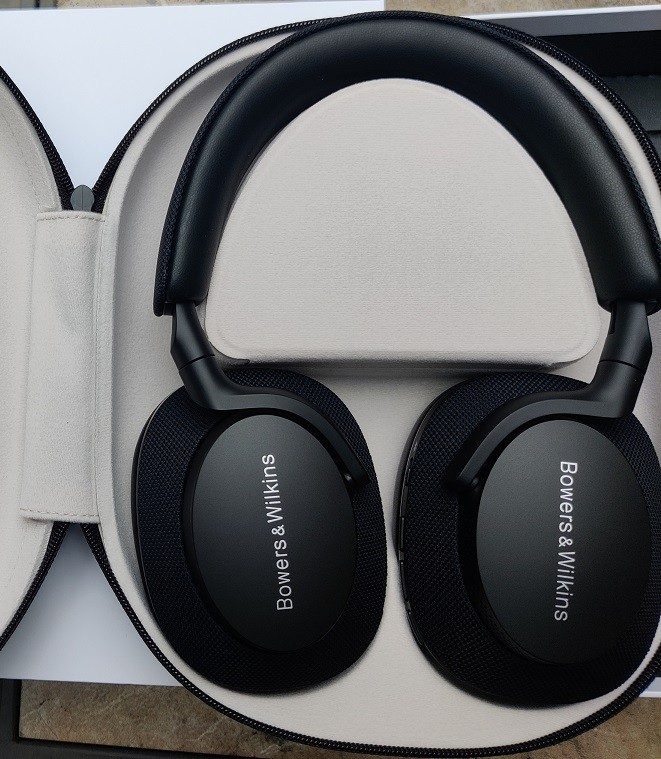 First Glimpse at B&W's New Headphone Design
Song #1: The Fortunes, Here Comes That Rainy Day Feeling. A 1971 pop song would not have been my first choice. It's an older, imperfect recording and the  kind-of old one hit wonder one might have heard playing in the background at a thrift store in the 1980s. The first thing I noticed in this early-Beatles-esque rock sound was loads of bass. Throughout the ossified rock instrumentation the bass guitar is ever-present, not overpowering but it never seemed to disappear into the mix. The vocals were recessed but when you listen for it there is some warm detail and resolution. Strings added in post-production were mandatory for 1970s pop recordings. Late in this song The Fortunes rather jarringly drop a small symphony into the upper-midrange. While the effect was a little clustered inside my head it sounded vibrant and clear. The band itself had a separate but more even dispersion, it sounded as if the strings were added after the guys in the band left the studio.
Although most of the band sounded as though playing from behind the bass guitarist, I can't necessarily blame the Px7 S2 for a recording that sounds every bit its age. The headphones had no problem showcasing range and detail, even while highlighting the warts. The bass-strength is an obvious standout in these headphones, it never seemed boomy or sacrificed the rest of the frequency range. The most positive thing I can say after this song is that I see it as a positive sign when headphones can illuminate the weakness of a poor recording or overly-compressed Mp3.
Song #2: Black Sabbath, Black Sabbath. This is track #1 from Black Sabbath's self-titled 1970 debut album. Apple's algo cheated selecting this song because it's received plenty of play already. In the classic metal homage to composer Gustav Holst's Mars, Iommi's guitar and Geezer's bass blend nicely from their respective ends of the frequency spectrum as the song's menacing tri-chord takes center stage. Px7 S2's borderline over-strength in bass sounded crisp, lending all the power and authority of a Thanos snap to Iommi and Geezer's sonic expression of terror. Ozzy's bleak apocalyptic vocals, while a little recessed, added a richly textured layer.
Black Sabbath picks up tempo around 4:30 as Iommi goes full rock anti-hero with leads that carry the song across the finished line. The final minute is a tidy encapsulation of Px7 S2's energy and detail in the upper-end. The headphones performed remarkably all the way through this heavy metal classic from starting drone to finishing gallup.
Song #3: Boz Scaggs, What Can I Say. Silk Degrees, Boz Scaggs 1976 breakthrough album for which Apple Music streams a 2007 remaster that sounds like it could have been recorded yesterday. The recording demonstrates a new trick that didn't stand out in the last two tracks, a soundstage! Not broad mind-you, but present enough too call "good" in a closed-back headphone.
"What Can I Say" brings a touch of soul to Scagg's R&B-influenced rock, blending rhythmic instrumentation, vocal harmonies a saxophone solo and of course those ubiquitous 70s strings. The harmony between Scaggs and backup singers was a fine midrange demo, diametrically opposite from Black Sabbath. Px7 S2 presented a warmth only hinted at by The Fortunes as vocals that seemed recessed from Ozzy Osbourne now took on a more relaxed demeanor in a track that brought them front-and-center while accentuating the pop and bounce of the rhythm section. The bassline is still powerful and ever-present, but tame enough not to overpower with rumble or boom.
While Px7 S2 performed admirably so far, a succession of 70s songs isn't what I would have chosen to evaluate new headphones. Does Apple Music's algorithm think I'm that old? It was time for some hand selected favorites to test new headphones.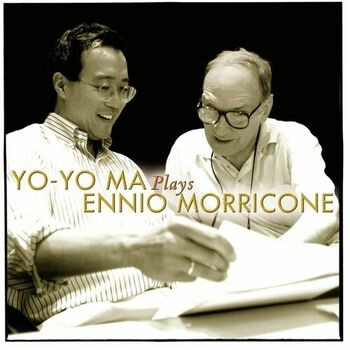 Song #4: Mountains, Hans Zimmer's Interstellar Soundtrack. The song starts off slow and small with a ticking metronome. As the metronome increases speed an orchestra builds around it into a powerful bombast. You get a sense of weight from what sounds like a stadium-sized organ and an impressive display of dynamic range as the song builds. I came away with two words, big and weighty. There's an extreme juxtaposition in this song's climax from its start with just the metronome to a giant-sounding stadium's bombast. Px7 S2 has more than just one trick in its potent bass presentation. It also does warm vocals and startling dynamics. Not bad at all for 420-kbps!
Song #5: Yo-Yo Ma, Theme From Once Upon a Time in the West. One final selection to test soundstage and separation. While I never expect a wide soundstage from a closed-back headphone, Px7 S2 still manages some sense of width and directionality. Listening to Yo-Yo Ma doing Morricone's Once Upon a Time in the West, the Franco-American cellist's own strings sounded as if just above my forehead in a central position with his orchestra rising and falling within a small circle just outside my head at variable distances. It's far from an expansive soundstage, but there was a coherent sense of organic separation and imaging that didn't sound too much like DSP. All of it was delivered with suitable clarity, detail and texture to be enjoyable. The rich sounds of the cello are beautifully recaptured here with Px7 S2's bass-oomph when it goes down low, lending a sense of excitement. The excitement is only amplified by the reality that you can hear all of this while walking around.
Overall Sound Quality

Taut bass steals the show in the presentation with a reserved sense of power that never abuses the rest of the frequency range. Px7 S2 sounded engaging, with energetic highs, power down low with a warm, easy while sometimes slightly recessed mid-range. Vocal tracks with less instrumentation sounded detailed, almost analytical enough to forget that I'm listening to Bluetooth compression. These headphones provided a musical experience that was simply incongruous with the lightness, small size and comfort I felt on my head. That's a remarkable achievement!
Conclusion: Are They Bowers & Wilkins Px7 S2 Worth the Price?
Even my headphone snob self must admit it, a 420-kbps Bluetooth data-pipeline can transfer an engaging listen, free from the constraints of stationary headphone equipment. Wireless headphones I've heard in the past, albeit in lower price ranges, seem to have a certain sameness quality in their sound profiles. I'm far more accustomed to Bluetooth audio having a sonic "tastes-like-margarine" quality, sounding lighter and thinner. But Px7 S2 gave me surprising levels of detail and resolution from its combination of an advanced codec, B&W DSP tuning and a unique driver build paired with the passive isolation and pads around the ear-cups.
To anyone in the market for wireless headphones that's willing to pay a little more for the upper-end of the wireless headphone market; it's true that there are more utilitarian, comparably priced cans out there that have more features and they're likely a fine choice in this class. But in Px7 S2 you're getting a contemporary rendition of a "luxury wireless" headphone with the sound, comfort and distinctive style that actually comes in at a lower price-point than some of its real competitors in this category. So, if your top priority is sound quality for an eclectic mix of musical styles, Bowers & Wilkins current top-shelf headphone makes for an easy choice, that is until you add considerably more to your budget and introduce stiffer competition. Px7 S2 will give you a light-touch on the head that belies the power and clarity in the ears, even if it means sacrificing folding ear-cups and touch sensor-controls.

Unless otherwise indicated, this is a preview article for the featured product. A formal review may or may not follow in the future.
gene posts on August 15, 2022 04:16
Check out our review of the new revamped :
Bowers & Wilkins PX7 S2 Headphones
MacCali posts on April 11, 2021 05:54
MacCali posts on February 08, 2021 21:18
I really enjoy my M&D MW65 ANC, seems like no one is talking about them. Normally they run for 500 but I got them for just over 400 with tax Black Friday.

Something to really consider. They claim to be "Be" drivers, I think possibly they are coated. But they are really smooth, and perform fairly well frequency wise. And I come from a wired headphone background.

Ive tried the Beyerdynamic Lagoon ANC, Sennhieser 458 and Momentum, and the Sony MX4. The only thing close in sound quality was the Beyerdynamic. I'm almost certain they wipe the floor with airpods max.

I did consider the B&W, but the MW65 sealed the deal for me.
gene posts on February 07, 2021 01:44
Looking for a new pair of noise-cancelling headphones? The choice can be daunting, but if you're budget is in the $300-$400 range we've taken the well known Bose 700 UC and directly compared it to the Bowers & Wilkins PX7. We found that both headphones have associated strengths and weaknesses in terms of sound quality, usability and effectiveness of noise-cancellation.
zvir9BPrk4I
Read on to discover which headphone may be right for your needs.
Bose 700UC vs Bowers & Wilkins PX7
Post Reply
Confused about what AV Gear to buy or how to set it up? Join our Exclusive Audioholics E-Book Membership Program!