Focal's Bathys Review: First Wireless Headphone w/ ANC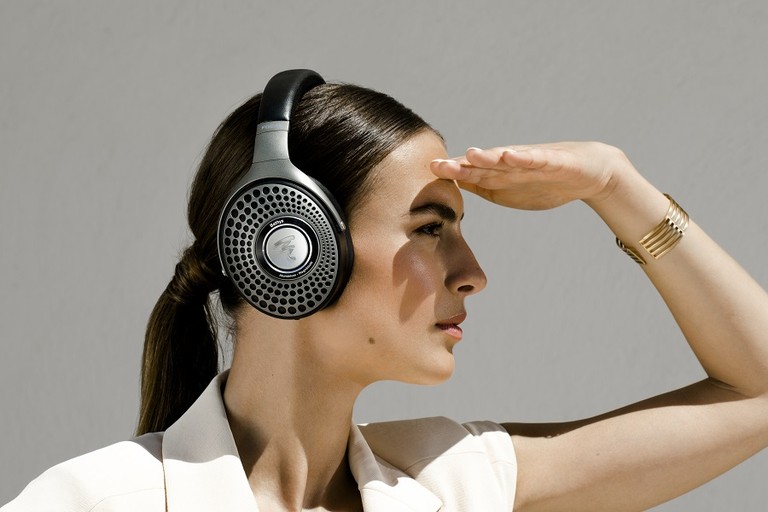 Is Bathys the high-end wireless headphone you're looking for?
Summary
Specifications
USB Mode: USB-DAC up to 24 bit / 192kHz performance

Bluetooth: v5.1 w/ Multipoint

Bluetooth range: >15-meters

Bluetooth Audio Codecs: SBC, AAC, Apt-X™ and Apt-X™ Adaptive codecs

Voice Assistant Compatibility:

Google Assistant, Amazon Alexa

Connection:

Bluetooth® / 3.5mm

Jack

/ USB-C®

Driver: 1-5/8" (40mm) Aluminium-Magnesium 'M'-shaped dome, made in France

Frequency Response:

15Hz to 22kHz

30-hours of battery life ANC/Wireless Mode,

42-hours DAC Mode

ANC Soft (low) & Silent (high) + transparent mode (passthrough)

Fast Charging, 5-hour charge in 15-minutes

Weight:

0.77lb (350g)

Two cables: 4ft (1.2m) 3.5mm Jack and 4ft (1.2m) USBC®

Rigid Carrying Case:

9-7/16"x 8-1/4"x2-3/4" (24x21x7cm)

Control App: Focal & Naim app for Android or iOS

Executive Overview
Bathys, (pronounced "bat-ees") is Focal's first-ever wireless headphone with Active Noise Cancelling (ANC), bringing the French audio company into the ranks of fine audio brands that are transforming the once humble wireless headphone from convenience side-show to acoustic main event for many listeners. Focal has integrated many of its high-end headphone design cues and engineering into Bathys, while keeping its cost tantalizingly within reach of mainstream consumers. Focal's newest headphones bring the DNA of closed-back predecessors like Radiance and Celestee with its 40-mm aluminum/magnesium driver and high-end design esthetic to the wireless experience. Bathys also packs on-head electronics including 8-mics, digital/analog conversion, ANC, DSP and surprisingly powerful amplifiers precision-matched to its drivers to maintain a 30-hour battery life. Bathys should be the only closed-back travel headphones you ever need.
Introducing Focal Bathys | The BEST Wireless ANC Travel Headphones w/ a Built-In DAC!
Presentation Look and Feel

After opening the box for the first time, Bathys comes zipped inside its included fabric-wrapped, stiff-shell carrying case. It's a smaller, flatter case than those used for Focal's high-end line, thanks to Bathys swivel earcups that let it lie flat. The swivelling hinge above the yoke is a first for Focal's high-end design. The case is a low-profile 2-¾" deep for easier packing into a crowded carry-on bag or suitcase for travel. Complete dimensions are 9-7/16" tall by 8-1/4" wide (24x21x7cm). Besides your headphones you'll also find two four-foot cables included, one USB-C, and a 3.5-mm.
Unveiling your new Bathys presents the Focal high-end headphone contours and esthetic details. Bathys is available in one color, a deep grey that Focal calls black-silver. It's a conservative color choice befitting a headphone that should skirt the upper-edge of the mainstream consumer market. The yoke is made from a tough but lightweight magnesium and the inner headband contains aluminum that lock-clicks when extended and retracted. The new magnesium and aluminum construction of the yoke and headband feels suitably built to last while echoing the driver technology inside the earcup. The outer headband features real leather and microfiber, while the removable/replaceable ear-cushions are composed of memory foam wrapped in a breathable leatherette that contributes to the headphone's sonic isolation. Bathys feels effortlessly light on the head at .77-lbs (350-grams), lending a sense of freedom to wireless Bluetooth listening.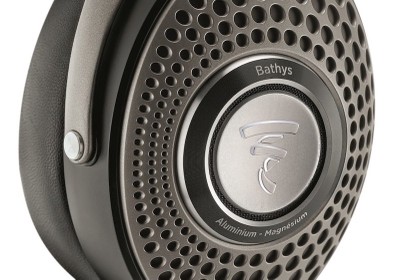 One, rather odd characteristic about Bathys is found in the normally subdued Focal flame found on the outer earcup of every Focal high-end headphone. On Bathys the Focal mark lights up with white LEDs when powered on. I assume this will be one of those love it or hate it design ideas. But it's strictly superficial with no other purpose than to flex your Focal. The LED uses a trivial amount of battery power to stay lit, so it shouldn't significantly affect Bathy's 30-hour battery life. But, for those who don't care for it the Focal App lets you turn it off or set its brightness to high or low.
On-Ear Controls
Bathys gives you reliable, tactile button-controls around earcups. No touch sensors here, thankfully! The buttons feature enough physical variation to easily discern between them with a light touch of your fingertip. On-ear controls are intuitive and can have you paired and listening in minutes, before even downloading the app. You'll have all the portable music-listening controls you'll need without reaching for your phone. With a touch around the outer earcups, you can toggle ANC modes, Pause/Play, skip forward/back, vol up/down and even access your voice assistant.
Bathys Technology Tour

The name Bathys is a callout to the sonic isolation of its active noise cancelling, meant to hearken to one of the greatest technological advances in deep oceanic exploration, the bathyscaphe.
Focal says: "Bathys comes from the word 'bathyscaphe', the first submarine exploration vehicle. The embodiment of calm, depth and absolute silence, this vessel is the inspiration behind the name of these ANC headphones."
Alum/Mg Drivers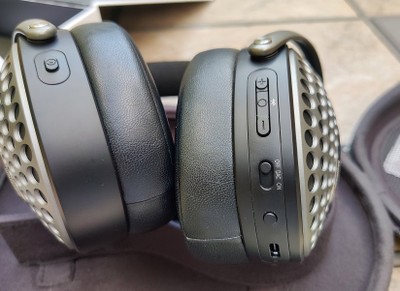 Bathys employs a new variant of its familiar aluminum/magnesium driver, featuring the inverted M-shapped dome diaphragm and formerless voice coil. But Bathys driver has been built to optimize for added lightness and reduced energy consumption. The alum/Mg M-shapped configuration brings the same punch, dynamic range and detail you've heard in other Focal high-end headphones. Alongside the driver technology are microprocessors, microphones and acoustic vents for ANC and sound quality. All-in there are 8 mics that perform everything from Clear Voice Capture technology for calls and Bathys three Active Noise Cancelling modes.
Focal ANC & 30-Hour Battery Life
To be honest, I don't get especially excited for Active Noise Cancelling in headphones, although I'm impressed with recent advances in the technology. Bose and Sony are the two companies long held as the gold standard in ANC. But after listening to newer renditions of the technology from companies that aren't Sony or Bose, it seems there is no longer the same ANC-performance chasm. I performed the same lawnmower test with Focal Bathys that I did with Bowers & Wilkins Px7 S2, to much the same result. After activating Silent mode, the noisy lawnmower sounded as if it had been pushed across the yard instead of being right at my feet. It's a terrific implementation and a "nice to have" feature in a wireless headphone. Activating ANC no longer seems to muddy the sound quality. Although, I do perceive a slight narrowing of the frequency range, but gone is the persistent midrange hiss of older noise cancelling technologies. Voice capture is just as serviceable, if I avoided a windy outdoor locale I was able to speak without the tell-tale signs that I was talking over a Bluetooth device.
Bathys carries an amazing 30-hour battery life from a full charge, meaning that we've reached a point where you no longer need to worry about it. Although I suppose more battery life is always appreciated, IMHO, anything past the first 15-hours and I call that feature covered. Bathys also has Fast Charge, that lets it pump 5-hours of life into your headphones in just 15-minutes on the charger. Now that's impressive! But these days, anything close to a 30-hour battery life, fast charging and a competent ANC can be viewed as a barrier to entry into the wireless headphone market in 2022. We consumers are spoiled by these features nowadays, we can practically can take them for granted.
Editorial Note on Battery Life: Focal published battery life estimates based on usage as you can see tabulated below:
30 hours Bluetooth® Noise Cancelling

35 hours Jack mode

42 hours USB DAC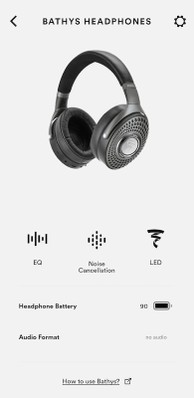 Focal & Naim App
Focal has joined forces with Naim's app, now dubbed the Focal & Naim app. Naim is Focal's English sister audio company, although separate companies, they've been making high-end equipment under parent company Vervent Group since 2011. The Naim app has been around for years controlling its various network-aware audio components, so Naim was an essential part of on-boarding Focal into its app for Bathys. Perhaps renaming the app Focal & Naim speaks to future network-connected offerings from Focal. The app itself isn't necessary for basic headphone controls, but it has some features that you may find indispensable.
Once you open the Focal & Naim app and select your Bathys, the app is pure intuitive simplicity, a clean display presents three main choices: EQ, Noise Cancellation and LED. The App home screen also displays current charge and current audio format.
Settings: Tapping into the setting icon top-right lets you set or disable Voice Activation with the assistant of your choice, or none at all.
LED: Yes, the app lets you set the Focal LED on the sides of your headphone to: Off, dim or bright.
Noise Cancellation: Settings include Soft, Silent or Transparent. Soft and Silent represent intensities of ANC, while Transparent mode passes environmental sound under the earcup using the mics.
EQ: This is the feature that will keep you coming back to the app. Unlike other "luxury wireless" headphones on the market, Focal didn't simply add a tone control slider and call it a day. Instead, Focal gives you a five-band EQ with a low end at 62-Hz and a high-end of 16-kHz. You can set the sound up or down in .5-dB increments to a +/- of 6-dB total. This is a terrific feature but unfortunately it only works in Bluetooth mode.
How to use Bathys: This convenient link at the bottom of the app's home screen opens into a Bathys App Help page. This will be handy if you ever find yourself in the predicament of having lost your Bathys Start Guide, forgot how to use your wireless headphone and search the web, all at the same time. The Focal app's got your back.
Bluetooth & DAC Mode
In my last wireless headphone review, I raved about how advances in Bluetooth codecs have brought us well past the days when all Bluetooth headphones had a bland, sameness about their sound. Despite its inherent compression, today's higher bit-rate Bluetooth Codecs and advanced DSPs give manufacturers the tools to offer a variety of unique designs and sound profiles. I speculated that perhaps this tipping point has enabled the new and emerging luxury wireless headphones market. Today, we can add Focal to that short list of high-end audio companies bringing its own solution in wireless headphones. While Bathys provides a solid implementation of aptX Adaptive, it has another trick up its sleeve that sets it apart from some of the others in its category: USB DAC Mode.
USB DAC Mode

Bathys is a 100% active headphone, so it must be powered on to listen regardless of mode. There is no passive-mode, so it's always using its built-in DAC and amplifiers. There's a 3.5-mm input on the right earcup that you could use if you had no other choice. Most of us who would buy a wireless headphone will want to listen cable-free via Bluetooth. But one mode that really caught my attention is Bathys USB-DAC mode. Focal's implementation of its USB digital-audio input is unique because it makes the internal DAC available to the OS of your connected device. This results in a similar experience to using an external DAC/Amp with passive headphones.
Bathys' USB DAC Mode can maintain uncompressed, bit-perfect integrity of your lossless and high-resolution source files. I'm a long-time user of portable headphone DAC/Amps to power my favorite passive, closed back headphones while outdoors, and Bathys may have rendered it obsolete. Pictured below is the stellar iFi portable DAC/Amp connected to my current favorite outdoor headphone, Focal Radiance. They're a great combo that Bathys' USB DAC mode can emulate directly with no additional hardware.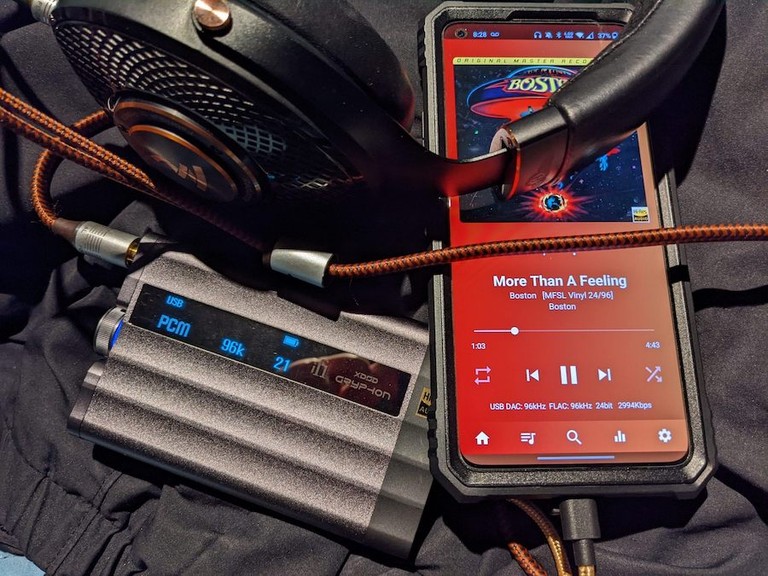 Focal Radiance & iFi xDSD Gryphon. Did Bathys make my outdoor setup redundant?
Practical USB DAC mode use: One click of the 3-position power switch puts Bathys into DAC Mode allowing it to stream from a source USB connection. If you're using an Android phone you can turn on the great Android media player, USB Audio Player Pro (UAPP). Once started, you'll be greeted with UAPP's option to take exclusive control over Bathys' DAC, select Accept to run the music player app in exclusive mode. Now UAPP uses Bathys DAC directly, bypassing Android's rather clumsy USB audio output allowing it to stream at the exact bit-depth/sample-rate of your music collection's source files. Bathys' DAC is compatible with hi-res music up to 24-bit/192-kHz. Any media player featuring an exclusive mode will work the same way, these include Tidal/Amazon HD Music and others. The combination of exclusive mode and Bathys USB DAC mode should offer the best sound quality possible from these headphones. Bathys does not support MQA, although many will see that as a plus because MQA has grown into a liability among hi-fi headphone fans in recent years. Apple Music (on Android) unfortunately does not offer exclusive mode, but USB DAC Mode still offers sound quality advantages over Bluetooth.
Bathys USB-DAC mode works with Windows, Mac or other Android devices and the computer you use will see Bathys as an available audio output option. Using iOS with a Lightning port requires an adaptor that can pass the digital audio stream. Although I find USB-DAC Mode the optimal way to listen to Bathys, attaching a USB cable to your headphones may seem to defeat the purpose of going wireless.
Bathys Bluetooth
Bathys is compatible with the SBC, AAC, aptX & aptX Adaptive Bluetooth codecs. Android users with version 8 or higher should default to aptX Adaptive, while iOS-users are limited to Apple's AAC codec. Unfortunately, Bathys (or the aptX Adaptive codec) seems to limit tweaking the Bluetooth audio stream, even in Android's Developer Options. Bathys' implementation of aptX Adaptive is locked at 24-bit/48-kHz with no toggling bit-depth or sample rate. Although, 24/48 is still quite good, considering it's a compressed stream. Any real advantages to tweaking are limited. There is no support for Sony's LDAC codec.
Sound Quality 

Sound quality should be the primary reason we buy a headphone. The difference between Bluetooth and DAC mode is slight, but perceptible in different areas of performance we look for. At first listen, the attribute that jumped out of Bathys and into my ears while listening in aptX Adaptive was bounce. It describes the headphone's responsiveness to rapid, high tempo changes in music, a combination of the weight of its punch followed by rapid decay and overall dynamic range. Daft Punk, Crescendolls (Apple Music, 16/44) popped with its rapid-fire drums in the upper-bass. The song simultaneously retained detail in the crashing back-beat down in the sub-bass that carried so much weight down low I could feel it.
Bathys engages the listener with a lively frequency curve that simultaneously provides sparkling detail in the upper frequencies and tactile boom down low with Focal's signature warm midrange. There seems to be a slight elevation in bass at around 100-Hz, possibly giving it that weighty sound, but it never seems to exaggerate the mid-bass and Bathys has no problem clearly articulating the deepest sub-bass.

Bathys extra bass and air up-high brings a liveliness to Norwegian electronica phenom Royksopp's dreamy, beat-driven soundscape in Me&Youphoria (Apple Music 16/44). The song induces a smile as Bathys presents microdetails in each boom. Guest vocalist on the track, Gunhild Ramsay Kovacs sounds like a ghostly apparition as her voice transforms from dead-center soundstage then expands, as if coming from everywhere at once before going back to center again. While not exactly a wide soundstage, the distinct separation can be heard in this track and Bathys provides enough directionality to just localize certain sounds within. 
USB DAC mode doesn't alter the character or sound profile of Bathys, but it adds more to detail retrieval, dynamic range and imaging. Since Bluetooth mode made me think, bounce, I wanted to hear a masterwork of bounce on more organic instrumentation from a personal favorite in the jazz-rock of Steely Dan.
The opening seconds of Peg on Steely Dan, Aja (Apple Music 16/44) presents what seem the unmistakable sound of a heavily dampened kick-drum providing dull thuds in a staggered beat that occupies the deepest bass in the song. Each thud is felt with a rapid decay, making me believe I'm hearing a heavily dampened drum. As the song kicks into its groove around the 11-second mark the bounce of Chuck Rainey's bass guitar is a rapid-fire rhythm shared with drummer Rick Marotta in an incredible display of musicianship. Rainey's bass and Steve Khan's guitar seem to integrate into a single sound, while Bathys lets your ears distinguish between the instruments within its own tight soundstage.
I hate to admit it, Bathys in USB DAC mode gives my travel headphone setup in Radiance & Gryphon DAC/Amp combo a serious run for its money. It's an apt comparison because I believe Bathys brings similar sonic properties as Focal's Radiance. Both present terrific detail with little extra emphasis down low. And like all of Focal's high-end line, they pack the punch and slam. Between the sensitivity of Bathys' drivers and the power of its amplifiers these headphones go LOUD with power to spare. In normal listening I never get anywhere near full volume, and get perfectly comfortable listening with most tracks just above or below half-volume. Nobody should have a problem with Bathys loudness, these are the most volume capable wireless headphones I've heard.
Conclusion 

At $799 USD, Bathys may be the least expensive way to get into the performance of a Focal high-end headphone, outside of Elex. With Alum/Mg drivers, and metallic, magnesium yoke, Bathys carries a rugged build-quality with the esthetic look and sound profile of much more expensive Focal high-end headphones. Even using Bathys via Bluetooth exclusively, it presents a fine rendition of Focal's sound that seems to lean into that of Radiance. The Focal & Naim app lets you customize its sound with an included 5-band EQ. But do yourself a favor and give USB DAC mode a try, you may never want to go back to Bluetooth for mobile use again.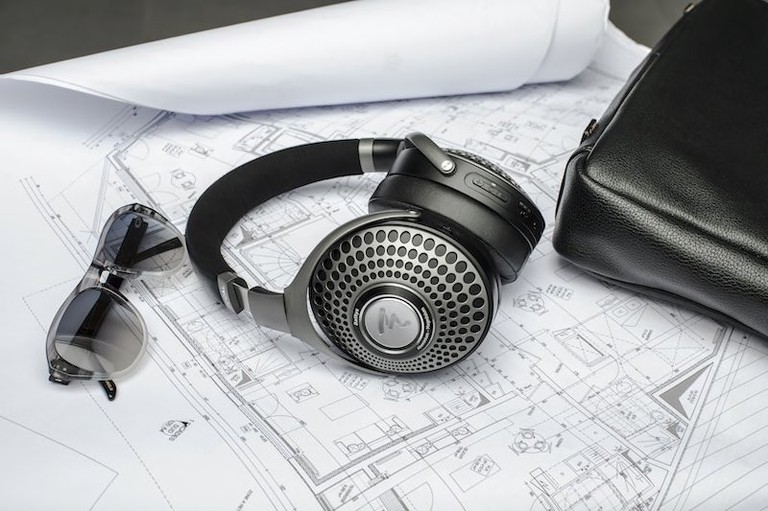 I appreciate surprises like 5-band EQ and USB DAC mode that shows Focal put some extra work into its design. But if I could have chosen, there are two things I would want to add to Bathys functions. Without a Bluetooth connection, the Focal & Naim app doesn't connect to Bathys, even when connected to the USB-C port of the device running the app. This makes EQ controls inaccessible while using USB DAC mode. However, since your EQ settings are stored on the headphone, they will persist even after disconnecting from Bluetooth and while using USB DAC mode. To update your EQ settings you'll have to reconnect via Bluetooth, run the app and this will store your new settings that will be waiting for you back in USB DAC mode. I also would have preferred an ANC-off setting to bypass any noise cancelling to get a theoretically optimal Bluetooth sound without any added sonic effects. Focal has told us that the Soft ANC setting, or low ANC is practically the same as "off" because it has only minimal noise cancelling and optimizes for sound quality over ANC. Both are small quibbles however, I wouldn't have expected a 5-band EQ at launch and the USB DAC mode was a pleasant surprise that I found superior to most wireless headphone's USB mode, there's a lot to recommend in Bathys and few complaints. Perhaps a method of in-app EQing for USB DAC mode and an Off setting for ANC can be built into a future revision or software update. As it exists today, Bathys makes an excellent entry into the Focal headphone line-up as it takes its place among the top sound quality-focused wireless headphones available. But I have a feeling Bathys is only the first product from Focal that will use that new Focal & Naim app.

Unless otherwise indicated, this is a preview article for the featured product. A formal review may or may not follow in the future.
fxn posts on October 28, 2022 19:36
The review says these headphones don't support MQA, but I am able to enable "Passthrough MQA" in TIDAL.

Doesn't that mean that the DAC of the Bathys is decoding?
lovinthehd posts on October 07, 2022 00:06
Lots of Wayde's "reviews" are more on the subjective/personal side….and I don't find them particularly useful.
buckchester posts on October 06, 2022 22:35
Ya you have a point. Maybe I'm being too harsh. I'm sure he put a decent amount of work into it. It's good information. I guess I just find it reads a little bit too much like an ad to me. Anyways, carry on Audioholics. You guys mostly do great work.
everettT posts on October 06, 2022 10:33
buckchester, post: 1575294, member: 78944
Is this a review or an advertisement?

Did you read it? It would appear to be a review based on hands on use as opposed to a preview wich is highlights noted from the OEM.
buckchester posts on October 06, 2022 08:41
Is this a review or an advertisement?
Post Reply
Confused about what AV Gear to buy or how to set it up? Join our Exclusive Audioholics E-Book Membership Program!