EMP E55Ti Tower / E56Ci Center / E55WI Surround & ES1010i Subwoofer System
EMP E55Ti Tower / E56Ci Center / E55WI Surround & ES1010i Subwoofer System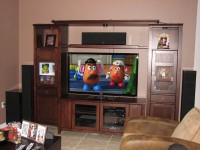 My sister-in-law recently purchased a home and came to me with the request of assembling a reasonably priced, but nice looking home theater system.  Knowing the background of her family being Colombian and liking to play music loud for social events, I asked her if she would be OK with floorstanding speakers.  Her response was "that's fine as long as they look classy".
With that in mind, I focused on the following three requirements and began planning her system:
1) The ability to play cleanly at high output levels,
2) Making sure the system was reasonably priced, and
3) including classy looking products.
A few loudspeaker brands that immediately came to mind were Paradigm, Aperion Audio, Klipsch and EMPTek.  I sent her some product URL's to peruse.  I was a bit hesitant recommending Klipsch since her room acoustics were very lively (large open room, tile flooring).  While these were all great options, she really liked the look of the EMPtek speakers and at the time, they were running a holiday sale so the price was right.  The Red Burl finish caught her eye and she envisioned it would blend perfectly with her furniture.  I also thought this would be a good option for her since EMP speakers offer a rather laid back sound which would do nicely in a lively room like hers.  Also, EMP just released their new ES1010i subwoofer, E56CI center channel and E55WI surround speakers which I was eager to check out so I figured I'd take the opportunity to do a mini review of these products.  
This isn't exactly a "budget" system but it does offer a level of serious performance, aesthetics and features she was looking for in her very first home theater system.  I spoiled my family into recognizing the difference between good and mediocre audio and I was pleased she even considered putting together a "non-cubed" system for her family room. 
The Speaker System
EMP E55Ti Floorstanding Speakers
When it comes to tower speakers that look great and actually sound good, EMPTek offers some of the best budget solutions from what we've tested. The E55Ti ($795/pr) is a significant upgrade over the older E5Ti ($500/pr) which we feel is worth the price difference. The E55Ti's just have a much bigger and more effortless sound to them and their tall stature just makes for a great visual impression. It's a 6 driver tower boasting (3) 6 1/2" bass drivers, dual 5 1/4" phase plug mids arranged in an MTM configuration with a 1 " fabric dome tweeter sandwiched in the middle.
Check out our detailed review of the EMPtek E55Ti Tower Speakers
EMP E56Ci Center Channel Speaker
EMP's original center channel E5Ci ($220) is a standard horizontally oriented MTM featuring dual 5 1/4" phase plug mid drivers and a 1" soft dome tweeter. It just doesn't have the output capabilities to keep up with the E55Ti towers which is why they recently introduced the E56Ci ($450/ea) matching center channel. The E56Ci center channel is a 5 driver – 3-way rear ported speaker. It boasts dual 5-1/4" poly matrix midrange drivers nestled with their 1" silk dome tweeter. An additional 6-1/2" polypropylene woofer is located at each end of the cabinet to extend bass response which EMP rates at 50Hz (-3dB). This speaker has dual rear ports but doesn't come with port plugs for those installing it into a cabinet. Hopefully after reading this mini-review, EMP will remedy that.
EMP E56Ci Center Channel Inside Look (drivers left pic; crossover right pic)
The E56Ci is quite a large center channel (31" wide) with an unobtrusive design. Its tapered cabinet and narrow height (8") makes it fit in either above a display on a cabinet shelf or below it stand-mounted. I took apart the E56Ci to get a look at the internals. The E56Ci cabinet construction is very similar to the rest of their speakers (0.6" side walls and 1.2" thick front baffles). Thickening up the front baffle really adds a lot of rigidity to the speaker where it's needed most and allows EMP to get away with slightly thinner than normal sidewall cabinets which also ultimately saves on shipping weight. While these speakers aren't built to the standard of a multi thousand dollar speaker system from the likes of Revel, Usher Audio or RBH Sound Signature Series products, their construction and the materials used are on par with products in this price range and even slightly higher in some aspects. The drivers feature stamped baskets, which again is pretty standard for this price class of speaker. The crossover has a mix of air-core inductors and poly caps for critical circuit components and iron chokes for areas that aren't as critical and also cost prohibitive than better performing and larger air-cores. The E56Ci is rated at 6-ohms with a sensitivity of 87dB / 1 watt and recommended for usage with 50-175 watts though we'd always recommend choosing more not less power amps when selecting your power source.
EMP E56Ci Center Channel ¾ Meter In-Room Frequency Response without Port contribution
After installing the EMP E56CI center channel speaker into the entertainment center, I took five in-room measurements at 3/4 meters (+- 15 deg horizontal, +-15 deg vertical, and on-axis) averaged them and spliced them at 250Hz with an additional 3/4 meter groundplane measurement I made to derive a "listening room" response curve. The -5dB dip in the 2-5kHz range is exaggerated because the mic was a bit too close to the speaker to produce a fully converged farfield response.  I purposely did this to remove as much of the room influence from the measurement as possible without having to apply gating or smoothing to the measurement.  This also means the port contribution wasn't factored in so you can expect more bass extension than what is shown in this measurement. Regardless, the response of this speaker is very linear both on and off-axis and the speaker produces good usable bass extension down to the 60Hz range.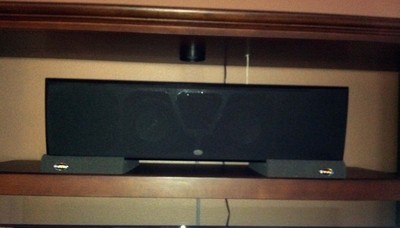 EMP E56Ci Center channel with Auralex Mo-Pads
When installed in the wall unit, I initially measured a nasty peak at 250Hz which I determined was caused by resonance between the speaker and surface of the furniture it was installed in. To resolve this, I installed a pair of Auralex Mo-Pads which decoupled the speaker from the cabinet and also slightly tilted it down towards the listening area. I also crossed the speaker over at 80Hz to reduce the bass output which was necessary from the excessive boundary gain caused by it being placed into an enclosed area. This was a great tweak that ultimately made a significant impact on performance, most notably in vocal intelligibility which I will discuss in the listening portion of this article.

Check out our Preview article of the EMP E56CI Center Channel speaker for additional information.
EMP E55Wi Surround Speakers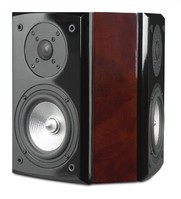 I've been waiting for EMP to release an on-wall surround speaker since they launched the brand a number of years ago.  The E55Wi ($499/pr) has two sets of 5 ¼" mid drivers with phase plugs and 1" silk dome tweeters located on two baffles 90 degrees apart.  The drivers are all in-phase meaning it's a bi-pole type surround speaker.  The goal is to provide a wide surround field .  EMP chose to make all the drivers in phase because most people installing their speakers are only doing 5.1 systems.   Personally I like a hybrid variant where the forward firing tweeters are out of phase (dipole) to help better diffuse the surround soundfield at the listening position.  If you are running back channels, you may prefer this as well.  To accomplish this, simply remove the forward firing tweeter, reverse the phase and reinstall it for both speakers.  I recommend trying both ways to see what you prefer in your situation.  If you're listening habits favor movies over music, you most likely will want the forward tweeter out of phase. 
Hanging the E55Wi's was a breeze.  I simply got me some concrete anchors, drilled them into the desired location on each wall separated by the same distance as the holes on the back of the speaker, inserted the screws leaving about ½" protrusion, and hung them like a picture frame. I was a bit disappointed EMP didn't include the hardware to do this but I keep a large stock of concrete anchors in my tool box since my wife is always having me hang things around the house.
Check out our Preview article of the EMP E55WI Center Channel speaker for additional information.
EMP ES1010i Subwoofers
I just completed a fairly comprehensive review of the new EMP ES1010i subwoofer.  It's basically a 250 watt powered dual 10" bottom ported sub with similar construction and aesthetics as the other EMP Impression series products.
Prior to taking delivery of these subs, I was a bit reserved in recommending them knowing their low end output was a bit limited.  But, my sister-in-law wanted the subs to match the rest of the system and also not occupy too much floor space.  Surprisingly the ES1010i's provided ample slam when run in pairs and with the E55Ti towers operating full-range.  Having four 10" drivers and six 6 ½" drivers playing bass into the room was truly an energizing experience.  At $499/ea these subs represent a good value and produce good bass in a very attractive and relatively compact form factor. 
In order to maximize performance of this system while also preserving the aesthetics of the listening space which also functions as a family room open to a formal dining room, dual subs was a must but placement was challenging.
My sister-in-law under estimated the size of her wall unit and I was biting my nails when I initially saw it placed against the front wall of her room thinking I wouldn't have enough space for the E55Ti's and the ES1010i subwoofers.  I've always been pretty good at the game Tetris so I took my chances and moved stuff around till I got one of the subs to fit.
EMP ES1010i with E55ti tower (left pic); ES1010i & E55Wi Surround (right pic)
I diagonally located the other sub on the opposing wall.  This produced a pretty darn near ideal response across the entire couch facing the TV which is where they'd spend most of the time sitting and listening.  The response on the far left couch wasn't as good but it was also pretty far off axis from the display too.  I always reserve such a less than desirable location as the "mother-in-law seat" and in this case mine was quite content sitting there.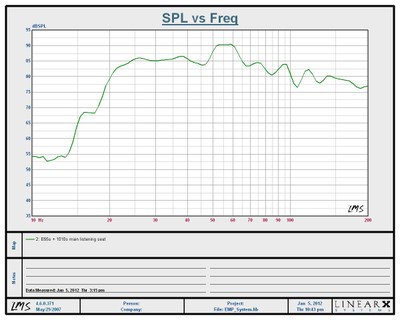 EMP E55Ti towers + Dual ES1010i Subwoofers In-Room Frequency Response @ Listening Area
As you can see, the response is very even from 200Hz down to about 25Hz with a gradual roll off (-5dB) at 20Hz. This measurement is NOT smoothed and was taken at 12ft where the primary couch is located.
Check out our review  of the EMP ES1010i subwoofer for additional information.
RBH Sound TK-615 In-Ceiling Speaker
EMP Tek currently doesn't offer in-wall / in-ceiling type speakers so I turned to parent company RBH Sound.  The TK series is a fine solution.  It offers solid performance at a budget price which makes it a good match for the rest of the EMP speaker package we put together.  The TK-615 ($389/pr) is an 8 ohm two-way speaker sporting a 6½-inch fiberglass woofer and a ¾-inch aluminum dome tweeter and a 50Hz to 20kHz frequency response +-3 dB with 90dB / 1 watt sensitivity rating.  The speaker has a pivoting tweeter and adjustable tone control for bass and treble built in with three settings (+), (-) and 0 (flat).  It's designed to be installed into an open space so no back box was needed.  All you do is make the cutout in your ceiling with the supplied template, connect your speaker, push it into the hole and (using a power drill) screw it into the ceiling till you hear the clamps lock down.  A word of caution, do NOT over tighten, unless you like the look of a bowed ceiling imprinted with the locking mechanism.
For more information, check out the official RBH Sound TK-615 product page.
Confused about what AV Gear to buy or how to set it up? Join our Exclusive Audioholics E-Book Membership Program!
Recent Forum Posts:
psbfan9 posts on August 23, 2014 15:09
mhaider, post: 1047399
I've been tossing around the idea of upgrading my current speaker system to the EMP E55Ti, E56Ci, and E55Wi. What I'm struggling with is it going to be worth it. What I have now are 16 year old Infinity RS 4 towers, CC3 center, QPS1 quadrapole surrounds, and a BU2 sub. I think they do a good job with movies, but could be better with music. I realize I could order the EMP's and audition them at home and the most I'd be out if I didn't want to keep them is the return shipping cost, but I thought I'd reach out to the forum and get your thoughts. Possibly there is someone out there that had my Infinity's and upgraded. Thanks for your input.

Sent from my XT1080 using Tapatalk
Hi and welcome to the forum mhaider!
The EMP's are great for the price.
I went from Definitive Technology SM450's to the E55 and C56 setup and have been very happy. I still have the DefTechs and use them for surrounds.
I'm selling my EMP front three. Only because I've had some money issues come up and need to get rid of some stuff. They are in the red burl finish.
http://forums.audioholics.com/forums/classifieds-sell-your-gear/90031-emp-e55ti-towers-emp-e56ci-center.html
mhaider posts on August 23, 2014 13:58
I've been tossing around the idea of upgrading my current speaker system to the EMP E55Ti, E56Ci, and E55Wi. What I'm struggling with is it going to be worth it. What I have now are 16 year old Infinity RS 4 towers, CC3 center, QPS1 quadrapole surrounds, and a BU2 sub. I think they do a good job with movies, but could be better with music. I realize I could order the EMP's and audition them at home and the most I'd be out if I didn't want to keep them is the return shipping cost, but I thought I'd reach out to the forum and get your thoughts. Possibly there is someone out there that had my Infinity's and upgraded. Thanks for your input.

Sent from my XT1080 using Tapatalk
cme4brain posts on April 09, 2014 15:12
Excellent speakers!

I have the EMP TEK E55ti towers and the E56Ci center that I upgraded to from Polk A7's. I am using a Polk 505 subwoofer and Polk RT-70 in-ceiling for rear surrounds and Polk A3 bookshelf speakers for the reat back surrounds. I am using an Emotiva XPA-3 200WPC amp for these EMP's as my L/R/C main speakers. I find this EMP tower and center combination superb for mid and high frequency reproduction. I can hear every minute sound from movies and music (I watch movies 95% of the time). I do agree these towers need a subwoofer and the Polk fills in nicely. I believe that these EMP are at the top of the "bang for your buck" competition. I might upgrade later, but to get a significant improvement in sound- an improvement that I am willing to pay for- will take lots more money.
psbfan9 posts on April 24, 2012 11:42
I got my new E55Tir's last week. I'm just now getting to spend some time with them.
So far, they have exceeded my expectations. I'm running them full range and they are great. I don't listen at high volumes and these are very detailed at my volume range.
psbfan9 posts on April 05, 2012 13:57
gene, post: 876543
I recommend you run the towers full range and crossover the center and surrounds at 80Hz. If the center is placed in a cabinet, try plugging the ports and using some Auralex Mopads to isolate it from the shelf like I discussed in the review.

If your tweeter is buzzing, have EMP send you a new one or better yet, work out a deal to upgrade to E55tis The E55tis are a much better speaker IMO and worth the extra $$$.
Gene, Thanks for these suggestions. My system sounds great now!
Unfortunately, I have decided to return the E5Ti's. RBH Sound/EMPtek was great to work with and very helpful.
I did decide to order a pair of E55Ti's.
Post Reply