EMP E55Ti/E56Ci/E55WI/ES1010i Speakers Set-Up, Listening Tests & Conclusion
EMP E55Ti/E56Ci/E55WI/ES1010i Speakers Set-Up, Listening Tests & Conclusion
Words cannot adequately describe how much I loathe installing audio equipment into entertainment centers.  They almost NEVER have enough depth to accommodate amplifiers or large receivers and the back-wall cutouts are either non-existent or too small to accommodate anything more than dental floss thick wiring.  To make matters worse, the furniture my sister-in-law purchased did NOT permanently affix the horizontal shelf holding the center channel to the main body.  Any slight move of either horizontal rack caused the shelf to completely collapse which it actually did and almost crushed my neck in the process.  I sputtered numerous colorful metaphors at the furniture company under my breath as I warned both them and my sister-in-law about this and they both assured me the furniture would be secure when I was ready to install the equipment.  Suffice it to say, the furniture company had to come back, replace the now broken shelf and use L-brackets drilled into each cabinet rack (like I requested) to ensure this wouldn't happen again.  Seriously, this process literally takes less than five minutes to do and not only stabilizes the furniture but also infinitely increases safety to the installer. I dedicated this much real estate in this article to this very important point because I could have literally become paralyzed over such a ridiculous and avoidable oversight. 
A/V Components installed into Furniture
With the furniture secured, I drilled out bigger cutouts in the back to route the cabling (all furnished by Blue Jeans Cable) and power cords. I installed all of the components including an Ethernet hub to provide a wired Internet connection to the Samsung Display, Oppo BDP-93 Blu-ray player, Yamaha RX-A1010 A/V receiver and Nintendo Wii. This was necessary to tap into all of the networking features this system offers such as: Internet Radio, Pandora, Netflix and the iPhone App to control the receiver via your iPhone or iPad device.
I managed to fit one ES1010i sub in the left front corner while positioning the E55ti towers adjacent to each side of the entertainment center and applied slight toe-in directed towards the center "money seat". The outriggers were installed on the E55Ti's to provide stability which is essential since my sister-in-law has a rather active 9 year old boy and a lot of visitors. Nothing is worse than watching one of your tower speakers from across the room take a dive from an accidental bump as you run in slow motion yelling "NO!" powerless to stop it. For the second ES1010i subwoofer, which was located on the right rear wall diagonal to the front left sub as previously mentioned, I placed electrical tape on the back panel controls to prevent people from tampering with its settings. This was important since the plate amp was facing the dining room, well within the line of site of curious visitors entering the room. The E55Wi on-wall surround speakers were mounted about 3 feet above ear height (seated position) on the side walls slightly behind the listening area. The TX-615 in-ceiling speakers were positioned about 8 feet apart. I left all tone controls to flat and did NOT pivot the tweeter since the speakers were firing directly down to the listening area (though a few feet back from the couch) from the ceiling and thought it was a better option to have the drivers firing slightly off-axis to provide a more diffuse soundfield.
I configured the bass management in the Yamaha RX-A1010 A/V receiver as follows:
Mains: Large
Center / Surrounds: Small
Bass Output: Subwoofer + mains (routes main channel bass to both main speakers and sub)
Crossover: 80Hz
I level matched all of the speakers to 75dB using my OmniMic calibrator kit SPL meter set to slow response, C-wt). The sub channel was deliberately set 3dB hot for added impact. I set speaker distance based on physically measured distances, while I manually adjusted subwoofer distance until I got the best blend between the main speakers and subs for the two primary seats, again using the OmniMic sweeping between 20Hz to 200Hz.
I absolutely loved how the Yamaha RX-A1010 communicated with the Samsung Display and FIOS TV box via HDMI. It automatically switches sound between the TV speakers (when the RX-A1010 is turned off) to the home theater speakers (when the RX-A1010 is turned on).  You can even use the remote control from your HDMI compliant TV to control volume level on your RX-A1010!  For the first time in my installation history, I was able to install a single cable (HDMI) from the receiver to the TV utilizing just one input on the display to handle all source types (ie. composite, component, HDMI) coming into the A/V receiver without any operational hiccups.  If my sister-in-law only realized how cool this was. Her biggest worry now was to switch between 1 of 3 sources: AV1 for FIOS, AV2 for Blu-ray or AV3 for Nintendo Wii. Her 8 year old son was able to figure this out in minutes and explain it to her… after only a few days of repetition. I configured the network so she was able to stream Pandora, Netflix and also use her iPad to control the receiver. these are very cool features which only a few years ago didn't exist in home theater at any price!
Listening Experience
The proof was in the pudding so to speak.  It was time to see if all my hard efforts paid off.  I was a bit worried giving the open space of the room and tile flooring but the large couches she chose did a pretty good job sucking up some of the echo.  I also convinced her to buy a thick 8' x 11' throw rug which should help considerably by taming the floor reflections.  I've done this myself in the Audioholics Showcase home Family room system after installing wood floors and it made a world of difference.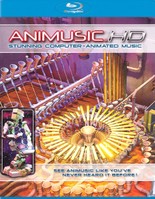 Blu-ray: Animusic HD
This Blu-ray disc is a true treat for progressive rock fans. It's computer generated music animations done to classic progressive rock tunes encoded in DTS HD. My favorite is track #5 "Cathedral Pictures" which is a tribute to ELP's "Pictures of an Exhibition". This track is full of low frequency effects that, on a really good home theater system, will shake the foundation of your floor during high playback levels. It's particularly thunderous towards the end of the track when the pipe organs shoot out projectiles like massive canons from a battleship. On my reference system, it's kind of a freaky feeling, since it shakes your very core by hitting some inaudible, but felt, frequencies below 20Hz. The ES1010i subs did a good job belting out the low end with plenty of slam, but they couldn't reproduce the amount of very low tactile energy felt on my $5k/ea Velodyne DD-15+ subs. The EMP's did manage to produce a very full sound and never strained to produce what they couldn't do thanks to a well executed limiter. Having the E55Ti's running full range really added to the overall bass impact which to someone who has never heard this track on a pair of $5k subwoofers would never know anything was missing.  The E55Ti's loved to be cranked up and showed no signs of distress the more power I fed them.  They produced a very large and defined soundstage though not quite as delineated as I've heard are far more expensive speakers. 
The surround field was very spacious and perhaps a bit over enveloping due to the room acoustics.  Track #9 "Heavy Light" showcased the EMP system performance. As the monolithic structure erected the EMP's woofer pumped out satisfying room filling bass. The sound of the light halo's hitting the bass drum had oodles of slam, making the entire system sound larger than life. Having two ES1010is playing into the room with EMP's E55ti flagship towers was a thing of beauty both in sight and sound. My sister-in-law couldn't believe she was achieving this level of performance in a system I assembled for her on a relatively modest budget. I was a bit encouraged by this performance too, since I may have initially underestimated this sub just by perusing the online specs on the EMP website. EMP was truly delivering solid bass performance for music on the cheap.
Blu-ray: Yes – Live at Montreux 2003
If you didn't realize this by now, I am a huge Progressive Rock fan.  Yes, in my opinion, is probably the best band of all time and most diversified in this music genre.  Track #15 "Awaken" is a musical masterpiece.  The triangles played by Alan White at the beginning of the song were crisp while Wakeman's organs provided the framing for this awesome song.  Listen to this song alone and cranked up with the lights out and it will surely bring tears to your eyes.   Listening to Jon Anderson's voice emanating out of the E56Ci center channel was awe inspiring.  His voice was clear and vibrant but also very anchored to the screen even as I moved to other seating positions.   The sound from this system was very fluid and uniform thanks to the virtual identical driver configuration shared between the E55Ti towers and E56Ci center channel speakers.  Though to keep things into perspective, I did feel the overall refinement wasn't quite up to what you'd find on systems costing far more money and of course in better acoustical listening spaces.  I listened to this disc in DTS HD running the PLIIx Music mode to engage the RBH TK-615 back channels.  I really like having bi-pole/dipole type speakers on the side walls and direct radiators either in-ceiling or in-wall directly behind the listening area spread apart about 60-70% of the distance of the main channels.  The added envelopment of a properly set-up 7.1 system is just stunning, and it's spoiled me to never listen in 5.1 again.  This system, as configured, was reinforcing my affinity for such installations.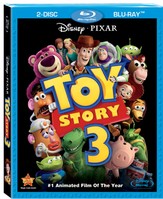 Blu-ray: Toy Story 3
Arguably the best of the series, Toy Story 3 delivers superb audio and video quality with a compelling storyline that just keeps you wanting to come back and watch it to reminisce about your youth. The opening scene where Woody battles the Evil Dr. Pork Chop has deep bass aplenty. From the explosion of the bridge to the rising of Rex or the soaring of the massive engines of Dr. Pork Chop's Zeppelin, the EMP ES1010i subwoofers got a good workout and opportunity to strut their stuff. I found the bass was very meaty and at times perhaps a bit overemphasized in the 50-60Hz range which may have partly been exaggerated since I was running the E55Ti towers full-range and thus doubling up bass in this region. However this provided a lot of 'wow' effect which my sister-in-law certainly appreciated, and in her room was most definitely needed. The ES1010i did a great job of producing ample impact at sustained high output levels without mucking up the experience. Had it not been for my reference of hearing this scene on higher caliber subs, I wouldn't think the EMP's were missing a beat, but in reality, there wasn't as much tactile response as I was used to hearing. This is nothing surprising given the size and price of this subwoofer. In fact, I'd say it's pretty par for the course from other products of similar stature that I've reviewed in the past. If you want meaningful output below 25Hz, it's gonna cost you in enclosure size and price and often aesthetics (unless you're willing to pony up some extra coin for a premium finish and contoured shaped cabinet).
The E56Ci center channel was again providing a solid anchor for vocal dialogue while the E55Wi surrounds were filling the room with diffuse sound effects.  There were times when my sister-in-law thought there was something wrong with the surround speakers since she didn't hear them. I proved to her they were on by muting those channels and explained to her that you don't always want to "hear" or "localize" the surround speakers.  I may revisit another day and reverse the tweeter polarity on the front tweeters of her E55Wi surround speakers to see if an even more diffuse surround field would be preferred for movies without hindering music applications.
Conclusion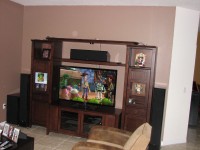 Overall I was quite pleased with the end results of installing this system. Despite the rather constrained space in the room, I still successfully implemented tower speakers and two subs, a monster center channel and two sets of surround speakers to make it a true 7.1 A/V system. This system produces really good sound, can be played extremely loud to satisfy her partying needs, and it looks great in the process of doing it. I think the speaker choice was right on the money but if budget and space wasn't an issue, I probably would have suggested a pair of SVS PB-12NSD subs to provide more oomph to the last ½ octave of bass that only a true Bassaholic would appreciate it. More budget minded Bassaholics should take a hard look at a pair of Rythmik FV12 subwoofers as an alternative option too.
This whole process inspired me to create a new $6,500 Recommended System Guide featuring the very equipment found in this review.  Considering EMP often runs sales on package deals and FREE shipping with a 30 day risk free trial, it makes demoing this system in your own listening environment quite painless.
Installing this system successfully for my sister-in-law scored big points with my wife. She called us several times raving about how she loved having theater system in her home that sounded like she was at her local Cineplex. I even got an invite for homemade Sancocho soup which by itself was almost worth the man hours that I labored putting it all together for her.  She got her "classy" system that blended into her room decor.   I got the chance to check out the latest EMP products. Most importantly, I did my good deed for the family that is always expected of me each time a family member wants to dive into their own home theater system since I started Audioholics.  Now I sit by the phone waiting for her to call me if she can't figure out how to work her remotes, in which case will undoubtedly involve another house call and opportunity for consuming more soup.
Confused about what AV Gear to buy or how to set it up? Join our Exclusive Audioholics E-Book Membership Program!
Recent Forum Posts:
psbfan9 posts on August 23, 2014 15:09
mhaider, post: 1047399
I've been tossing around the idea of upgrading my current speaker system to the EMP E55Ti, E56Ci, and E55Wi. What I'm struggling with is it going to be worth it. What I have now are 16 year old Infinity RS 4 towers, CC3 center, QPS1 quadrapole surrounds, and a BU2 sub. I think they do a good job with movies, but could be better with music. I realize I could order the EMP's and audition them at home and the most I'd be out if I didn't want to keep them is the return shipping cost, but I thought I'd reach out to the forum and get your thoughts. Possibly there is someone out there that had my Infinity's and upgraded. Thanks for your input.

Sent from my XT1080 using Tapatalk
Hi and welcome to the forum mhaider!
The EMP's are great for the price.
I went from Definitive Technology SM450's to the E55 and C56 setup and have been very happy. I still have the DefTechs and use them for surrounds.
I'm selling my EMP front three. Only because I've had some money issues come up and need to get rid of some stuff. They are in the red burl finish.
http://forums.audioholics.com/forums/classifieds-sell-your-gear/90031-emp-e55ti-towers-emp-e56ci-center.html
mhaider posts on August 23, 2014 13:58
I've been tossing around the idea of upgrading my current speaker system to the EMP E55Ti, E56Ci, and E55Wi. What I'm struggling with is it going to be worth it. What I have now are 16 year old Infinity RS 4 towers, CC3 center, QPS1 quadrapole surrounds, and a BU2 sub. I think they do a good job with movies, but could be better with music. I realize I could order the EMP's and audition them at home and the most I'd be out if I didn't want to keep them is the return shipping cost, but I thought I'd reach out to the forum and get your thoughts. Possibly there is someone out there that had my Infinity's and upgraded. Thanks for your input.

Sent from my XT1080 using Tapatalk
cme4brain posts on April 09, 2014 15:12
Excellent speakers!

I have the EMP TEK E55ti towers and the E56Ci center that I upgraded to from Polk A7's. I am using a Polk 505 subwoofer and Polk RT-70 in-ceiling for rear surrounds and Polk A3 bookshelf speakers for the reat back surrounds. I am using an Emotiva XPA-3 200WPC amp for these EMP's as my L/R/C main speakers. I find this EMP tower and center combination superb for mid and high frequency reproduction. I can hear every minute sound from movies and music (I watch movies 95% of the time). I do agree these towers need a subwoofer and the Polk fills in nicely. I believe that these EMP are at the top of the "bang for your buck" competition. I might upgrade later, but to get a significant improvement in sound- an improvement that I am willing to pay for- will take lots more money.
psbfan9 posts on April 24, 2012 11:42
I got my new E55Tir's last week. I'm just now getting to spend some time with them.
So far, they have exceeded my expectations. I'm running them full range and they are great. I don't listen at high volumes and these are very detailed at my volume range.
psbfan9 posts on April 05, 2012 13:57
gene, post: 876543
I recommend you run the towers full range and crossover the center and surrounds at 80Hz. If the center is placed in a cabinet, try plugging the ports and using some Auralex Mopads to isolate it from the shelf like I discussed in the review.

If your tweeter is buzzing, have EMP send you a new one or better yet, work out a deal to upgrade to E55tis The E55tis are a much better speaker IMO and worth the extra $$$.
Gene, Thanks for these suggestions. My system sounds great now!
Unfortunately, I have decided to return the E5Ti's. RBH Sound/EMPtek was great to work with and very helpful.
I did decide to order a pair of E55Ti's.
Post Reply