Denon DVD-A1UDCI Design Overview
Denon DVD-A1UDCI Design Overview
Introduction

I love reviewing flagship products.  It gives me a chance to play with some of the very best equipment this industry has to offer.  For years now, we've been reviewing Denon flagship DVD players, with the most recent being DVD-5910CI.  It was truly a reference player in every respect and had it not been for Blu-ray winning the format war, there'd be little reason to ever upgrade to a new source player.  Enter the DVD-A1UDCI (yes their model #s are getting longer and vaguer with time).  This new Blu-ray dream machine plays every existing disc format known to man sans HD DVD.  For those of you that bought into HD DVD (myself included), I suggest tossing the dozen or so discs you still have, get over it and move on.  If you want a reference player that will handle all of your DVD's, Blu-rays, DVD-A and SACD's, you've come to the right place.  To own this player isn't cheap however.  So what does $4,500 buy you over say a $500 Oppo player?  Read more to find out. 


Design Overview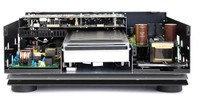 Leave it to Denon to product a Blu-ray player that outweighs many flagship A/V receivers.  There are many reasons for this, including over-engineering, no holds barred construction and that fact that it has to be heavy to be considered high end. 

Some of the design attributes of the DVD-A1UDCI that separate it from its competition include:
Direct Mechanical Ground Construction
Heavy duty drive Mechanism (weighs over 5lbs)
Multi-layer Chassis Construction
Separated Unit Structure
Denon placed the drive mechanism low in the chassis to lower the center of gravity and reduce external vibration influences.  The top cover and side panels utilize "Bulk Mold Compound" (Denon nomenclature) which is said to be heavy in mass and reduces external mechanical vibrations.  The bottom panel is triple layered steel.  This gives the player a bulletproof feel to it and Denon claims these design measures help to suppress internal & external vibrations and electromagnetic noises from affecting playback.

Interestingly enough the DVD-A1UDCI is physically smaller (about 4 inches less deep and 1" less high) than Denon's previous flagship DVD-5910CI but they both weigh roughly the same amount.  Both players were built like a tank but the DVD-A1UDCI (right player pictured) has a more high end appeal to me with its rounded front faceplate, thicker disc drawer and more modern looks.


Chock Full of Chips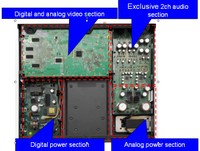 The DVD-A1UDCI sports a 10 bit REALTA I/P and Scalar just like their venerable flagship predecessor (DVD-5910CI) for HDMI and the ABT1030 for component video.  An advanced 14 bit ADV7344 video encoder is on board to handle analog video (component, composite and S-video) for the utmost precision.  Typically you find 10 bit video encoders on lesser designed players. 

All audio and video circuits are on the same board with completely separate power supplies and grounding schemes.  The DVD-A1UDCI utilizes the SiI9134 HDMI transmitter from Silicon Image which is said to completely eliminate jitter issues that plagued HDMI in the past, so one has to wonder what the point of D.Link would be going forward?  More on that later.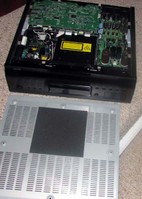 It's been a tradition for Denon to utilize top of the line Burr Brown DAC's on past flagship DVD players and A/V receivers, but they balked that tradition with the introduction of the new 32 bit AK4399 DAC's from AKM.  These DAC's are a dual differential configuration for maximum noise suppression and dynamic range.  Utilizing Denon's own proprietary AL32 bit upconversion algorithm, they now have the ability to transform a 16 bit CD to a pseudo 32 bit resolution.  They also manage to keep DSD in its native format all the way to your A/V receiver/processor until of course you apply bass management and convert it to PCM.  For those two channel purists, you can bypass this altogether, and run the separate audio circuits of the DVD-A1UDCI via balanced outputs of the player into your processor for the purist sound possible. 

Popping the top off the DVD-A1UDCI player revealed a very rigid structure just like Denon claimed.  Flimsy sheet metal does not the top cover make on this player like you typically find on budget players.
There is a lot going on in a Blu-ray player, much more so than past DVD players.  Here is a block diagram of how the DVD-A1UDCI operates. 

D.Link (aka DL) at a Glance
Denon claims a +4dB improvement of dynamic range using their proprietary low jitter D.Link connection over conventional HDMI or other digital transmission media (ie. Toslink, coax, etc).  They also claim improved spatiality and localization utilizing this connection which sounds like pure marketing BS to me but since it can't easily be verified through measurements and I admittedly at times thought I heard a difference, I will let it slide and consider it a unique bonus feature. 

For those unclear about what audio formats the different versions of D.Link support, I have broken it down it the table below:
DENON LINK Edition 
| | | | |
| --- | --- | --- | --- |
| | 1st/2nd         | 3rd                | 4th      |
| BD | No | No | Yes(w/HDMI) |
| SACD | No | Yes | Yes |
| DVD AUDIO  | Yes | Yes | Yes |
| DVD VIDEO | Yes | Yes | Yes |
| CD  | Yes | Yes | Yes |
Denon DVD-A1UDCI Features
The DVD-A1UDCI is one of those kitchen sink products from Denon.  It basically has every latest feature on-board you'd expect from a flagship Blu-ray player but no support for streaming services such as Netflix or Pandora.  This was a huge oversight in my opinion and Denon has no foreseeable upgrade path for users in the future.  If sub-$300 LG and Samsung players can do this, why can't a $4,500 from Denon?

Well, although BD-Live is supported on this player, it doesn't have the built in storage memory required to use it.  You must purchase an SD card and insert it at the front of the player. This is pretty lame since the $500 Oppo BDP-83 has built in memory onboard as do many of the latest and more affordable BD players. 

So far we have a few strikes against this player in the features department, but just wait, redemption is close at hand.  The DVD-A1UDCI is designed with a heavy emphasis in high fidelity playback but it also treats video with equal favor as you will see in our Measurements section. 

Here are some of the major key features of the DVD-A1UDCI:
BD, AVCHD. DVD-Audio/Video, SACD, CD, HDCD, DVD-R/RW, CD-R/RW, Divx, WMA, MP3, jpeg, gif , Kodak and Fuji Compatible
True SACD Native Output via HDMI or DL 4th
Fully Balanced Digital Output via DL
Fully Balanced Analog output via XLRs
7.1 Analog outputs
All New AL32 Processing with 32-bit DACs for best possible audio reproduction
New DDSC-HD, decodes all Dolby and dts formats – even adds PLIIx and Neo:6
Dual, simultaneously active HDMI outputs capable of up to 1080p resolution and multi channel audio support
Vertical Stretch Mode for 2:35 to 1 Movies
1080p/24 Scaling for SD material
Digital Noise Reduction & Enhancement

Basically if you're running this player into an Analog only preamp via the 7.1 analog audio outputs, it can do all of the high resolution audio decoding and post processing you would ever need.  We measured the analog section of this player and it's absolutely pristine.  The bass management of this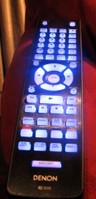 player and it was the most precise and feature laden we've seen in any DVD or BD player, rivaling some flagship A/V receivers.
Remote Control
The RC-1111 remote control is similar to that found on this flagships predecessor but with some distinct improvements.  For one, the backlight button is now at the bottom of the remote instead of haphazardly placed near other buttons like it was for the DVD-5910CI remote.  the backlight is blue instead of green and much better lit than their older remote.  The faceplate of the RC-1111 has a shiny metal skin for a more "high end" look.  If you're like me, you will likely learn the functions of this remote into your universal remote control and shelve it especially since it's quite a bulky remote control and a bit intimidating to casual users trying to plop in a Blu-ray disc when you're not at home.


Confused about what AV Gear to buy or how to set it up? Join our Exclusive Audioholics E-Book Membership Program!
See also:
Recent Forum Posts:
jomark911 posts on November 15, 2009 18:14
As is in every other player.The difference is when used together with dl4 , that eliminates jitter.
High Fidelity posts on November 14, 2009 11:36
DEnon Blu-Ray players more importantly what is the audio like via HDMI.
tn001d posts on November 10, 2009 13:41
How does this player compare to the Denon 4010 blu-ray player. I love the tank size disc players that denon makes
Seth V posts on November 10, 2009 02:54
jomark911, post: 644162
Guys clearly the player is in a leaque of it's own , regarding either video or audio performance.
But specifically audio through balanced outs is phenomenal.
I totally agree! This players performance is superb! This is the best PQ and sound I've yet experienced from a Blu-ray player. And the fully balanced analog section is indeed phenomenal!
I've had my A1UDCI for 3 months now, and it puts a smile on my face every time I use it. It's an awesome machine!
Seth
Boerd posts on November 09, 2009 18:44
gliz, post: 638121
is a player like this really that much better than say the new Oppo?
I doubt it; probably some specs are better but I really doubt you would actually see differences. My, oh my - 4500$ for a blu ray player? That must be the "lottery winner edition". For me it doesn't make sense.
Post Reply