Yamaha CX-A5000 & MX-A5000 Streaming, Video Measurements, and Listening Tests
Yamaha CX-A5000 & MX-A5000 Streaming, Video Measurements, and Listening Tests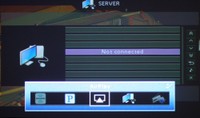 The CX-A5000 is DLNA 1.5 certified, has Apple AirPlay, and can stream NetRadio, Pandora, Spotify connect, and Rhapsody. I tested the CX-A5000 streaming from my phone, an iPad, and Pandora. The first thing to note is that the streaming is audio only. Any videos you may have on your various devices or phones or pictures will have to find another way into your system. Even the USB connection doesn't support video. The CX-A5000 is compatible with bitrates up to 192kHz and can playback FLAC, WAV, MP3, WMA, and MPEG-4 ACC files. 
Pandora is a very low bitrate (high compression) streaming service that generally sounds okay on headphone or in your office. When streamed to larger speakers, the compression was blatantly obvious though Yamaha's compression enhancer DSP did help a bit. I found the lack of real bass to be disturbing. Files streamed from my phone or from the iPad sounded much better as they were stored in lossless. I don't have a Rhapsody account so I couldn't test that service and the NetRadio streaming was hit or miss. The thing to remember about streaming is that it can be streamed to any or all zones except zone 4.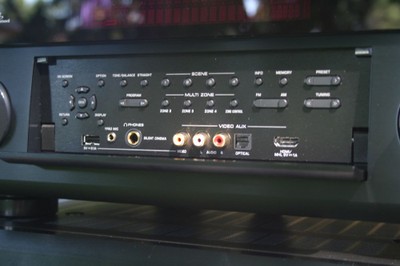 CX-A5000 Front Panel control

Video Measurements
Perfect Score is 130
Yamaha CX-A5000 HQV Benchmark Score: 100
Test

Max
Points

Component
Results

Component
Pass/Fail

Color Bar

10

10

Pass

Jaggies #1

5

5

Pass

Jaggies #2

5

5

Pass

Flag

10

5

Pass

Detail

10

10

Pass

Noise

10

0

Fail

Motion adaptive Noise Reduction

10

0

Fail

Film Detail

10

10

Pass

Cadence 2:2 Video

5

5

Pass

Cadence 2:2:2:4 DV Cam

5

5

Pass

Cadence 2:3:3:2 DV Cam

5

5

Pass

Cadence 3:2:3:2:2 Vari-speed

5

5

Pass

Cadence 5:5 Animation

5

5

Pass

Cadence 6:4 Animation

5

5

Pass

Cadence 8:7 animation

5

5

Pass

Cadence 3:2 24fps film

5

5

Pass

Scrolling Horizontal

10

5

Pass

Scrolling Rolling

10

10

Pass

Total Points

130

100

 
Discussion of HQV Results
I only ran the Standard Definition HQV tests using an Oppo DV-970HD feeding 480i over HDMI as I don't have a high quality Blu-ray source for the HD test disc. I disabled all the processing on my Epson PowerLIte Pro Cinema 1080 UB projector. I set the video processing to 1080p and the Aspect to "Through". There were no dedicated controls for noise reduction though there were edge enhancement options that were defaulted to zero. There were also controls for brightness, contrast, and saturation though no dedicated color controls. This will allow you to make some minor adjustments to your video feed though not full calibration from source to source.
The HQV score of 100 is pretty good and should help fine-tune the picture from your sources. If you have a Blu-ray player with good upscaling, you could test the two but we're betting you won't find much difference. While Yamaha claims that they have noise reduction and motion adaptive noise reduction, we found that it made little difference to the picture. The Flag test showed some stair stepping but it wasn't bad. The cadence and film detail tests were rock solid, though the Scrolling Horizontal text test did show a bit of distortion. Overall, these are fine results though not the "hit it out of the park" results we expected.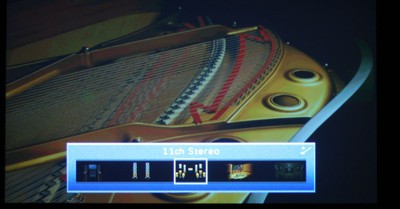 The smaller menu - the image is the CX-A5000 screen saver

Sound Quality Tests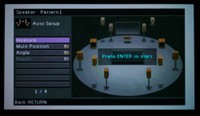 The Yamaha CX-A5000 uses ESS Technology ES9016 SABRE32 Ultra DACs on all eleven channels ensuring the best possible sound. There is a Pure Direct mode for turning off all unneeded electronics. The MX-A5000 has a symmetrical design, 150 watts per channel, and 11 discrete channels of amplification. When the CX-A5000 is paired with the MX-A5000, you are looking at some of the purest and most powerful sound you could ever expect. This is a combination that should give you the very best performance at nearly any price. I turned off all the DSPs and any enhancements (other than YPAO) and settled in for some serious listening.
Blue Man Group: How to be a Rock Megastar Blu-ray
This is one of my all time favorite test discs. Partially it is because I love the Blue Man Group but mostly it is because it is something everyone in the family can enjoy. Movie night suddenly becomes me multitasking family time and work. The CX-A5000 didn't disappoint with the audio processing presenting an absolutely stunning soundstage, with impressive depth and width. Even without the optional presence speakers, it felt like I was actually at the concert. Having two independent subwoofer outputs that are independently calibrated made a huge difference. You can tell the CX-A5000 that the subs are either on the sides or on the front and back walls. With the dual PC12-NSD subs, the bass was thunderous but even. Reaching depths never before reached in my home theater, I had to add damping material around the doors to keep them from rattling during some of the lowest notes. Now that is bass I can get behind!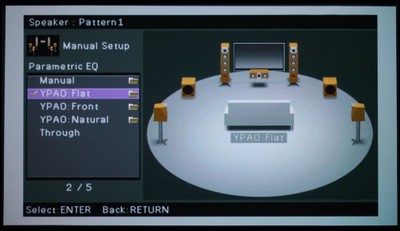 YPAO control screen - easy to A/B the different settings

Diana Krall: Live in Rio Blu-ray
Having high-quality Blu-ray music for tests is imperative and Diana Krall has been a fan favorite for most audiophiles. First, her voice is gorgeous but, even more importantly, the attention to detail during the recording process makes her CDs and records the go-to material when testing speakers. The CX-A5000 sent every whisper, every scratch in her voice though untainted. The MX-A5000 pushed those signals through to the Aperion Verus Grand speakers without a hint of effort or strain. No distortion or noise made its way into my system from these electronics. Simply put, the CX-A5000 and MX-A5000 got out of the way and let the music play. It was easy to tell that these two could do pretty much anything.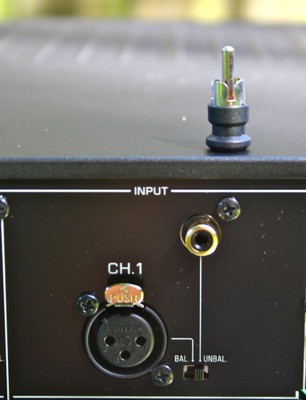 RCA plugs to install when using XLR Connections

Pacific Rim Blu-ray
I got Pacific Rim for my birthday in hopes of breaking my home theater. The amount of bass in general, and the overall amount of sound that is pushed out by the disc is staggering. The CX-A5000 never missed a step but, more impressively, the MX-A5000 kept all the sound well-anchored in each of the speakers. There was no moment when I thought the MX-A5000 might be coming to the end of its power reserves and, frankly, I can't imagine any normal home theater that would be a match for its power. Heck, if it can make Jaggers and Kaiju come to life, what can't it do?
Various Two Channel Sources
I listened to a lot of music through the CX-A5000 and MX-A5000 and it all sounded great. But there was something missing that I couldn't put my finger on at first. I discovered it later as I was finishing up this review. The CX-A5000 will engage both subs during playback of native DTS or Dolby sources but almost all the DSPs disengaged the second sub. Only 11-channel stereo, DTS Neo 6, Dolby Game mode, and the Game and Roleplaying DSPs kept the second sub in the mix. This completely changes the bass profile for the room and I can't imagine why Yamaha did this. With some experimentation (and help from Gene), I discovered that it was the front/back subwoofer setting that created this problem. Setting the sub configuration to monaural engaged the subs in all DSP modes. Hopefully Yamaha will alter this function with a firmware update as we see no use for the front/back setting as it's currently implemented.
Also note that many of the DSPs also disengaged the center channel which seemed an odd choice as well. If you prefer to engage the center channel all of the time, we recommend your default matrixing codec to one of the ones mentioned above.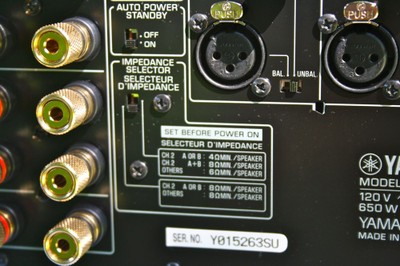 Yamaha dreaded Impedance Selector Switch - ALWAYS use 8-ohm or more setting!
Confused about what AV Gear to buy or how to set it up? Join our Exclusive Audioholics E-Book Membership Program!
See also:
Recent Forum Posts:
Franck posts on December 27, 2016 05:33
Hello,

I have got a Jamo D600 pack (4 ohm).
when you say "We ALWAYS recommend leaving the impedance switch set in the default high (8 ohms or more) mode regardless of the speaker load you will be using", does that mean that that I can set the impedance switch to 8 ohms without any risk even if all my speakers are 4 ohms?
Thank you
hmarkstrom posts on November 06, 2016 08:16
I first had the Yamaha CX-A5000 and MX-A5000 and then after a year replaced Yamaha CX-A5000 with Yamaha CX-A5100. Since it got DTS:X it has been upgraded two times.

I have a 7.2.4 configuration with XTZ Cinema speakers and four XTZ Cinema S2 Atmosphere in the ceiling.
Dolby Atmos and DTS:X have a very dynamic sound and I have played the beginning of Terminator: Genisys load and people that listen to it was very impressed and a cousin said that it sounded better than in the cinema.
Montucky posts on March 30, 2016 14:54
parkgoons, post: 1111657, member: 19009
Why buy this over an Emo setup?
For me, it's Atmos/DTS:X. Don't get me wrong. I love Emotiva and I'm actually planning on an Emo XMC-1 in another room of mine, but they both have their advantages. If you only want 7.x, then the Emo's a freaking amazing value. Especially with Dirac Live and all that. Need 7+.x.4, then the Yamaha's the way to go IMO.
parkgoons posts on January 04, 2016 13:23
Why buy this over an Emo setup?
Harald posts on July 03, 2015 14:25
Halo - up to my current knowledge the CX-A5000/MX-A5000 Combo is not able to stream any music file format gapless, right? (I am particulary interested in FLAC and AIFF) Does anybody know that perhaps Yamaha is working on an update to fix this? I read something like this in a blog from 2014. And furthermore when this updated Version will arrive to the (German) market?(BTW, I have contacted Yamaha Germany CSC but the picture is still not clear to me)
Post Reply