Yamaha CX-A5000 & MX-A5000 Setup, Room Correction, and Control
Yamaha CX-A5000 & MX-A5000 Setup, Room Correction, and Control
Like many people, I mostly used HDMI inputs with the CX-A5000 processor. The processor will do analog-to-analog conversion for sending analog video inputs from one type to another (limited by the type of input). Of course, it will convert any video signal up to HDMI and scale it to 4k if you wish. I don't have a 4k display (like just about everyone these days) so I was limited to 1080p. As the second HDMI output can be used as a fourth zone (or second), the other zones could be assigned component, s-video, or composite video output. Zone 2 can receive digital audio from HDMI or one of the digital audio inputs but Zone 3 is limited to analog sources (RCA) only. There are some limitations on these connections so you'll want to check the manual closely if you are going to run all four zones.
Since I didn't have 11 XLR cables lying around, I connected the CX-A5000 to the MX-A5000 with RCA unbalanced cables. The quality of the connectors on both units was top notch and you could tell that no expense was spared with these products. I found the amplifier layout to be overly confusing even after I started to understand how stacking the inputs visually made bi-amping easier. I wish that Yamaha had gone with a more traditional numbering system (1-11) rather than left/right with duplicated numbers. While in the end, it won't matter, it made hooking up my speakers a bit more challenging than it needed to be.
Left and Right speaker terminals on the MX-A5000

I connected the CX-A5000 to the MX-A5000 with the supplied 12-volt trigger cable. The CX-A5000 and the MX-A5000 always powered up together and there was no audible "thump" that some associate with external amplification. When left on (no signal running through) the amp ran a bit hot, heating up my home theater. It wasn't so hot that you couldn't touch it but it was warm enough that I made a new "always turn off the amp" rule for the kids. For those of you with enclosed racks, you'll want to give the MX-A5000 plenty of breathing room.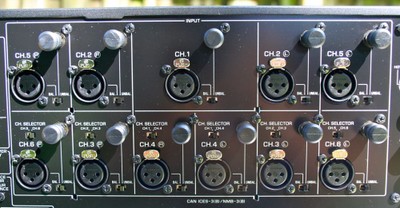 Having two of every channel except one is confusing? How?

The new GUI (Graphic User Interface) for the Yamaha CX-A5000 is both easy to understand and very powerful. The GUI overlays on all your content including 3D and 4k from the side at first and then from the bottom as you drill down. It dims your image but you can still see what is going on behind. The main options are Information, Setup, Sound Program, Input, and Scene. Information tells you about the audio/video/network status and about what is going on in the other zones. Inputs will let you rename, choose different icons, and more for each of your inputs. Scene allow you to set up to 12 different Scene options (the are four buttons on the remote dedicated to Scene). The easiest way to do this is to get to the input you want, set the DSP you want, and go to the Scene menu and hit "Save." Now, when you hit the Scene button, the CX-A5000 will change all your settings for you. Four additional Scene settings can be assigned to each additional zone.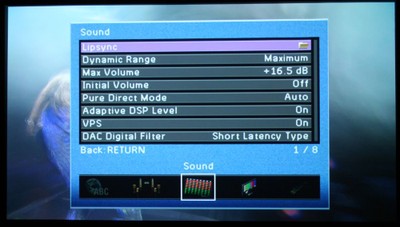 Just tons of control with the CX-A5000

Sound Program allows you to choose one of the many DSPs Yamaha has included with the CX-A5000 including such gems as "Hall in Munich A," "Hall in Munich B," and who could forget "Hall in Frankfurt." Yamaha has developed ten for the Z11 receiver that have found their way into the CX-A5000. They have dialog lifters, compressed music enhancers, adaptive Dynamic Range Control, and more - all with the intent to tailor your music for your room and system. There is no way of knowing which of these will work in your room or system until you try them. While most of these will be ignored by many users, having them onboard gives you the flexibility to find the ones that work for you and your musical tastes.
YPAO Auto Room Correction
In my opinion, Yamaha's new YPAO is one of the only room correction systems that actually works and should be on everyone's wish list.
One thing that will work for nearly everyone is Yamaha's newest YPAO room correction system. The CX-A5000 has the latest and greatest from Yamaha with R.S.C (Reflected Sound Control) Sound Optimization with multi-point and Speaker Angle Measurement. While you can activate the YPAO from the Setup menu, just plugging in the mic will do it as well.
The CX-A5000 YPAO is completely different from what you normally see in room correction. While mics are often included even with budget offerings, the CX-A5000 has what looks like a Nerf boomerang. This is for holding the mic and it can be attached to a tripod. I did that, following the on-screen directions. You can take measurements from up to eight positions. The first measurement should be taken at your prime listening position as the YPAO will ask you to go back to that position for your angle measurements.
Don't let your kids see it or it'll end up on the roof

The YPAO was accurate in speaker distances and levels confirmed by my SPL meter and a tape measure. Even the subs were accurately placed in the room. I tested the CX-A5000 with the Aperion Audio Verus Grand speakers and a pair of SVS PC12-NSD subwoofers. I wired the rear speakers out of phase to see if the YPAO would catch it and it did. At the end, it used the three points on the mic holder to test out the angles of the speakers which it also seemed accurate.
After you finish the measurements, you have the option of changing any of the speaker settings manually. The only inconsistency with the YPAO was speaker sizes. I ran the YPAO a number of times and my center channel was often set to large as were the surrounds occasionally. When you run the YPAO, you'll want to check the configuration after.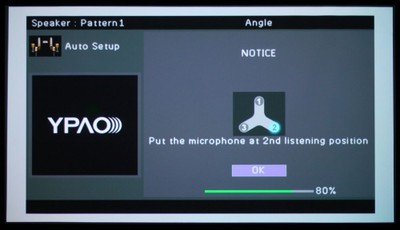 The GUI makes using the CX-A5000 YPAO a joy

Through the same place in the Settings menu, you can access the various flavors of YPAO. There is Manual (where you can add your own parametric EQ settings for each speaker and subwoofer individually), Flat, Front, Natural, and Through. Flipping between Through and any of the other settings will let you know what YPAO is doing and, if you are like me, you'll find it to be universally beneficial. I played with speaker placement and found that the YPAO did many different things to the sound depending on where the speakers were placed. If you are finding that you don't like what YPAO has done to your system, try moving your speakers a bit. With proper speaker placement, I found that the Natural and Flat settings were the best for my room. YPAO generally tamed some of the reflections and distortion in the room while giving the bass much more authority and clarity. This resulted in an overall cleaner presentation that honestly did nothing but good for my system. In my opinion, Yamaha's new YPAO is one of the only room correction systems that actually works and should be on everyone's wish list.
Lastly, a word about the manual YPAO: Most room correction systems won't allow much user adjustment. With the YPAO you get seven bands of EQ per speaker including each of the subs. The adjustments range from +6dB to -20dB and you can set the Q as well. There is a graphic representation of the EQ for each band , which is quite helpful. While this type of control is really directed more to custom installers, putting the control in the user's hands is a nice touch on Yamaha's part.
Remote and App Control
Controlling the Yamaha CX-A5000 is done either through the remote or the dedicated app. The remote is fairly intuitive considering how much it has going on. The buttons are small and very uniform in shape for the most part but the ones that you'll use the most are larger, unique in shape and layout, and easy to access. The direction, menus (there is more than one), options, and volume controls are all easily at hand and simple to find in the dark. There is a small, almost impossible to see, button on the side that rests naturally under your fingers when you hold the remote. This activates the backlight for a few seconds.

Not the most ergonomic but certainly functional

The bottom of the remote flips down to reveal an additional bank of buttons including a numerical keypad and specific surround modes. This is an elegant solution for adding additional functionality without creating a remote the size of a laptop computer. The remote is constructed out of plastic but seems well-built and solid. Even the flip-down cover feels thick and the hinge is sturdy. The remote is large and a bit unwieldy but I believe Yamaha did a good job with the remote.
Of course, the app is where it is at for remote control. In this age of interconnected everything, having an app is practically a must. The Yamaha control app is fairly well done as these sorts of apps go and isn't too hard to figure out. It has access to all the zones, scenes, sources, and DSPs. You can easily switch between sources or zones with a couple of touches and you can control such things as volume and even make some minor level tone adjustments. One neat feature is that you can set the CX-A5000 to "Network Standby" which allows you to power on and off the unit with your portable device.

This is a cool way to double your buttons without increasing the size too much

I was able to connect my phone to the CX-A5000 without much problem though using the remote was often an easier and quicker solution. For additional zone control, however, nothing beat the app as you could make adjustments without having to use the onscreen GUI. There were some omissions, however. You didn't have full access to all the settings (or even most of them) of the CX-A5000. The only way to access these controls is to switch the app to the remote mode and use the on-screen display. I would have liked to have the ability to adjust my speaker levels/size, YPAO settings, and video settings from the app without having to look at the screen. The app was basically good for changing inputs and DSPs and that was about it. Even when I connected to Pandora, it wouldn't allow me to use a full keypad and instead I had to use the remote to enter my email address and password.
Confused about what AV Gear to buy or how to set it up? Join our Exclusive Audioholics E-Book Membership Program!
See also:
Recent Forum Posts:
Franck posts on December 27, 2016 05:33
Hello,

I have got a Jamo D600 pack (4 ohm).
when you say "We ALWAYS recommend leaving the impedance switch set in the default high (8 ohms or more) mode regardless of the speaker load you will be using", does that mean that that I can set the impedance switch to 8 ohms without any risk even if all my speakers are 4 ohms?
Thank you
hmarkstrom posts on November 06, 2016 08:16
I first had the Yamaha CX-A5000 and MX-A5000 and then after a year replaced Yamaha CX-A5000 with Yamaha CX-A5100. Since it got DTS:X it has been upgraded two times.

I have a 7.2.4 configuration with XTZ Cinema speakers and four XTZ Cinema S2 Atmosphere in the ceiling.
Dolby Atmos and DTS:X have a very dynamic sound and I have played the beginning of Terminator: Genisys load and people that listen to it was very impressed and a cousin said that it sounded better than in the cinema.
Montucky posts on March 30, 2016 14:54
parkgoons, post: 1111657, member: 19009
Why buy this over an Emo setup?
For me, it's Atmos/DTS:X. Don't get me wrong. I love Emotiva and I'm actually planning on an Emo XMC-1 in another room of mine, but they both have their advantages. If you only want 7.x, then the Emo's a freaking amazing value. Especially with Dirac Live and all that. Need 7+.x.4, then the Yamaha's the way to go IMO.
parkgoons posts on January 04, 2016 13:23
Why buy this over an Emo setup?
Harald posts on July 03, 2015 14:25
Halo - up to my current knowledge the CX-A5000/MX-A5000 Combo is not able to stream any music file format gapless, right? (I am particulary interested in FLAC and AIFF) Does anybody know that perhaps Yamaha is working on an update to fix this? I read something like this in a blog from 2014. And furthermore when this updated Version will arrive to the (German) market?(BTW, I have contacted Yamaha Germany CSC but the picture is still not clear to me)
Post Reply