Yamaha CX-A5000 AV Preamp and MX-A5000 Power Amp Measurements
Yamaha CX-A5000 AV Preamp and MX-A5000 Power Amp Measurements
All measurements were conducted using our Audio Precision APx585 8 Channel HDMI Audio Analyzer following our rigid Amplifier Measurement Test Protocol.  Unless otherwise stated, all measurements were conducted unbalanced.
CX-A5000 11.2 AV Processor
The CX-A5000 preamp output is certainly more robust than the typical Yamaha AV receiver many of which clip below 2Vrms output.  This was not the case with the CX-A5000 as it was able to deliver a clean and unclipped 4Vrms output via unbalanced and about 8Vrms via the balanced output connections.
Frequency Response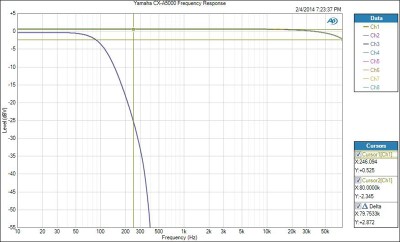 Yamaha CX-A5000 Frequency Response
With an 8CH 192kHz/24 bit input signal feeding the CX-A5000's HDMI input, I measured a ruler-flat frequency response from 10Hz all the way to 30kHz with a -3dB point above the 80kHz bandwidth limit of my test gear.  It was nice to see the Yamaha decode a full 192kHz/24 bit signal without truncating it the way some processors do.  I also checked analog pure direct mode and found a ruler flat response all the way to 80kHz.
Bass Management
While Yamaha gives you the ability to adjust crossover settings for each channel grouping, they don't give you adjustability of the subwoofer channel crossover.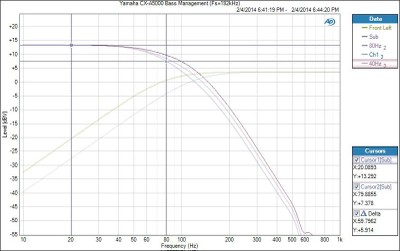 Yamaha CX-A5000 Frequency Response with Bass Management Engaged
With a standard "small" 80Hz setting for all channels, the HPF for the satellite speakers maintained the correct 80Hz -3dB pt with a 12 dB/oct slope.  The sub out was -6dB a bit above 80Hz with a slightly less shallow slope of the THX recommended 24 dB/oct.  This is a characteristic I've been seeing with all recent AV receiver and Blu-ray products implementing the ESS SABRE DAC's.  I believe they calculate LPF crossover slope based on the 2nd and 3rd octave after the crossover frequency rather than the difference between the passband and 2nd octave like we've traditionally seen with THX certified products.
With all channel groupings set "small" to 80Hz but the main channels set to 40Hz and the surround back channels set to 120Hz, the sub out channel shifted -3dB point accordingly and properly summed the small channel bass response without causing any anomalies like some processors with multi-crossover settings often do.
With all speakers set to "large" the sub out -6dB pt was 100Hz with a less shallow slope than the standard 24 dB/oct setting.  Too bad Yamaha didn't provide for more control over this for people wanting a more optimal blend between large main towers and simultaneous subwoofer playback.  A workaround for this would be to set a different speaker memory for two-channel mode if you prefer a different crossover point when listening to stereo sources with the subwoofer engaged. 
The subwoofer output had plenty of headroom as it was able to output 6Vrms unclipped which is important when summing bass from all channels set to "small."
Signal to Noise Ratio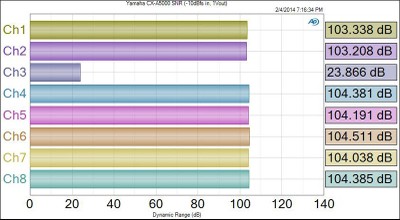 Yamaha CX-A5000 SNR (20kHz LPF engaged)
The SNR of the CX-A5000 was among the best I've ever measured.  > 100db is quiet enough to hear a tree fall in a forest even if nobody is there to see it.  The channel 3 test result is to be ignored as its the sub channel.
Frequency Response vs. Distortion

Yamaha CX-A5000 Frequency Response vs Distortion
With all channels driven @ 2Vrms, distortion was virtually non-existent over the entire audio band.  This is a clean measurement!
FFT Distortion Analysis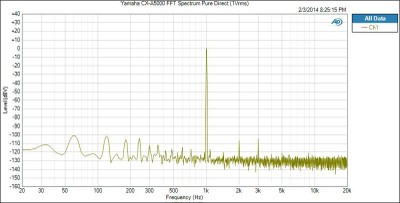 Yamaha CX-A5000 FFT Distortion
As you can see, the CX-A5000 FFT distortion analysis illustrated a very clean response with the 3rd order product being > -100dB below the fundamental. 
Max Output vs. Distortion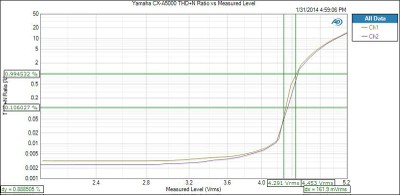 Yamaha CX-A5000 Max Output vs Distortion
The CX-A5000 produced 4.3Vrms output at 0.1% THD + N and 4.45Vrms at 1% THD + N via unbalanced outputs.  It produced roughly 2X this output via the balanced connections.
Channel to Channel Crosstalk

Yamaha CX-A5000 Crosstalk Test (One Channel Undriven) 
Please note that in each case 6 channels were being driven at a time while the test channel was measured.  This produced worst case results (typically 10dB worse) than when simply doing channel-channel crosstalk measurements.  The CX-A5000 excelled in this test with -90dB at 1kHz for the worse channels and better than -78dB at 20kHz. 
MX-A5000 11-Channel Amplifier
I did some quick spot-checking on the Yamaha MX-A5000 amplifier gain structure to ensure it could be properly driven with a wide assortment of preamps or receivers.  The MX-A5000 reached clipping via the unbalanced inputs with only 1.45V which is less than the 2Vrms max that I'd like to see.
I measured the voltage gain of the MX-A5000 via balanced and unbalanced inputs and found the following:
Unbalanced: AV = 29dB (THX standard)
Balanced: AV = 23dB (6 dB lower than unbalanced)
This is a standard practice in most consumer and pro audio. The preamp therefore usually has a +6dB boost via the balanced outputs to compensate.
Signal to Noise Ratio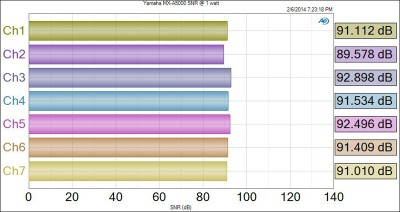 Yamaha MX-A5000 SNR (A-wt)
The MX-A5000 exhibited a superbly low noise floor.  At 1 watt, I measured 91.6dB un-weighted (20kHz LPF engaged) and about 3 dB better A-weighted filter engaged with no 20kHz filter.  This translates to over 112dB (115dB A-wt) at full rated power.  Retesting with balanced connections, the noise floor dropped an additional 3dB.  This is right within Yamaha spec of their full power SNR of 116dB A-wt.
Frequency Response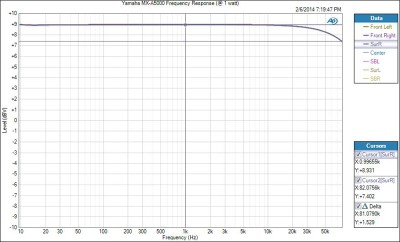 Yamaha MX-A5000 Frequency Response @ 1 Watt 
The frequency response of the MX-A5000 was ruler flat in the audio passband and only -1.5dB down at 80kHz.  Channel to Channel deviation was a mere +-0.07dB across the entire bandwidth.
Power Measurements
The MX-A5000 was tested on a dedicated 120V / 20A line. 
We tested power using three methods all of which were taken at < 0.1% THD + N:
Continuous Full Power Bandwidth (CFP-BW) from 20Hz to 20Khz into 8 and 4-ohm loads
1kHz Power Sweep vs. Distortion (1kHz PSweep)—popularized by the print magazines, this is an instantaneous power vs. distortion test at 1kHz. The problem with this test is it often masks slew-related and or frequency response problems some amplifiers exhibit at the frequency extremes, and thus inflates the measured power results. It does provide an instant gratification number for consumers to argue over on the forums, so we are now incorporating this test to please the masses.
Dynamic PWR - 1kHz CEA-2006 Burst Method testing. This is a dynamic power measurement adopted from the car industry similar to IHF method, only a bit more difficult for an amplifier and more representative of real musical content.
Keep in mind most review publications don't do continuous power measurements and they usually publish power measurements into clipping at 1% THD + N. Our measurements are very conservative since we use a dedicated 20A line with no Variac to regulate line voltage.  We constantly monitor the line to ensure it never drops more than 2Vrms from nominal, which in our case was 120Vrms. 
For more info on amplifier measurements, see:  The All Channels Driven (ACD) Test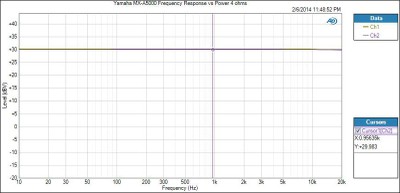 Yamaha MX-A5000 Full Power Bandwidth Continuous Sweep (250wpc, 4 ohms)
The MX-A5000 easily exceeded its 150 watt/ch rating with two channels driven producing 177 watts/ch into 8 ohms and 250 watts/ch into 4 ohm loads at 0.1% THD + N.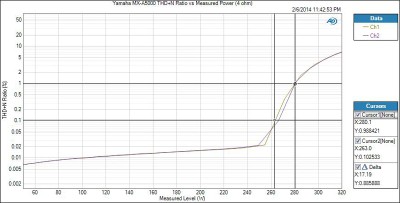 Yamaha MX-A5000 1kHz Power Sweep Test
Top Pic: 8 ohm load, 5CH;  Bottom Pic:  4 ohm load, 2CH
The power sweep tests produced some interesting results with the MX-A5000.  With 2 or 5 channels driven, the MX-A5000 did exceedingly well pumping out 177 watts (2CH, .1% THD + N) and 138 watts (5CH, .1% THD + N) respectively.  However once 7 channels were tested, the MX-A5000 went into current protection mode delivering only 78 watts at .1% THD + N.  This was a bit odd since 138 x 5 = 690 watts is greater than 78 x 7 = 546 watts.  The MX-A5000 was clearly current limiting once it detected 7 channels driving at high power.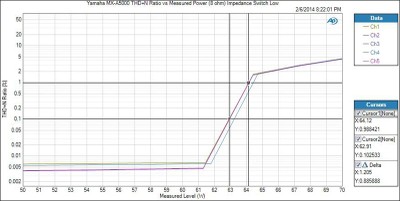 Yamaha MX-A5000 1kHz Power Sweep Test – Low Impedance Mode
NEVER USE THIS SETTING!
With the impedance switch set low aka the 4 ohm setting, the MX-A5000 only delivered 63 watts at .1% THD +N with 5 channels driven.  We ALWAYS recommend leaving the impedance switch set in the default high (8 ohms or more) mode regardless of the speaker load you will be using.  
For more information on this topic, see:  Setting the AV Receiver Impedance Selector Switch
Before people scoff at the current limiting of the MX-A5000 it's important to note that Yamaha tends to be very overly protective with their amplifiers.  The chance of the MX-A5000 going into current limiting mode in real world usage is very low since we don't listen to simultaneous correlated continuous test tones.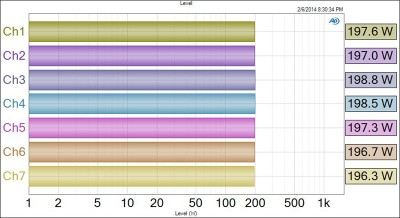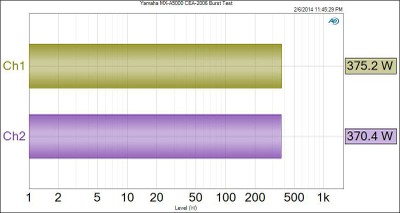 Yamaha MX-A5000 Dynamic Power Test (1kHz)
Top Pic: 8 ohm load, 7CH;  Bottom Pic: 4 ohm load, 2CH
The CEA-2006 burst tests simulate musical program material.  The MX-A5000 produced some excellent results with over 1.2 dB of dynamic headroom for 8 ohm loads with 7 channels driven, and 1.7dB with only 2 channels driven. I was particularly impressed that the MX-A5000 was able to muster a whopping 400 watts into 4 ohms.  A large power supply and a robust design pays off in tangible dividends. 
| | | | | |
| --- | --- | --- | --- | --- |
| # of CH | Test Type | Power | Load | THD + N |
| 2 | CFP-BW | 177 watts | 8 ohms | 0.1% |
| 2 | CFP-BW | 250 watts | 4 ohms | 0.1% |
| 2 | 1kHz Psweep | 177 watts | 8 ohms | 0.1% |
| 2 | 1kHz Psweep | 186 watts |  8 ohms | 1% |
| 2 | 1kHz Psweep | 236 watts | 4 ohms | 0.1% |
| 2 | 1kHz Psweep | 280 watts |  4 ohms | 1% |
| 5 | 1kHz Psweep | 138 watts | 8 ohms | 0.1% |
| 5 | 1kHz Psweep | 144 watts | 8 ohms | 1% |
| *5 | 1kHz Psweep | 64 watts | 8 ohms | 1% |
| 7 | 1kHz Psweep | 78 watts | 8 ohms | 0.1% |
| 7 | 1kHz Psweep | 85 watts | 8 ohms | 1% |
| 2 | Dynamic PWR | 225 watts | 8 ohms | 1% |
| 5 | Dynamic PWR | 205 watts | 8 ohms | 1% |
| 7 | Dynamic PWR | 197 watts | 8 ohms | 1% |
| 2 | Dynamic PWR | 396 watts | 4 ohms | 1% |
Yamaha MX-A5000 Power Measurement Table 
* Impedance switch was set to low (4 ohm setting) for this particular tests.
Yamaha rates the MX-A5000 as follows:
170 watts  < 0.9% ; 1 kHz 8 ohm load, 2CH Driven
150 watts  < 0.06% ; Full Bandwidth, 8 ohm load, 2CH Driven
Our test results validate Yamaha's power specifications. However Yamaha doesn't specify power ratings into 4 ohm loads or any power ratings with more than 2 channels driven but we provided these measurements so the reader can better understand the power capabilities of this product. 
FFT Distortion Analysis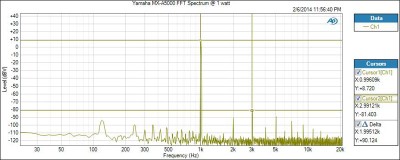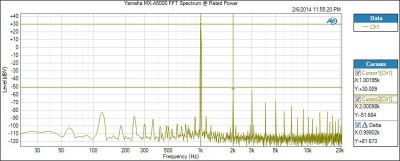 Yamaha MX-A5000 FFT Distortion Analysis
(Top pic: @ 1 watt ; Bottom pic: @ full power)
I ran FFT distortion plots at 1 watt (top pic) and at near full rated power (bottom pic) to determine how clean this amplifier really is. 
At 1 watt, the spectral distortion plot revealed dominant odd-order harmonic distortion products but they were still -90dB below the fundamental.  The high power FFT revealed dominant 2nd and 3rd order distortion products but were still down -80dB below the fundamental.
Using balanced connections lowered the distortion products an additional -3dB.  It is recommended to use balanced connections whenever possible.
Channel-to-Channel Crosstalk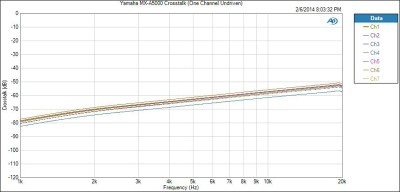 Yamaha MX-A5000 Crosstalk Tests (One Channel Undriven)
The crosstalk sweep tests I ran on the MX-A5000 produced very good results. The MX-A5000 produced consistent results no matter which channel was under test.  At 1kHz the channel-to-channel isolation was -80dB and – 50dB at 20kHz. I consider anything less than -40dB @ 10kHz acceptable and the MX-A5000 beat that minimum requirement by 10dB.
Confused about what AV Gear to buy or how to set it up? Join our Exclusive Audioholics E-Book Membership Program!
See also:
Recent Forum Posts:
Franck posts on December 27, 2016 05:33
Hello,

I have got a Jamo D600 pack (4 ohm).
when you say "We ALWAYS recommend leaving the impedance switch set in the default high (8 ohms or more) mode regardless of the speaker load you will be using", does that mean that that I can set the impedance switch to 8 ohms without any risk even if all my speakers are 4 ohms?
Thank you
hmarkstrom posts on November 06, 2016 08:16
I first had the Yamaha CX-A5000 and MX-A5000 and then after a year replaced Yamaha CX-A5000 with Yamaha CX-A5100. Since it got DTS:X it has been upgraded two times.

I have a 7.2.4 configuration with XTZ Cinema speakers and four XTZ Cinema S2 Atmosphere in the ceiling.
Dolby Atmos and DTS:X have a very dynamic sound and I have played the beginning of Terminator: Genisys load and people that listen to it was very impressed and a cousin said that it sounded better than in the cinema.
Montucky posts on March 30, 2016 14:54
parkgoons, post: 1111657, member: 19009
Why buy this over an Emo setup?
For me, it's Atmos/DTS:X. Don't get me wrong. I love Emotiva and I'm actually planning on an Emo XMC-1 in another room of mine, but they both have their advantages. If you only want 7.x, then the Emo's a freaking amazing value. Especially with Dirac Live and all that. Need 7+.x.4, then the Yamaha's the way to go IMO.
parkgoons posts on January 04, 2016 13:23
Why buy this over an Emo setup?
Harald posts on July 03, 2015 14:25
Halo - up to my current knowledge the CX-A5000/MX-A5000 Combo is not able to stream any music file format gapless, right? (I am particulary interested in FLAC and AIFF) Does anybody know that perhaps Yamaha is working on an update to fix this? I read something like this in a blog from 2014. And furthermore when this updated Version will arrive to the (German) market?(BTW, I have contacted Yamaha Germany CSC but the picture is still not clear to me)
Post Reply