Yamaha CX-A5000 & MX-A5000 Conclusion and Ratings
Yamaha CX-A5000 & MX-A5000 Conclusion and Ratings
Let's not beat around the bush - $6000 will get you the Yamaha CX-A5000 and MX-A5000 separates. If you have ever wanted separates but didn't want to sacrifice features, it is a good time to be alive. While the CX-A5000 isn't without a few oddities, for the most part it is a fantastic pre-pro. The MX-A5000 is a beast of an amp with enough channels of amplification to power yours and your neighbor's systems with a channel to spare. We love the new trend in high quality separates from the likes of Yamaha and if the CX-A5000 and MX-A5000 is what is in store for us, we can't wait to see what else they can come out with next. Highly Recommended!
Yamaha CX-A5000 & MX-A5000 AV Separates Video Review
Yamaha CX-A5000 Pre/Pro and MX-A5000 Amplifier
$2999.95/each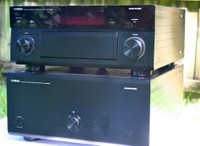 Yamaha Electronics Corporation, USA
6660 Orangethorpe Avenue
Buena Park, CA 90620
(714) 522-9105
www.yamaha.com
The Score Card
The scoring below is based on each piece of equipment doing the duty it is designed for. The numbers are weighed heavily with respect to the individual cost of each unit, thus giving a rating roughly equal to:
Performance × Price Factor/Value = Rating
Audioholics.com note: The ratings indicated below are based on subjective listening and objective testing of the product in question. The rating scale is based on performance/value ratio. If you notice better performing products in future reviews that have lower numbers in certain areas, be aware that the value factor is most likely the culprit. Other Audioholics reviewers may rate products solely based on performance, and each reviewer has his/her own system for ratings.
Audioholics Rating Scale
— Excellent
— Very Good
— Good
— Fair
— Poor
| Metric | Rating |
| --- | --- |
| Frequency Response Linearity | |
| Measured Power (8-ohms) | |
| Measured Power (4-ohms) | |
| Multi-channel Audio Performance | |
| Two-channel Audio Performance | |
| Network Features | |
| Video Processing | |
| Bass Management | |
| Build Quality | |
| Fit and Finish | |
| Ergonomics & Usability | |
| Ease of Setup | |
| Features | |
| Remote Control | |
| Performance | |
| Value | |
See also:
Confused about what AV Gear to buy or how to set it up? Join our Exclusive Audioholics E-Book Membership Program!
Recent Forum Posts:
Franck posts on December 27, 2016 05:33
Hello,

I have got a Jamo D600 pack (4 ohm).
when you say "We ALWAYS recommend leaving the impedance switch set in the default high (8 ohms or more) mode regardless of the speaker load you will be using", does that mean that that I can set the impedance switch to 8 ohms without any risk even if all my speakers are 4 ohms?
Thank you
hmarkstrom posts on November 06, 2016 08:16
I first had the Yamaha CX-A5000 and MX-A5000 and then after a year replaced Yamaha CX-A5000 with Yamaha CX-A5100. Since it got DTS:X it has been upgraded two times.

I have a 7.2.4 configuration with XTZ Cinema speakers and four XTZ Cinema S2 Atmosphere in the ceiling.
Dolby Atmos and DTS:X have a very dynamic sound and I have played the beginning of Terminator: Genisys load and people that listen to it was very impressed and a cousin said that it sounded better than in the cinema.
Montucky posts on March 30, 2016 14:54
parkgoons, post: 1111657, member: 19009
Why buy this over an Emo setup?
For me, it's Atmos/DTS:X. Don't get me wrong. I love Emotiva and I'm actually planning on an Emo XMC-1 in another room of mine, but they both have their advantages. If you only want 7.x, then the Emo's a freaking amazing value. Especially with Dirac Live and all that. Need 7+.x.4, then the Yamaha's the way to go IMO.
parkgoons posts on January 04, 2016 13:23
Why buy this over an Emo setup?
Harald posts on July 03, 2015 14:25
Halo - up to my current knowledge the CX-A5000/MX-A5000 Combo is not able to stream any music file format gapless, right? (I am particulary interested in FLAC and AIFF) Does anybody know that perhaps Yamaha is working on an update to fix this? I read something like this in a blog from 2014. And furthermore when this updated Version will arrive to the (German) market?(BTW, I have contacted Yamaha Germany CSC but the picture is still not clear to me)
Post Reply