Outlaw Model 5000 Five Channel Amplifier Conclusion
Outlaw Model 5000 Five Channel Amplifier Conclusion
After spending a good month with the Model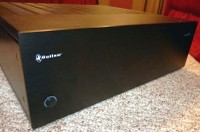 5000, it was easy for me to understand Peter Tribeman's excitement for this product.  Sure it's not the most powerful or pretty five channel amplifier on the market, BUT, it is the most affordable multi-channel amp (MSRP: $599) that gives you clean honest power with great sound quality.
In fact, I'm declaring the Model 5000 the BEST Deal for 2015 as far as budget multi-channel amplifiers go. 
The Model 5000 amp should sound even more powerful and capable in actual multi-channel home theater usage than it did driving my mondo-big speakers in two-channel full-range stereo because, in a real-world 5.1 system, the powered sub will handle the heavy lifting below 80 Hz or so, and therefore this Outlaw will just cruise along, not even breaking a sweat!
The Model 5000 runs cool, is capable of bringing a level of fidelity and power to a multi-channel system that no budget AV receiver can do on its own.  If you're running an AV receiver with preouts and you need more power, then the Model 5000 just may be your ticket to salvation.  Or, if you're looking to assemble a budget friendly separates solution, Outlaw is offering a combo deal on their Model 975 Pre/Pro paired with the Model 5000 five-channel power amp for just $1 shy of $1k.  That's quite a bargain in my book for a budding audiophile looking for a no-nonsense audiophile experience without all of the bells and whistles or endless barrage of DSP modes to make your system sound like the halls of a German Cathedral.  While I do hope to one day uncover the truth behind Area 51, at least for now I can be satisfied in knowing Outlaw Audio helped to redefine my expectations of how a budget multi-channel amp should perform.
Outlaw Model 5000 Five Channel Amplifier Review

Outlaw Model 5000 Review
MSRP: $599
Mailing address:
Outlaw Audio
P.O. Box 975
Easton, MA 02334
Telephone:
866-OUTLAWS (688-5297)
The Score Card
The scoring below is based on each piece of equipment doing the duty it is designed for. The numbers are weighed heavily with respect to the individual cost of each unit, thus giving a rating roughly equal to:
Performance × Price Factor/Value = Rating
Audioholics.com note: The ratings indicated below are based on subjective listening and objective testing of the product in question. The rating scale is based on performance/value ratio. If you notice better performing products in future reviews that have lower numbers in certain areas, be aware that the value factor is most likely the culprit. Other Audioholics reviewers may rate products solely based on performance, and each reviewer has his/her own system for ratings.
Audioholics Rating Scale
— Excellent
— Very Good
— Good
— Fair
— Poor
| Metric | Rating |
| --- | --- |
| Ergonomics & Usability | |
| Frequency Response Linearity | |
| SNR | |
| Measured Power (8-ohms) | |
| Measured Power (4-ohms) | |
| Build Quality | |
| Performance | |
| Value | |
See also:
Confused about what AV Gear to buy or how to set it up? Join our Exclusive Audioholics E-Book Membership Program!
Recent Forum Posts:
DigitalD posts on April 09, 2019 18:05
gene, post: 1079393, member: 4348
njnRckulS2A
Great video Gene! This video actually convinced me to purchase the Model 7000x since I'd prefer a 7ch amp. I am fairly new to this and I have a question. Can I use the Ground Section behind my Denon X-4400H to connect to the Ground Section behind my Amp? Will this improve/assist any potential ground loops? Thanks for your help.
snakeeyes posts on August 26, 2018 14:07
Very tempting to buy the Outlaw 5000. Does outlaw ever put these on sale? Obviously the price is nice already. Labor Day is coming soon so just curious.
jsc1979 posts on April 17, 2018 11:44
I just picked up an Outlaw 7100, but I'm now wondering if I should have went with this 5000.

Long shot, but does anyone have experience with both? Obviously the 7100 is over 10yrs old. I got it for $375, the B Stock 5000 wouldn't be too much more.
Glenv6 posts on April 13, 2018 09:25
Not much action on the here….

I'm sold. My 5000 will arrive in a few days. I was interested in the Monoprice 7x, but it's still not available and I don't want to wait. I'll deal with the other two channels using my trusty old Sumo Polaris on the mains for now.

The 5000 measured well in reviews, and reaped high praise for it's sound. I am looking forward to hearing how well it lives up to the great reviews.
mdanderson posts on October 01, 2016 03:31
Ricardo, post: 1125343, member: 78356
I was wondering if anyone can answer this question, would the outlaw 5000 be a good match with the marantz sr5010. Can the Marantz drive the outlaw to its best performance, this will be powering the svs ultra center and ultra bookshelves.
I have Marantz SR5010 was wondering if you ever got the Outlaw 5000 and how it sounds paired with the SR5010. I had the original Outlaw 750 amp a many years ago but I was thinking about getting a separate power amp to go with my SR5010 even though the Marantz sounds very nice on it's own.
Post Reply