Marantz PM-11S3 Integrated Amplifier Measurements and Analysis
Marantz PM-11S3 Integrated Amplifier Measurements and Analysis
All measurements were conducted using our Audio Precision APx585 8 Channel HDMI Audio Analyzer following our rigid Amplifier Measurement Test Protocol.  I also had this model's predecessor (PM-11S2) on hand to do some comparisons.  I started the test suites with some basic preamp measurements.
Preamp Output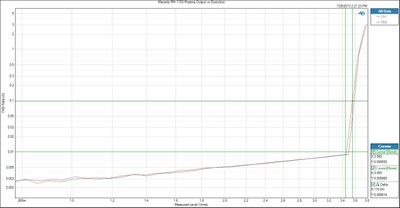 Marantz PM-11S3 Preamp Voltage Output vs Distortion (1kHz)
 I did some quick spot-checking on the Marantz PM-11S3 preamplifier gain structure to ensure it had enough output voltage to feed external amplification should the end user's system power requirements increases with a more demanding speaker system or listening preference.  I measured 17.7dB voltage gain from the preamp outputs of the PM-11S3.  It was able to output 3.5Vrms unclipped which should be enough to drive virtually any modern amplifier into clipping.  Interesting, however, was that the PM-11S2 was able to muster a bit more output voltage than the 11S3 and at a lower distortion (.005% IMD  on the 11S2 vs .01% IMD on the 11S2) but this is mostly academic.
Crosstalk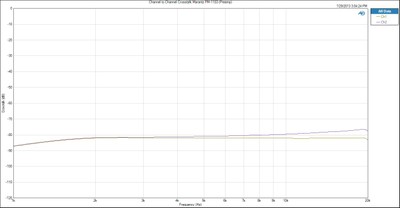 Marantz PM-11S3 Channel to Channel Crosstalk
The PM-11S3 exhibited excellent crosstalk performance as can be seen in the above graph.  Channel-to-channel isolation was about -80dB out to 20kHz.
FFT Distortion Analysis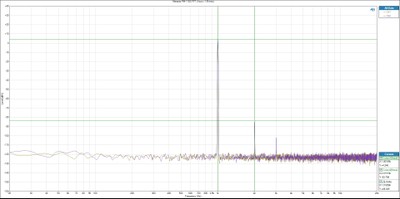 Marantz PM-11S3 FFT Distortion Analysis 1.5Vrms
I ran FFT distortion plot on the PMS-11S3 at 1.5Vrms output.  The 2nd order harmonic was dominant at -88dB below the fundamental.  At 3Vrms, more harmonic byproducts were produced but the dominant 2nd order harmonic was still -82dB below the fundamental.  Surprisingly however, the PM-11S2 FFT distortion analysis was a great deal lower.  On similar tests the PM-11S2 measured a whopping -20dB lower in distortion.  It seems apparent to me that the 11S2 employed higher quality op-amps for the pre-outs.
Phono Output (MM) Frequency Response and Distortion (THD + N)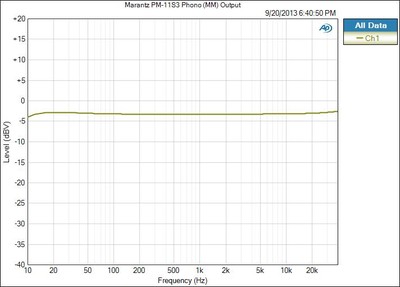 Marantz PM-11S3 Phono Pre-out Frequency Response
Using the original 3-time constant RIAA curve, I EQ'ed the AP to get the expected flat response of the phono preamp.  As you can see the PM-11S3 produced very linear results here.  I measured the same type of response from the older PM-11S2 as well.  I drove the input with 10mVrms and cranked the volume up to -20dB.  This resulted in an unclipped output about 675mVrms from the analog outputs.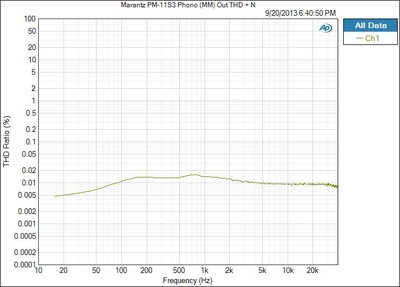 Marantz PM-11S3 Phono Pre-out THD + N Distortion Test
 Marantz PM-11S2 Phono Pre-out THD + N Distortion Test
Despite the fact that both the PM-11S3 and PM-11S2 were driven with the same signal levels, the 11S2 clearly exhibited lower distortion.  Regardless, the 11S3 still produced solid results and I believe that the more robust analog preamp section not the phono preamp alone contributed to the lower distortion in the 11S2. 
Power Amp Tests
It was time to move on to the power amplifier tests as the majority of folks purchasing a PM-11S3 will be using it as an integrated amplifier, not as a preamp only.  Thus the remaining tests pass through the entire analog path from line level input to speaker level output.
Signal to Noise Ratio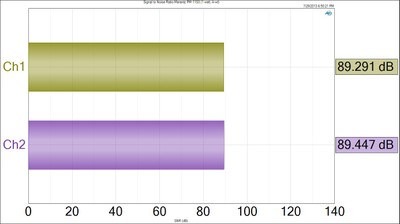 Marantz PM-11S3 SNR (A-wt) @ 1 watt
With 265mV input and 2Vrms from the preamp outputs, I measured an SNR of 88db (no filters, no weighing) and 96dB A-wt.  From the entire preamp to power amp stage, I measured 81dB unweighted and 89dB at 1 watt A-wt.  These are very good (thought not the best I've measured) numbers indicating a solidly low noise floor whether used as a dedicated preamp or integrated amp function. 
Frequency Response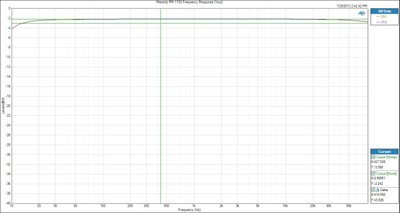 Marantz PM-11S3 Frequency Response
The ruler flat frequency response (-0.8dB at 60kHz and -1.5dB at 10Hz) of the PM-11S3 indicated excellent bandwidth linearity.  Interestingly the PM-11S2 didn't exhibit the slight low frequency rolloff below 20Hz that the 11S3 did.
Power Measurements
Using our Audio Precision APx585 8-channel HDMI analyzer, I conducted a full barrage of power tests on the Marantz PM-11S3 amplifier. The PM-11S3 was tested on a dedicated 120V / 20A line. 
We tested power using three methods all of which were taken at < 0.1% THD + N:
Continuous Full Power Bandwidth (CFP-BW) from 20Hz to 20Khz into 8 and 4-ohm loads  

1kHz Power Sweep vs. Distortion (1kHz PSweep) - popularized by the print magazines, this is an instantaneous power vs. distortion test at 1kHz. The problem with this test is it often masks the slew-related and/or frequency response problems that some amplifiers exhibit at the frequency extremes, and thus inflates the measured power results. It does provide an instant gratification number for consumers to argue over on the forums, so we are now incorporating this test to please the masses.     

Dynamic PWR - 1kHz CEA-2006 Burst Method testing. This is a dynamic power measurement adopted from the car industry similar to IHF method, only a bit more difficult for an amplifier and more representative of real musical content.
Keep in mind most review publications don't do continuous power measurements and they usually publish power measurements into clipping at 1% THD + N. Our measurements are very conservative as we use a dedicated 20A line with no Variac to regulate line voltage.  We constantly monitor the line to ensure it never drops more than 2Vrms from nominal which in our case was 120Vrms. 
For more info on amplifier measurements, see:  The All Channels Driven (ACD) Test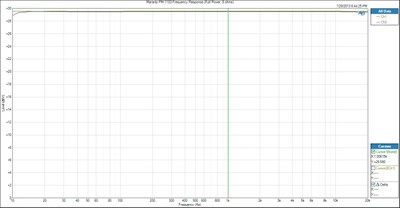 Marantz PM-11S3 Full Power Bandwidth Continuous Sweep (200 watts, 4 ohms)
The Marantz PM-11S3 exhibited excellent bandwidth linearity even at high output levels; in this case 113 watts/ch into 8 ohms and 200 watts/ch into 4 ohms continuously with both channels driven..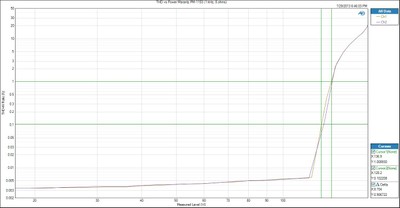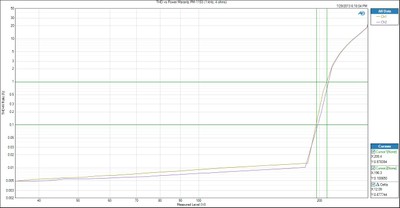 Marantz PM-11S3 1kHz Power Test
Top Pic: 8 ohm load;  Bottom Pic:  4 ohm load
The PM-11S3 produced excellent results with our 1kHz power sweep test.  Into 8 ohms, I measured 137 watts (1% THD + N) and 128 watts (0.1% THD + N) with both channels driven.  At 4 ohms, I measured 208 watts (1% THD+N) and 196.3 watts (0.1% THD+N) with both channels driven.  Notice the baseline distortion is slightly higher when driving a lower impedance load, but it's still darn respectable. 
The PM-11S3 slightly outshined its PM11S2 predecessor as it consistently produced between 6-7% more power for all of these sweep tests under the same load and distortion conditions.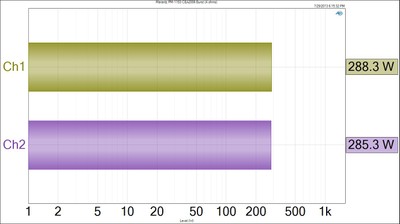 Marantz PM-11S3 Dynamic Power Test (1kHz); 4 ohm load
The CEA-2006 burst tests simulate musical program material.  The PM-11S3 produced some fine results for which is no surprise for a product of this caliber.  At 8 ohms, it was able to deliver 169 watts/ch and 285 watts/ch into 4 ohms; both channels driven at 1% THD + N.  
| | | | | |
| --- | --- | --- | --- | --- |
| # of CH | Test Type | Power | Load | THD + N |
| 2 | CFP-BW | 113 watts | 8 ohms | 0.1% |
| 2 | CFP-BW | 200 watts | 4 ohm | 0.1% |
| 2 | 1kHz Psweep | 137 watts | 8 ohms | 1% |
| 2 | 1kHz Psweep | 128 watts | 8 ohms | % |
| 2 | 1kHz Psweep | 208 watts | 4 ohms | 1% |
| 2 | 1kHz Psweep | 196 watts | 4 ohms | 0.1% |
| 2 | Dynamic PWR | 169 watts | 8 ohms | 1% |
| 2 | Dynamic PWR | 285 watts | 4 ohms | 1% |
  Marantz PM-11S3 Power Measurement Table
Marantz rates the PM-11S3 as follows:
100 watts < 0.01% ; 8 ohm load, 20Hz to 20kHz
200 watts < 0.02% ; 4 ohm load, 20Hz to 20kHz
Based on my measurements, I'd have to say the PM-11S3 amplifier is capable of over-delivering its stated power under ideal test conditions.  They certainly didn't fudge any power claims with this product.
Confused about what AV Gear to buy or how to set it up? Join our Exclusive Audioholics E-Book Membership Program!
See also:
Recent Forum Posts:
AcuDefTechGuy posts on April 23, 2016 11:37
johnny fed, post: 1134445, member: 78329
can anyone tell me how vinyl sounds through a VPI classic turntable.
Hmmm……like……….vinyl………..crackles and pops.
johnny fed posts on April 22, 2016 21:36
can anyone tell me how vinyl sounds through a VPI classic turntable.
irishnutter posts on May 08, 2014 22:03
Hi…to anyone that owns the PM-11S3, can you comment if you compared it to any other highly rated integrateds in the same general price range? I'd be particularly interested in any thoughts of the 11S3 vs. the Coda CSI-b, LSA Statement, or MF 6500i. Thanks!
Vlasto posts on April 28, 2014 17:57
I believe that is a great machine, but I'm not very amazed by construction and ''bowels' inside…as the photo reveals it …
gotoma8 posts on March 15, 2014 17:35
Thanks Gene, I look forward to it.

So, do you still have the PM11S3?

Tuan
Post Reply