Marantz PM-11S3 Integrated Amplifier Listening Tests
Marantz PM-11S3 Integrated Amplifier Listening Tests
I started out my listening tests with some ole' fashion vinyl records followed my high resolution 24 bit FLAC recorded on a HDD and streamed through my Oppo BDP-105.
LP: Phil Collins –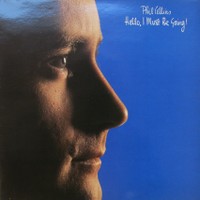 Hello, I Must Be Going
An oldie but a goodie.  Phil Collins remains one of the major musical influences in my life, from his provocative lyrics to his incredible drumming skills.  Hello, I Must Be Going was his second solo effort that still carried elements of his Genesis progressive rock influence while also bringing a more commercial appeal.  Talk about a rough love life, Collins divorced three times and set the divorce pay-out record. You can feel his relationship pains in Track #1 "I Don't Care Anymore".  With the Marantz PM-11S3 at the helm powering my Status 8T reference speakers, bass was authoritative and tight.  I was pleasantly surprised by the low noise floor of this recording which allowed for great stereo separation and to really feel the anger in his voice.  Track #2 "I Cannot Believe It's True" is a more upbeat, feel good relationship song that's great to dance to with your significant other.  The trumpets had a nice bite to them and it just sounded great.  The PM-11S3 showed off its might in Track #7 "Thru These Walls" with the explosive drumming giving up little or no dynamics from what I recall hearing on my reference 1kwatt mono-bloc amplifiers.  Phil's vocals were dead center and crystal clear even during the loud transients.
24-Bit FLAC: Michael Jackson - Thriller
Still one of the best selling records of all time, Michael Jackson's Thriller doesn't disappoint. I have this record on Vinyl and 24 Bit FLAC and it sounds fabulous on both formats.  The FLAC file does have the advantage of a lower noise floor however while the Vinyl sounds a bit warmer.  The PM-11S3 displayed excellent stereo separation on Track #8: P.Y.T. (Pretty Young Thing).  Bass was tight and snappy while the vocals well anchored.  Track #9 "Lady in My Life", probably my all time favorite MJ song, just sounded spectacular. The vibrato of Michael Jackson's voice was beautiful.  The sound was very spacious and airy.
24-Bit FLAC: Norah Jones – Come Away with Me
I honestly cannot listen to Norah Jones without thinking of the movie Ted.  He permanently distorted my image of her, but I digress.  The holographic projection of the brushes was mesmerizing in track #5 "Come Away with Me."  Norah's poetic voice sounded like it was coming right through the center of my skull as she tickled the ivories and seduced me to do just that.  The vocals came through with great articulation in Track #10 "Painter Song."  The bass was very deep as it should be and the PM-11S3 reproduced all of the intimacy of the song.  Track #12 "Nightingale" showed off the low noise floor of the PM-11S3.  The acoustical guitar popped out with excellent detail, while the piano had lots of depth sounding like it was emanating from behind the main speakers.  I was really enjoying the purity of Norah's voice and the tightness of the upright bass.
24-Bit FLAC: Muse – 2nd Law
I was first introduced to this band on American Idol a few years back where they performed "Uprising" live.  I just had to hear more so I picked up their 2nd Law album and have been pleasantly surprised.  Track #1 "Supremacy" sounds like it could be the lead song in the next James Bond film.  This song is epic and the PM-11S3 reproduced the grand scale nature of this song with thunderous bass and screeching guitars.  I was expecting the PM-11S3 to falter on Track #2 "Madness" which has gobs of sustained watt-robbing bass.  Driving my reference speakers that dip into the high 2 ohm territory at bass frequencies is just torture on an amplifier for a song like this.  Instead, the Marantz amp delivered in spades.  Bass was deep, tactile and clean.  Vocals remained unadulterated even under such heavy strain.  The PM-11S2 would have shut down almost instantly if I ran this track with my reference speakers.  Marantz heard my complaints about the PM-11S2 with this issue and made quite a substantial improvement in this regard by tweaking the sensitivity of the protection circuit and beefing up the power supply. 
Confused about what AV Gear to buy or how to set it up? Join our Exclusive Audioholics E-Book Membership Program!
See also:
Recent Forum Posts:
AcuDefTechGuy posts on April 23, 2016 11:37
johnny fed, post: 1134445, member: 78329
can anyone tell me how vinyl sounds through a VPI classic turntable.
Hmmm……like……….vinyl………..crackles and pops.
johnny fed posts on April 22, 2016 21:36
can anyone tell me how vinyl sounds through a VPI classic turntable.
irishnutter posts on May 08, 2014 22:03
Hi…to anyone that owns the PM-11S3, can you comment if you compared it to any other highly rated integrateds in the same general price range? I'd be particularly interested in any thoughts of the 11S3 vs. the Coda CSI-b, LSA Statement, or MF 6500i. Thanks!
Vlasto posts on April 28, 2014 17:57
I believe that is a great machine, but I'm not very amazed by construction and ''bowels' inside…as the photo reveals it …
gotoma8 posts on March 15, 2014 17:35
Thanks Gene, I look forward to it.

So, do you still have the PM11S3?

Tuan
Post Reply