Marantz PM-11S3 Integrated Amplifier Conclusion
Marantz PM-11S3 Integrated Amplifier Conclusion
The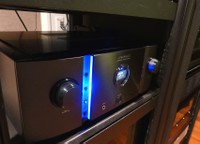 Marantz PM-11S3 integrated amplifier isn't for the budget minded audio enthusiast.  It is designed for the audiophile that values performance, and aesthetics equally without worrying about if he/she is getting the most watts per dollar they can afford.  If you're looking to assemble a great performing two-channel system with the possibility of expanding it to multi-channel someday, then this may just be your ticket. 
With this Marantz piece, you've got the three big things audiophiles look for in a product: performance, aesthetics, and pride of ownership.  Trust me, when your friends come over and see the PM-11S3 all gussied up on your rack flaunting the seductive blue blacklit front panel display, they're gonna go Pavlov's dog on you.  Just be prepared with wine and spirits to host long listening sessions as the PM-11S3 will bring out all of the fidelity of the source material you throw at it and it will drive your speaker system with the quality power they yearn for.

Marantz Audio Corporation
PM-11S3 Review
MSRP: $4,999
The Score Card
The scoring below is based on each piece of equipment doing the duty it is designed for. The numbers are weighed heavily with respect to the individual cost of each unit, thus giving a rating roughly equal to:
Performance × Price Factor/Value = Rating
Audioholics.com note: The ratings indicated below are based on subjective listening and objective testing of the product in question. The rating scale is based on performance/value ratio. If you notice better performing products in future reviews that have lower numbers in certain areas, be aware that the value factor is most likely the culprit. Other Audioholics reviewers may rate products solely based on performance, and each reviewer has his/her own system for ratings.
Audioholics Rating Scale
— Excellent
— Very Good
— Good
— Fair
— Poor
| Metric | Rating |
| --- | --- |
| Frequency Response Linearity | |
| SNR | |
| Measured Power (8-ohms) | |
| Measured Power (4-ohms) | |
| Build Quality | |
| Fit and Finish | |
| Audio Performance | |
| Performance | |
| Value | |
See also:
Confused about what AV Gear to buy or how to set it up? Join our Exclusive Audioholics E-Book Membership Program!
Recent Forum Posts:
AcuDefTechGuy posts on April 23, 2016 11:37
johnny fed, post: 1134445, member: 78329
can anyone tell me how vinyl sounds through a VPI classic turntable.
Hmmm……like……….vinyl………..crackles and pops.
johnny fed posts on April 22, 2016 21:36
can anyone tell me how vinyl sounds through a VPI classic turntable.
irishnutter posts on May 08, 2014 22:03
Hi…to anyone that owns the PM-11S3, can you comment if you compared it to any other highly rated integrateds in the same general price range? I'd be particularly interested in any thoughts of the 11S3 vs. the Coda CSI-b, LSA Statement, or MF 6500i. Thanks!
Vlasto posts on April 28, 2014 17:57
I believe that is a great machine, but I'm not very amazed by construction and ''bowels' inside…as the photo reveals it …
gotoma8 posts on March 15, 2014 17:35
Thanks Gene, I look forward to it.

So, do you still have the PM11S3?

Tuan
Post Reply