Emotiva XPR-1 Mono Amplifier Review Conclusion
Emotiva XPR-1 Mono Amplifier Review Conclusion
There is little not to like a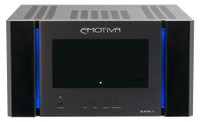 bout the Emotiva XPR-1 mono-block amplifiers.  They deliver a level of audiophile performance that bellies their price. Although they lack the snob appeal of some of the more expensive and prestigious brands, the Emotiva XPR-1 gives up nothing in the performance department, especially with regards to power.  They are built well with all the proper engineering in place to ensure reliable, problem free performance for years to come.
I did my best to sonically compare the XPR-1 with some of the more expensive and more prestigious amplifiers I had on hand that I recently reviewed, namely the Classe CT-2300 (MSRP: $6,500) and Pass Labs X-350.5 (MSRP: $11,000).  Unfortunately I didn't have a way to instantaneously switch between amps to give an accurate assessment.  However, I will say this; I didn't notice anything missing from the XPR-1 at low listening levels which I was most concerned with.  At higher listening levels, the added power and dynamic capabilities of the XPR-1 were a big advantage when powering my reference speakers.
With the XPR-1, Emotiva has answered my calling to all manufacturers to build an ultra-high power, efficient and affordable mono-block amp that is robust enough to properly drive even the largest and most power hungry speaker systems on the market.  The XPR-1 truly lives up to the "Reference series" name that Emotiva has reserved for their very best products.  It is the Jedi Master of power amps that would make even an audiophile Sith Lord proud to own.
If you're looking to build the ultimate two-channel system free of any compromises in dynamics, a pair of the Emotiva XPR-1's should be on your short list of amplifiers that can live up to such a challenge.  This is a safe purchase and a highly recommended one!
Emotiva Audio Corporation
Emotiva Audio Corporation
135 Southeast Parkway Court
Franklin, TN 37064
615-790-6754 | 877-EMO-TECH (877-366-8324)
XPR-1 Review
MSRP: $1499/ea
The Score Card
The scoring below is based on each piece of equipment doing the duty it is designed for. The numbers are weighed heavily with respect to the individual cost of each unit, thus giving a rating roughly equal to:
Performance × Price Factor/Value = Rating
Audioholics.com note: The ratings indicated below are based on subjective listening and objective testing of the product in question. The rating scale is based on performance/value ratio. If you notice better performing products in future reviews that have lower numbers in certain areas, be aware that the value factor is most likely the culprit. Other Audioholics reviewers may rate products solely based on performance, and each reviewer has his/her own system for ratings.
Audioholics Rating Scale
— Excellent
— Very Good
— Good
— Fair
— Poor
| Metric | Rating |
| --- | --- |
| Frequency Response Linearity | |
| SNR | |
| Output Impedance | |
| Measured Power (8-ohms) | |
| Measured Power (4-ohms) | |
| Multi-channel Audio Performance | |
| Two-channel Audio Performance | |
| Build Quality | |
| Fit and Finish | |
| Ergonomics & Usability | |
| Features | |
| Performance | |
| Value | |
See also:
Confused about what AV Gear to buy or how to set it up? Join our Exclusive Audioholics E-Book Membership Program!
Recent Forum Posts:
Lvnsnfnatk posts on October 17, 2015 13:23
I'm grateful to have found this website! You guys review great gear that is priced resonably. These Emotiva Monoblocks appear to be well made and have good sound. They also make a pure class A amp. Is there a dealer where I can hear this gear A/B'd ?

I'm a power junkie for sure and am so relieved I changed out the 15A crap that was there prior. My room is wired by 3 separate 20A recepticles with my amp getting its own line. I just assumed these lines are 220V as you recommend, but i'm not sure. How can I tell?

Can I somehow wire in a 30A line for the amp? I realize the recepticle and plug is different as on a clothes dryer, but the temptation to get more power has me contemplating it. I wonder if it's possible? Just a thought.
AUTOBOT posts on April 18, 2015 12:10
Please do a youtube video on this amp.
I have a pair of these with dedicated 20 amp circuits for each amp hospital grade isolated ground receptacles.
Love them.
sharkman posts on July 27, 2014 10:47
I stand corrected on McIntosh amps, I didn't realize they made a 2000 watt mono. I think that's way beyond the needs of 99.9% of audio owners as well, and I'd wager they don't sell as well as their 600 watt mono.
gene posts on July 27, 2014 00:30
Macintosh amps are more realistic in the power department. 99.9% of audio owners don't need 1000 watts per channel, and no house is built with 20 amp dedicated lines,
Maybe the meaning of your message was lost in cyberspace but I fail to see how Mcintosh amps are more "realistic" in the power department. Last time I checked McIntosh also builds 2kwatt Monobloc amplifiers.
McIntosh MC2KW Amplifier, 1 Channel 2000 Watts McIntosh MC2KW Amplifier
You're not getting that kind of power from 120Vac/15A circuit.
Need that much power, get a dedicated 20A line or 220V or both. Don't need it? Get a smaller amp.
sharkman posts on July 26, 2014 02:40
Where did I fault Emotiva? I simply said most owners don't need 1000 watts per channel. You characterize something I said wrongly, then attack me for it. Weird.
Post Reply