Roomie Remote Review - Package Options & Setup
Roomie Remote Review - Package Options & Setup
In the average setup, you'll need more than just the Roomie app.  So don't be deluded by the fact that you're solving all your remote needs with a $9.99 investment.  And, if you're a newbie to home automation or universal remotes, exactly what you'll need may be confusing.  Let me try and sort it out.
First of all, the initial purchase of the app only allows you to control only two devices—and those devices must support IP-control.  For most of us home-theater guys, we're probably going to control at least four devices and some of those devices will have either Infrared or serial as their primary remote interface.  If that's the case in your situation (as it was in mine) then you'll need to add some additional in-app purchases and also add an external hardware device to make Roomie work.
The first extra in-app purchase is the home theater pack for $19.99, which adds support for unlimited devices.  The second is the Infrared Control Pack for $9.99, which adds support for Infrared devices. If you're keeping track, that puts you at $40 total for the software cost—and we're not done yet.
Because the iPhone and iPad don't have built-in Infrared transmitters or serial (RS-232) connectivity, you'll need to add an adapter to convert Roomie's IP signals to Infrared or serial.  Any external hardware you'll need is readily available at Roomie's Online store. You have two choices: first you can add the L5 Universal Remote Accessory Infrared connector. This is a small hardware device you attach to the bottom of your iPhone or iPad. This will then allow your iOS device to work like a regular remote.  You simply point and press and an Infrared signal emits from the device.
The second choice, which is the one I prefer and would recommend, is an iTach IP to IR/Serial adapter made by Global Caché. The iTach adapters are available in a number of configurations (consult their store for more details) depending on your needs, but all follow a similar design. Essentially, the iTach devices are small IP to IR or IP to Serial devices that connect to the network (Ethernet and WiFi versions available) and have plugins for IR blasters and IR emitters, or a serial cable if you purchase the IP to serial version. Depending on which adapter best fits your needs, you could end of spending around $100 in hardware. Again, you can easily purchase these from the Roomie online store.
       L5 IR Adapter                              iTach WiFi to IR Adapter
The simple point here is that your total investment in Roomie won't simply by $9.99.  You will likely need to spend between $75-$120 to optimize your Roomie Remote setup. And that's just for one room. That puts it in the price range of a universal remote like the URC RF-20 or Harmony 650. Choosing to buy the Roomie isn't a no-brainer.
Taking Roomie for a Spin
When you first launch the Roomie Remote app, you're immediately prompted to setup a room and choose a representative graphic for that room. Let me point out that the base Roomie app only supports one room.  If you want to configure more than one room, then you need the home theater pack, which then gives you the ability to add an unlimited number of rooms.  Having been a long-time Harmony Universal Remote user, I loved the ability to switch between rooms easily anytime I wanted by going to Roomie's main screen.  What's also cool is that you can control rooms independently.  So you can control your movie in one room and your music listening in another—all from a single remote.
When you add a room, Roomie gives you the flexibility to name a room whatever you want.  You also get a nice selection of stock images to use to represent your room.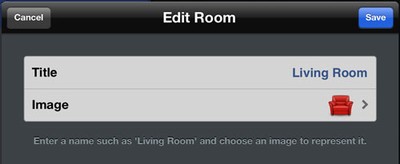 Edit a Room
I started off my review by setting up my "Living Room" since that's my primary music and home theater space.
Next, I set up my devices. For new users, it may be confusing to initially see a "System Off" option.  Don't be confused by this.  By default, Roomie gives you a "System Off" option for every room.  This single button makes it easy to turn off all the devices in your room when you're done. You can fine-tune any aspect of the default "System Off" behavior at any time.
I set up five devices initially: my TV, Oppo BDP-83 Blu-ray player, Roku, AppleTV, and iTunes server.  Setup for each was straightforward. The Roomie immediately found both my Roku and iTunes library on the network.
When you add a device, it will ask you first to choose the type of device to add (receiver, Blu-ray player, etc.) and then you select the manufacturer and model of the device.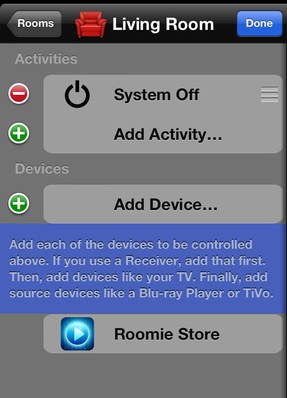 Living Room Setup
Any IP-controllable devices, such as my iTunes Library and Roku media player instantly appeared in my Roomie app.  Don't be confused between devices that connect to a network and devices that can be controlled over a network via IP.  For example, an AppleTV will connect to your home network but Roomie can only control an AppleTV via Infrared.  The same holds true for many receivers and TVs.  To avoid any confusion, Roomie maintains an extensive list of devices it can control via IP. What's nice about the compatibility list is it will also note any limitations.
What do you do if you have a device that doesn't show up?  If a device were on my network but not listed, I had the option to manually enter its IP address and custom port number.  As a best practice, I always assign manual (static) IP addresses to all of my gear with addresses that are beyond my network's DHCP scope.  I then label each device with its static network address.
There are two important reasons for this best practice: first if I ever need to find a network device, I know its IP address.  Secondly, assigning a static address will prevent that device from having its IP address changed by your router or DHCP server.  While Roomie is thankfully smart enough to recognize if a device has changed its IP address and will notify you of that change, it will temporarily mess up functioning of that activity.  If you want more information about setting up your network, you can refer to our router setup guide.
Confused about what AV Gear to buy or how to set it up? Join our Exclusive Audioholics E-Book Membership Program!
See also:
Recent Forum Posts:
TheoN posts on February 03, 2020 19:09
It was actually my review and yes I'm still using Roomie. The app has gone through some transformations. It was called Simple Control and now the latest version is back to Roomie Remote. The UI has changed radically. I still find it to be a solid, reliable and extensible product. My biggest beef with Roomie is the lack of volume and input feedback on Anthem products over IP. I use it with my Denon X8500H, Oppo units, etc and it's bulletproof. The newest version adds Siri integration and HomeKit integration so you can activate activities by voice.

Not everyone is happy with the app's support. You'll see that in forums and posts. For the most part I've never had an issue that support couldn't solve. This isn't a big company so set your expectations accordingly.

I've not had experience with Harmony's hardware released within the past 24 months.i casually use two sites with Harmony and use the iOS app with them and by comparison I find Harmony to be SIGNIFICANTLY slower than Roomie when executing a series of commands and I find it less flexible than Roomie for really complex things. The iOS app is OK but sluggish to execute commands. I do like the ability for cloud control of activities and have used that with the two sites. That being said it's the best game in town if you need RF and a physical remote.

Today I still choose Roomie in my environment.
Rick DeBlock posts on February 03, 2020 16:20
Cliff Heyne, It's been 5-6 years since your review of the Roomie Remote. I would be interested in knowing if you're still using it in your setup, your thoughts after 5 years of experience with it, what's new in 2020, is it the best iOS solution, especially with a comparison to Harmony's latest iOS solutions.
itschris posts on January 28, 2014 09:50
TheoN, post: 1013583
Great to hear Chris! Good luck. I think you'll really like the Harmony in your setup.
I hope so. My happy home depends on it. I'm a little concerned about getting the HTPC controlled, but we'll see. I went with the Harmony Ultimate because I think it has all possible options, touchscreen remote, iOS/Android remote apps, blu-tooth & blasters… etc. I just thought it gives the most options. Controlling XBMC with the iOS app is amazingly easy and efficient… just getting to that point is the tough part for the wife… i.e., getting everything turned on an switched. That's where the Harmony comes in.
If I can get the macros to somehow switch to the XBMC app on the iPad it would make the whole world wonderful.
TheoN posts on January 28, 2014 09:22
Great to hear Chris! Good luck. I think you'll really like the Harmony in your setup.
itschris posts on January 27, 2014 12:20
I went ahead an ordered the new Harmony Ultimate just about 20 minutes ago. After dealing with my XBMC setup, I'm in not condition to tinker. I just sort of wanted something established and I really really dig the idea of having a remote and an iOS remote app as well.

I think this solution, however, has tons of merit… I'm just cutting edge… first adopter type material however. If I wouldn't have found about the new Harmony I probably would have went this route.
Post Reply