Roomie Remote Review - Setup Continued & Conclusion
Roomie Remote Review - Setup Continued & Conclusion
Once you've finished your devices and activities setup, Roomie will build a customized remote for that activity. The custom remote will feature all the commands you need to control that activity.  You can always add additional buttons, commands, and macros so that your experience is completely customized.  If you prefer the look of the device' native remote, you can even choose to use a copy of the manufacturer's remote.
The only potential shortcoming is that you can't completely customize the color or feel of the remote.  I never found this to be a drawback as Roomie's graphics and UI are well done.  This may be a limitation, however, for some specialized applications that need a fine-tuned layout or have specific branding requirements.
I tested native integration with Roku and iTunes.  Roku integration was wonderful.  You get a full display of all your channels and apps right on the Roomie Remote.  If you're on an iPad, you can see both the Roku virtual remote and your channels at the same time.  If you're on an iPhone, you can only view one at a time.
Pressing on a Roku channel instantly opened it and if you ever need to use a keyboard on the Roku, it's fully integrated with Roomie.  There's no longer a need to use a clumsy on-screen keyboard.  The only limitation you'll find is with games like Angry Birds. The Roomie Remote won't take the function of the gyroscopic motion sensing that's present in the Roku Bluetooth remote.  Other than that limitation, I much preferred the Roomie functionality to the native Roku Remote.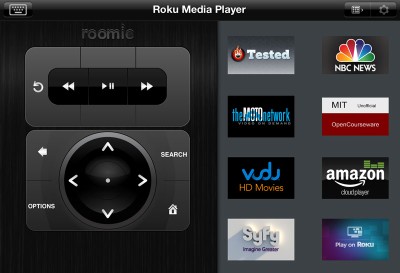 Roomie Roku Interface on iPad
While adding an iTunes Library was easy, the overall experience fell far short of Apple's own Remote app.  When navigating through iTunes, I found Roomie just a hair sluggish.  It's one of those situations where it was just enough to notice but not so much where you were going to throw the iPad out the window. 
Roomie only offers a basic, functional display of your library.  The glaring limitation in my opinion is the inability to search the iTunes library.  In Roomie's defense, I think this may be more of an Apple issue as Apple hasn't been great at publishing interfaces and hooks to tie into iTunes.
Regardless, I had immediate access to my entire library—music, movies, TV shows, audiobooks, podcasts, and iTunes U.  I could navigate by album or artist and see all my playlists.  I also had instantaneous access to shuffle and repeat and I had an AirPlay button available at all times.  As far as iTunes is concerned, the integration worked, but some users may simply prefer to occasionally jump over to Apple's Remote app.  Apple's Remote app simply has a better layout and slightly better performance.
A nice feature of the iTunes library implementation was AirPlay support.  Anytime I wanted, I could find and chose an AirPlay enabled device on my network and stream whatever I was playing to that device.  Whatever feature and functionality I tested worked without issue.
Since I don't have a TiVo, Sonos, or DirectTV, I wasn't able to test how well Roomie integrates with those specific devices; but if those perform similarly to iTunes and Roku, this is a real win for owners of those devices and services. You finally have a single remote that can give you centralized management of all your media sources.      
When I turned to see how Roomie handled traditional, infrared control of my TV, Oppo Blu-ray player, AppleTV, or receiver, I found Roomie to be incredibly responsive.  In fact, what struck me was how fast Roomie executed commands and activities compared to my Logitech Harmony remote.  The only drawback of using Infrared was the lack of two-way feedback.  Once I had tasted Roomie's two-way feedback system, I was spoiled.  Having everything happen and confirmed right on my screen was addicting.
Handling unsupported devices
While Roomie tends to be pretty good at supporting newly released devices, you may run into a situation where Roomie doesn't have support for a device you want to control.  Fortunately, Roomie makes it easy to add new devices and learn commands from the IR remote. To add a new device, you simply select "custom devices" from the main settings menu and then add the device as you would from the main screen.  You'll be prompted choose the kind of device.  Then, Roomie will ask you to learn and map the IR commands to a custom remote control.
I like how Roomie made the IR learning process easy.  When you go to add custom IR commands, Roomie will show you a picture of your Infrared adapter and show you visually where the IR learning port is on the unit.  Then, as you're learning the commands, Roomie will give you visual feedback on the IR signal strength and success. 
To further streamline the process, Roomie will show you the button, for example, volume up, and then prompt you to learn the IR command for that button.  If your remote has additional buttons, you can create those on the fly too. 
Depending on how many commands you want to learn and map, the process could take anywhere from 5-25 minutes.  I set up a custom device for a Monoprice HDMI matrix switcher.  While the process was fairly straightforward, I did have some trouble adding some of the buttons.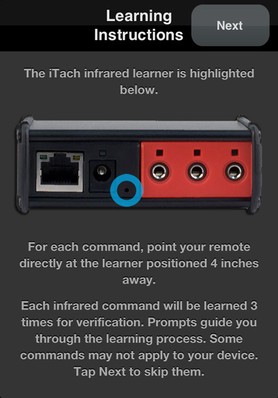 Learn IR Commands
The problem was not so much Roomie as it was the IR commands being issued by the Monoprice unit.  Bottom line: cheap versions of products may have harder to learn IR commands than more mainstream products.
The newest version of Roomie adds support for lighting, shade, and video systems.  If any of these are contact-closure based, then you'll need an additional Global Caché IP to contact closure adapter for your network.  If you're unfamiliar, contact closure is an interface that senses whether or not a circuit is open or closed.  Lighting and automated window shade systems, for example, often use contact closure interfaces to turn the light on or off or have the shade open or closed.
What's really cool about lighting and shade support is that these can be added to your activities.  Let's say, for example, you want to "watch a movie".  You could then program that activity to automatically dim the lights down to 10% and close all the shades in your room.  Because Roomie supports extensive macros, the sky is the limit with the configurations you could set.
If you plan to use Roomie with video surveillance systems, you need to make sure that the system supports the RTSP (real-time streaming protocol) standard.  The really neat thing about the video integration is that you can see the different camera views integrated directly into the remote control.  For example, if you are listening to music on your back yard patio you can have a view that shows you the front door camera.  In other words, you can create dedicated or contextual views of video setups within the app.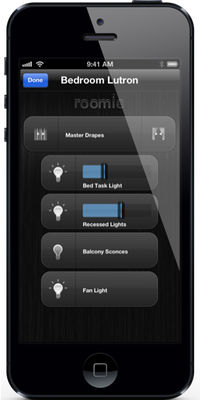 Lighting Controls
One word of caution, if you're going to use Roomie with your lighting, drapery, or video then you're completely out of luck with the tutorial video showing you how to set these up. This is yet another instance where a brief user manual or quick setup guide would make life so much easier for end users.
Fortunately, they work along the same setup concepts other devices.  For supported cameras, you'll need to make sure you get the URL of your camera feed right.  Unlike regular web sites that are prefixed by http://, supported camera URLs will normally begin with rtsp://.
Suggestions for Improvement

No product is perfect.  So what are the limitations you'll need to be aware of?  First, as I mentioned before, you cannot customize the remote control design or color.  In other words, you can have any color you like as long as it's black (literally).  So if you don't like Roomie's gloss black remote look and want to change it to electric blue or Steelers black and gold, well, you can't.  If you want to make a button a certain color to make things more intuitive, you can't.  If you want to skin the remote so that it reflects a particular company branding, you can't.
For me personally, I found Roomie's remote designs to be generally appealing and well done. However, the one thing that would be very helpful is a "button view" of all the rooms and activities.  If you're using Roomie in a conference room, having a larger button layout would make switching rooms and starting activities easier and more intuitive.  I did find the limitation and font size of the current linear layout to be somewhat restrictive.
What if you're an Android user and you like what Roomie offers?  Well, you're out of luck there too. According to Roomie's web site, don't hold your breath for an Android version of the app either. The same holds true for those of you who may want to use Roomie via your computer or laptop.  This is an iOS-only remote.
IP Control

And what about Roomie the company?  Roomie isn't huge.  So another valid question is whether or not Roomie still be around in five years or ten years and whether or not you'll experience the ups and downs and ups like Logitech Harmony users have.  While no one can predict the future, the one thing I can say is that Roomie has had a very active upgrade and feature schedule (a very positive sign for any company) and any hardware you purchase isn't Roomie-specific.  Any and all the iTach hardware you purchase can be reused among many other home automation systems.  So those are investments that won't be lost.
Other than my previously noted utter dissatisfaction for Roomie's lack of detailed documentation, I didn't have much more to complain about in my extensive use of the app.  I'm hopeful that Roomie will continue to support more and more automation areas and include support for environmental (heat and HVAC) control systems.  I'd love to have the ability to control all elements of a zone—equipment, lighting, shading, security, and environmental—when starting an activity!
Conclusion
Every home theater setup deserves a capable universal remote.  Roomie Remote not only promises but also delivers a slick, powerful, and easy-to-use iOS-based universal remote control app that can fit almost every conceivable need.  With support for IP, IR, serial, and contact closure, Roomie can truly serve as the heart and soul of any home automation system.  Roomie offers broad support for a wide array of devices, is incredibly flexible, and each new version continues to deliver functionality previously reserved for only the most expensive custom installer-based systems.
By the end of my review, I had setup Roomie on three iOS devices and was able to control ten components, three audio zones, and four rooms in my house.  My wife used Roomie as her main remote from her iPhone and at the press of a button accessed whatever she wanted.  What's more, I probably paid Roomie Remote the biggest complement I can give any product: it's now the center of my entire home entertainment system and has brought spousal harmony across all our media.  And what's happened to my Logitech Harmony remotes?  You can find those for sale on eBay.
The Score Card
The scoring below is based on each piece of equipment doing the duty it is designed for. The numbers are weighed heavily with respect to the individual cost of each unit, thus giving a rating roughly equal to:
Performance × Price Factor/Value = Rating
Audioholics.com note: The ratings indicated below are based on subjective listening and objective testing of the product in question. The rating scale is based on performance/value ratio. If you notice better performing products in future reviews that have lower numbers in certain areas, be aware that the value factor is most likely the culprit. Other Audioholics reviewers may rate products solely based on performance, and each reviewer has his/her own system for ratings.
Audioholics Rating Scale
— Excellent
— Very Good
— Good
— Fair
— Poor
| Metric | Rating |
| --- | --- |
| Performance | |
| Function | |
| Versatility | |
| Stability | |
| Ease of Setup/Programming/Integration | |
| Performance | |
| Value | |
See also:
Confused about what AV Gear to buy or how to set it up? Join our Exclusive Audioholics E-Book Membership Program!
Recent Forum Posts:
TheoN posts on February 03, 2020 19:09
It was actually my review and yes I'm still using Roomie. The app has gone through some transformations. It was called Simple Control and now the latest version is back to Roomie Remote. The UI has changed radically. I still find it to be a solid, reliable and extensible product. My biggest beef with Roomie is the lack of volume and input feedback on Anthem products over IP. I use it with my Denon X8500H, Oppo units, etc and it's bulletproof. The newest version adds Siri integration and HomeKit integration so you can activate activities by voice.

Not everyone is happy with the app's support. You'll see that in forums and posts. For the most part I've never had an issue that support couldn't solve. This isn't a big company so set your expectations accordingly.

I've not had experience with Harmony's hardware released within the past 24 months.i casually use two sites with Harmony and use the iOS app with them and by comparison I find Harmony to be SIGNIFICANTLY slower than Roomie when executing a series of commands and I find it less flexible than Roomie for really complex things. The iOS app is OK but sluggish to execute commands. I do like the ability for cloud control of activities and have used that with the two sites. That being said it's the best game in town if you need RF and a physical remote.

Today I still choose Roomie in my environment.
Rick DeBlock posts on February 03, 2020 16:20
Cliff Heyne, It's been 5-6 years since your review of the Roomie Remote. I would be interested in knowing if you're still using it in your setup, your thoughts after 5 years of experience with it, what's new in 2020, is it the best iOS solution, especially with a comparison to Harmony's latest iOS solutions.
itschris posts on January 28, 2014 09:50
TheoN, post: 1013583
Great to hear Chris! Good luck. I think you'll really like the Harmony in your setup.
I hope so. My happy home depends on it. I'm a little concerned about getting the HTPC controlled, but we'll see. I went with the Harmony Ultimate because I think it has all possible options, touchscreen remote, iOS/Android remote apps, blu-tooth & blasters… etc. I just thought it gives the most options. Controlling XBMC with the iOS app is amazingly easy and efficient… just getting to that point is the tough part for the wife… i.e., getting everything turned on an switched. That's where the Harmony comes in.
If I can get the macros to somehow switch to the XBMC app on the iPad it would make the whole world wonderful.
TheoN posts on January 28, 2014 09:22
Great to hear Chris! Good luck. I think you'll really like the Harmony in your setup.
itschris posts on January 27, 2014 12:20
I went ahead an ordered the new Harmony Ultimate just about 20 minutes ago. After dealing with my XBMC setup, I'm in not condition to tinker. I just sort of wanted something established and I really really dig the idea of having a remote and an iOS remote app as well.

I think this solution, however, has tons of merit… I'm just cutting edge… first adopter type material however. If I wouldn't have found about the new Harmony I probably would have went this route.
Post Reply