Niles iC2 Introduction & Features
Niles iC2 Introduction & Features
Introduction & Features
Call me old-school, but I still like a hard-button remote control.  Something about that tactile feedback combined with dedicated buttons still does it for me.  As cool as touchscreen remotes are, you still typically have to drill down through several pages for each component in your system, and I have yet to find one that I can operate without looking at.  I like a remote that has buttons I can "feel." 

About 8 years ago, I bought a used Niles IntelliControl and programming module from an installer, and taught myself how to program it.  I loved it.  It was a big, two handed remote that you could not possibly lose in your couch cushions, and it was totally self-explanatory.  I could just hand it to the babysitter or my in-laws, and they could figure out how to fire up the home theater without my help.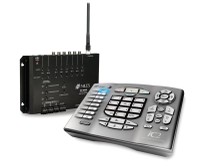 Niles introduced the original IntelliControl in 1994, expecting it to have about 5 years of life.  Much to their delight, the product lasted 12 years as a result of its simple, no-nonsense approach that pleased both installers and consumers alike.  Ken Johnsen has been with Niles for over 9 years, and started out as a training manager for the IntelliControl.  For six years as he trained custom installers and integrators on the product, he received input.  Enough input, in fact, to develop a new version of this great product.  Niles wisely put Ken into place as the Product Manager, and he developed the new iC2.  The challenge was to improve on a product that was already good, and make it great.   A couple of the major improvements included replacing the expensive traditional alkaline D-cell batteries with a rechargeable Li-ion battery that has a 5-7 day life before needing a charge, and reducing the weight of the unit from 2.1 lbs. to 1.2 lbs. The redesigned form factor fits the hands better, too, with the user's thumbs in a natural position to accomplish most tasks.
For the redesign, one of the first issues was buttons.  This was the obvious starting point for the product, as remote controls from cable and satellite boxes had outgrown the original buttons on the IntelliControl.  As we discussed this, Ken said "I can never put enough buttons on this product."  This is true - someone will always complain that a fixed button system is missing a control they want to have.  So the concept was to create a layout that allows a user to accomplish 80% of his day-to-day tasks without any unlabeled functions.  There is no power button, rather eight clearly labeled master keys that allow anyone to pick up the remote and understand it.  Just press "DVD" to power up the system and have everything selected to start watching a DVD.  There is a large "System Off" button that powers down your entire rig when you are done. 

Not only did Niles put me in touch with Ken for this review, they actually sent him to my home to personally install the iC2 in my Audioholics Reference room.  The system includes the tabletop remote and the Main System Unit, which we mounted on the wall behind my rack of gear.  The concept of the system is simple - the remote communicates with the MSU via ZigBee RF wireless technology.  IR flashers or RS-232 cables are wired from the MSU directly to each component in my rack, making for flawless communication with the gear.  The MSU also uses video sync to determine the on/off state of components, so macros always work - the system always knows what is needed to accomplish any given task.  With IR based remotes, macros can be interrupted if you walk in front of them or don't have them pointed at your gear while they are executing commands.  And if your TV is already on, the sequence will probably turn it off.  The iC2 system eliminates these problems.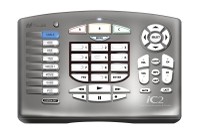 The layout of the iC2 is excellent and very intuitive.  The remote consists of several clusters of function buttons.  On the left, there is a column of eight Master Keys, which provide one-touch access for any home theater source (such as DVD, Satellite, Cable, Blu-ray, CD, etc.) or activity (such as GAMES, SPORTS, NEWS, LIGHTS).  Underneath the Master Keys is the SYSTEM OFF button, which turns off your entire home theater system with a single touch.  The center of the remote includes specialized navigation keys including "A", "B", "C", & "Menu" buttons, which double as red, yellow, green and blue buttons.  These allow control of menus found in today's popular DVR, cable and digital media sources (not to mention Blu-ray and PS3 controls).  Below this array are the number keys for access to channels and Master Key Favorites, as well as FAV and ENTER.  Underneath the keypad are the traditional transport keys for controlling PLAY, STOP, PAUSE, FAST-FORWARD and REWIND functions of DVDs. CDs, DVRs and other sources.  The right-hand side of the iC2 has menu navigation keys (up, down, left, right and SELECT) for control of source guides and on-screen displays.  The volume and channel controls are ergonomically designed and positioned for frequent use.  Rounding out the buttons are GUIDE, INFO, EXIT, MUTE, LAST and a button for the backlight (all buttons are backlit by a soft blue glow).  The buttons have a very pleasing "click" and are large enough to be easy to use without looking.  The backlighting is controlled by a proximity sensor, so it automatically illuminates when you reach for it.  If you prefer, you can turn this feature off and have it light only when you press the backlight button.  There is a tiny blue battery charge indicator on the top center of the iC2 that lights up when the battery is charging, and turns off when done.
The eight master keys are blank, and Niles ships a large sheet full of labels for input sources, channels, and custom functions.  The clear master key buttons can be popped off so the installer can put the label inside of the clear button.  All other buttons are permanently labeled.  The obvious question is: "How do you deal with wanting to have more than nine customizable functions?"  Let's say you want to have nine preset "favorite" channels.  Maybe you are a sports nut, and you want to have all of your sports channels on buttons.  Think of your car stereo.  You probably have six or more presets.  Within a few days of setting up those presets in your car, you know what station each (preset) number represents.  With the iC2, you can have a "DirecTV" master key, and after pressing it you press FAV then "1" for ESPN or FAV then "2" for NFL, etc.  Some will view this as a shortcoming of the iC2, but many will appreciate the tradeoff.  On touchscreen remotes, you will typically have to drill through two or more pages to get similar functions.  After a week of using the iC2, I found it very natural to get to some of my less-used functions, such as presets or changing channel guides. 

The Main System Unit is a slim, wall hugging box that is completely redesigned.  It includes eight routed IR ports and 1 routable global IR output port, allowing for IR routing capabilities, which is necessary for applications with multiple satellite or cable boxes, for example.  There are eight combined video/voltage sensors for power status sync, and eight RS-232 output ports. 

Ken described the MSU as a piece of gear that "lives and breathes based on status."  Power-on deadtime is assignable, allowing for rock solid macros.  Delays in the system are temporary based on status, so an initial "on" sequence might take a little time, but other moves don't have to.  There are three assignable 12v trigger outputs that are completely programmable, as are the assignable relays.

Confused about what AV Gear to buy or how to set it up? Join our Exclusive Audioholics E-Book Membership Program!
See also:
Recent Forum Posts:
birdonthebeach posts on December 13, 2008 22:12
Thanks Hi Ho. Great points - good overview of some of the competition out there. Lots of remotes, lots of opinions, lots of choice. Glad to see you have found your sweet spot. I am always interested in what people are using. Seems there is never a perfect remote - at least not an affordable one!
Hi Ho posts on December 13, 2008 15:47
The iC2 looks like a big improvement over the original IC system but it doesn't look like it would ever sway me away from my URC MX-900 or the newer MX-980. I too am not a huge fan of touch screen remotes. I prefer hard buttons. I think the MX-900/980 is the best of both worlds offering a completely customizable graphical screen with graphical buttons that are activated by hard buttons along the edge of the screen. I find this layout to be infinitely more customizable and useful. One handed operation is also a big plus.
One feature of the iC2 that I really like is the video sync feature. That makes programming rock solid macros much easier for components that lack discrete on/off commands (which are far too common). In order to get that functionality with URC one much purchase the
MSC-400
.
Post Reply