Logitech Harmony One Remote Control Review
Logitech Harmony One Remote Control Review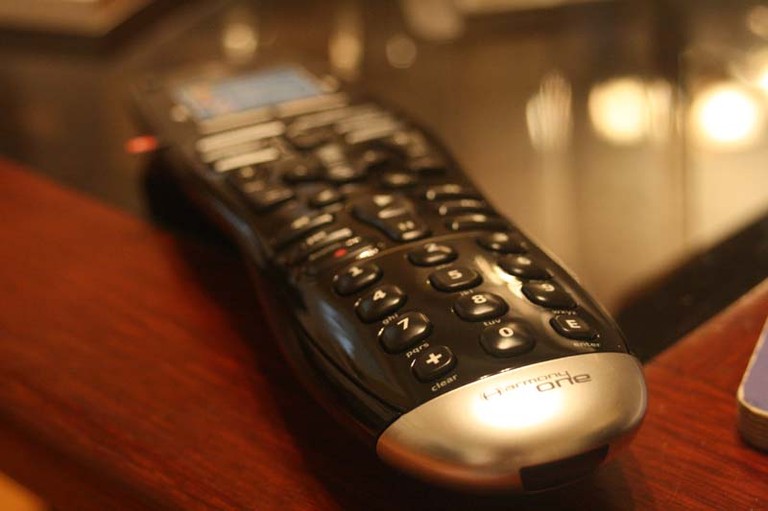 Logitech Harmony One Remote Control
System Requirements
Windows 2000, Windows XP, Windows Vista (PC); Mac OS X 10.3 or later (Mac)
USB port
CD-ROM drive
Internet access
Package Contents
Harmony One remote control
Charging station
USB cable
AC adapter
Lithium-ion battery
Installation CD
Installation guide
1-year limited hardware warranty
Pros
Beautiful look and feel
Nice, tactile button response
Rechargeable with replaceable Li-ion battery
Cons
Finicky touch screen
Programming interface has received only cosmetic updates since inception
No RF features or options
Almost no icon choices for LCD screens
Pricey
Introduction
When a new Logitech Harmony Remote arrives on the scene I like to review it to update readers on the latest models in the line-up. With the introduction of the Harmony One universal remote I felt that Logitech had finally completely usurped the original Harmony design and replaced it with a "from the ground up" approach that reflected Logitech's penchant for svelte devices. In case you were still navigating through that last bit of pontifical text, I was giving them a high compliment. Logitech's Harmony One remote is quite possibly the most beautiful remote control I've ever held.

See also:
Confused about what AV Gear to buy or how to set it up? Join our Exclusive Audioholics E-Book Membership Program!
Recent Forum Posts:
htgeek posts on December 11, 2009 07:44
Good review, Harmony is the easiest remote on the market. I've owned the One for almost a year, after I saw it at last years EHX I had to get it. I have a dual display system and my 6 year old can operate it without issue. Best remote on the market in it's price range. It's big brother the 9000 has RF wich I don't really care for, line of site is much more reliable, unless you spend $2000 on a good RTI. I've delt with URC and Harmony and most consumers don't enjoy the URC entry level stuff as much as Harmony. Only plus I see for URC for dealers/installers is no need for a laptop to update remotes if changes are made.
JohnnyReynolds posts on December 11, 2009 03:02
Amazon has Logitech Harmony One Advanced Universal Remote on sale for $249.99 - $71 instant discount -

Recently I came to know that there is a website named AmazingWatcher.Com which is a free website that will "watch" items for you on Amazon and let you know when amazon has them in stock at regular retail price.It got so awesome!
Good luck everybody!
Adam posts on September 27, 2008 12:46
For those who are interested in this remote, I just saw that Dell has is for
$150
. From reading this thread, there's definitely mixed feelings from people on whether it's good or not, but I figured that I'd put this up for those who were going to buy it anyway.
jostenmeat posts on September 23, 2008 15:55
I'm a former Harmony user who has recently converted to the URC fan club.
Cheaper and better. Both.
Last I saw, the RF-20 + blaster combo was $75. This is RF, and I predict that I will never go back to IR-only.
My audioholics review
10010011 posts on September 23, 2008 11:12
FirstReflection, post: 460091
You definitely need to look down at the remote to make sure you hit the correct touch screen button, so for a future model, I would love for there to be some sort of physical indicator - such as a very slight ridge between each of the buttons. Just enough to give a physical indication of where each button lies on the touch screen.

This has to be the part I hated the most about my Harmony.
I do not want to look at the remote, I want to look at the screen. I can pick up any of my other remotes and simply by touch do all the basic commands I use most often. But not the Harmony, I was always having to look at it and make sure it was in the right "activity", make sure I was hitting the right "button". I think I spent more time looking at that damn remote in an evening then I spent looking at my TV
Post Reply