T.H.E. Show 2023 Part 4: Von Schweikert, Aurender & Estelon, Linn, and More
T.H.E. Show 2023 Part 4: Von Schweikert, Aurender & Estelon, Linn, and More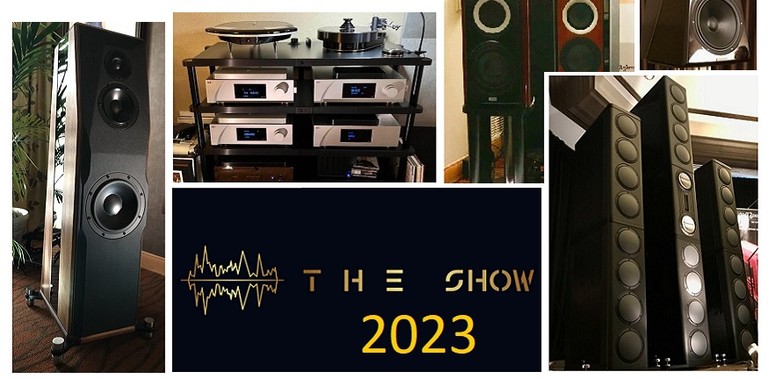 T.H.E. Show 2023
There are some systems that dazzle you within seconds, delivering perhaps more sparkle up top or more slam down low than you've ever heard before. In some instances, this love affair can stand the test of time, but just as often, what sounded impressive initially becomes fatiguing over time. Other systems may not blow you away when you first press play or drop the needle, but they slowly draw you in, making you want to listen longer and longer.
Von Schweikert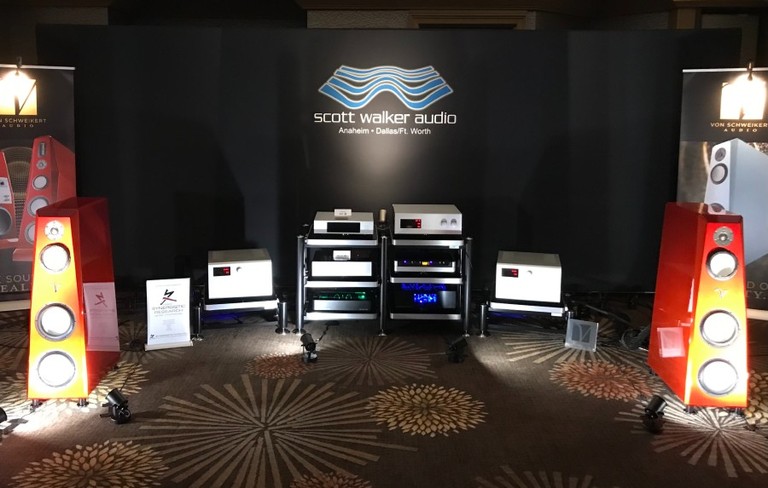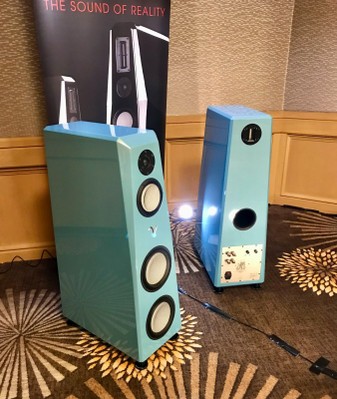 This room featured Von Schweikert Audio's new VR-55 MkII Special Edition loudspeakers ($85,000/pair) in McLaren Volcano Orange finish. (That color certainly popped, but I actually preferred the powder blue of the Von Schweikert Ultra 55 on passive display in the room next door.) The VR-55 MkII SE is a 3-way design with beryllium and ceramic drivers and an adjustable, rear-facing 75mm ribbon tweeter. Although Von Schweikert describes the speaker as "Aktive," only the woofers, which feature transmission-line loading, are powered by internal amps — proprietary designs with 525 watts RMS and a knob allowing the user to dial in the low-frequency performance. The sealed midrange and tweeter enclosure is passive, driven in this case by a Soulution 725 preamp ($65,000) and a pair of Soulution 511 monoblock power amps ($75,000/pair). Unlike earlier versions of the VR-55, the new Special Edition model uses the same "highly refined" midrange driver found on the more expensive Ultra model. It's a 6.5-inch driver with a cast frame and a honeycomb ceramic cone with Kevlar backing. This driver delivers "greater resolution and musicality in the most important midrange frequencies," according to the company. Along with the upgraded midrange come significant crossover improvements. 
I'm told that the system also included a pair of Von Schweikert Audio Shockwave V-12XS subwoofers ($16,500/each), but I didn't actually see them in the large, dimly lit room. Sources included a new-for-2023 Sonorus Audio ATR10 mkII reel-to-reel tape deck ($32,500), and a digital front end comprising an Aurender N20 music server ($12,500), a new Aurender MC10 Reference Grade Master Clock ($16,000 — shipping begins in July), and the superb Berkeley Audio Design Alpha DAC Reference Series 3 ($28,000). This system delivered what I described in my show notes as the "most immersive sound" at the show. We listened to "Money" by Pink Floyd — an appropriate choice both for its sonic spectacle and for its subject matter of materialism and wealth. The soundstage seemed to stretch for miles in every direction, and the bass was surprisingly well controlled, considering the system was in a large ballroom with minimal visible room treatment. The tone of drummer Nick Mason's tom-toms was right on the money, so to speak. "Ride Across the River" by Dire Straits was no less impressive, with a wonderful sense of space that was testament to the impressive engineering that went into making the band's 1985 album, Brothers in Arms, at George Martin's decidedly unspacious AIR Studios. On this system, the soundstage was deep, vocals had both clarity and warmth, and the hi-hat cymbals sounded crisp and natural — neither overly sibilant nor recessed.
Aurender and Estelon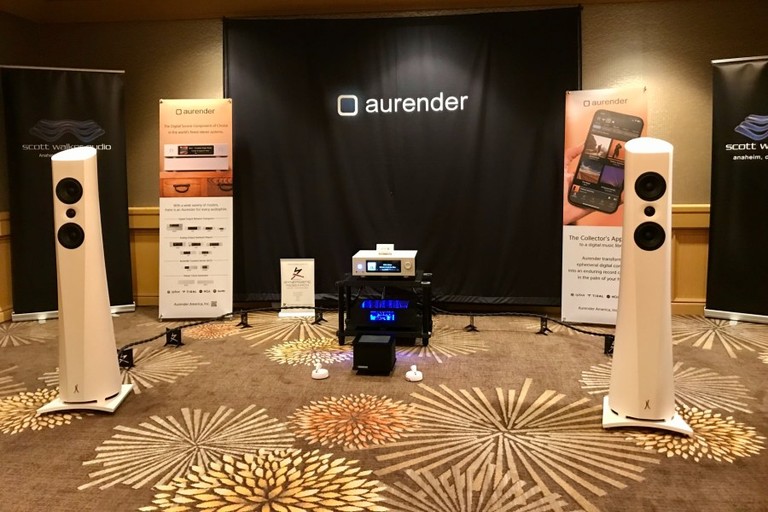 I was really looking forward to hearing the new Aura loudspeaker ($19,900/pair) from Estonian manufacturer Estelon. This slim, elegant tower speaker is smaller and less expensive than the brand's other speakers, but still offers a "purposeful shape and various internal chambers" in a cabinet that is reportedly "extremely rigid, highly dense, resonant-free, and with exceptional internal dampening and acoustical control." But I only got to hear one song — Nickel Creek's "Beauty and the Mess," before the larger Estelon speakers on the other side of a temporary wall began playing, making listening to this system all but impossible. What I did hear was very promising. The curvy cabinets really did seem to make zero noise of their own, and the overall sound was focused and tight, yet delicate — not unlike that of a good mini-monitor. And like monitors, these speakers would probably benefit from the addition of a good subwoofer or two. The minimalist system comprised only the Estelon speakers and a new streaming integrated amp from Aurender called the AP20 ($22,000 — coming soon). The compact amp combines streaming and music-serving capabilities, for which Aurender is well known, with a DAC running dual AKM 4497 chips, and an amp section using Purifi class-D modules, a linear power supply, and an analog volume control. Power output is 200 watts per channel into 8 ohms, and 350 watts per channel into 4. I felt bad for Aurender's Ari Margolis, who was running the room. He's a really nice guy, and a fellow Nickel Creek fan. But the noisy conditions made further listening impossible. Ari nearly lured me into staying longer by playing the a cappella version of "Because" from Love, the Beatles' Cirque du Soleil soundtrack album. But that song is as much about the silences between the vocal parts as it is about the vocals themselves, and the sound bleeding in from the next room was so loud that everyone trying to listen just started laughing. Perhaps next time, the Estelon folks will either find more self-contained rooms, or alternate so that both rooms aren't playing at the same time.
Linn, via Shelley's Stereo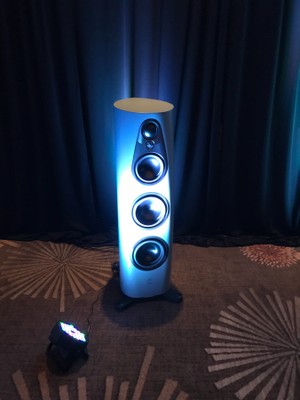 Shelley's Stereo, another high-end audio store in Los Angeles, hosted a large room to show off the new Linn 360 Exakt Integrated loudspeakers ($105,000/pair), which are fully active, using DSP crossovers and four amplifiers per side. A separate 150-watt class-AB amplifier powers each 3/4-inch Beryllium dome tweeter and 2.5-inch woven carbon-fiber midrange cone, while a 300-watt class-AB amp drives the 7.5-inch upper bass driver, made of aluminum-magnesium alloy. The two 8.7-inch low-bass drivers are made of aluminum and powered by a 600-watt digital "Power DAC" amp. The speaker is an attractive and curvaceous medium-sized floorstander standing about 45 inches tall, and reportedly plays all the way down to 20Hz (±2dB). Because the speakers contain everything but a source, the only other component needed for this system was a Linn Klimax DSM/3 Hub ($21,000), acting as a streaming source using Linn's proprietary Exakt digital audio outputs. (The speakers' internal DACs use the company's own Organik DAC architecture.) There was an LP12 turntable in the room, but it wasn't in use during my visit. Power conditioning was provided by Shunyata Research. 
Because of my chronic pain and disability, navigating even a smallish audio show can be tough. So I was delighted to see that this room was using large, plush, and very comfortable lounge chairs instead of the small, hard, stackable banquet chairs used in practically every other room in the show. Was this a cunning ploy to get listeners to stick around longer? If it was, it definitely worked on me. But I was happy to stay, not only for the chairs but also for the excellent sound quality, at least part of which might have been attributable to Linn's built-in room correction. There were three standout tracks. First up was "Good Morning Little School Girl" by Muddy Waters. While the lyrical content of this song might be disturbing to many listeners in 2023, there was no denying the rocksteady, laser-focused center image between the speakers, even though I had thought, at first, that the front-and-center seat I took was positioned too close for optimal sound. Apparently that wasn't the case because Muddy Waters was right there — he sounded present in that "reach out an touch him" kind of way. Next came "I Don't Believe In You" by Talk Talk, which again startled me because of how "in the room" it sounded — the shaker in particular. The song features both electric and acoustic guitars, and it was easy to hear the individual tonalities of the instruments even when they played over each other. Imaging was precise, and the sound gave an overall impression of being squeaky clean, though the very lowest frequencies might have been a little diminished. That impression of lightness in the bass did not carry over to the next track, Radiohead's "Decks Dark," which had fuller, richer bass, and a nicely saturated vocal. The ambient effects on this track created a tall, "wall of sound" kind of soundstage that was very effective, though it wasn't particularly deep and didn't extend past the loudspeakers in terms of width. But the sound did jump out in front of the speakers, making this track sound intimate and "in your face" in a very pleasing way. Perhaps the kick drums still sounded a bit reserved, but that might have been a room issue. In any case, these speakers can make an awful lot of music for their size, and without the complications of a room full of gear. Of course, that performance comes at a hefty price, but I expect the Linn 360 Exakt Integrated loudspeakers to become popular among wealthy music lovers who want something simple but musically involving.
Other Demo Rooms
Magico S3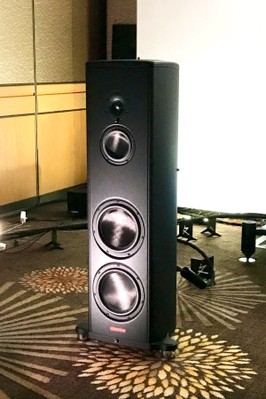 As I've mentioned, there were some rooms that sounded promising but were too lively with conversation to justify spending much time in. Another demo room that impressed contained Magico's new S3 loudspeakers ($45,500/pair) being powered by McIntosh gear, including the C1200 preamp ($14,000) and the MC611 monoblock power amps ($16,000/pair).
The Berkeley Audio Design Alpha DAC Reference Series 3 ($28,000) was once again handling the ones and zeros. The room was also filled to the brim with esoteric cables, — probably about $100,000 worth! Chief Audioholic Gene DellaSala is no fan of this nonsense and often incomprehensible products, but they were all over the show. I'm certainly not in a position to judge one way or the other, but despite all the talking, I got the impression during my quick visit that this system sounded wonderful.
Wolf von Langa SON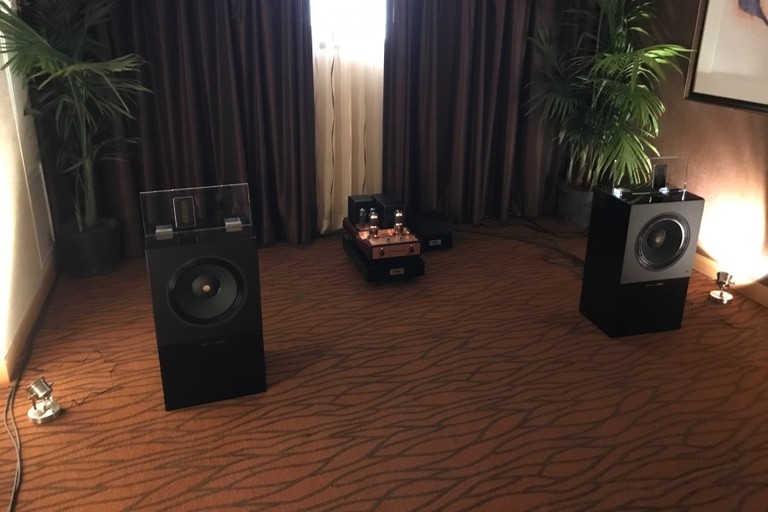 I enjoyed listening briefly to some totally unfamiliar flamenco music — complete with very loud dancing — on a system that included the unique-looking Wolf von Langa 12639 SON loudspeakers ($17,995/pair), which sounded airy and detailed, if a bit restrained dynamically when driven by amps from Italy's New Audio Frontiers. The source was a Lampizator Baltic 4 Balanced Tube DAC ($6,850).


TriangleArt
The impressive system in the TriangleArt room included the imposing Metis Horn Speakers ($60,000/pair), which didn't disappear as sound sources as well as some speakers at the show. This is not uncommon for speakers with big horns, in my experience anyway. But the sound was very dynamically alive on "Speak Low" by Enoch Light and the Light Brigade, played on vinyl via TriangleArt's Anubis turntable ($18,000), P200 phono stage ($18,000), L200 Mk2 dual-mono preamplifier ($25,000), and M100 monoblock amplifiers ($25,000/pair). I didn't catch which tonearm and cartridge were being used (there were 2 other turntables in the room, including the massive $130,000 Ultimate SE), but the options included the Osiris Mk2 Diamond 12-inch tonearm ($9,000) and the Horus 12-inch tonearm ($4,400), along with the Apollo ($9,000) and Zeus ($4,800) moving coil cartridges.
ATC and AGD Productions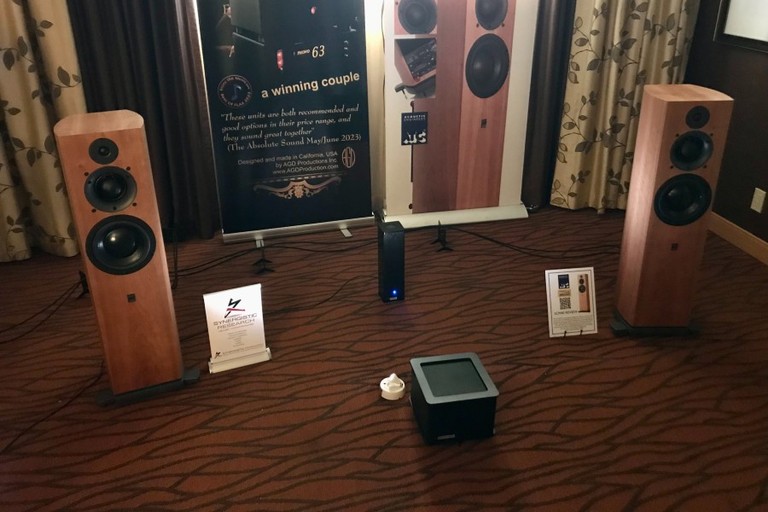 Compared to most speakers at the show, the $5,999 ATC SCM 40s sounded like a bargain, as far as I could tell in a noisy room. They were powered by an Alto preamp ($4,999) and Tempo GaN MOSFET power amp ($5,500), both made by a California-based company called AGD Productions. Also in the system were a Perfect-Bit AX Ultimate server ($12,000) and a Playback Designs MPD 6 DAC ($15,000), with a Mutec REF 10 master clock ($4,999) and SoTM tX-USB Ultra reclocker ($1,190). The room correction was provided by Accurate Sound.
PBN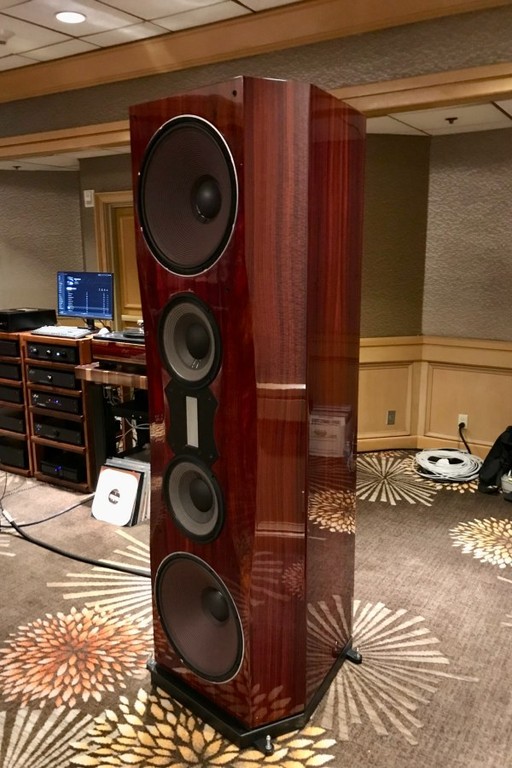 The award for "Shook The Walls So Hard That I Thought There Was An Earthquake" goes to PBN Audio's massive MR!777 Loudspeaker ($85,000/pair), which stands nearly 7 feet tall, weighs 490 pounds each, and features dual 18-inch woofers, dual 12-inch midrange drivers, and a 6-inch ribbon tweeter.
Final Thoughts
T.H.E. Show 2023 was a very enjoyable return to audio shows for me. The number of great-sounding rooms was off the charts, and that's the most important metric of success in my opinion. Plus, I got to spend some time with exciting new gear that I had only read about before the show. The new venue at the Hilton Orange County Costa Mesa seems like a good choice from the perspective of the show planners and exhibitors. It's big enough to allow for future expansion (demo rooms were only on the bottom 4 floors) and there was enough variety in room size to allow for different types of systems to shine. I appreciated that some big systems, such as those from Gryphon Audio Designs and Evolution Acoustics, were in isolated rooms that were located away from the rest, so show-goers could listen carefully without sound bleeding through the walls. But the other side of that coin is that these rooms could be hard to find. I nearly missed the Evolution Acoustics system, despite the fact that I was actively seeking it out. There were no floor maps in the printed show guide, so the only way to orient yourself was to go back to the elevators, where each floor had a map showing what was located on that level. The lack of maps in the printed guide seemed like a real oversight. Because of my disability, I needed to take frequent breaks, and was grateful to have a hotel room in which to do so. That said, the hotel is not in great shape, and appeared to be understaffed. When I checked into my room, there were goldfish crackers and what appeared to be a pill of Viagra on the floor near the bed. I am not kidding. There was no fan in the bathroom, but there was a spot where a fan used to be. The wallpaper was literally peeling off the walls, and there were no ice machines to be found anywhere. (That's a big deal if you need to routinely ice your back, or your martini.) Obviously, these issues didn't stop me from having a great time and enjoying T.H.E. Show, but they do affect one's overall impression of the experience. At the end of the day — or at the end of the weekend in this case — my only real disappointment was that some of my favorite audio brands weren't at the show. I always look forward to Magnepan demos, and was hoping hear the company's prototype dipole subwoofer. I also wanted to introduce my friend Aaron to the company's $995 LRS+, along with the concept of panel speakers in general. No such luck. The same goes for MBL's wacky-looking but unique-sounding omnidirectional speakers. There were no Rockport speakers this year, nor were there any Wilsons or Vivid Audio speakers. Germany's Tidal (not to be confused with the streaming service) usually makes great sound at shows, and Joseph Audio's room is always a favorite of mine. Alas, they weren't there. There were no tube amps from VAC or Audio Research that I could find, and no gear from the my favorite British speaker brands like Monitor Audio, Spendor, KEF, and Harbeth. I was also hoping to hear a system using electronics from Mola Mola. Clearly, there was still plenty to see and hear, and I do realize that other shows, like Axpona and Munich High End, are bigger and have longer lists of exhibitors. But all of the brands that I just mentioned were at T.H.E. Show in years past, so I felt their absence this time around. I hope that the show's organizers can build on what was nevertheless a very successful 2023 show, and come back next year bigger and better than ever.