Marantz Pop-Up, 70th Anniversary NYC Showcase
Marantz Pop-Up, 70th Anniversary NYC Showcase
by
Mark Vignola
—
July 17, 2023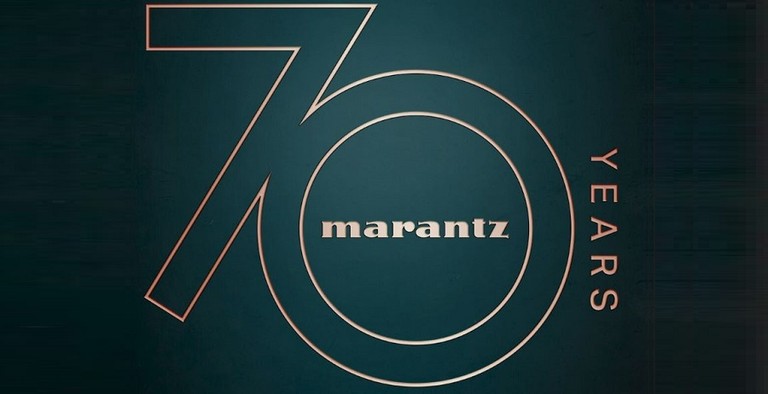 Marantz 70th Anniversary
On Tuesday of last week, I had the pleasure of visiting Marantz's 70th Anniversary Celebration Pop-Up Event being hosted from July 10-12 in downtown Manhattan. The event, across several floors at the Spring Studio in Tribeca, included multiple experiences to celebrate the important milestone in Marantz's history. In addition to a very neat collection of audio equipment from the entire 70-year history of the company (including some demos using vintage equipment), there are areas dedicated to personal audio, two channel listening and home theater, all anchored on Marantz's current line of products. These experiences highlight not just the legacy of the company, but how that legacy informs where Marantz is today and where it wants to be in audio for the next 70 years. If you are in the area and have time for the NYC space, or one of the additional pop-ups planned globally throughout the year, a visit is certainly warranted.
Multiple Experiences All Highlighting History
If you've spent much time in the audio / video hobby, chances are high that you've had a piece of Marantz equipment in your system at some point. This is certainly true for me at multiple times in my journey as an audioholic. Through the years, the feature set and dedication to quality made units from Marantz an easy choice in a competitive market.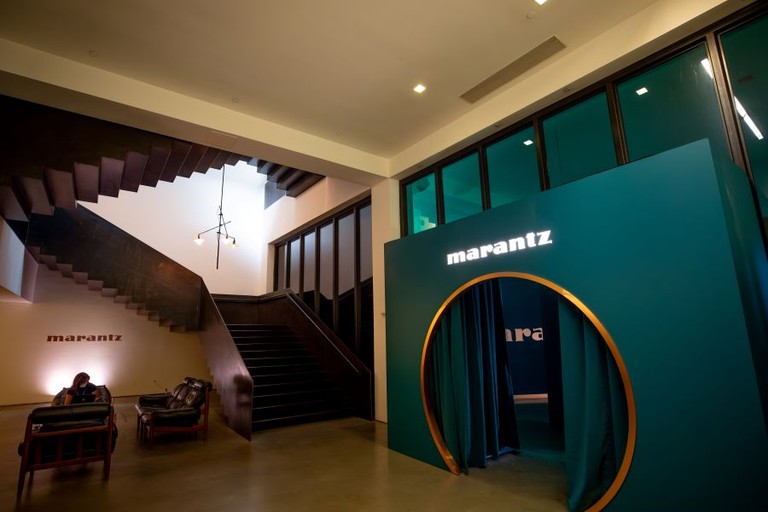 It is that longevity and history that was evident to me attending the 70th anniversary pop-up event being hosted currently in Manhattan. The anchor of the main room is a "museum" dedicated to the history of Marantz. This area features the first units to be branded "Marantz", dating to the founding of the company by Saul Marantz in Forest Hills, New York (not far from where this writer grew up).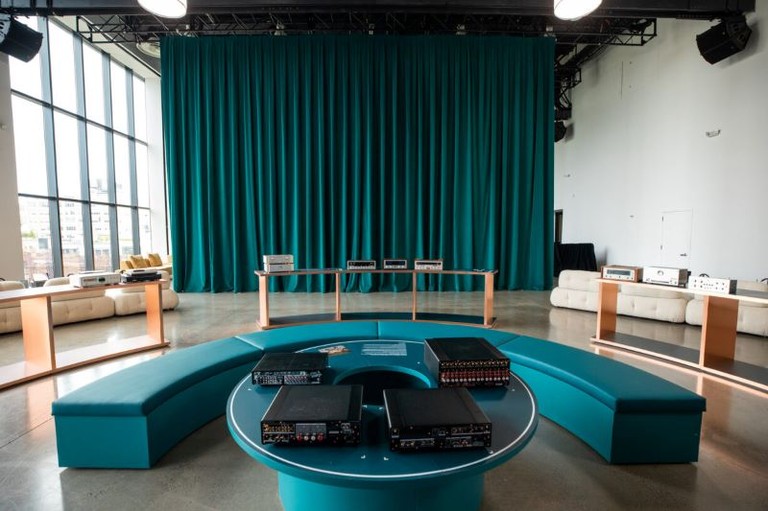 If your timing is right, you'll be treated to a tour of various units moving from the early days through the present by the resident Marantz archivist (yes, Marantz has an archivist). It was fascinating to hear about the progression of the business through the eyes of the units being built: what these engineers were trying to achieve and where were they making advances. As I learned about this thought process, it was evident that the roots of Marantz continue to inform decisions the company is making today with their current lineup. Key attributes like performance, craftsmanship, aesthetics – these are evident in 50-year-old units but are clearly informing the current line up from Marantz. It was also fun to see firsthand how some very early visual aspects continue to be referenced in pieces today.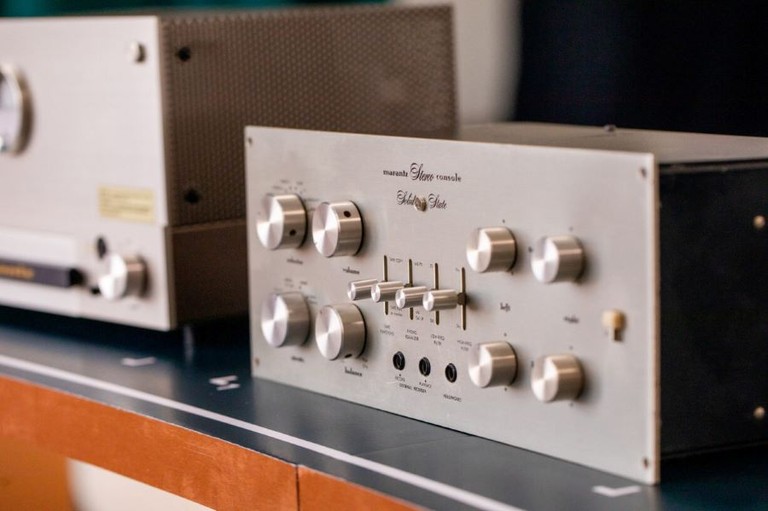 While at the event, I had the chance to spend a few minutes with Gary Dayton, US Marketing Manager for Marantz, to learn a little more about this theme and how he views the company from a historical perspective and the importance of heritage in what they are doing today. The highlights Gary talked about were the same type of things we learned about the first pieces that Saul Marantz produced – it was excited to see that thread persist through the current line-up.
Elsewhere on the main floor is an extensive headphone listening area, leveraging fellow Masimo brand Denon headphones. If you choose to play here, you'll have the option of both analog and digital set-ups. Marantz has stocked this area with a large vinyl library to let users find something to suit their listening needs. And to help you stay caffeinated while listening, you can embrace some special Intelligentsia Marantz Blend coffee provided by a full barista bar in the corner. This area is a bit of a choose your own adventure, featuring multiple over the top set-ups for personal audio listening. Lean back on the couch, sip your cappuccino, and enjoy.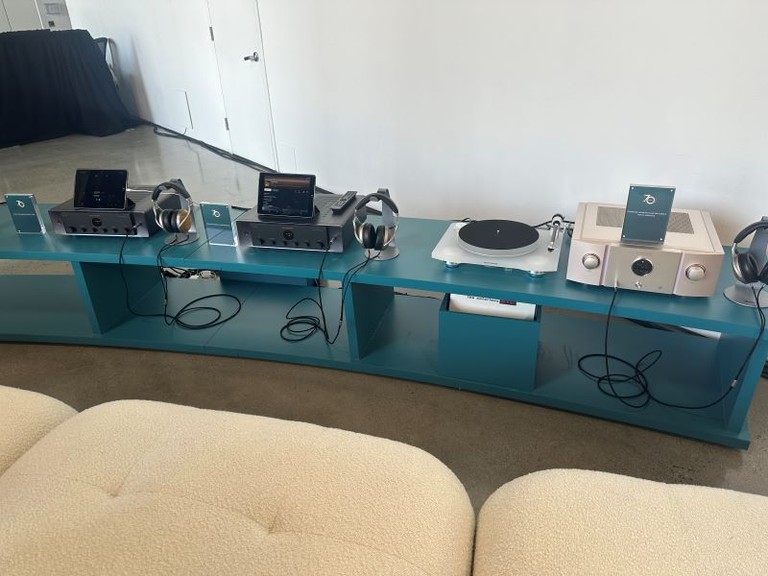 A presentation stage took up the back half of the main room – here Marantz hosted events through the weekend with various folks, all with an eye towards highlighting the history of the company and its dedication to top-notch audio (on the day I attended I was just a tad early to enjoy a listening session with Jad Abumrad of Radio Lab fame…very bummed about missing that one).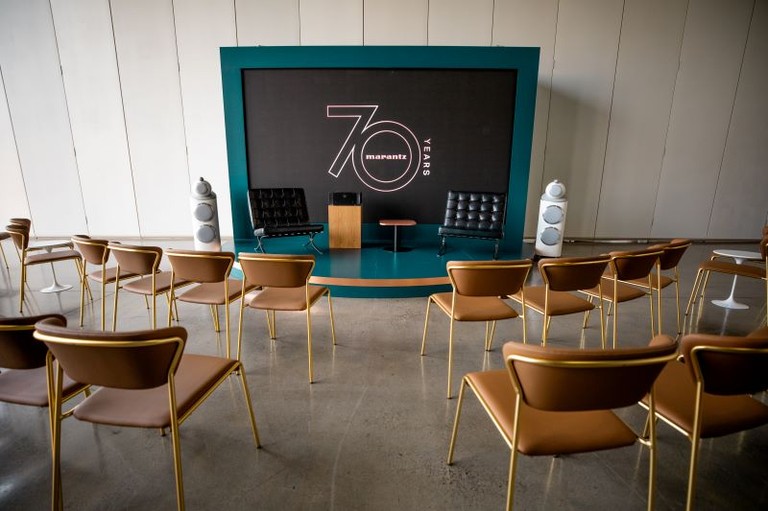 Elsewhere in the pop-up is a dedicated theater and two channel listening room, both featuring flagship set-ups leveraging Marantz and Bowers & Wilkins (another Masimo partner). Unfortunately, due to time constraints on my visit, I couldn't enjoy these rooms but heard from others in attendance that the demos were all, as expected, excellent. Overall, there was plenty to enjoy in a multi hour visit.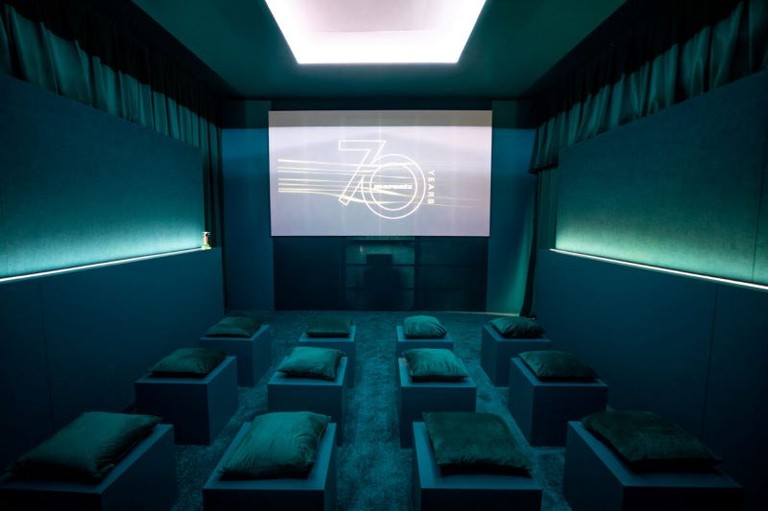 If you don't live in the area, Marantz intends to host similar "pop-up" experiences highlighting the 70th anniversary of the company worldwide, so keep an eye on the Marantz website for additional details of events in your area.