Get Ready For Audio Advice Live: August 4th-6th, 2023
Get Ready For Audio Advice Live: August 4th-6th, 2023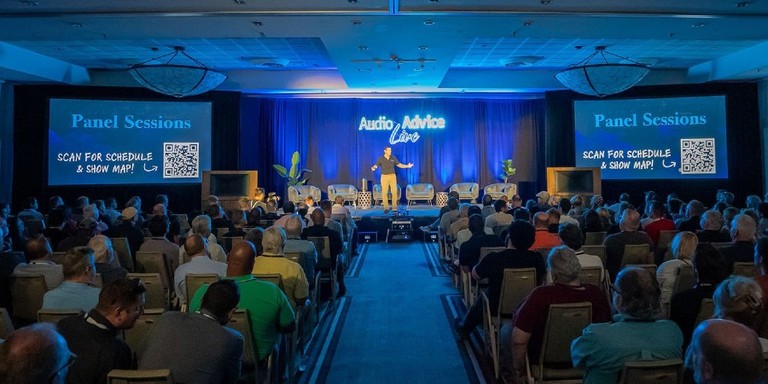 Audio Advice Live
Last year's first-ever Audio Advice Live high-end home audio and home theater show was an unmitigated success, bringing together a number of the best audio and video brands in the industry, along with top influencers and experts, including Audioholics founder Gene DellaSala. "For their first year hosting a show, it was absolutely amazing," says Gene. "This year plans to be even bigger!" 
Audio Advice Live Event Discussion w Youthman, KEF, Sony & more...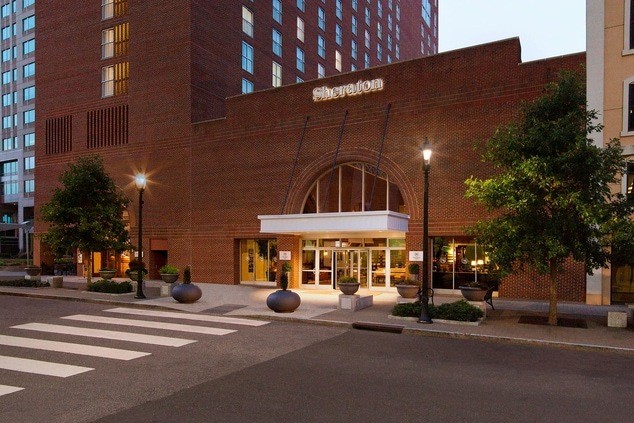 Gene will be back for the 2023 Audio Advice Live show, which is taking place at the Sheraton Hotel in downtown Raleigh, NC on August 4th-6th, 2023. Shane Lee from the eponymous Youtube channel (formerly known as Spare Change) will be there helping Gene with video coverage for Audioholics. The show promises "the ultimate audio and video immersion" with over 60 experience rooms and dedicated home theater rooms. The three-day event will allow AV consumers the opportunity to meet face-to-face with important industry professionals while taking in the latest and greatest offerings from many of the world's best brands.
Audio Advice Live is designed to give consumers an opportunity to experience a massively diverse set of home audio and home theater products all in one location. More and more people are investing to make their homes an oasis where they can enjoy great music, television, and movies with friends and family. After an incredibly successful inaugural event in 2022, we have attracted the top brands from around the world and we could not be more excited to host it right here in Raleigh, North Carolina.
— Scott Newnam, CEO of Audio Advice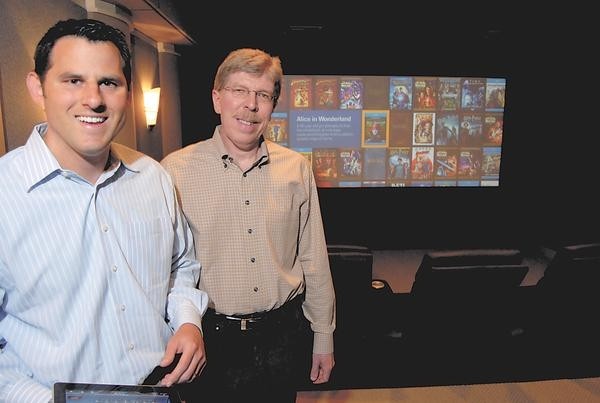 Demonstration rooms will open at 10am on Friday, August 4th, but the show will really get going at 5:45pm at the Opening Night Kickoff & Concert event at the Lincoln Theater. Audio Advice CEO Scott Newnam will deliver a special state-of-the-industry keynote address, which will be followed by a live performance from Love Tribe. Audio Advice describes Love Tribe as "the ultimate high-energy, good-time party band." The concert should set the mood for what is sure to be a fun weekend.
Audio Advice Live 2022 was hands-down the most complete and organized event in the home theater and audio category last year. If you miss this show, you are missing out. I can easily see this being one of the key industry events for many years to come.
— Patrick Siebert, C.I. Key Account Manager of JVC KENWOOD USA Corporation
Gaze at the Gear
The star of the show will of course be the experience rooms, packed with the latest innovations from the biggest names in the industry. There will be high-end speakers, projectors, AV electronics, headphones, and all manner of audio and video wizardry. At the top of my must-see list would be the flagship home theater demo using the Sony GTZ-380 Laser projector and madVR Envy Extreme MK2 Video Processor to blast movies sourced from a Kaleidescape server system onto a massive 170-inch screen from Stewart Filmscreen. The audio system will include a Trinnov Altitude 16 processor and the awesome Monitor Audio Cinergy speakers in an 11.4.4 configuration. Cables and power conditioning will be provided by AudioQuest (batteries included). There will be many other impressive theater rooms to experience, including a Bowers & Wilkins 9.4.6 Custom Theater Series home theater, a Denon & Definitive Technologies Dymension 9.4.6 home theater, a Sony & KEF 7.4.4 Q-Series home theater, a Devialet Phantom home theater, a Sony & KEF gaming system, an SVS 5.2.2 home theater, and a Heco 3.1.2 home theater. What about 2-channel audio? There will be plenty of high-end 2-channel gear on display as well. MartinLogan will show off its mighty Neoliths, bolstered in the bass by a pair of the brand's flagship BalancedForce 212 subwoofers. KEF will demo its flagship Blade Meta loudspeakers in a system with Acurus electronics. If the 5-figure price tag on the Blades (not to mention the 6-figure price for the MartinLogans) seems out of reach, GoldenEar will be showing off some more affordable speakers — keep an eye out for the new T66 tower speaker with powered bass, which will sell for about $7K. Other brands demonstrating at the show will include JVC, Samsung, McIntosh, Marantz, Sonus Faber, JBL Synthesis, StormAudio, Klipsch, Revel, Anthem, Naim, Paradigm, REL, Rotel, and many more. Other must see attractions include: Focal Grande Utopias with a Naim stack, a Samsung video wall, a Maserati with Sonus Faber sound system, and Jeep Wagoneer with McIntosh sound. JBL luxury will be announcing & debuting a new line of products at the show.
Last year, when we exhibited at Audio Advice Live, we were struck by a number of things that made it a lock for us to come back this year. The event ran smoothly, there were many great companies on display, and the vibe of the whole event was a celebration of high-performance audio and video. We know it will be even better this year and are excited to be there!
– Bart LoPiccolo, Sales Director of McIntosh, Sonus Faber, and Fine Sounds Americas
Learn from the Pros
In addition to all of the great gear on demo, Audio Advice Live will feature four industry expert panels discussing the newest trends in home theater audio, home theater video, high-performance stereo systems, and turntables. You can get expert advice, "from DIY tips to full calibration deep-dives," according to Audio Advice. All four panel discussions will take place in Oak Forest Ballroom A.
1.  Building A High-Quality Home Theater Sound System
On Friday, August 4th at 2pm, Audio Advice's Nick Rich will moderate a panel of home theater audio experts including Audioholics founder Gene DellaSala, Anthem's Kyle Delnero, Trinnov's Jon Herron, Jason Ehrlich from Kinetics, and Kevin Zarow from Bowers & Wilkins. The panel will discuss "best practices for design and construction, what to look for in speakers, and how costs and room size impact design," according to Audio Advice. Attendees will learn how to choose the best components, how to set up and calibrate a system, tips for getting the best sound quality, and more.
2.  The Future of Home Theater Video
On Saturday, August 5th at 11am, Audio Advice CEO Scott Newnam will moderate a panel of home theater video experts including Adrian Silva from Stewart Screens, Patrick Siebert from JVC, Craig Sholder from Kaleidescape, Rick Litofsky from madVR, and Michael Stevens from Youthman Reviews. The panel will discuss the ways in which advancements in video technology are changing the way we consume media at home. Attendees will learn about the latest trends and technologies as panelists offer insights into how technologies like HDR (high dynamic range) and 8K video will continue to shape our viewing experiences. Panelists will also discuss how to optimize different home theater setups for the best performance now and in the future.
3.  Trends In High-Performance Audio
On Saturday, August 5th at 2pm, Audio Advice's Jonathan Stephens will moderate a panel of high-performance audio experts including Harman's Chris Trojnar, Sonus Faber's Will Kline, KEF's Ben Hagens, and David Solomon from Qobuz. Panelists will discuss the latest trends in high-resolution audio, the latest advancements in high-performance loudspeaker technology, and the ways in which these developments are affecting the high-end audio landscape.
4.  The Vinyl Revival: Turntable Must-Haves & Getting The Most Out Of Your Vinyl Collection
On Sunday, August 6th at 1pm, Audio Advice founder (and vinyl fanatic) Leon Shaw will moderate a panel of turntable experts including Michael Fremer of The Absolute Sound, Jeff Coates from Pro-Ject, Bryce Allan from The Sound Organisation, and Jon Derda from MoFi. The discussion will include all aspects of achieving analog nirvana, from what to look for in a great turntable, to tips for ensuring that your turntable and record collection perform flawlessly for many years.
Audio Advice Live was a great surprise for Qobuz. We were expecting a normal, first-year show with all that comes with it. Instead, we found a totally buttoned-up and very professional event. In our opinion, Audio Advice Live will soon be the most relevant regional show in the US. Qobuz is proud to sponsor the 2023 show!
— David Solomon, V.P. Business Development & Chief Hi-Res Music Evangelist at Qobuz USA
As a consumer-focused show, Audio Advice Live is, of course, open to the public. Attendees can choose a one-day pass for $24.99, or a three-day pass for $39.99. Children and students (with a valid student ID) can attend for free. All show registration passes grant access to the experience rooms and exhibit hall, as well as to live panel discussions and the opening kickoff concert. 
For more information, or to register for the event, visit Audio Advice Live.
Be sure to say hi to Gene and the Audioholics crew if you spot them and give us some feedback on your show experience in the related forum thread.